Fingertip pulse oximeter (or Oxymeter) is a must have device in these pandemic times. Although the scourge of the pandemic has subsided, but due to it most of the homes now have a pulse oximeter. COVID again seems to be making a comeback. Countries like China, Japan and a few others are seeing a surge in infections. Coronavirus restricts  the oxygen exchange in the lungs. The lungs may develop pneumonia and a lot of mucus is produced which causes congestion. The patient gasps for breath and this is pitiable sight. Monitoring of the blood oxygen saturation level becomes crucial here. This is when pulse oximeters come in handy. Pulse Oximeters are very simple electronic gadgets of the size of a cookie. In this article, we'll tell you what is the normal SPO2 level and the best finger for oximeter. Do you know the safe and unsafe pulse oximeter readings? If not, then don't worry; we have it all covered in this post.
FINGERTIP PULSE OXIMETER
What Is A Pulse Oximeter?
A Pulse Oximeter (Pulse Ox) can be used to determine the human hemoglobin saturation and pulse rate. A finger is placed inside the device which then indicates the SPO2 and pulse intensity in digital format. It is non-costly portable device to be used at homes, hospitals or wherever a quick idea of the blood oxygen saturation is required.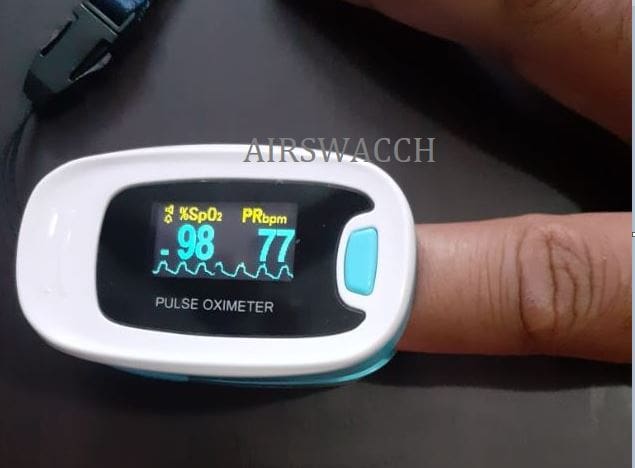 Since a pulse oximeter is mostly powered by small AAA batteries, it is not suitable for continuous monitoring purposes. Usually, a set of batteries suffice for 20 hours of non-stop use.
When To Use A Pulse Oximeter
In normal circumstances, no healthy individual would need to monitor their blood oxygen levels. Asthmatic, heart patients or those suffering from Chronic Obstructive Pulmonary Disease (a lung ailment) find use of pulse oximeters. The sale of pulse oximeters has seen a spiraling rise due to COVID pandemic. Corona patients experience difficulty in breathing because the virus attacks the lungs. Lack of blood oxygen is what results from all this, even chest pain.
Even I suffered from viral pneumonia and kept monitoring my blood oxygen saturation quite frequently. Thankfully, I did not experience any difficulty in breathing and my SPO2 levels were always normal. Not sure what SPO2 level means? Read the next para and learn.
SPO2 LEVEL
If you have already purchased pulse oximeter, you need to know about SPO2 level next. In simple words, this is an indicator of how oxygen rich one's blood is. The hemoglobin in our blood is the agent that carries oxygen inside it. Most popular pulse oximeter readings are SPO2 and pulse rate. SPO2 level or blood  oxygen saturation  is the percentage of HbO2 (oxyhemoglobin) in the total Hb (Hemoglobin) in the blood. It is an important bio-parameter for respiration.
pulse oximeter easily measures the SPO2 rate accurately.
Pulse Oximeter Readings
As soon as you insert your finger inside a pulse oximeter, it starts recording the oxygen saturation level or SPO2. The SPO2 range can be anything between 0%-100% in the pulse oximeter. There is no definite value of normal SPO2 level and it varies with person's health, age, condition and time. There are COPD patients whose SPO2 level is low even in normal scenario. The same low SPO2 level for an otherwise healthy person could mean a serious issue.
Healthy SPO2 Levels
For a healthy individual, the SPO2 rate is around the 95 or above mark (95 – 100). But, this is not a rigid boundary. If the person is not experiencing any discomfort or stress in breathing, then a little lower SPO2 is Ok. Readings below 95 are an indication of a definite oxygen saturation deficiency or low. People with COPD are known to keep an 88 – 92 SPO2 rate. Consult the doctor after maintaining a chart or record of readings over time. Your doctor knows best when you should really be alarmed.
How To Use A Pulse Oximeter
WHICH IS THE BEST FINGER FOR OXIMETER
As you very well know now that a pulse oximeter measures the percentage saturation of oxygen in blood. Veins and arteries form the human circulatory system. Only the arteries carry oxygen rich blood away from the heart. Veins are visible all over the body but arteries are hidden deeper into the body. The artery in the wrist is a superficial one where the pulse can be felt easily.
Most often the index finger is the most appropriate to latch the pulse oximeter on. But there is no compulsion and other fingers or even the earlobes are fine.
CAUTION! THINGS TO NOTE BEFORE USE
Following are some points to note otherwise the pulse oximeter readings would not be accurate. Do not expect correct results if you're moving around or doing strenuous activity.
Having a certain minimum blood flow in the artery inside the finger is a prerequisite. Patients with a very weak pulse due to heavy bleeding or due to shock, or having hypothermia will see their SPO2 reading decreased.
The finger should be inserted properly inside the Pulse Oximeter. Do not try to put more than one finger inside it.
Put the index finger uniformly between the SPO2 sensor (the infrared LED light) and the receipt tube (the cushioned horizontal surface).
Ensure that there is nothing to obstruct the path of the light. Remove any makeup like enamel or nail polish from the finger. Some nail fungal infection treatment lacquers containing lidocaine, procaine etc, can also result in erroneous readings. For those with a substantial amount of carboxy hemoglobin (COHb) in blood  due to carbon monoxide poisoning may get inaccurate results. Staining dilution drug (such as methylene blue, indigo green etc.)
A pulse oximeter may not show correct reading if there is too much ambient light. In a nutshell, avoid measuring your SPO2 rate in fluorescent lamp, infrared heater or direct sunlight.
 CORRECT WAY TO USE A PULSE OXIMETER
Insert batteries into the oxymeter device keeping in mind the polarities. There will + and – marks in the device slot to match with + and – marks on cells respectively.
Ensure that finger is fully dry, clean, with smooth skin. Remove any nail paint/polish from the finger.
Now, place the patient's finger into the rubber cushion in the clip of device. The nail of finger should directly face the Red LED light in slot.
Also, follow the user manual of the oximeter you are using, for instructions.
Keep the finger straight and you should not make any movements and sit comfortably.
Oximeter captures reading of SPO2 and Pulse rate in 5-8 seconds. Hence, allow this time at a minimum.
Keep a gap of about 5-10 minutes between next readings for best results.

ADVICE
Oximeter is a non-costly but very useful device in the current scenario. Each family should keep atleast a pair of oximeters. Even fully vaccinated people are catching the COVID infection easily. When the disease does come knocking your home or affect your family, you should not scamper for such things at the last moment. And not just during COVID, it is useful otherwise too. Any illness or disturbance in body can be sensed through pulse. There's a whole science behind Nadi Pariksha to diagnose diseases or abnormalities in the body.
You May Like These Similar Posts From AirSwacch!