Being proactive is the key to achieve lasting gains. One should not wait to act until their problems become daunting. Same goes with ones' Blood Pressure. Even if you or your dear ones are not suffering from high BP, blood pressure monitoring is crucial. Especially after 40 years of age, it helps nips the problem in the bud. The tendency of having high blood pressure or low BP always remains in an individual. BP monitoring machines alert for any abnormalities in pulse rate too. Its not tough to zero-in on the Best BP machine in India. Afterall, there's not much scope for innovation in a BP monitor.
Lets look at some of the Best Blood Pressure machine in India to monitor blood pressure.
BEST BLOOD PRESSURE MACHINE IN INDIA
First you should know what all does a Best BP machine can show you (depending on make and model).
Systolic Pressure (upper reading)

– the higher reading displayed first on your BP machine. This is the pressure that the heart produces to pump blood to different body parts.

Diastolic Pressure (lower reading)

– The lower of the two readings which shows the residual pressure inside your arteries when the heart is not pumping momentarily between its beats.

Pulse Reading (heart rate)

– the number of times the heart beats in a minute. Ranges between 60 – 100 beats/minute.

BP Risk Indicator –

This system alerts if your BP readings fall in the window of caution. If your BP level is too divergent from the normal range, it alerts so.

Irregular Heartbeat Detector –

While the heartbeat is being recorded, there can be asymmetrical bouts of heartbeats. Chances are that the user makes certain body movements during that time. This function takes the average of the heartbeats to give a near accurate reading. In a way this is an error-correction mechanism.

Memory –

Its always good to have a memory of atleast last 60 – 90 blood pressure readings.

Measurement Positioning System –

Some BP monitoring machines alert the user when the height of the arm and the machine are at the incorrect level.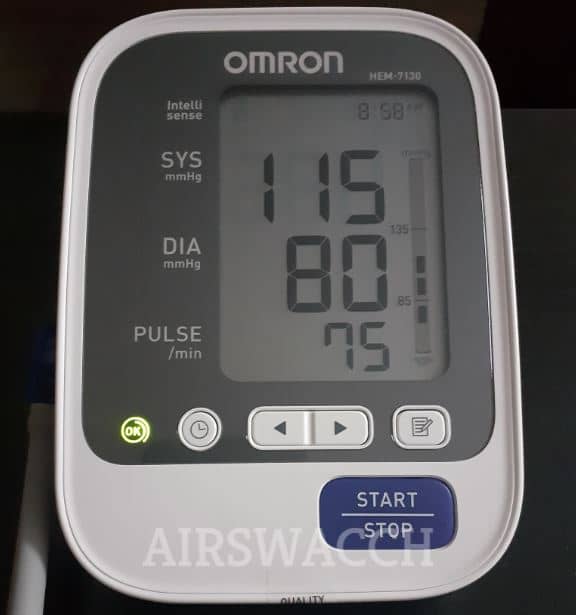 My choice of the Best BP monitor machine culminates at the Omron HEM-7130 model. Even for my own home use I have purchased this model after researching online. So, I want you to trust the reviews of thousands of other users and my own word. Till now I am satisfied with my purchase. This model can confidently be called the Best BP machine in India.
What I liked the most about this model from Omron is its ease of use. Its just a matter of properly wearing the cuff and following the instructions. Omron's Intellisense technology ensures accurate readings free from errors. With Intelligence, the machine inflates and deflates the cuff optimally for each user. It is literally a One-touch affair. Press the Start button and it does the rest of the things on its own. Another good feature I liked about it is that it indicates with a green OK light if the setup of the cuff is correct.
CHECK PRICE

CHEAPER MODEL WITHOUT MEMORY AND CUFF OK FUNCTION
As compared to Omron HEM-7120, this HEM-7130 model has a 60 readings memory, Cuff OK indicator, a bigger display screen.
A large LED display gives us the systolic and diastolic readings of the blood pressure. Not just BP, this machine also displays our heart rate with automatic error-correction. I have maintained a diary to note down the readings of my mom. This is for keeping an easy record until one day when I got confused about the exact digits and had already pressed STOP. I referred to the user manual to know of the memory function and used it to retrieve her exact readings. I still maintain her blood pressure readings in the diary to show them to the doctor after a month. But, now I am relaxed that even if I fail to note things down, they are safely saved in its memory. That's basically all that there is to it.
Low battery affects the accuracy of readings as the arm cuff does not inflate fully. So, replace the batteries timely.
FEATURES
COUNTRY OF ORIGIN – Japan is Omron's country of origin. Japanese tech already makes it one of the Best BP machine in India. Your automatic BP monitor may be Made in Vietnam.
OSCILLOMETRIC – Omron HEM-7130 works on oscillometric method using an oscillator.

CUFF WRAPPING GUIDE LAMP

– This LED guides the user to the right cuff wrap by indicating 'OK'. This feature ensures an accurate and reliable blood pressure measurement.
TIME – The device displays the time.
PULSE MONITORING – This BP machine also displays your heart beat count per minute.

CUFF

– suitable for 22 – 32 cm arms. A velcro is there for ensuring a firm grip. The cuff and its cord are detachable from the main machine.

AUTO SHUTDOWN

– To save battery power, the BP machine shuts down on its own when not in use.

MEMORY

– It has a memory of 60 last readings with date and time.
---
2.

BEST INDIAN DIGITAL BP MONITOR

– HealthSense BP120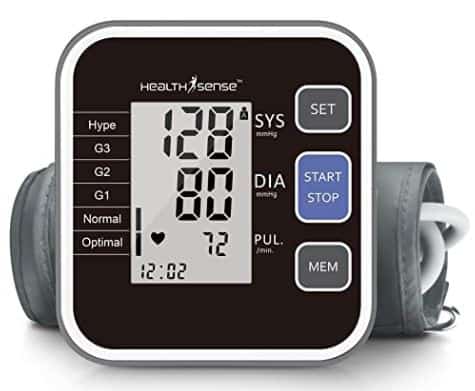 We should rely more and more on Indian products. Especially if they are as good as HealthSense BP monitors. This blood pressure monitor has an option where it can read out your readings for whatever reason you may want it to. There are many unique features in this HealthSense Classic BP120 machine.
Just like the Omron Blood pressure monitor machine, this one too works on oscillometric technology. It calculates the average of the last three readings to minimize the error. The systolic, diastolic blood pressures, pulse rate, and time are all shown in the same LCD screen. The screen is clearly visible and big with 4 x 6 cm screen. Body movement indicator and error indicator are present as well.
CHECK PRICE

UNIQUE FEATURES
Country Of Origin – INDIA
The HealthSense Blood Pressure monitor has a large memory of 2* 120 readings. The memory does not get erased when you power off the device.
Uses WHO recommended markings to monitor blood pressure. This is one of the Best BP machine in India.
Option to make it call out your blood pressure or just view it on the display.
Universal cuff for arms between 22 – 42 cms suitable for regular as well as large arms. No need to look for a new BP machine if you gain weight or happen to check it on a plus sized person.
Works with 3 AAA batteries as well as on an AC adapter. Chargeable through USB port also. So, you can use your regular mobile chargers, power banks or USB ports of your laptops.
Low battery indicator.
Warranty – The HealthSense Heartmate comes with a 1 year warranty. Any manufacturing defects during the tenure of the warranty period are covered.
---
3.

TALKING BEST BLOOD PRESSURE MONITOR

– Dr. Trust Goldline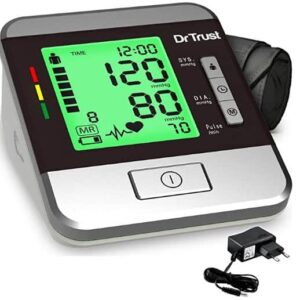 Sometimes, I think what if my Omron BP monitor's batteries get discharged? I would have two options –
1. To spend an appreciable amount and get an AC adapter separately sold. OR,
2. Get a new set of 4 batteries and continue this time after time.
Well, you get an adapter free with this Dr. Trust BP monitor. Also, a set of 4 AAA batteries are provided in the package. Looking at this blood pressure monitor, I feel confused with my choice of going with Omron BP machine. With no real price difference, this machine has a lot more features to it. Apart from the AC adapter, i really like the back-lit screen of it. The monitor's screen turns red, yellow or green in accordance to your reading. If you have hypertension, then the screen turns Red, Yellow with pre-hypertension and Green when you have a normal blood pressure. Undoubtedly, this one is on of the Best BP machine in India too.
CHECK PRICE

UNIQUE FEATURES
Country Of Origin – USA
LANGUAGE – The talking BP machine can converse with you in simple English or Hindi. You can operate it in silent mode as well if you want.

COLOR BACK-LIGHT

– The BP monitor gives out a color coded response to your blood pressure readings.

AC ADAPTER INCLUDED –

Yes, you heard it right. This is a really good add-on which makes this blood pressure monitor a must have.

LOW BATTERY INDICATOR

– It automatically shuts down when not in use and displays a low battery alert.

MEMORY

– It is capable of storing 120 readings of two different users.

UNIVERSAL CUFF

– You need not worry about your arm size. Dr. Trust BP monitor is equipped with a cuff which supports 22 – 42 cm arm sizes.
Warranty – 5 years warranty against any manufacturing defects. Warranty is to be activated on Dr. Trust's website within 15 days of purchase.
---
4. BEST BUDGET BLOOD PRESSURE MONITOR  – Dr. Morepen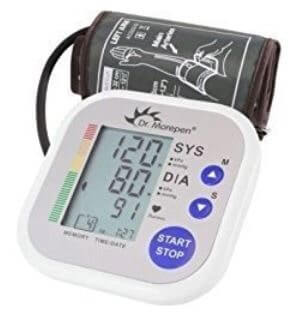 Dr. Morepen is again an Indian company established in 1984. Its BP monitor machine comes cheap and this is the reason why it is very popular. I've realized it now that measuring blood pressure with a BP machine is a small time craze. After some days everyone has already derived the conclusions. So, there is no harm in buying a budget friendly yet reliable product, like Dr. Morepen blood pressure machine.
CHECK PRICE

Country Of Origin – INDIA
Worthy to point out is that this is an average product. Do not expect the same accuracy in readings as from Omron or Dr. Trust BP machines. It has a (+/-) 5% accuracy or 3 mmHg pressure as accepted by the company but the actual readings may be even more far off. It works on 3 AAA batteries. The memory function is useful but there is too much discrepancy on the numbers in he product description. Somewhere it is written as 30 readings, 60 and even 120 elsewhere.
Warranty – 1 year warranty
---
RIGHT WAY TO MONITOR BP
Even the Best BP machine can give out inaccurate results if you do not follow the right way of using it. You should try to keep alarms or notifications to monitor BP daily at around the same time. The idea is that accurate results would only be obtained if you maintain a fixed pattern. Best would be to monitor the BP first thing in the morning within an hour of rising up. At night, BP should be measured before going to bed.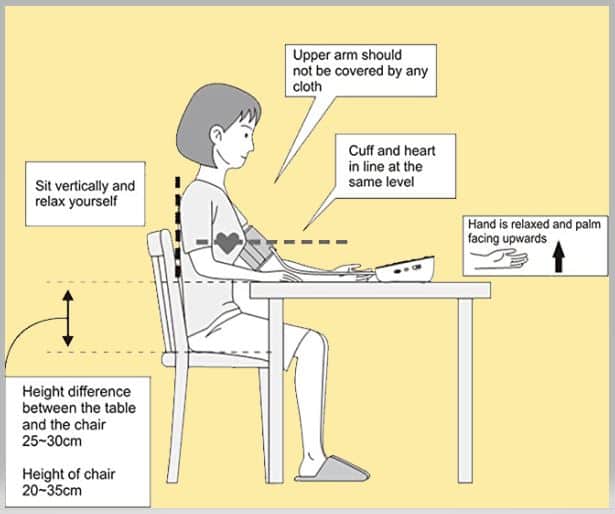 BODY POSTURE
Sit comfortably and erect with your back rested against a flat surface of a chair or wall.
Your feet should be fully rested on a level surface. Be mindful not to make any movements or cross your legs.
The cuff should be worn on the same arm everyday. Try to keep the same setup of chair, table and yourself daily.
Extend the arm and rest it on the table around the elbow. The height of the table should be such that your arm and heart should be at the same level.
BP MACHINE SETUP
Check that the batteries are not discharged or the AC adapter is firmly connected to power.
Wear the arm strap (cuff) firmly over the arm. It should neither too loose nor too tight. Remember the cuff would inflate and exert pressure on the arm later, so keep some scope for that.
The cuff should be worn atleast 1- 2 cm above the joint where your arm folds.
WHEN NOT TO TAKE BLOOD PRESSURE READINGS
Do not attempt to take Blood pressure readings when the weather is too cold. Temperature also affects the heart rate.
After taking a meal, wait for atleast 1 hour before taking a reading. After meals, our circulatory system directs more blood towards the stomach to promote digestion.
Bathing automatically lowers the blood pressure. Hence, you must wait atleast 20 minutes after a bath.
Tobacco and alcohol increases the blood pressure, so does tea (nicotine) and coffee (caffeine). So, do not check your BP immediately after consuming these.
When your urinary bladder is full or you are withholding your nature's call.
Also, do not monitor your blood pressure when making body movements.
DERIVING CONCLUSIONS
Naturally, someone suffering from High blood pressure or low BP must consult a physician regularly. Someone who is not too sure whether or not he/she is suffering from blood pressure should also visit a doctor first. Mostly, doctors ask for regularly getting the BP checked for about a month to conclude anything. Going to the clinic daily and paying the checkup fee is tiring and often result in misses. This is when a digital BP machine comes to your rescue.
Most BP machines come with varying number of memory. Your last 30/60 or whatever stats of systolic, diastolic and pulse readings get saved in memory for future reference. These are more than enough to conclude whether or not you are suffering from Hypertension (High BP) or Hypotension (Low BP). The normal range of blood pressure is between 120 (systolic) – 80 (diastolic). But it varies with age as well. Often people of higher age (above 65) tend to have low blood pressures.
BEST BP MACHINE BUYING GUIDE
Simply put, Omron is the undisputed leader if seeking the Best BP machine. Whichever model you pick up it would be satisfactory in all respects. Still, if you have to choose the best BP machine, follow this short guide.
TYPES OF BP MONITORS
Based On Where The Cuff Is Worn
Arm Monitors

– Perhaps the most common of the digital BP monitors. These digital sphygmomanometers have a cuff to be worn around the arm. In terms of compactness, such BP machines fall in the middle of analog and wrist types. These are more accurate than wrist monitors.
Wrist Monitors – As with anything which is more compact, wrist BP monitors are costlier. As the name suggests, these are to be worn around the wrist. As compared to arm monitors which require careful handling, arm monitors are like a breath of fresh air. No more wrapping the cuff or the wire.
Based On Whether Manual Intervention Is Needed
Digital Monitors – Automatically inflate the cuff and records the blood pressure readings in memory. The systolic and diastolic as well as pulse rates are displayed in the form of numbers. Inflation and deflation of the cuff is self-managed by the BP machine.
Analog Monitors – The traditional blood pressure machine seen at doctors clinics. These are also getting replaced by digital ones now. These are considered more accurate but requires some degree of training and a second person to do it for you. The BP machine has mercury inside it and is quite heavy.
Also, there is a risk of it falling and spilling of the mercury. When toddlers are around, a risk of mercury poisoning is always there. Small children out of their playfulness may break the machine and ingest the mercury. I remember doing it along with my cousins when we were small kids. We were excited by the way spilled mercury droplets simply evaded our touch!
THINGS TO LOOK FOR IN A DIGITAL BLOOD PRESSURE MONITOR
Different Information Displayed
Its always good to have a lot of information and diagnostics at your disposal. Some BP monitors show additional information like pulse rates, BP risk indicator, position alert, etc. Blood pressure monitors with upto 60 days readings memory is a norm these days. Best Blood Pressure machines give you most of these features in an affordable cost.
Brand
Some brands like Omron, Dr. Trust have earned a place of trust for themselves. It takes years of collective user reviews for a brand to become trustworthy. You should not ignore this brand factor. So if you are looking for Best Blood Pressure Machine in India we strongly recommend buying either Omron, Dr.Trust or the Indian company HealthSense blood pressure monitors.
Ease Of Handling
Fully automatic digital blood pressure monitors are very convenient to use as compared to the analog mercury barometer type ones. Within digital BP monitors too, stay away from the ones which offer any sort of attachments.
Cuff Fitting
While setting out to buy a machine online, you must measure the girth of your arm. Healthier people with over 13 inch arms must look for specific models. A carelessly purchased product would be useless when you can't even put your arm through its cuff. There are models in each brand which cater to the arm sizes of plus-size or muscular people.
Long Life & Serviceability
Read the reviews of each model which are under your consideration. You'd get a rough idea of where they fail or perform well. Some BP machines need re-calibration after a few years. Do read the user manual for the scope of sending your device to the company for it.
Usually 4 AA size batteries are what power the BP monitors. Some devices allow usage of AC adapters available for separate purchase. I would suggest purchasing rechargeable batteries for this purpose.
Pocket Friendly
Most blood pressure monitors cost between 1200 to 5000 INR. The price variation is due to added features, enhancements or convenience features. Those BP machines with voice callout/talking of reading, Bluetooth or APP connectivity are costlier. Also wrist monitors are costlier than arm or aneroid sphygmomanometers.
HIGH BLOOD PRESSURE MONITOR
High BP is much more dangerous than low BP because it shows signs when already the problem has aggravated. Till that time of its symptoms rear their ugly head, a person can be absolutely unaware of it. If allowed to go untreated high blood pressure can be fatal. Best BP machines can contribute to keeping a track on your high BP. High Blood pressure may result in heart attacks or strokes. Bursting of blood vessels, loss of memory, vision loss, anything is possible.
SYMPTOMS OF HIGH BP
High BP is different from Low BP in that it can go unnoticed for many years. People may not even know they have high blood pressure until one day out of many years. When this condition becomes much pronounced then only it may manifest itself.
Nosebleeds
Headaches
Gasping
CAUSES OF HIGH BP
In most adults it is not known what factors directly result in high BP. However, there are some secondary factors which may contribute to it. Some people have problems in their thyroid or adrenal glands. Others may be suffering from obstructive sleep apnea or sleep disorders. Still other may have kidney problems as the cause of keeping high blood pressure. Defects in structure of blood vessels or medications are other factors.
High Sodium Diet – People eating too much salt tend to have high blood pressure. It may be due to the style of cooking or taste buds, but too much salt in diet is bad for the heart and bone health.
Lack Of Physical Activity – Not just heart diseases, inaction is the cause of so many of our problems ranging from national, international or physical. Lazy people become obese or due to underlying bad health which compounds the problem.
Alcoholism – Keeping this habit of drinking under control can keep your heart from suffering the brunt. For adult males, 2 drinks a day while half of it for women is moderate.
Smoking Tobacco –  Smoking tobacco instantly shoots up the blood pressure although temporarily. The heart arteries may get damaged if using tobacco becomes a habit.
LOW BLOOD PRESSURE MONITOR
Consider yourself more fortunate of you are diagnosed with low blood pressure and not high. The reason to this odd statement is that atleast one comes to know about it early on. As compared to high BP, low BP does not wreck havoc on arteries and blood capillaries. But then the patient is at risk to fainting and injuring himself. Extremely low blood pressure may even result in the heart sustaining damage and failing to pump blood to the brain.
If you have low BP consistently but you are able to carry out your life normally then nothing to worry. Fainting or losing balance so as to lie down is the natural mechanism to pull you down. This way the heart which has been finding it hard to pump blood all the way to the brain is able to deliver blood to it as it comes at the same level (floor that is, lol!).
What Range Of Reading Means Low BP On The BP Machine?
Some of the Best BP machines warn the user of High or Low BP when his reading reflects some abnormality. If your machine lacks this feature then it is fairly simple to come to know about it. A Blood Pressure reading lower than 90 mm of Hg pressure for the top number (systolic) or 60 mm Hg for the bottom number (diastolic) is generally considered low blood pressure.
SYMPTOMS OF LOW BP
Fluctuations in BP are normal due to physical activity or emotions. Problem arises when this fluctuation begins to affect life functions and activities. A common symptom is flushing of the skin or it becoming pale due to lack of blood supply. One's pulse may also indicate hypotension or hypertension. Someone with Low Blood pressure may feel-
Dizziness
Blurry vision
Weakness
Difficulty in maintaining body balance
Like Vomiting
CAUSES OF LOW BP
Heart Problems – Low BP due to some heart troubles are common. To keep a tab on your blood pressure, an affordable way is to look for the Best BP machine.

Pregnancy

– During this time, the network of veins is extended in the body, so blood pressure may go down.
Injury – Excessive blood loss or internal bleeding due to any injury like cuts or wounds results in volume decrease of blood in body.
Dehydration – When your body loses a lot of water and minerals, it interferes in the proper blood pressure maintenance. A dehydrated person feels weak and dizzy just as someone with low BP does.

Problems in Endocrine System

– Some malfunctions related to thyroid or parathyroid glands may lead to low blood pressure.
Vitamin Deficiency – Deficiency of Vitamin B12, iron or folate should be checked for from time to time.
Infections – Blood infections may result in severe drop in blood pressure.
CAUSES OF HEART DISEASES
You won't need to look for the Best BP machine in India if you follow a healthy lifestyle, diet, and engage in physical activity.
UNHEALTHY DIET
The world as we know it today is full of stress and anxieties. People hardly notice when they become patients of hypertension and depression. Much can be done to avoid it ranging from changing lifestyle, habits, thinking, diet and so on.  Indians are known to love fried food with little care for what it is doing to their heart and body. I've seen the halwais deep frying samosas and bhatures in the same burnt up oil till what remains of the oil is only tar. No one really seems to bother that the oil they reuse like crazy is no more edible oil but something toxic to the health. Such oil is now a rich source of trans-fat, if only it was something healthy. Trans-fat accumulates inside your body and clogs the arteries giving rise to so many heart conditions.
Eating unhealthy foods rich in oil, and trans-fat results in high blood cholesterol. Who would be unaware of this term? This bad cholesterol can be easily monitored through blood tests. Refined oils are silent killers, better go back to our traditional mustard oils for food preparation.
STRESS
When we are in stress our heart is worst hit by it. If the stress becomes a part of our lifestyle then trust me your heart may give way anytime. Health magazines and journals are flooded with tips to manage stress and anxiety. We should try to inculcate positive thinking and physical exercises in our daily routine. Regular workouts naturally boost our happiness quotient and self-esteem. Doing Yoga and meditation are the age old Indian remedies for maintaining unison of body with mind. We should value these gifts handed over by our great sages.
IRREGULAR LIFESTYLE
Our jobs often demand that we work non-stop for hours in continuation. Some works need us to be awake all night and do night shifts. Meetings, projects, deadlines and commitments compel us to adjust our daily routines. We skip our meals, or binge on tea/coffee with the maniacal fast-food wrecking havoc on our health. Try to find ways so that your life and work balance is maintained. One must go to any extent to achieve this balance. Our health is no less than the wealth we are running blindly behind.
POOR ORAL HYGIENE
Many heart diseases are also linked to how your maintain your oral hygiene. People with gingivitis or oral diseases are at high risk of developing heart diseases.
SLEEP DISORDERS
Lack of proper rest or sleep also gives rise to heart problems. Sleep apnea and snoring are common problems affecting millions the world over. Snoring and blockages in the nasal passage put pressure on the heart too. Best Anti Snoring Devices can help relieve a part of the problem.
HEREDITARY FACTORS
Some families have a history of developing heart diseases at some point in life.
DIETS WHICH HELP IN HIGH BP
Fruits and Juices – Eating fruits never does nay harm. In high blood pressure cases, eating whole fruits and grains helps.
Monounsaturated Fats – Cut down on consumption of refined oils and fatty foods. Include mustard oil and olive oil ( in high temperature cooking).
Omega-3 Fatty Acids – There are supplements of Cod-liver oil easily available. These capsules are rich in Omega-3 fatty acids which is known to lower the bad cholesterol.
Whole Oats – Increasing the consumption of whole oats helps in high blood pressure cases. Additionally, they also have positive affects on cholesterol and blood sugar levels.
Vitamin C – Guavas and citrus fruits are rich sources of vitamin C. Eating fruits in an empty stomach before meals is the right way to eat them.
CONCLUSION – BEST BP MACHINE IN INDIA
Hope you found this article highlighting the various aspects of a BP machine informative. Heart is one of the two engines of the body, the other being the brain. Its better to adopt healthy lifestyle and shun bad eating habits to lower the risk of blood pressure. Its never too late to mend our ways until we actually die.
You May Like These Similar Posts From AirSwacch!