Have you ever searched online or have already bought a humidifier? Then Allin Exporters humidifiers would definitely have caught your attention. This brand has a wide range of humidifier and essential oil diffusers. In this post you'll find the Allin water drop humidifier review. This model is special as its the Bestselling humidifier on Amazon. The price is justified if your device manages to function for atleast a year. The quality of some of the costlier models especially the aroma diffuser ones, is good.
ALLIN EXPORTERS HUMIDIFIERS
COUNTRY OF ORIGIN –

CHINA
Allin Exporters is an Indian company based in Noida, Uttar Pradesh. I've enquired from one of their employees about their products. I asked whether Allin manufactures all these humidifiers and diffusers in India. She told that all of these products are imported from China but with Allin's branding. This was not a surprise answer to me. The name should be Allin Importers for that matter! So, now that we know of the country of origin, lets proceed.
---
---
ALLIN HUMIDIFIER UNBOXING
My Allin humidifier came in a good packaging with thermocol. This kept the device secure from shocks while it is being shipped. My device was working fine although the body had some superficial scratches. I chose to ignore them as I believe in having a broader thinking. If the humidifier works well, why not skip all the headache of returning, refund and reordering. Luckily, when I powered On the humidifier, it was functioning alright.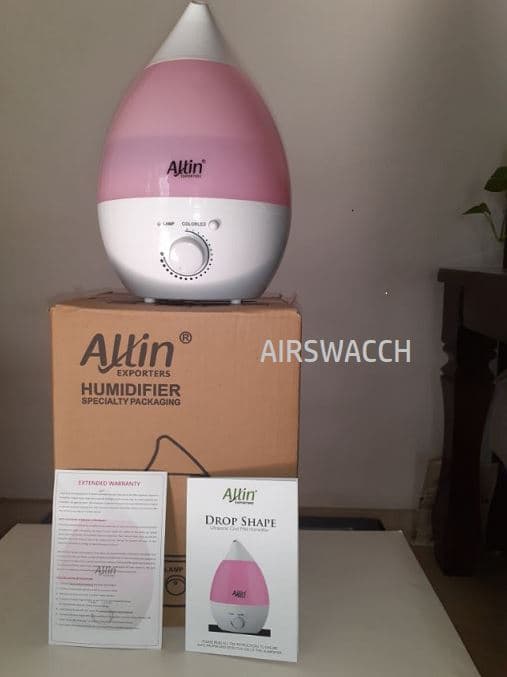 You would receive a –
Humidifier with non-separable power cord. The power cord is sufficiently long. I found the pins in the plug to be rather thin. Not all wall sockets give a firm grip. In my home, it didn't power On in two of the sockets.
An instruction leaflet which – 1.) lets us know about warranty, registration on company's site to avail the warranty. 2.) It also mentions the safety instructions. 3.) A pictorial description of the parts of the humidifier is also provided. 4.) Technical specifications. 5.) Assembly and use instructions.
Another leaflet which lists out the benefits of a humidifier and again has warranty clauses.
DESIGN AND LOOKS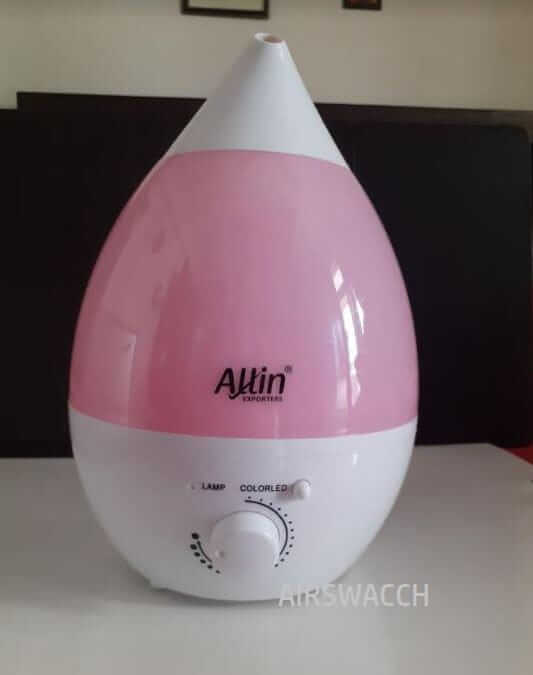 The shape, color and design is all pleasing to the eye. The shape as is apparent is that of a water droplet. The water tank which is the colored portion (pink) of the body is translucent and the water level is clearly visible through it. The size may not be too clear from the pictures on Amazon. Its size can be judged well only in videos or real-life. My humidifier's built quality was without any defects and detailing was also good. The three parts of the humidifier are detachable.
The top nozzle through which the cool mist comes out. You can rotate it 360° to focus the mist in a particular direction.
Middle part is what houses the water tank.
The bottom part is where all the electrical and electronic circuitry is present. Here the knob to control the mist output and the button to control the color LED function are also present.
After filling the humidifier tank, the device becomes a bit heavy. Not heavy as such but since all the three parts are separable, you need to take care of the handling.
CHECK LATEST PRICE
The price hasn't changed much since the time I purchased it. Overall, price should not be a matter of concern and is justified.

SEVEN COLOR CHANGING LED LIGHTS
This is the most eye-catching thing about almost all ultrasonic humidifiers in the market. They come in all kinds of beautiful shapes and sizes. Most of them have these beautiful color shifting LEDs which glow up to look beautiful. In Allin water drop humidifier, there's a dedicated button to make the LEDs to transition from one color to the other. You cannot however choose to set the humidifier LED color to a particular color. The color LEDs would either keep on changing color automatically and continuously or they would be Off.
The LED light do impart a different soothing glow to the humidifier. It can very well work as a night lamp and would bathe the room in a colorful charm. Kids would definitely love this feature for as much time before they get bored of it. Lol!
---
---
BODY MATERIAL
The Allin water drop humidifier has a PVC plastic body. Its just like the material of any other kitchen appliance. You should take note that this material is not BPA-free. Such plastics are not food grade and must not be used for any such purpose. Never use this humidifier as an essential oil diffuser. The plastic may react with the oils to produce harmful byproducts. There are separate models with BPA-free plastic body for such a use case. They come with a separate essential oil tray where you put a few drops of aroma oil. ESSENTIAL OIL DIFFUSERS are a separate class of humidifiers.
ALLIN HUMIDIFIER SETUP
The use and setup of the humidifier is pretty straightforward. The first time can always be tricky but after one or two times, it becomes a cakewalk.
The power indicator (LAMP) light glows when the humidifier is powered On. You should keep the room partly opened to avoid condensation on the walls.
Always keep the humidifier on a stable and level surface. Be careful to put is safely where it would not fall down.
Always fill up the water tank before Powering On the humidifier.
Do not lift or invert the humidifier when it is in operation. Needless to say, never try refilling it in awkward ways.
SEPARATING THE TANK FROM THE MAIN BODY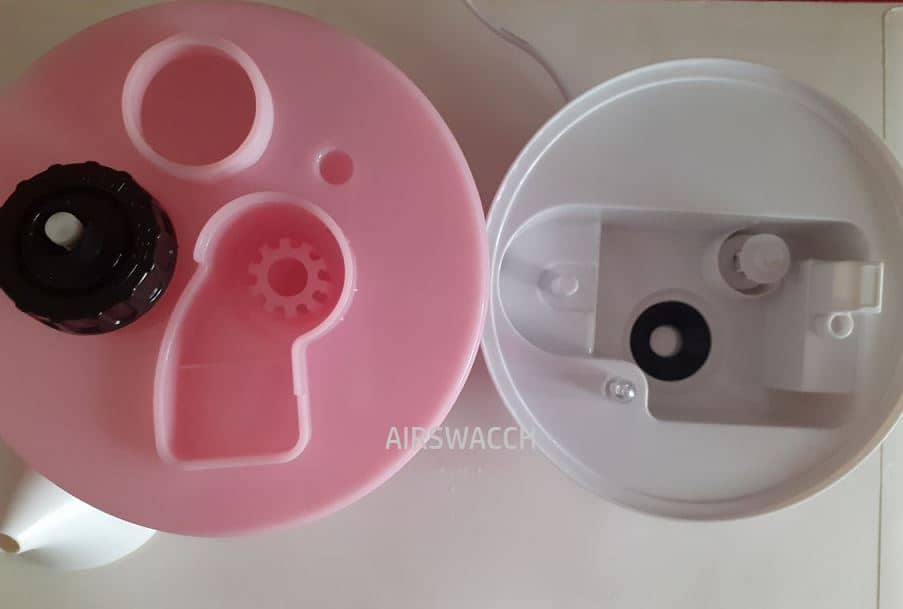 For someone who has not read the instruction manual carefully, this can be very tricky. We have a tendency to twist things anti-clockwise to open up things. Twisting the pink portion and hoping that it would separate from the base would be a futile exercise. To separate the water tank to fill it up, you need to –
Remove the top nozzle.
Turn the remaining humidifier body upside down.
Pull the white base towards yourself.
See how easily the two parts separate now.
One rather strange flaw that I noticed is after you've filled the tank it becomes messy to empty it. You know, emptying a filled water tank would again require you to invert the humidifier upside down right? This is when the water comes out from almost everywhere and risks to spoil the base part which contains all the electronics and electrical parts. So, best is to let the water tank become empty. Once only minimal water remains, only then empty the tank.
FILLING THE WATER TANK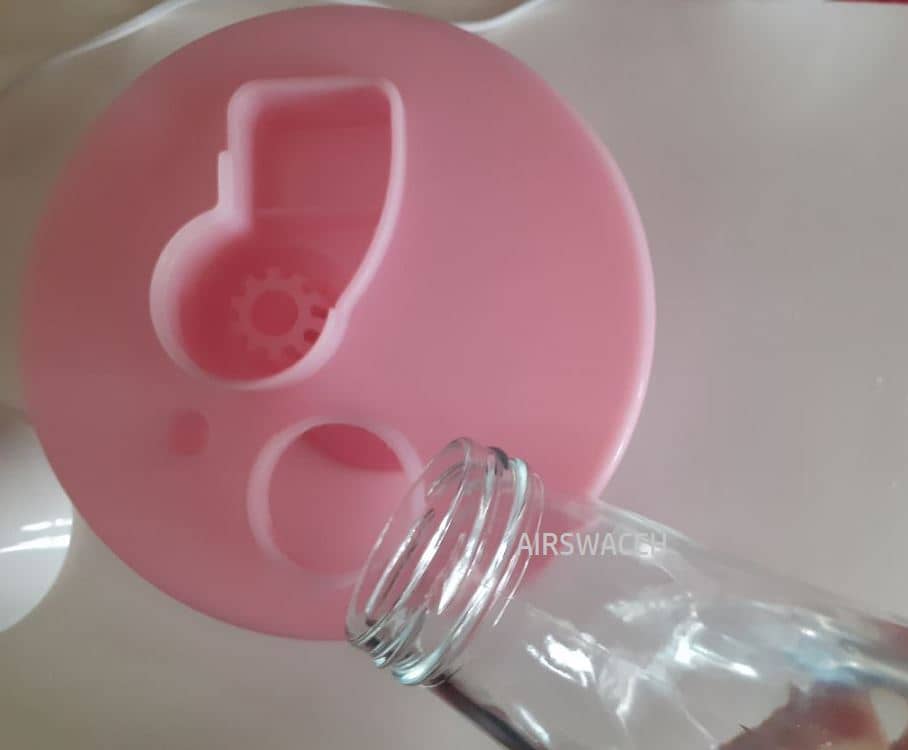 Once the water tank comes apart, its very simple to fill it up with pure water. Care must be taken to use distilled water and practically RO water is fine. Using impure tap water with dissolved impurities would quickly spoil the inner parts of the humidifier. Also, using high TDS water is a complete NO. If you reside in such an area where the water is brackish or high on dissolved salts, then humidifiers are not for you. Unless, you agree to use RO water in it every time.
CAN ESSENTIAL OILD BE USED IN THIS HUMIDIFIER?
Allin clearly states that you should not use this particular humidifier as an aroma diffuser. The body material is not safe for health to be used with essential oils. Do not pour the essential oil drops into the water tank under any circumstance. This would definitely cause the humidifier to malfunction. You'd even lose your limited period warranty if you use essential oils in this model.
You can go for such ultrasonic cool mist humidifier and essential oil diffusers like –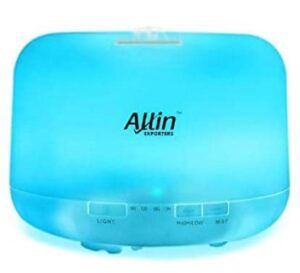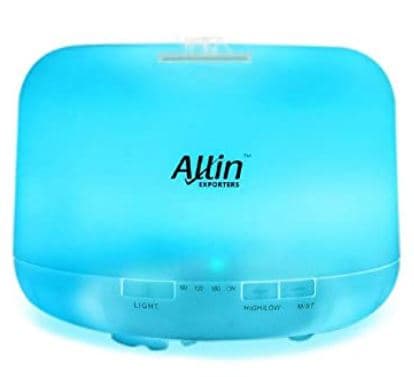 MIST OUTPUT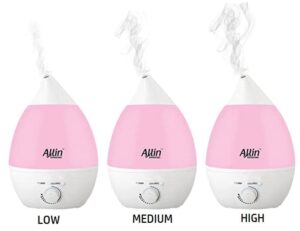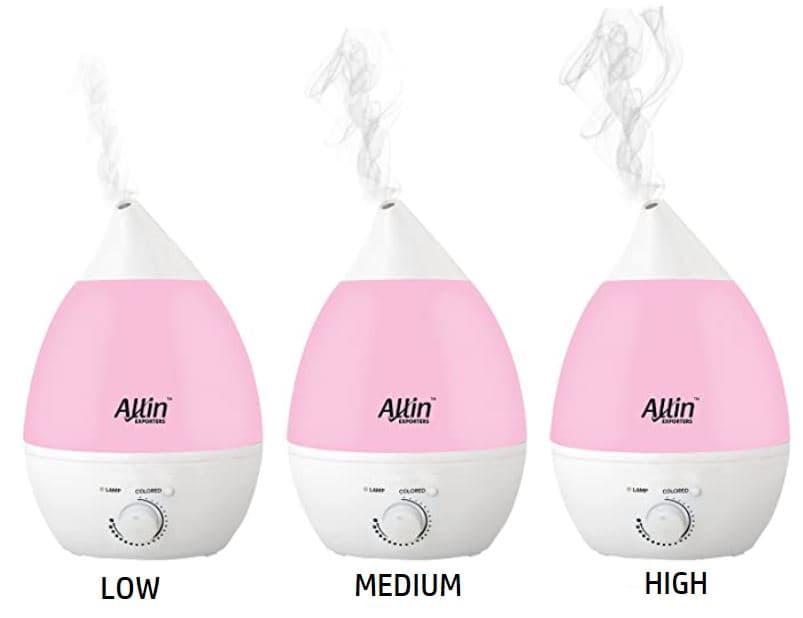 You can vary the amount of cool mist that the humidifier gives out through the dial. The Allin humidifier water drop model can work for 12 hours at a time. Its water tank capacity of 2.4 L is good enough to last for the complete night. This is when you use the maximum mist output. If you choose to use a lower mist output setting, the humidifier can go on spewing moisture for full 24 hours.
Anyways, its not recommended to keep the humidifier On for such long duration at a stretch. These devices have delicate internal machinery which you never know when they give way. Chinese products as everyone knows are famous to work well as long as they do. Once they malfunction or fail, there's no remedy to it.
HOW LONG SHOULD YOU USE THE ALLIN HUMIDIFIER?
When using any new device like a humidifier, there's no golden rule for the usage time. Use it as much as your body feels comfortable with. From my own standpoint, I got slight headache as I chose to sleep beside it for 3 hours. Even my sinuses were scratchy, for whatever reason. You see, even very high air humidity is detrimental to health. So, keep it On for as much time as your family health benefits the most.

This Allin Exporters humidifier doesn't have any such mechanism to regulate the room's humidity levels. So, it would go on and on at the same rate to throw moisture in the air. Use it in moderation and observe what effect it has on your family. You can ask others how they feel about it. These days are anyways very polluted thanks to the crop stubble burning in nearby states. Like, when we used it for the first time, I asked my mother about her opinion. She said she felt a good difference in the air quality in the room. My room is sized 15 x 13 feet with standard ceiling height.
HOW TO MAINTAIN THE ALLIN HUMIDIFIER
Maintaining a humidifier is something you'll have to do as long as you plan to use it. It is recommended to follow the cleaning procedure weekly. You can go through this post on How to clean humidifier.
Do not leave water in the tank for prolonged period as it may result in mineral deposits. Leaving water and storing it away would result in bacterial and lichen growth. The next that you use it, there's no guarantee how the humidifier's condition may be. Make it a rule to empty the water tank or run it dry. Even letting the water stay in it for 2 days may result in bacterial growth. Using the humidifier in this condition can cause all sorts of diseases and is it now be diffusing bacteria in the moisture.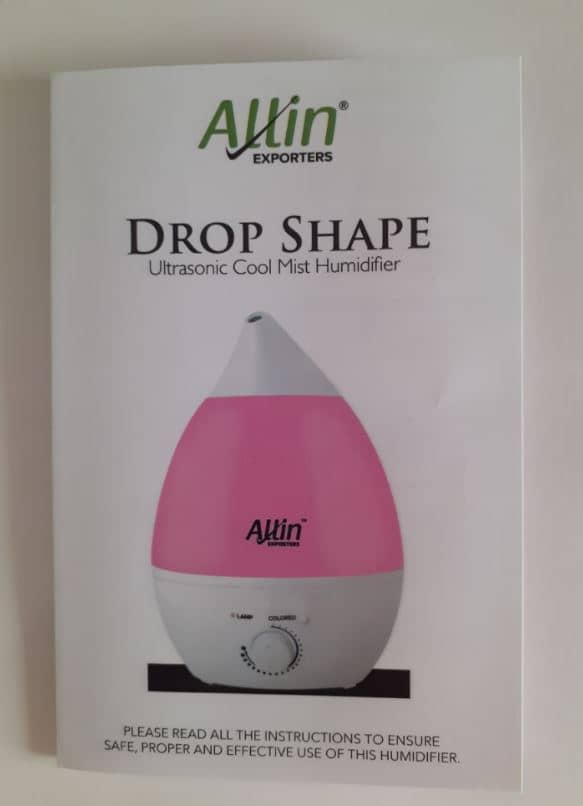 WEEKLY MAINTENANCE
Beside daily maintenance, you need to award weekly maintenance to your Allin humidifier. Below is how it should be done.
Turn off the humidifier and unplug the power cord.
Add water to tank up to half and add 3-4 teaspoons of vinegar. Shake the water tank well and let it be for 30 minutes.
Empty the tank and rinse with plain water.
Now, fill the base with lukewarm water and add 2 teaspoon of white vinegar. Again let the unit rest for 30 minutes. Empty the base fully and rinse the rinse with plain water.
Ensure to pour water away from the fan located at the bottom.
Clean the nebulizer unit with a damp cotton swab or cloth after soaking in water.
Allow the tank and base to dry out in the air. Keep the cap of the tank off until the next time of use. This would prevent any smells from developing.
CONCLUSION – ALLIN HUMIDIFIER
My humidifier stopped working on the second day itself. I couldn't even take pictures of it completely to post here. The mist output was good and it looked lovely with its color changing LEDs. I was really happy to see it work the first day. This is part and parcel of buying electronic goods. It is the bestselling humidifier in Indian market for some good reason. You can choose to return or get a replacement if you do so within the return period. From my short usage time where I ran it for around 6 hours, I can say that if your device works fine then nothing like owning one.
With those words I conclude this Allin Humidifier review. You can check other Allin humidifiers too.
You May Like These Similar Posts From AirSwacch!