Among all Levoit air purifiers, the Levoit LV-H126 is the least priced and with a unique design. Levoit is one brand which is dominating the HEPA air purifier market these days. Its meteoric rise out of nowhere since a few years may well become a case study for B-schools any time soon. There are air purifier models for all needs and prices. No dearth in innovation or features, with their pleasing design and looks, Levoit never disappoints. This Levoit LV-H126 review is our take on this tiny air purifier with good odor removal ability. You may find the Partu air purifier even cheaper than Levoit LV-H126 and its a Chinese make and nothing more to say. Partu BS-08 air purifier is the cheapest air purifier you can ever seek.
LEVOIT LV-H126 REVIEW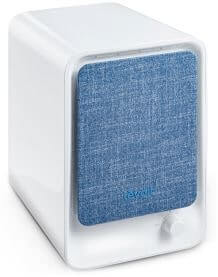 Levoit LV-H126 is meant for room sizes measuring around 161 sq.ft. It comes with a 6 feet long power cord. Apart from Levoit LV-H126 air purifier, there are several other Levoit models catering to small rooms. Take for example the hugely popular Levoit Core 300 which covers 215 sq.ft. area. Just so you know, LV-H126 is an older model to Core 300.
Whats Included In The Package
1 x Air Purifier
1 x Filter Set (primary and pre-filter Pre-Installed)
2 x Extra Pre-Filters
User Manual
LEVOIT LV-H126

PRICE
The war for rolling out ultra cheap air purifiers is heating up. The market is already saturated with cheap Chinese products. They do look good with lots of LEDs but there is no guarantee how long they would last. It seems Levoit is hell bent to decimate even them. Not long ago, they introduced the LV-H128 model which costs just $49! Isn't it surprising how an air purifier with a True HEPA filter covering 161 sq.ft. can come this cheap? But, since its coming from Levoit, we can always prefer it over those Chinese ones.
Levoit has a newer model of air purifier, the LV-H128 costing as little as $49. Plus there are coupon discounts of $5 available sometimes to make it even cheaper. Their costliest model till date is the Levoit LV-H134 priced approximately around $399.


CHALLENGERS
As I said above, the market is inundated with cheaper models with their price very close to the Levoit LV-H126. But, only the Germ Guardian AC4100 can match the quality, looks and price of Levoit. Germ Guardian is a veteran company which has been making air purifiers since times when Levoit wasn't even around.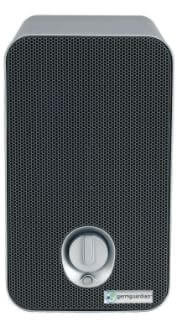 Germ Guardian AC4100

Vs

Levoit LV-H126
If you trust me, Levoit LV-H126 vs Germ Guardian AC4100 bout goes to the Levoit model. Levoit LV-H126 performs better against odor control as it has 2 activated carbon pre-filters as against just a carbon coating on Germ Guardian AC4100 pre-filter. AC4100 is also a tad louder and may also pose a risk of ozone. Ozone risk owing to it additionally using UV-C sterilization also. But, having a UV-C lamp is a double edged sword really. However, nothing to worry too much as you can turn off the ultraviolet light also. It does disinfect the filters and kills germs from their surface.

Germ Guardian AC4100 also serves as a Baby Sleep Soother. It projects different color lights onto the ceiling serving as a soothing night light. The Germ Guardian AC4100 vs Levoit LV-H126 contest is neck and neck, and LV-H126 wins by a whisker. Both have a rotary dial to choose the fan speed and power ON/OFF the air purifier. However, the knob for Germ Guardian AC4100 is more prominent and conveniently placed.
DESIGN AND LOOKS
At first sight someone unaware of what it is, may think Levoit LV-H126 as a speaker. Its dial knob is eerily similar to the volume controls on a speaker. So, if someone takes it to be a speaker, he/she is perfectly justified in thinking so. I would quickly drop this analogy as there's more to it. The Levoit LV-H126 arrives securely with the extra pre-filter set at the top just as you open the box. Although the price is low, still the build quality, the finishing is all perfect.
The body has a glossy finish and all white. There is one Black body model too. The filter is to be replaced from the backside after taking out a mesh cover. The purified air is released from the front. The front side is non-removable with a color fabric masking it. This fabric is the only splash of color in the whole air purifier. On all sides along the front fabric, air vents let clean air out.
CONTROLS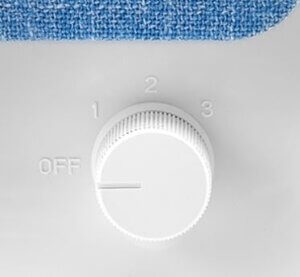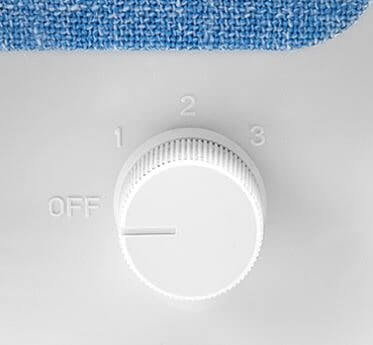 We are used to seeing sassy consoles on air purifiers. On Levoit LV-H126, the rotary knob is all there is in the name of buttons or controls. Its all so simple to operate that its a no-brainer. There's just OFF/Speed 1/Speed 2 and Speed 3 settings that can be chosen by just rotating the knob. There are no LED lights whatsoever, not even a LED for power.
PORTABILITY
Levoit LV-H126 is easily placed on bedside table, a desk, small shelf or similar arrangements. It would not be wrong to call it a personal air purifier which you can carry with you anywhere. Due to its light weight and dimensions, space would never be a constraint as it fits nicely in those tight spots.
LEVOIT LV-H126

COVERAGE AREA

&

ACH
A minimum of 4 Air Changes per Hour (ACH) is the minimum, an air purifier should perform. Levoit LV-H126 is not like your traditional (bigger and ruthless) air purifiers. It can clean the air of a room sized 15 m² or 161 sq.ft. twice in an hour. This makes its ACH =2 only. Hence, do not think it to be an air purifier for 161 sq.ft. even for a second. For an ACH = 4, its coverage area would become around 80 sq.ft.
A small fan inside a small air purifier like Levoit LV-H126 has its own limitations. Naturally, it would take much longer to draw all the air inside its filters (reason for only 2x ACH). You wouldn't find any air purifier so small as this one with an ACH=4. If you do see it somewhere, either email me or just ignore it. It would be unjust to expect great airflow from a fan of that size. The idea is to keep your expectations under a check while testing out such a small air purifier.
---
---
Levoit LV-H126

 CADR
I couldn't find any advertised CADR rating for the air purifier. Trust it somewhere around 40 – 50 CFM. For an air purifier of its dimensions and size, it works well. Actual users have stated this thing, that it gives out good deal of air. This means that the air circulation is surprisingly good.
LEVOIT LV-H126 FILTERS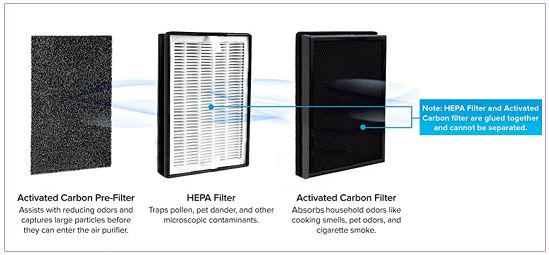 Having 3 layers of filters comprising a pre-filter, HEPA and carbon filters is a norm for air purifiers. Even though its price may not make it believable but Levoit LV-H126 does have a True HEPA filter. Kudos to the company for managing to eek out quality and affordability together. I do not see any problem area in the air purifier which may hint at a quality compromise. Furthermore, there's a dual layer of activated carbon- one on the pre-filter and majorly on the carbon filter.
3 FILTER LAYERS
PRE-FILTER

–  This is a fibrous mesh whose main job is to keep the HEPA and carbon filter healthy for longer. LV-H126's pre-filter too has a coating of activated carbon. Its not washable owing to this carbon layer, but you can very well vacuum clean it.

TRUE HEPA & ACTIVATED CHARCOAL FILTER Filter

– The True HEPA filter captures the smallest of airborne particles. Dust, Pet hair and dander, allergens and mold spores can't evade it once they are trapped in the filter. The pre-filter is always ahead of the HEPA filter so that it can take the larger dust and dirt onto itself.
On the backside of the HEPA filter, the charcoal filter is fused.
REPLACEMENT FILTER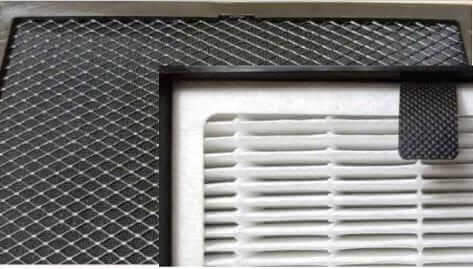 As you know, you ought to replace the filters when they are too dirty to do any air cleaning. Levoit LV-H126 air purifier has an analogous mechanism to indicate/alert about filter replacement. The method to reset the replacement timer is also typical.
Generally, the pre-filter may have to be replaced every 2-3 months. This duration for the HEPA filter is close to 6 months as preached by Levoit. You know better how much dirty the air in your area is. This time interval is just an approximation but you need to take note when the filters really need replacement (earlier or later).
LV-H126-RF Replacement Filter Set
You do get a replacement filter set for Levoit LV-H126 quite easily online. Apart from the HEPA and carbon filter combo filter, you also get 3 pre-filters in it. One pre-filter out of these is consumed with the HEPA filter. The other two pre-filters are there to be used later replacements.
The cost of the replacement filters for any air purifier is around 1/5th of the air purifier cost. Incase of Levoit LV-H126, you can get a replacement in around $15.


POWER CONSUMPTION
Do I need to tell you that it being a small air purifier, it consumes less power? Its not even information for you correct! Most air purifiers for large or medium size rooms expend between 50 – 70 W of power. A small fan and no electronics or LEDs mean that Levoit LV-H126 would hardly impact your power bills.

NOISE LEVEL
As much small the Levoit LV-H126 is, the noise is makes is not so less. At lowest fan speeds, we have seen air purifiers registering just over 25 – 30 dB on the decibel meter. But, our ears are not as sensitive as a decibel meter. Hence, a slight more or less noise is not discernible to us.

PROS AND CONS

CONCLUSION – Levoit LV-H126 Air Purifier Review
As much as we all want to save money, do we really get what we expect by settling for a lower rung product? Not always, I'd say. Levoit LV-H126 air purifier is no doubt a complete value for money. But isn't it foul air which has spurred you to look for an air purifier? If it is indeed so, and from the looks of it you have a smaller area to take care of. Honeywell too has a similar model called the HPA020B which I feel would be better and more powerful. Levoit never ceases to amaze with the sheer variety in its catalog. As if the price of LV-H136 hadn't already reached rock bottom, here's Levoit LV-H128 already. For an even lesser price it still comes with a High grade H13 True HEPA filter.
Levoit LV-H126 gets full marks in quality. Its an excellent value for money proposition although lacking a bit in features. Looking at its price, the lack of features becomes justified. Just a bit noisy, but a great buy if you should purchase it.
You May Like These Similar Posts From AirSwacch!