So, everyone's shopping wish is to get their hands around that perfect product, while saving on costs right? Everyone wants something that costs less but is still as effective as the costlier options. We all want that something extra! Same goes for the look out of air purifiers. Definitely, the budgets vary from person to person. For those looking to spend way less than a $100, options are many. This Partu BS-08 review covers such an air purifier which is very economical to own for sure. We've seen the likes of hugely popular Levoit LV-H132, or the Levoit Vista 200 air purifiers. These models cost under $100 and have caught the imagination of users.
I am amazed how searching for 'Partu Company' doesn't throw any results on Google. Instead, Google wants me to Party as a spellcheck! Google which can find out things from the Hades, has absolutely no knowledge of the company's whereabouts. Did someone say China? Yeah, I think so, but who knows. As long as the stellar Partu Filter BS-08 reviews are there to be flaunted, who really cares!
PARTU AIR FILTER BS-08 REVIEW
Some days of the year, people are extra concerned about the air quality inside their homes. So, we all want fresh air. That is difficult to achieve without constant circulation and cleaning. And thankfully, today we are going to present a new and portable product – the Partu BS-08 air purifier. Where it differs from other products in the market is the immediate effect of its looks. It has a sleek, cylindrical shape. The color combination achieved with its console lights ON; makes it look elegant and classy. Despite being cylindrical, the placement of the console and its unusual tilt catch the eye. It is surely very different from other air purifiers out there. The manufacturers' choice of giving 7 colored night lights is so typical to Chinese products. But, it does look pretty and if you find anything amiss or lacking, again look at its price!
All this and more in this Partu BS-08 review. And yeah, Partu BS-08 is no BS! Lol.
WHAT YOU'LL FIND IN THIS PARTU FILTER REVIEW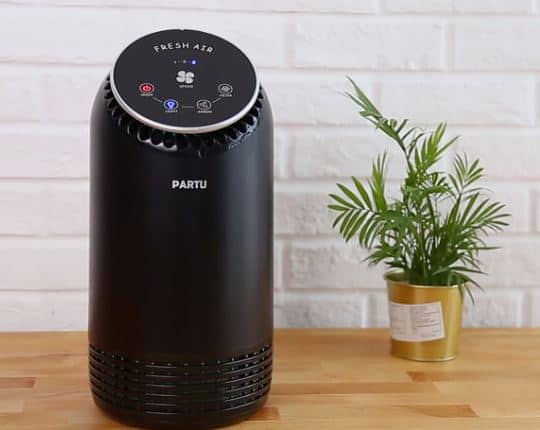 This is an unbiased and honest review. This review is divided into parts so you can easily compare this Partu Air Purifier filter review with any other reviews on this site.
The Partu BS-08 is a cylindrical, dark colored air purifier. It uses a HEPA filter to remove particles up to 0.3 microns. On the first fan speed level, there is no noise to disturb light sleepers. The filter also has an additional Anion function which ionizes the air. Now, Partu claims that this filter is 100% ozone-free. And this holds completely true as long as the Anion function is not used. Once it is in use, then there is some minimal ozone released as a by-product. This cannot be avoided since the process of ionization is bound to produce some ozone no matter what. So the key is not to let the ozone accumulate. Use the function and move out, let it run for sometime and then stop it. Again, this feature is optional so you can always run it without the Anion function on.
PARTU FILTER PRICE


BETTER MODEL FROM PARTU – PARTU BS-10
PARTU WHAT??
I am sure no one ever heard of this company's name, neither did I. Obviously, to be able to place ones' faith in an unknown entity is a far fetched thought. As of yet, Partu does not even have any official website and mostly sells its products through other sellers like Amazon. There is also no specific helpline as seen with independent companies. So many users might be worried that in case of issues with the product, who do they contact?
Now, this is where we need to come forward to clear the airs. Keep your apprehensions aside for a second. Reviews don't always lie especially when there are over a thousand reviews on Amazon with a vast majority giving 4 or more stars. Some customers did face issues with the product delivered. So they contacted their Amazon agent who connected them with the seller. Immediately they were provided with a replacement product! In fact, in some cases, the customers did not even specifically lodge complaints but expressed their disappointment in receiving perhaps a faulty product. In this case, also, the Partu helpline reached out to them personally and offered to replace the product without asking back the previously delivered one!
One things for sure – Website or no website, Partu provides good customer service.
DESIGN AND DIMENSIONS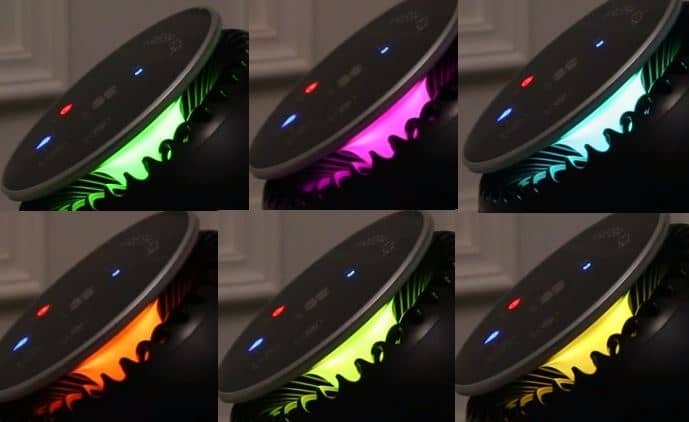 The Partu BS-08 air purifier has a cylindrical body with a sturdy plastic finish. Don't expect them to serve you with everything best at this price. The surface is matte. The top part is rounded and the control panel is slanted. It is tilted at an angle of 45 degrees and is looks inviting. The bottom part contains the vents that run all around the device. So it takes in air from all 360 degrees. The purifier is quite small in size. It is only 17 inches high which is less than that of a chair. It is bigger in size than the earlier BS-03 model. Weight-wise, it weighs only 6.6 pounds which is almost two-thirds the weight of most air purifiers. It is unobtrusive and portable.
There are four silicone feet on the base and it small enough to be placed on a desk or shelf. The circular shape and four feet, combined with a tapering shape ensure that it does not easily tip over. Overall, BS-08 is a cost-effective model and suitable for very small rooms. Partu BS-08 runs on a solid motor construction. The BS-08 is the first product of Partu family to utilize this. Hence, it is certainly an upgrade from earlier models like the dirt cheap BS-03 or Partu BS-07. This improved technology can not only reduce the risk of fire hazard due to overheating but also keep the power consumption as low as 35 watts.
COVERAGE AREA & ACH
As such, the product is generally meant to be used in smaller homes. But it is best to use in an optimum room size of 130 sq. ft. The maximum size it can be used in is 160 sq. ft. When used in a room of 110 sq.ft., it can change the air four times per hour! The ACH is 3 or 4 times depending on room size and ceiling height. The manufacturer states the CADR as 60 cfm. These assumptions are based on the fact that the air purifier is being used in second fan mode.
FAN AND TIMER
The Partu BS-08 can run at three different fan modes. An interesting part was that if the RBG lights are switched on, they automatically adjust their brightness based on what speed the fan is in. For example, when you are using the fan in the highest mode, then the lights are regular and bright. In second fan mode, they are somewhat dimmer. In third fan mode, they completely switch off. You can now easily place the device on a table and go to sleep in a nice, dark environment. This is the "sleep mode" of the device. At the lowest level, there is no white noise.
There is no timer provided in this product so users will have manually switch off the product.
PARTU BS-08 FILTERS
Tests have found that within 1 hour of running, Partu removed almost 99.5% of the dust particles. The air was cleaner and easier to breathe in. It also performs better than its predecessors like the BS-03 model. Partu uses a 4-stage air cleaning process and a 5-in-1 HEPA filter. This is an absolute steal at this price! The various filters used as shown: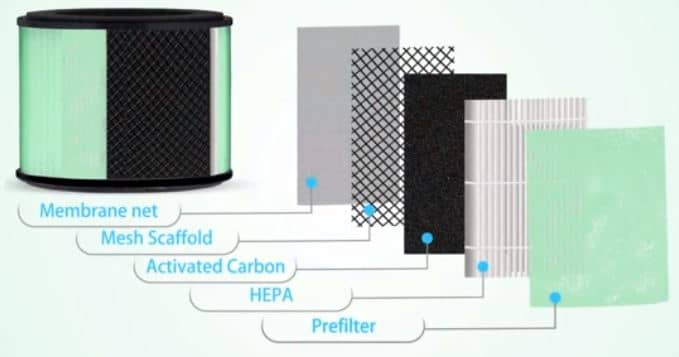 PRE-FILTER
This is the mandatory filter in every air purifier. It is located near the bottom meshes to ensure that particles larger than 100 microns do not get in. This can include pet hair, human hair, large dust particles, sand, etc.
TRUE HEPA Filter
A HEPA filter makes sure than 99.95% of all pollutants up to 0.3 microns in size are removed. Using a true HEPA filter, Partu provides this guarantee as well. On testing, within 30 minutes of use, it can remove dust mites, mold, spores and pollen. 


ACTIVATED CARBON FILTER
This is the second step where foul odor is removed. Carbon filters can absorb harmful formaldehyde, VOCs, sulphates, ammonia and other odours like the ones caused due to pets and kitchen fumes. A special membrane and a mesh are present on the inside which prevent any 'carbon leak' from this filter.
IONIZER
This is an additional feature. It is quite impressive that Partu could provide so many features within such a range. An ionizer is an additional way of removing pollutants by making them heavier. This function can be switched on or off as needed by the user.
The filters can be replaced by removing the base. You can rotate it counter-clockwise and the base will come off. The old filter can now be removed and replaced with a brand new one. I hope you finding the Partu BS-08 review helpful?
NOISE LEVEL
Partu has stated that their product has minimal noise. Obviously this is only true when it is running at its lowest fan speed. Most air purifiers are marketed this way so its no surprise they did the same. At the lowest fan speed, the sound is only around 20-25 dB, which is quite impressive. This sort of white noise is almost unperceivable and can be easily blocked out by the brain.
At the highest fan speed, however, the sound reaches 55-58 dB. Again, this is almost double the first fan speed sound, but not unreasonable. Even the best of purifiers, reach a sound level of 50 dB when operated at high speeds.
CONTROL PANEL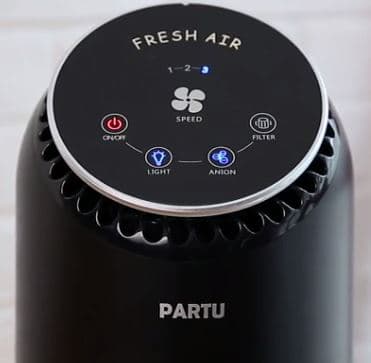 Partu BS-08 air purifier circular control panel is located on the top and angled at 45 degrees so that users can easily reach out to it. You will see that it has a silver finish except for the buttons which are black. It is touch-sensitive. There is a reason why the control panel is kept this way. In a very interesting design finish, the control panel plate hovers over the top of the machine. In the slit beneath it, the vents are located through which the fresh air is pushed out. This means the new air reaches out in all directions. There are a total of 5 buttons and its very easy to understand their functions.
CONTROL PANEL BUTTONS
ON/OFF – This button is distinctly located to the side, which is something we think is debatable. Using ON/OFF switches are given a central and important location that people can easily reach it without looking. Here, it is very inconspicuous.
FAN SPEED – This button is given the centrestage. You can control the fan speed with this one button only. Pressing it causes the fan speeds to alternate between the 3 stages.
LIGHT – This activates the RGB lights located beneath the rim of the control panel. As we said, it doesn't add any specific functionality but is still a cool feature nonetheless for those who like such things.
ANION – This activate the anion feature which sends out a rush of charged anions into the air. We have discussed this later in the additional info section since it can be a debatable piece.
FILTER – This is an LED light that turns on whenever it is time for the filter to be replaced. You can rest easy about worrying when the filter needs to be replaced. The device will simply tell you.
Overall, the control panel is very sensitive and easy to use.
ADDITIONAL INFO
As said, this Partu BS-08 filter review is going to end by explaining the Anion function. This feature does the same job as an Ionizer. When you switch it on, it spews a flurry of negatively charged particles into the air. They bond with the positively charged air pollutants in the air and drop them to the ground where they won't be a part of the air circulation anymore. You can now clean or mop them off.
So, ionizers often release ozone as a byproduct of their job. And while Partu claims to be 100% ozone-free, this particular service remains in doubt. However, it is certified by the CARB and hence, you can rest assured that it certainly meets the ozone-emission standards set by them. The current acceptable standard is 0.05 parts of ozone per million. This is too little to cause any harm, so you can use this filter with the ionizer on with no worries.
CONCLUSION – PARTU BS-08 AIR PURIFIER REVIEW
Overall, this is a good product and well worth the price invested in it. One issue you might face is where to lodge proper complaints but as said, it can be taken care of by contacting the seller via Amazon. For servicing though, it is unsure what sort of help will be provided to customers. There is a 2-year warranty on the product.
It uses industry-standard filters and has a high ACH when used within a suitably small room. The true HEPA filer and easy to use interface are certainly a plus. The ionizer is also another feature that is usually not seen within this price range. The LED lights are an added bonus for those who'd like to add some color to their home. It is attractive to look at, small enough to be inconspicuous if needed. We'd say this is great value for money product.
Hopefully, this Partu BS-08 review helped clear your doubts on its many features.
You May Like These Similar Posts From AirSwacch!