Last we discussed the Best Sharp Air Purifiers in US. The Coway AirMega 300 Review follows. Coway AirMega series of air purifiers is meant for large rooms. Coway AirMega 300 is the second in the lineup after AirMega 200. We encourage that you deploy multiple smaller units than a single big one. But, for spaces which have lets say a big hall and sometimes an attached kitchen, a big air purifier can be useful. An air purifier creates its own pattern of air circulation. You'd not gain by disturbing this air flow by putting other air purifiers in that same space.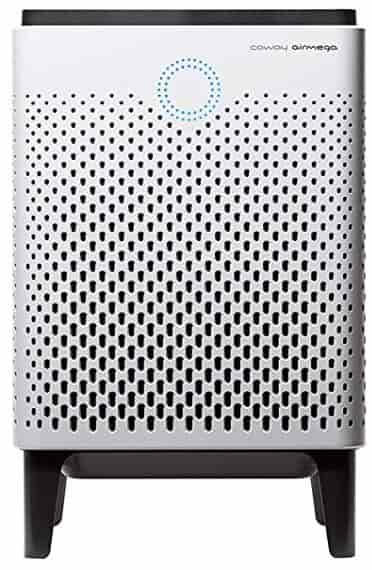 Models & Variants
Coway AirMega 300 and Coway AirMega 300S 'S' stands for Smart and Coway 300S is the one it refers to of the two. It can be controller via ICIER mobile APP through WiFi. The mobile Application gives indoor and outdoor air quality. You can not only set the timer on 300S but also schedule it. As has become a norm, AirMega works with Alexa and Dash Replenishment. The smart variant produces lesser noise too.
Check Current Cost


Power Consumption
How much electricity an air purifier consumes deserves special attention. Talking of the Coway AirMega, it eats a reasonable 57 W. With the air purifier of the size and coverage of AirMega, it is not much.
Design & Looks
Coway AirMega 300 like other models from Coway is a well-made device. Hence, no one can point out any deficiencies in build quality or aesthetics. Its quite natural that an air purifier for large coverage area would be bulkier itself. You cannot keep the picture of a slim and small air purifier if you want it to cater to big room sizes. Likewise, Coway AirMega 300 is the size of a small bedside table. The device is all white with just the top face/console and the legs being black. A circular ring of air quality indicator LED imparts a nice look to the air purifier. It goes well with any room interiors.

Coverage Area
The Coway AirMega 300 is suitable for room sized around 1256 sq.ft. Please take care that your doors and windows are kept closed while the air purifier is running. Many people complain of the air quality indicator always showing red light. While we cannot deny any issues with the sensor etc., do check this aspect as well. Frequent opening of doors can prolong the time it takes for the purifier to clean.
Air Filtration
The air purifier is capable of producing a powerful air circulation. People have observed a marked decrease in their watery eyes, sneezing and coughing.
Noise That It Makes
An air purifier tends to make noise when its fans are in top gear. AirMega does not make much noise except at its highest fan speed. The lowest noise is almost whisper-low at 22 dB. While the max can go up to 52 dB. Thus its noise depends on the speed of the fan.
2 Sets Of Filters on Each Side
The front side of the AirMega does not pull in any air. The left and right sides is from where the dirty air is sucked in. Since the filters are not cylindrical, 2 sets each of pre-filter and compound MAX2 filter are deployed. This could mean a considerable amount of money needs to be spent whenever you need to change the filters.
Keep at least 1-2 feet area clear near the sides of the air purifier for unobstructed airflow. The air purifier may give you looks of a table, but please don't put anything on its top. 🙂
3 Stage Filtration
Coway AirMega 300 employs a three-stage air filtration. The first layer is that of a pre-filter. The next two layers are coupled together into a compound filter called the MAX2 filter. A deodorization filter and a True HEPA filter comprise this compound filter.
Pre-filter traps larger particles of hair, fiber, visible dust and pet dander. You should be regularly cleaning it to help the inner filters work more efficiently.
Activated carbon layer of the MAX2 filter adsorbs 99% ammonia, formaldehyde and VOCs. This deodorization filter eliminates foul smells, pet odor and harmful gases.
The TRUE HEPA filter stage of MAX2 filter is the main filter. It reduces 99.97% of particles sized 0.3 microns in the air. A HEPA filter also removes pollen grains, allergens and particulates from the air. Also, cigarette fumes and fine dust are effectively trapped.
Whats On The Console?
Smart Mode
Smart mode is also called Turbo mode by some brands. As the air quality deteriorates, the fan automatically operates at a higher speed. This is until the pollution sensors re-evaluate the air quality. The fan speed becomes low when good air quality is reinstated. When the air quality remains good for 10 minutes at a stretch, the fan is shutdown to save power. This is called the ECO mode. All in all, the air purifier operates intelligently in Smart mode.
Sleep Mode
The air purifier runs in its lowest fan speed and consumes the least power. The light bulb button (marked as 2. in pic above) switches off the AQI light LEDs if you like it that way.
Filter Change/Wash Indicator
This feature is something I liked better than most other air purifier models. The MI air purifier for instance gives you only the filter life remaining in %. Now, in Coway AirMega 300, the feature which displays when it is time to wash the pre-filter is unique. LEDs shows successive degradation of the filters in steps of 20%.

Pros & Cons

Conclusion
Coway is a renowned company and its air purifiers are much liked the world over. Coway AirMega is a complete air purifier in that it does not compromise on any front. Its often seen that companies produce a blot looking mean machine but not so with Coway. Not to forget their USP, which is excellent customer support and professional attitude. We strongly recommend Coway Air purifiers for not one but so many reasons we listed above. Thanks for visiting and reading our Coway AirMega 300 Review! You might like to view Coway Mighty Review.