Last we discussed the Best Sharp Air Purifiers in US. The Coway AirMega 300 Review follows. Air Purifiers from the Coway AirMega series are meant for large spaces. Coway AirMega 300 is the fourth in the lineup after AirMega 150, AirMega 200 and AirMega 250. AirMega 300S is ideal for a big space like a hall or living room and sometimes an attached open kitchen. We encourage that you deploy multiple smaller units than a single big one. An air purifier creates its own pattern of air circulation. You'd not gain by disturbing this air flow by putting other air purifiers in that same space.
The Coway AirMega 300S is a big draw in the North America region. The good news is that it has now arrived in India too. The price is something not many can think of affording though. Its price can fetch you atleast 3 smaller air purifiers. But, once one has it there's little left to desire as far as an Air Purifier goes! Its price is justified since its coverage area is many times over a mid-size room air purifier. Plus, it has an ingenuine design, loads of smart features and excellent filters.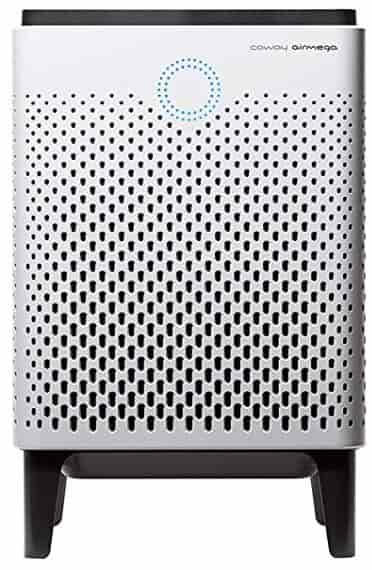 MODELS & VARIANTS
Coway AirMega 300 and Coway AirMega 300S 'S' stands for Smart and Coway 300S is the one it refers to of the two. It can be controller via ICIER mobile APP through WiFi. The mobile Application gives indoor and outdoor air quality. You can not only set the timer on 300S but also schedule it. As has become a norm, AirMega works with Alexa and Dash Replenishment. The smart variant produces lesser noise too.
CHECK LATEST PRICE



POWER CONSUMPTION
The amount of electricity an air purifier consumes deserves special attention. Talking of the Coway AirMega, it consumes a reasonable 57 W. With the air purifier of the size and coverage of AirMega 300S, it is a genuine rating. On other occasions its minimum wattage is just 6.2 W. I am sure the power consumption would not even feature in your mind after experiencing its performance.
DESIGN & LOOKS
Coway AirMega 300 like other models from Coway is a well-built device. Hence, no one can point out any deficiencies in build quality or aesthetics. Its quite natural that an air purifier for large coverage area would be a little bulky so it is. You cannot keep the picture of a slim and small air purifier if you want it to cater to big room sizes. Likewise, Coway AirMega 300 is the size of a small bedside table. The device is all white with just the top face/console and the legs being black. A circular ring of air quality indicator LED imparts a nice look to the air purifier. It goes well with any room interiors.
The Coway Airmega 300S weighs in at 21.4 pounds. This is heavy to be lifted or shifted from one place to another. The absence of caster wheels may pinch. But then this Airmega is not meant to be moved from place to place. You should get smaller air purifiers for that purpose.

                 ✔ Blue= Good            ✔ Purple = Moderate           ✔ Pink = Unhealthy           ✔ Red = Very Unhealthy
COVERAGE AREA
The Coway AirMega 300 is suitable for room sized around 1256 sq.ft. Airmega 300S can cater to 1560 sq.ft. Please take care to keep your doors and windows closed while the air purifier is running. Many people complain of the air quality indicator always showing red light. While we cannot deny any issues with the sensor etc., do check this aspect as well. Frequent opening of doors can prolong the time it takes for the purifier to clean.
AIR CHANGES PER HOUR (ACH)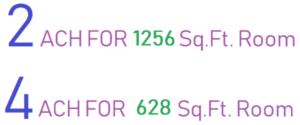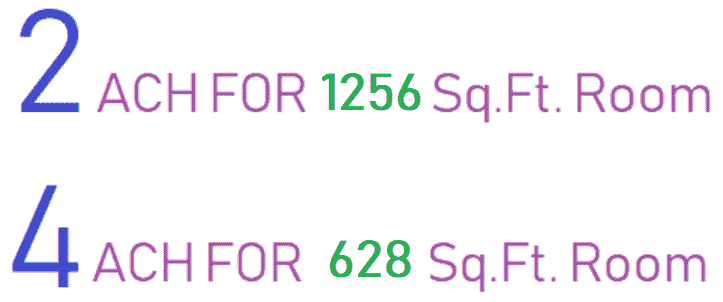 As much as you want to work less, an air purifier wants to work more. An air purifier moves air through its fans. The greater the circulation it is able to stir, the better it is. The motive behind fan design and filter placement is to make the polluted air to pass through the filters. A measure of how much success an air purifier achieves in doing so is the ACH. ACH stands for air changes per hour.
In simple terms ACH is the count of times the air in a 8 feet ceiling room passes through the filters in an hour. The more the ACH the more suitable an air purifier is for Asthma and Allergy patients. For the Coway Airmega 300S, ACH stands at 2 air changes per hour. If you place your Airmega in a 1,256 ft2 room then all of the room's air will be cleaned atleast twice hourly. The ACH can go up to 4 if used in a room sized 628 sq.ft.
READ ITS STILL BIGGER MODEL'S REVIEW

COWAY IoCare APP
The IoCare APP is the most important difference between Airmega 300S and Airmega 300. The application is available for download on Google Play and AppStore. Having an App to control your air purifier sounds like fun!
But, is it really so? Sadly the App has garnered just 2.4  ratings on Google Play of some 50 thousand downloads. So just go through the reviews and decide.
COWAY AIRMEGA 300S AIR FILTRATION
The air purifier is capable of producing a powerful air circulation. People have observed a marked decrease in their watery eyes, sneezing and coughing. Its HEPA filter has a Japanese plant extract which exterminates viruses.
The front side of the AirMega does not pull in any air. The left and right sides is from where the dirty air is sucked in. Since the filters are not cylindrical, 2 sets each of pre-filter and compound MAX2 filter are deployed. This could mean a good amount of money needs to be spent whenever you need to change the filters.
Keep at least 1-2 feet area clear near the sides of the air purifier for unobstructed airflow. The air purifier may give you looks of a table, but please don't put anything on its top. 🙂
3 STAGE FILTRATION
Coway AirMega 300 employs a three-stage air filtration. The first layer is that of a pre-filter. The next two layers are coupled together into a compound filter called the MAX2 filter. A deodorization filter and a True HEPA filter comprise this compound filter.
PRE-FILTER – Pre-filter traps larger particles of hair, fiber, visible dust and pet dander. You should be regularly cleaning it to help the inner filters work more efficiently. You can vacuum clean the pre-filter or wash it under water. Since it is washable, you would not need to replace or buy a replacement normally.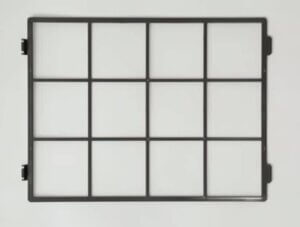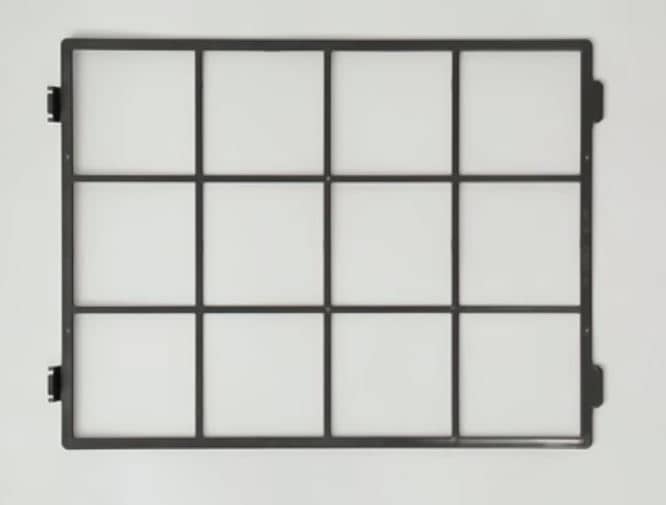 ACTIVATED CARBON FILTER – Activated carbon layer of the MAX2 Filter adsorbs 99% ammonia, formaldehyde and VOCs. This deodorization filter eliminates foul smells, pet odor and harmful gases. The activated carbon filter in Airmega air purifiers is not like ordinary filters in most air purifiers. You can see actual Carbon Pellets inside the honeycomb carbon filter. Ordinary carbon filters just have a coating of carbon over a fabric. Having actual carbon pellets lends excellent odor and obnoxious gases removal capability.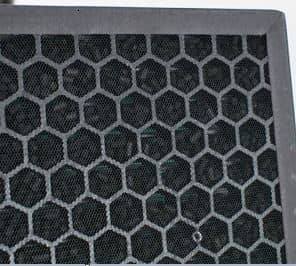 GREEN TRUE HEPA FILTER – The TRUE HEPA filter stage of MAX2 filter is the main filter. It reduces 99.97% of particles sized 0.3 microns in the air. A HEPA filter also removes pollen grains, allergens and particulates from the air. Also, cigarette fumes and fine dust are effectively trapped.
This filter is special since it has anti-bacterial and anti-viral coating on its surface. This helps in disinfecting the filter and prevents the risk of re-circulation of germs into the air. In totality, the MAX2 filter is a very high quality filter combo.
WHATS ON THE AIRMEGA CONSOLE ?
SMART MODE
Some air purifiers call this mode AUTO mode. As the air quality deteriorates, the fan automatically operates at a higher speed. This is until the pollution sensors re-evaluate the air quality. The fan speed becomes low when good air quality is reinstated. When the air quality remains good for 10 minutes at a stretch, the fan is shutdown to save power. This is called the ECO mode. All in all, the air purifier operates intelligently in Smart mode. In Coway Airmega 300, SMART mode operates the air purifier AUTOmatically and ECOnomically.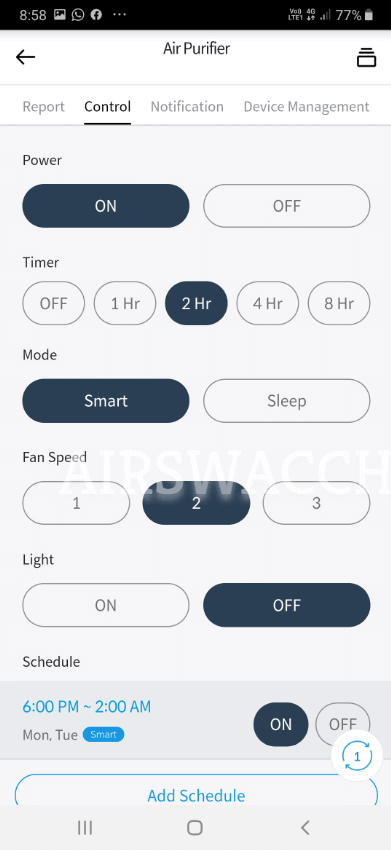 NOISE THAT IT MAKES
An air purifier tends to make noise when its fans are in top gear. AirMega does not make much noise except at its highest fan speed. The lowest noise is almost whisper-low at 22 dB. While the max can go up to 52 dB. Just a marginal noisy at high fan speed. Thus its noise depends on the speed of the fan. Moreover, Coway Airmega 300S is meant for large rooms, who will sit very close to it leaving the whole room vacant!
You may think how come a powerful air purifier like the Airmega makes less noise. The logic is quite simple. Sleek air purifiers need to have jet-engine like fans to spur up an air torrent. Size is not a problem with Airmega as you already know its generously big. This allows a bigger set of not one but 2 fans to be employed. This way the fans move a good air mass without much hustle.
SLEEP MODE
You have to manually activate the SLEEP mode when you want to. The built in light and pollution sensors of the Airmega become the commanders. If the air quality has been good for the last 3 minutes and its dark, then SLEEP mode is activated. In sleep mode, the air purifier runs in its lowest fan speed and consumes the least power. The light bulb button (marked as 2. in pic above) switches off the AQI light LEDs if you like it that way.
FILTER CHANGE/WASH INDICATOR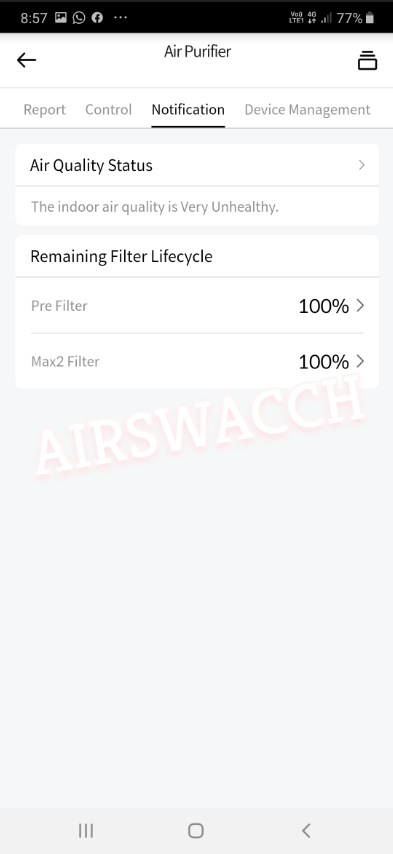 A very good feature I need to mention here relates to filter change indication. Most air purifiers if at all gives you only the filter life remaining in %. Now, in Coway AirMega 300, the feature which displays when it is time to wash the pre-filter is unique. LEDs shows successive degradation of the filters in steps of 20%. So there is a complete peace of mind and no need of manually checking the filters. We have reviewed so many air purifiers here at AirSwacch. But this level of detailing is absent in others. 

Frequently Asked Questions – Coway Airmega 300
WHAT IS COWAY's COUNTRY OF ORIGIN?
South Korea is the country of origin of Coway air purifiers.
IS THE BODY METAL OR PLASTIC?
The body is made of plastic, which is lustrous  from the outside. Some people raise apprehensions about it yellowing over time. But, that's not the case.
ARE CASTER WHEELS PROVIDED?
As much as I would have liked it to, Coway Airmega doesn't come with caster wheels. Not to worry as there are recesses or niches at each side for lifting it.
WHAT TO DO IF YOUR COWAY AIRMEGA IS NOT SENSITIVE ENOUGH?
You'd want your air purifier to respond to changes in air quality. Coway Airmega 300 has a SMART mode for that. In this mode the air purifier adjusts its working depending on the pollution. If somehow, you feel that this functionality isn't working, get your air purifier checked. Or, before that set the mode to sensitive and see if it makes any difference.
DOES THE COWAY AIRMEGA 300 REMOVE CIGAR SMELL?
I would wish you quit smoking soon. Yes, Airmega removes tobacco smoke very easily. Tobacco smoke is heavy and there are smoke particles which linger closer to the floor. Coway's activated carbon filter removes such odors and the HEPA filter do their bit of trapping smoke particles.
DOES THIS AIR PURIFIER REMOVE MOLD & MILDEW?
Mold develops on a surface in hot and humid conditions. But, spores of mold can travel far and wide through air. Spores are akin to seeds with which mold propagates. Any air purifier can remove mold only when it is air-borne. For mildew the better way out is to treat the factors causing its smell.
IS THERE ANY IONIZER IN THE AIRMEGA 300?
There is no ionizer in this air purifier. States are more and more restrictive when it comes to ionizers. Coway Airmega 300 does not have any ionizer stage. No Coway air purifier has ionizer so to speak. Hence, there are no risks involved with Ozone etc. Coway Airmega 300 and 400 are powerful models which even reduce the mustiness.
DOES THE COWAY AIRMEGA 300 COME WITH A REMOTE?
No, there is no remote control. If you are a lazy soul and want more comfort then the Coway Airmega 400S models are prefect for you. You can control them remotely with WiFi, not with a remote though.
THE SOUND THAT IT MAKES, IS IT DISTURBING?
Any air purifier makes the most noise when running at its fastest speed. The aim is to draw as much air as quickly into the air filters. Naturally, all this will make some extra noise. But, there's an upside to it as the whole buildup finishes the air cleaning very fast. Apart from it, at normal and low fan speeds, the Coway Airmega models are at par if not worse than other popular air purifiers.
CAN COWAY AIRMEGA CATER TO VOCs (Volatile Organic Compounds)?
VOCs are nothing but a class of organic gases which are carcinogenic in the long run. The activated carbon filters in your Airmega, two of them remove all VOCs. Freshly painted or varnished homes, new furniture are the main source of VOCs. Benzene, formaldehyde and xylene gases abound in such homes. Good carbon filters can easily take care of it.
WHATS THE GROUND CLEARANCE?
Coway Airmega 300 remains approximately 4 inches high from the ground.
AIRMEGA 300S

PROS & CONS

CONCLUSION – COWAY AIRMEGA 300S REVIEW
Coway is a renowned company and its air purifiers are much liked the world over. Coway AirMega is a complete air purifier in that it does not compromise on any front. Its often seen that companies produce a blot looking mean machine but not so with Coway. Not to forget their USP, which is excellent customer support and professional attitude. We strongly recommend Coway Air Purifiers for not one but so many reasons we listed above. Thanks for visiting and reading our Coway AirMega 300 Review! You might like to view Coway Mighty Review which is a smaller Airmega but immensely popular.


You May Like These Similar Posts From AirSwacch!