Until an year ago, I used to marvel at the frequency Levoit used to roll out newer air purifier models. Levoit had made it their usual trait to bring in something new quite frequently. Brands wait a few months or a couple years before they pack some new features to be ready for a fresh model. And by 'new', I do not mean just rephrasing their tagline or rebranding the old thing in a new package. Levoit has a pretty impressive air purifier catalog to choose from. This Levoit Core 200S review demonstrates how feature packed this small air purifier is. In a short time since its arrival, it has garnered very good ratings and user reviews on Amazon.
LEVOIT CORE 200S AIR PURIFIER REVIEW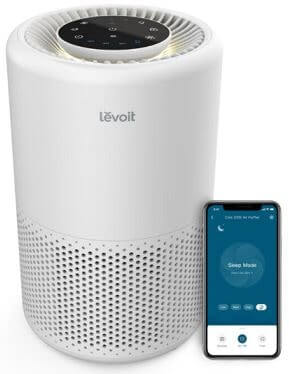 Looking at the appearance and price of Levoit Core 200S, I find too much similarity with Levoit Vista 200. You too take a look! What do you say? Just to give you a quick 'feel' of what are views, the next few lines would be sufficient. Levoit Core 200S is well endowed in terms of features, value for money, looks, design and smartness. In this price, its a rare chance to get an air purifier with 183 sq.ft. coverage area with a mobile APP with ALEXA support! Even if there were no mobile APP, it still is a better air purifier than the Levoit Vista 200. At present both of these models have the exact same price of $89.99. Things may vary in the future.
I'd compare Levoit Core 200S Vs Vista 200 shortly.
Levoit Core 200S as much as I can tell is an upgrade of the Vista 200 model. Or, you can think of it as the lower yet smarter version of the Levoit air purifier Core 300. The new Levoit Core 200S is not very much behind the Core 300 with 183 sq.ft. coverage. Levoit Core 300 can cater to an area of around 215 sq.ft. You should not forget that Core 200S is cheaper than Core 300 and still ahead in terms of features and smartness. Broadly speaking you get the same design, same circular console and nearly the same features for a price difference of $10.
If you really are into tech and love automation, then surely Levoit Core 200S is for you. Where else would you get such a nice looking air purifier with H13 grade True HEPA filter with WiFi and App support, all for $89.99? In the last one year, its price has remained static. This is also an indicator that its 5 star ratings are genuine.


COMPARABLE COVERAGE AREA MODEL : Medify MA-18
COMPARISON – Levoit Core 200S

V

s Vista 200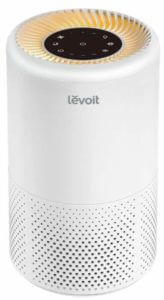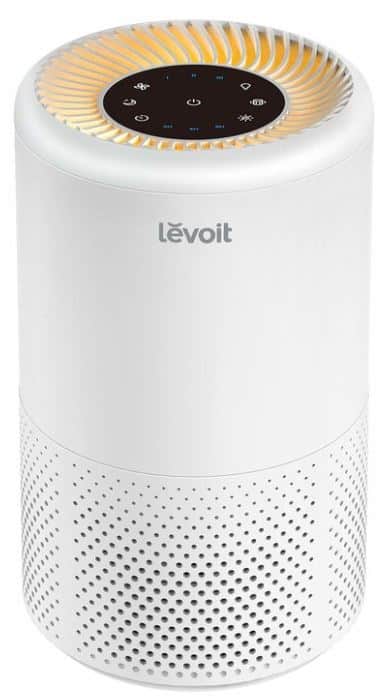 Thus far in this Levoit Core 200S review, you already know of the physical resemblance with Vista 200. Note that I said 'physical resemblance'. Core 200S seems to be a huge upgrade of the Levoit Vista 200, although the word 'Core' in the name adds to the confusion. It would not be incorrect, if I rechristen Core 200S as Vista 200S. From their comparison chart below, focus on the Air changes per hour value. A huge turnaround in favor of 200S which makes the Vista 200 look like trash.
The Levoit Core 200S Vs Vista 200 is not even a match. The scale is tilted totally towards Core 200S. However, both of them have the same H13 grade filters.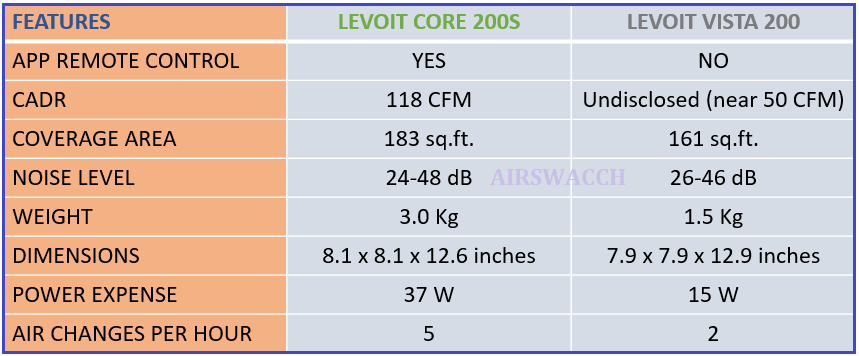 DESIGN AND LOOKS
If I sit down to compare this model with other Levoit models, I may get mad. So, lets stick to discussing just about Core 200S. An all white body with rounded edges and cylindrical shape is a common trait among Levoit air purifiers. Even with the Core 200S, this same design is beginning to feel too predictable. Yes, the console has been elevated if there was nothing else to change. Note that I am compelled to observe this change as against Vista 200. Also, Vista 200 has a slight tapering while Core 200S is fully cylindrical.
Levoit Core 200S air purifier follows the traditional bottom to top airflow. All cylindrical air purifiers follow the same approach of 360 degrees air intake. They also do have a cylindrical mono-filter consisting of pre-filter, carbon filter and HEPA filter layers. The 5 air changes hourly rate of this air purifier is its USP with a decent coverage area.
An indicator on the console blinks when the air purifier is paired with the VeSync mobile APP. You also get a serene night light with the liberty to turn it off as well.
DIMENSIONS
Who can have any complaints on the dimensions or weight of any Levoit air purifier. The company has always taken this factor seriously. None of their models is overly large. Whether its the Levoit LV-H126 which is a desktop air purifier or the tall LV-H134, none has a large footprint. The cylindrical shape always helps in that they occupy lesser floor space. An air intake from all directions gives even more flexibility in air purifier placement. Still, Levoit advises to maintain a 15 inch clearance radially.
The unit weighs just 3 Kilos, still so light but double as heavy as the Vista 200.
Levoit Core 200S Dimensions – 20.5 x 20.5 x 32 cm.
VeSync APP – Makes Levoit Core 200S Smart!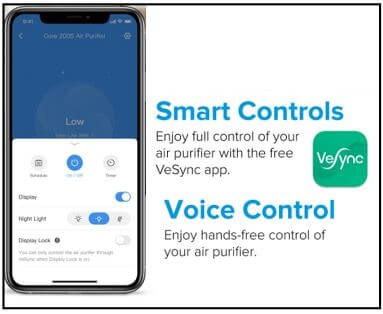 You can use the VeSync app to connect the Levoit Core 200S smart air purifier to Amazon Alexa or Google Assistant. Prior to this a VeSync account must be created. The app is available in Google PlayStore and Apple App Store. The WiFi connection is pretty good and there is no delay in the air purifier's response when operated through the App.
VeSync App creates a smart home and with it you can control the schedule of your Air fryer, air purifier, humidifiers or light bulbs.
Things You Can Control Through The VeSync App –
REMOTE CONTROL – You can change the air purifier settings through the VeSync app. Through the app, you can override the controls even if the Display Lock is ON.
SCHEDULES – Create and manage schedules for operating the air purifier. The only other air purifier I have seen having Schedules feature is the Coway Airmega 400 air purifier. But, its in a different league altogether. Schedule is a step ahead of timers. With schedules you can also set the day of the week and time of the day for a timer to start.
24 HOURS TIMER – Often you would have just seen 2/4/6/8 hour timers. Levoit Core 200S is special since it lets you choose from the full 24 hours window.
FILTER REPLACEMENT –  The filter replacement indicator on the console just alerts you when its time to replace the filter. Through the VeSync app, you can also keep a tab on the filter percentage life remaining. Again, a feature only seen in costlier air purifiers at your behest in just $89.99!
---
CADR – 118 CFM | 201 m³/h
---
COVERAGE AREA &

ACH
The Levoit Core 200S is a small room air purifier suitable for an area spanning a maximum 183 sq.ft. This is when you want it to clean the room's air 5 times in an hour. If you are Ok with it delivering lesser ACH, maybe 3 or 4, it can also be deployed for still larger rooms. An ACH of 5 is just Wow! We rarely see air purifiers with ACH > 4. You can comfortably use Core 200S for a 250 sq.ft. area. The newer Levoit Core 400S is capable of cleaning over 400 sq.ft area over 5 times in an hour.
LEVOIT CORE 200S FILTERS
Levoit air purifiers always have 3 filtration stages in all their models. Core 200S has a high quality H13 grade True HEPA filter.
Pre-Filter

– This nylon maximizes the life of the filter by capturing larger dust particles, lint, fibers, hair and pet fur.

True HEPA Filter

– A high performance filter which has an 99.97% efficiency in removal of particles sized 0.3 microns or above. HEPA filters trap microscopic particles of dust, spores of mold, bacteria, viruses, and allergens such as pollen, dander, and mites. However, Levoit doesn't claim their filter can remove the COVID-19 virus.

Activated Carbon Filter

– Activated carbon filter which is dedicatedly given the task of removing noxious gases and odors from the air. This filtration stage forms the innermost surface of the composite filter.
FILTER REPLACEMENT & MAINTENANCE



POWER CONSUMPTION
Levoit Vista 200 seems less power efficient if we look at its 15W power usage. But, who'll look at its coverage area which is so less compared to the Core 200S. A more powerful air purifier ought to draw more power. Consuming 37W for an area of 183 sq.ft. for ACH=5 denotes good power efficiency.
NOISE LEVEL
Air purifiers to be used for bedrooms or homes must be silent for their lower fan speeds. At the highest fan speeds, air purifiers tend to get noisy but even then it should be tolerably so. Small air purifiers are mostly exempt from noise problems as they do not have large fans. They do not have to displace large air volumes too. In this regards, Levoit Core 200S is exceptionally quiet at the lowest fan speed. Its minimum noise level is just 24 dB while at top speed it rakes up a normal 48 dB. 24 dB is next to pin drop silence.
CONSOLE FEATURES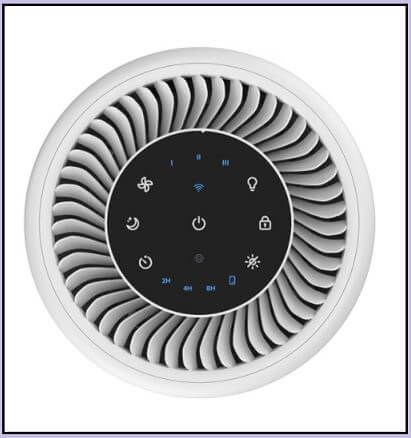 ON/OFF – Apart from the obvious function, the On/Off button is to be pressed and held to configure the air purifier for VeSync app.
WiFi Indicator – As the Levoit Core 200S is WiFi compatible it has an indicator on the console to this end. It turns On/Off/Blinks to indicate configuration status.
FAN SPEED – There are 3 fan speeds for I (low), II (medium) and III (high). When the air purifier is in Sleep mode, if you tap it, the air purifier would exit from Sleep mode.
TIMER – 3 timer time options are provided over the console. If you need more granularity use the VeSync app. Through the app you can select any range in a 24 hour window.
SLEEP MODE –  As the name indicates, it is for Sleep mode. It also doubles up as the RESET button for the CHECK FILTER indicator.
DISPLAY OFF – Turns the display LEDs Off. The night light still works if you have them On.
DISPLAY LOCK – Another name for the Child lock function. It disables all the other buttons on the console. If you touch other buttons, this button blinks to draw your attention towards itself. Touching it again disables the display lock.
NIGHT LIGHT – Turn ON/OFF the night light. The night light can be used any time the air purifier is plugged in, even if the air purifier's fan is Off.
CHECK FILTER – This button will light up when the air filters need to be checked or replaced. Tap and hold the Sleep mode button for 3 seconds to reset the check filter indicator.
CONCLUSION – Levoit Core 200S Review
Go for it without a second thought, it is an absolute value for money. However, there is no air quality monitoring, neither on the air purifier's console or its VeSync App. If you want to experience all convenience features an air purifier can have, the Levoit Core 200S has them all. Right from scheduling the time and duration when it should work, to using it as a night light. I do not see any compromises been made in quality either. Not sure how the company is able to eek out their margins even after loading it with so many features. All I can think is the absence of an air quality indicator. With time and enhancements maybe you see it on the VeSync app if not on the console. Look at how many feature adore on the Levoit Core 200S console.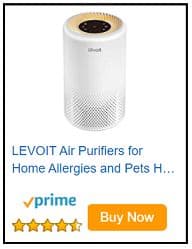 You May Like These Similar Posts From AirSwacch!