Water heaters are an absolute necessity during winters. Most of north India sees 3-4 months of winter season. Hence, you must have good arrangements of hot water to spend the winters comfortably. Do you know which geyser brand to prefer? There are many brands to choose from like Havells, Crompton and Bajaj water heaters are the most popular brands. Venus and Racold are some other names. This post introduces you to a very fine vertical geyser model from AO Smith. In this AO Smith water heater review, I would explain its 15 litre SDS Green geyser. My family has been using the AO Smith SDS Green 15 ltr water heater for many years now. Hold tight as I bring out its features and then you can decide on your own whether it cuts the bill for you or not.
AO SMITH GEYSER REVIEW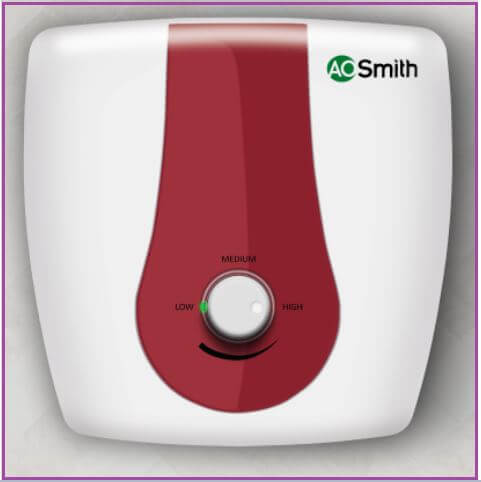 AO Smith is over a century old American company specializing in water heaters. Quality and innovation comes naturally when you are such an old enterprise. The company manufactures all types of residential and commercial water heaters and boilers. AO Smith has a manufacturing plant in Bengaluru as well as the world's largest geyser factory in Ashland, USA. AO Smith SDS Green water heater is one of the Best water heater in India.
UNBOXING AO SMITH SDS GREEN WATER HEATER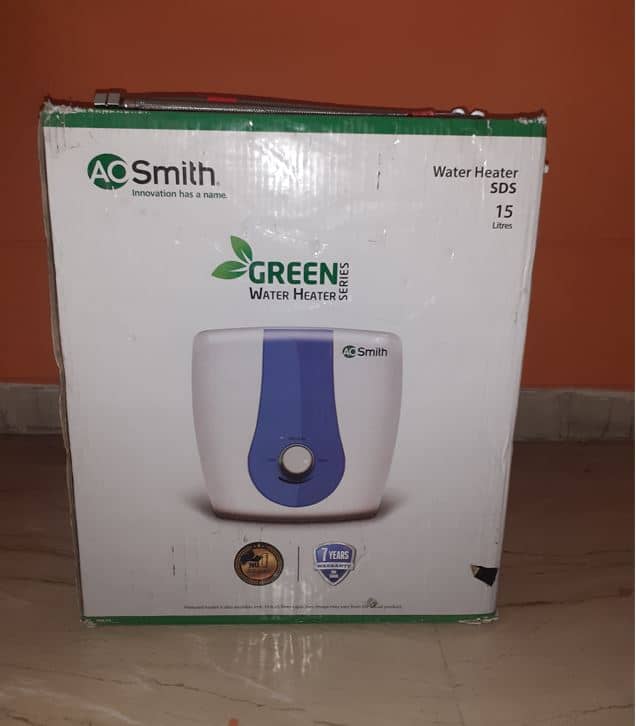 I had order my geyser online and the installation experience was totally hassle free. I had arranged the connecting pipes on my own as they are not included in the box. On the designated schedule, a person installed the geyser in no time. He had to make holes in the wall to mount fasteners. That was the only part which consumed time. Rest was pretty much like a breeze.
---
INSTALLATION PRECAUTIONS
It is recommended to keep 6 inches clearance from wall.
Select such a place where the water heater can be mounted vertically.
The water connections should be at the bottom side.
Water heater must be in approx. 3 ft. distance from the power source.
Ensure that the wall can bear atleast twice the weight of fully filled water heater.
---
The water heater was well packed and secured in a thermocol case. Below is a list of what you get in the box-
Geyser
User manual
2 Mounting Screws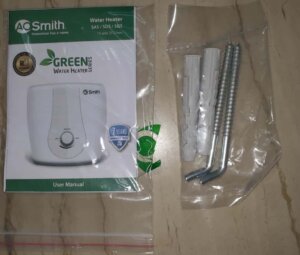 DESIGN AND LOOKS
The AO Smith SGS Green and even the SDS Green water heaters, both look exactly the same. I would call their design and looks fairly attractive. The front color panel can be changed too. Once after your purchase, you can order Red, Ivory, White or Blue panels from AO Smith customer care numbers to match your decor. There is no extra cost. This AO Smith water heater review has so much in store, stay tuned.
The AO Smith geysers lack digital temperature displays or fancy lightings like some of their competitor brands like Havells Adonia. But, be not mistaken about their capability and quality as AO Smith water heaters have superior technology. For geysers its all about durability of their water tank and safety features. From my personal experience, I am extremely satisfied with the AO Smith SDS Green geyser product range.
DIMENSIONS
The AO Smith SDS Green as well as the SGS Green models have the same dimensions.
Their dimensions (H x W x D) are 37.3 cm x 37.3 cm x 34.8 cm and both weigh 9.8 Kgs. Compare it with the Havells Adonia water heater's 44.5 x 44 x 43 Centimeters. Havells Adonia is at par with the AO Smith SDS Green on every parameter. But, its electric plug is touted to be more safe. Owing to all this it is slightly costlier. My bathroom fitting requirements dictated a water heater with height lower than 38 cms. This was the only reason I had to drop Havells Adonia from my options.
---
AO SMITH SDS GREEN PRICE
The AO SMITH SDS Green 15 litre water heater is one of the Best 15 litre geysers in India. The price of the Green series and so to say all AO Smith geysers is on the higher side. Compared with other brands except Havells (which is also en-cashing its brand popularity), AO Smith geysers are costly. Prefer waiting for such days when sale is on or when instant bank card discounts are offered. I myself purchased my geysers availing steep discounts.

CLOSEST CHALLENGER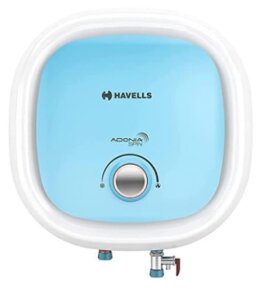 ---
CAPACITY – AO Smith SDS Green Water Heater
Your AO Smith SGS Green and SDS Green water heaters have a water tank capacity of 15 Ltr. A 15 litre geyser is sufficient for a family of 2-3 members. Before you buy a water heater, always bear this head count in mind. A 15 litre geyser is sufficient to fill a bucket of hot water in 10 minutes. The time of cut-off varies with the original water temperature and the desired temperature.
When its freezing cold, water in overhead tanks gets chilled overnight. So, it takes longer to heat it. Its advisable to adjust the temperature knob to its right or near-right setting. This way extra hot water can be filled in the buckets and later mixed with tap water to make it soothing hot. A 15 litre hot water fill in one cycle can this way be made 20 litres. Remember, reheating water from scratch consumes more energy than heating it somewhat more to boiling hot.
STORAGE CAPACITY OPTIONS
The SDS and SGS Green series have water heaters in a variety of storage tank capacities.
AO SMITH SDS GREEN SERIES
AO Smith SDS Green 6 Litre Price
This water heater size is ideal for single person for non-bathing purposes. Not too much utility apart from hand washing, pedicure etc. Yes an instant 6 litre geyser would have greater utility for wash basins and kitchen.

A 10 litre geyser is optimum for 1-2 person families who wish to save money initially while buying it. A 10 litre geyser would need multiple cycles of re-heating as 10 litres water is insufficient for bathing purposes.

AO Smith SDS Green 15 Litre Price
A 15 litre geyser is the ideal size for a 2-3 member family. If bathing is done using buckets then a 15 litre geyser is sufficient.

For those people who enjoy taking a shower, a 25 litre geyser is a must. A 25 litre geyser is larger in size and thus needs proper installation planning.

GOOD DESIGN FEATURES
1. WORKS IN HIGH RISE BUILDINGS
AO Smith water heaters work well in modern high rise apartments where the water pressure can be too high. Not all geysers can withstand such high pressure. The storage tank of AO Smith geysers is built from mild steel which provides the requisite strength. The result is they can work in as high as 8 Bar of pressure.
2. STORAGE TANK LINING
The storage tank of a water heater needs to be corrosion resistant at all costs. A geyser becomes a waste if its storage tank bursts or leaks. Bad water quality like hard water can eat away the tank material. The effect of water quality is compounded due to hot water and steam. AO Smith being one of the Best water heaters in India have a solution to this problem. The storage tanks have a lining of glass on their outer surface. Called the Blue Diamond coating, it resists corrosion greatly.
3. ANODE ROD MATERIAL
I have seen the anode rod of my AO Smith Instant 3 Litre geyser when it stopped working. All that was left of it was a thin wire and nothing else. This is from the time when our society did not have a RO plant. The water was of high TDS and only Ganga water was what we had to improve the ground water quality. It wasted away faster than usual due to high temperature an instant water heater generates quickly.
The conventional storage water heaters from AO Smith do not face this issue. The reason is their long lasting Anode rod made of a special alloy which makes it corrosion resistant. The result is increased life and no issues whatsoever even in hard water conditions. Normal geysers have just a Magnesium rod which doesn't stand a chance in testing conditions.
AO Smith geysers' Anode rod has twice the life compared to magnesium anodes.
PURPOSE OF ANODE ROD
The Anode rod is like a soft target intentionally placed inside the water geyser. It protects the storage tank and heating element from corrosion. Its made up of a more reactive element (magnesium in most cases) and is corroded instead of the geyser's parts. Thus, the tank and element remain safe for a long time.
4. HEATING ELEMENT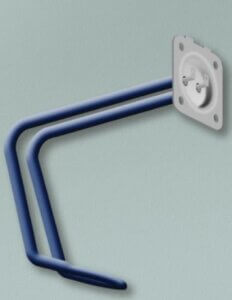 AO Smith Green Series water heaters have their heating elements coated with Glass. The heating element is itself made of an alloy called Incoloy. All this ensures a longer life for the heating element. The heating element is what does all the hard work. It is what has to bear the harsh conditions of high temperature and pressure.
It can quickly degrade in strength if it heats up in hard water. All the dissolved salts make a crust around it and slowly bury it making its life worse. You must have seen scaling on the good old immersion rods too. For AO Smith SDS and SGS geysers, such scaling and crust formation is prevented from forming. The result is that it gets corroded and ultimately bursts or crack. Your geyser won't power On when that happens. Thankfully, AO Smith water heaters have found a way to bypass this problem.
5. EASY TO CONTROL TEMPERATURE
There is a knob to adjust the water temperature settings in your AO Smith geysers. There are 3 main levels Low, Medium and High denoting temperature of output water. You can simply turn the knob to get hot water according to your needs. Anyone can operate it intuitively and needs no technical know-how.
When the Geyser is heating up the water both the orange and green lights are glowing. The auto cut-off feature puts the water heater in standby mode and stops further heating through the thermostat. When the temperature drops by 5°C then again the heating starts.
You can set the temperature from anywhere between 25° C to 75° C.
6. SAFETY VALVE
There is a provision of a multi function safety valve. It comes in handy when the pressure buildup inside the geyser exceeds the set limit. The valve automatically releases excess pressure by discharging water.
ENERGY EFFICIENCY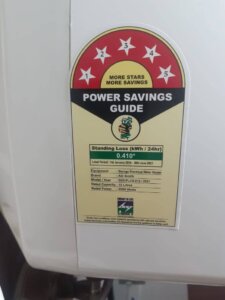 Almost all best water heaters for home are atleast 4 star rated if not 5. Even 4 star water heaters are less common than 5 star. AO Smith SGS Green water heater is 5 star rated. This means that its energy efficient and would help you save money on power bills. AO Smith geyser employ PUF insulation which is a much better insulator than normal glasswool. Its use contributes to low heat loss and hence low Standing Loss value.
STANDING LOSS VALUE
BEE label, issued by Bureau of Energy Efficiency is the Indian standard for energy efficiency. A 5 star rated AO Smith SDS Green Water heater has a Standing Loss of 0.410 KWh/24hr. Standing Loss is the heat loss through the surface of the storage water heater. Despite all the insulating materials used in the geyser body, some heat loss is still there. The lesser this heat loss is the more energy efficient the water heater is. Standby Loss value is calculated over a period of 24 hours. If no water is extracted out of the geyser, it is the amount of energy in KWh it needs to maintain the water temperature to a target value.
WARRANTY
When it comes to peace of mind while investing money in anything, warranty is important. The storage tank and the heating element are the most vulnerable parts of any geyser. If they continue to work fine then your water heater can enjoy a glitch free lifespan. AO Smith geysers offer a 7 year inner storage tank warranty which is good. The glass coated heating element is also covered for 2 + 2 years subject to your extending its warranty.
Overall, a comprehensive 2 years warranty is given on the product.
AO Smith Geyser Review – MY PERSONAL EXPERIENCE
I have three of AO Smith SDS Green 15 litre geysers at home. One of them is working fine since over 6 years. This is when the water quality in our society has been very poor in terms of high TDS. Now that there is a central RO, the life expectancy of our geysers is even more. Thus far we haven't faced any water leakages, heating element corrosion or water tank related issues. The customer service, although we had to call them rarely, was fine in their response.
The reason why we have all 3 geysers from AO Smith SDS series is due to its compact size especially height. Our bathrooms have a false ceiling arrangement from the builder's end to cover up the above floor's plumbing. This leaves just marginal space over where the fasteners can be drilled. Only the AO Smith SDS geyser's height was below 37 centimeters and it was the main reason for us choosing it 6 years back. Since there were no complaints at all, the next time we needed a new geyser, the choice was the same.
AO SMITH SDS Green v/s SGS Green
This is the most common question that arises when you are searching for AO Smith geysers online. Do you know the AO Smith SGS vs SDS difference? If not then let me quickly het you to the answer. The AO Smith SGS Green model is a 3 KW geyser as compared to SDS Green which is a 2 KW model. So, which between AO Smith SDS vs SGS is better? The answer to it is that it depends on your home's electric power load.
A 3 KW SGS Green geyser would heat the water faster than a 2 KW SDS Green. It heats the same water quantity in 33% lesser time.
CHECK SGS GREEN PRICE
You have to shell out more money to buy the AO Smith SGS Green water heater. Rest everything remains the same. The dimensions, weight and BEE ratings for both the models are all the same. However, a word of advice from my side. Avoid such high wattage appliance due to safety reasons.
CONCLUSION – AO SMITH GEYSER REVIEW
This AO SMITH SDS Green 15 litre water heater review is an account of my own usage experience. Thus far I haven't faced issues with any of my geysers. AO Smith geysers with glass lined heating element and storage tank are perfect to resist corrosion. If you are residing in an area where supply water is hard/brackish/high TDS, then you should prefer such a water heater. This would prevent frequent issues arising out of corrosion like tank burst, heating element shorting etc. A long warranty of storage tank and heating element is a plus point. This contributes to a tension free use for years and years.
Hope you found this AO Smith geyser review informative enough to make an informed decision.
You May Like These Similar Posts From AirSwacch!