Come November and winters begin setting in North India! The air is chilly especially during the wee hours of the day. Its predicted that winters this time would be harsher than ever. While we are yet to see it come true but blankets and quilts do not always help. In India's northern states, having a room heater is an absolute necessity. Without this small electrical appliance, the winters can become an absolute hell to bear. There are many heaters for room of different sizes. But some people might be hesitant buying one due to safety issues. Heaters do have few safety issues and must be operated carefully.
All radiant coil-based heaters for room have a mesh/grille in the front. The mesh prevents anyone from mistakenly touching the heating coil. Several have fans that can even use used in summer. Its all about careful handling. Heaters for room come with safety features. An auto-cutoff feature is present in even the cheapest heaters nowadays. This checks the room temperature and switches off the heater when the heating element temperature reaches the upper limit. So there is absolutely no fear in buying one for your home.
BEST HEATERS FOR ROOM IN INDIA
There are many choices when it comes to heaters for rooms. They may use conduction, convection or radiation to heat the space. Room heaters can be for small or large rooms. They can consume more or less power. We've broken it down for you in 4 easy categories so you can find the one that suits your home best! Check our list below to find what you need.
HEATERS FOR ROOMS THAT ARE SMALL
If you want to heat a small room ranging from 120 to 150 sq.ft. or even less then small heaters for room are a great choice. They consume less energy and can be easily put anywhere, no fuss about it. You can move them from one room to another easily. Many companies manufacture small heaters that use either infrared heating rods or heating coils combined with a fan. Check out some of the best heaters for room below.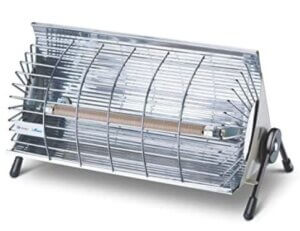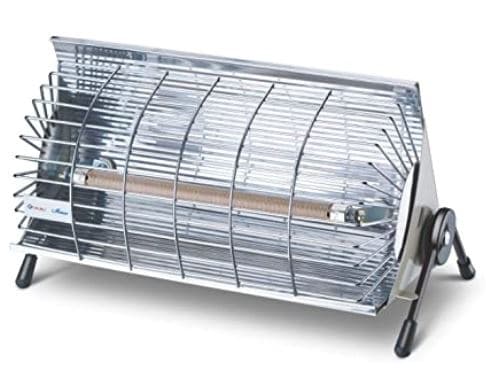 Bajaj Electricals is one of the oldest Indian electricals companies. You are probably even aware of their foray into other fields like automobiles and cookware appliances. This heater is ideal for small rooms and uses only 1000W of power. Above is what can be called the grandpa of heaters, the good old "heater". Red hot coils heat the room with infrared energy. Along with that, it uses a Nickel-Chromium Plated mesh grid for effective heating. The product is ISI approved and comes with a cotton braided cord. Like all Bajaj heaters, it comes with tilt protection. The castor stand on which the heater stands can be locked so that it does not skid or slide. It weighs only 1.47 kgs and has 2 years warranty. Bajaj has many service centers in every state so no matter where you live, you can always get any faulty item fixed.
GOOD FEATURES:
Nickel chromium alloy plated mesh grid for withstanding super heating.
It has an inbuilt safety system to prevent room for overheating. The coils are heated only up to an extent. Don't worry the coil won't melt off.
SS concave reflector helps evenly distribute heat to every corner.
Infrared heating coil.
Economic price affordable to one and all.
Heats up a 120 sq.ft room very quickly if not instantly.
PRICE CHECK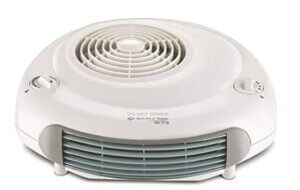 Now, if you're looking for a tiny but super strong blower, then Bajaj has again come out with an exemplary product. Many people are not comfortable with infrared heating and prefer fan heating instead. The Bajaj Majesty is a 2000W product that uses fan heating and convection currents to heat the room. You can also run it at 1000 W, so basically it has 2 heat settings. The body is made from PVC. During summers, you can only switch on the fan and not the heater. So it doubles as a fan as well. This portable product weighed 1.74 Kg and comes with 2 years of warranty time.
GOOD FEATURES:
Has an in-built auto shut-off feature to prevent overheating.
A thermal fuse to prevent sparking by auto-cutting is present.
Dual-use is possible- as a heater in winter and fan in summer.
PVC body is cool to touch and a separate handle is provided for lifting it.
Does not need any refrigerant or oxidant.
Two way installation – you can place it either vertically or horizontally.
PRICE CHECK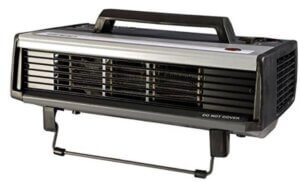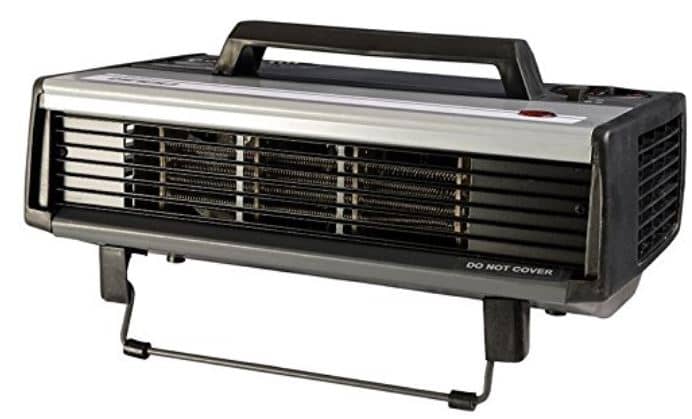 You will see some very well known brands appear in this list. Usha is one of them. They have carved a niche for themselves in selling room heaters, water heaters and exhausts. This connector heater is mainly meant for spot heating. You can use it for rooms up to 150 sq.ft. But most users found it to be effective for 120 sq. ft. rooms. There are 2 fans present in this product. It has 3 different heating settings. You can run it on 665, 1330 or 2000 watts. At 665 W, it is a very efficient and low-power consuming product. Unlike most other products, it has a night light to help you find it in the dark. It weighs 4 kgs and comes with a 1 year warranty from the seller.
Overall, a good room blower for small rooms.
GOOD FEATURES:
Twin heaters and fans for quick heating. Blowers tend to be noisy and may cause dryness in the room, so note this.
Automatic shut off as a safety feature.
Handle for easy portability but do not lift it or move around while its ON.
Night light is present.
Overheating protection is present along with a thermal fuse.
PRICE CHECK


You might be a bit unsure after this brand name? Agreed this product comes from a lesser known seller. However, every customer who buys this brand leaves a positive review. A careful observation I made is that this same model is being sold by numerous sellers and different branding. Anyways, this is mainly made for spot heating. This small room heater can heat up rooms of 250 Sq. ft. Considering the size and power of the product, it is better to use it in a lower range. It can run on 2 heat settings of 1000 W and 2000 W.
The temperature can be increased simply by twisting a knob. It has a safety feature to ensure auto cutoff at the right time and prevent overheating. White in colour, the item comes in a sturdy plastic build. 1 year warranty is offered by the seller, which shows the amount of confidence the brand has in this product.
GOOD FEATURES:
Two heat settings and suitable for 250 sq. ft rooms
Safety feature to prevent tipping.
Cool touch exterior is provided with insulation.
Thermal cut-off plug is provided and it needs minimum 15A socket.
Noise-free operation
PRICE CHECK


---
HEATERS FOR LARGE ROOMS
Large room heaters which are meant for large rooms use more than 2000W of power. They're good for heating rooms that are bigger than 180 to 200 sq.ft. If the mercury in your region slips to very low range, then you must consider these. These look like traditional radiators and are big in size. Each of the fins contains oil which acts as the heating element. Fans are located on the sides to circulate the heat.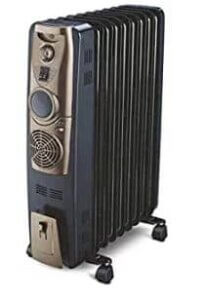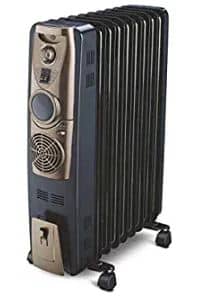 As you can observe, Bajaj has a wide range of room heaters for small and big rooms. This one is a oil heater and among the best among its peers. This one comes in a charcoal black color with powder coating on top. The international design and styling are sure to appeal to everyone. The oil heater has caster wheels fitted below for easy movement. It also has tilt protection wherein it turns off if it topples or tilted over a certain angle. You can lock the wheels to prevent it from sliding if kept on any surface with minor slope. It weighs 9.67 Kgs and it 73 cm tall. The warranty offered lasts for 2 years. This model uses radiation to heat the room. Using the thermostat, you can run it on three different heat settings. In each setting, the heater will switch off automatically once optimum room temperature is reached.
GOOD FEATURES:
3 different settings for room heating
Noiseless operation, it doesn't even make its presence felt.
Body is made from CRCA material to keep it sturdy and prevent oxidation.
Uses a 400 watt PTC ceramic fan to evenly distribute heat.
More the fins, more costly the oil-heater is.
PRICE CHECK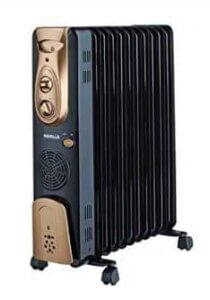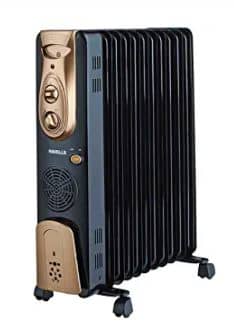 This radiant oil heater  from Havells is very similar in design and colour to the Bajaj one above. You will notice that the main difference is on the sides faces. In the rear, the Havells product has an additional safety cover provided. It also comes with cord storage. The  PTC fan inside can be controlled and set on 3 different power settings. So it heats with the help of a fan and not infrared radiation. There are castors wheels on the bottom that have tilting protection. There is some background noise in the product when it runs. It can run on 1000, 1500 or 2500 W and running the fan consumes an additional 400W. You can even use only the fan in summer. The product weighs 17 kgs, the reason why caster wheel come with it.
You get a 1-year warranty.
GOOD FEATURES:
Three power settings for both the heater and fan. They can be controlled separately.
It can quickly heat the rooms evenly in only 20 to 30 minutes.
Caster wheels fitted below for easy movement.
Tilt protection is present in every oil heater you set out to buy. This one too has it.
Does not overheat since it can automatically detect temperature and shut off.
PRICE CHECK


3. Usha OFR 3211F PTC Radiator
Usha is one of India's leading consumer durables manufacturer. Since 1934 they have become a household name with their table fans, sewing machines and exhausts. There was a time when it was the biggest name and very few others could overtake their success. The Usha OFR 3211F PTC heater lives up to its brand name. Its available in Ivory color with grey controls. It uses a PTC heating element for extra safety and the fins of the radiator are powder coated. This prevents rusting of the body. It is fitted with nylon caster wheels for movement. The special thing about this product is that it comes with a 2 m long cord. Most companies only give 1 to 1.8 m long cords.
GOOD FEATURES
Adjustable thermostat for 2 different heating intensities.
It consumes 2900 W and can very quickly heat a large room.
Long cord for easy maneuvering and placement.
Powder-coated fins to prevent rusting from the outside.
PTC heating element for safe heating.
Auto shut off to prevent overheating protection.
PRICE CHECK


4. Usha Oil Filled Radiator (3209)
This is yet another product by Usha. You will find many similarities in design with their above product as well. It is also available in a color combination of white and ivory. It has a 1-year warranty. You can set the power usage at either 800, 1200 or 2000 watt using the thermostat. There are a total of 9 fins that are powder coated. Usually more fins mean more heating capacity. This oil-filled radiator can heat any 150 sq. ft room is less than 20 minutes. It is also great for any spot heating purpose like a bonfire. Using the tip-over switch you can lock or unlock the wheels and roll it over to wherever needed. The product weighs 1.8 kgs.
GOOD FEATURES:
Noise-free operation like any other Oil heater.
Tilt protection and caster wheels present.
It Automatically shuts off the heating when the element temperature exceeds the limit.
3 different heating settings for varying heating needs.
Protective metal coating and has a safety certification with the PTC heating coil.
Uses 3-way heating from the front and the 2 sides for quick heat circulation.
PRICE CHECK


---
BEST ROOM HEATER WITH LOW POWER
So, the above products are quite good at what they do. But you must've noticed that most require huge amounts of power. Their consumption ranges from 1000 Watts to 2000 Watts. Now this is quite high for sure. If you're looking for a good performance heater that consumes less power and is economically feasible, then we've listed down 4 top products for you! Check out these amazing heaters that consume only 800 W. All of them can run at 2 heat settings so you can even use them in the 400 W mode when it is not too cold.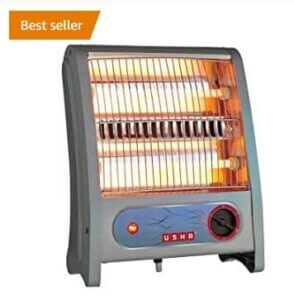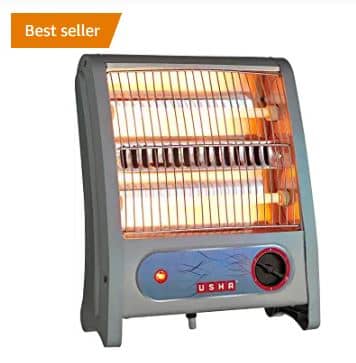 This is a great option for those looking for room heaters with low power consumption. 1000 W or 2000 W heaters are many but they also drain money. Low power heaters mainly function as spot heaters. Usha has come out with the Quartz room heater that consumes only 800W. Ivory in color with an infrared heating coil, this room heater is ideal if your room is 120 to 150 sq. ft. In fact, it has 2 power settings so you can even run it on half-power, that is just 400 W as well! It is powder-coated to prevent rusting. One year warranty is provided by the seller.
GOOD FEATURES:
2 heating settings at 400 W and 800 W. Very economic choice.
Safety feature to shut itself automatically whenever needed.
It has a Ceramic heating element.
If the heater suddenly falls or tilts when in use, then also it will auto shut down to prevent damage.
Weighs only 2.49 kgs so don't count its weight in your consideration.
Hooks on the backside to store the cords by looping on it.
The heater can be positioned in two ways depending on your comfort.
PRICE CHECK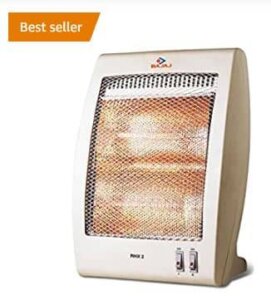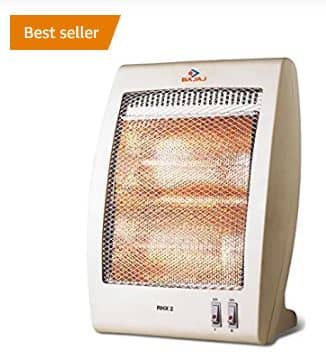 Bajaj has really dominated the room heater niche! They have a power-efficient heater that consumes only 800 W during operation. It can also operate on 400 W in its other heat setting. With an international design and style, this heater uses infrared radiation for heating the room. There is no fan provided. It is absolutely noiseless and has a dual safety feature. This means, if it ever tips over, the heater will shut down by itself. At the same time, there is a thermal fuse to prevent overheating or sparking. It weighs even less than 1 kg.
GOOD FEATURES:
Dual safety against tilting and has a thermal fuse.
Runs on 2 heat settings of 400W and 800W.
BIS marked and has 2 years warranty on the product.
Completely noise-free operation as there are no fans in it.
Has a durable mesh to prevent anyone from directly touching the Quartz tubes.
Chrome-plated reflector for even heating.
Uses halogen quartz tubes for quick heating of the rooms.
PRICE CHECK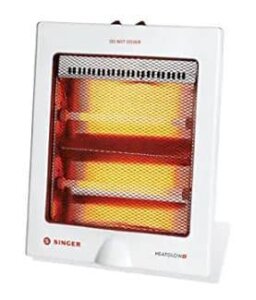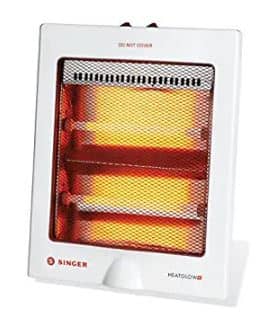 Singer is another well known name in this field. It has been around for a long time and was one of the earliest consumer durables manufacturers in India. The Singer Quartz Heat Glow uses 2 heating rods. So, you can run it in 2 settings – 400 W or the higher 800 W setting. This is an extremely powerful and stylish heater. A mesh covers the front portion to prevent any accidental touch of the rods. It uses infrared to heat the room. It has a handle to carry it and is extremely lightweight. The product weighs only 1.45 kgs. The seller gives a 1 year warranty on the product.
GOOD FEATURES:
Dual settings of 400 W and 800 W.
Completely noiseless working.
A safety switch will shut down the device in case it tips over or falls down.
Handle on top for carrying it around.
Each heating rod can be switched on or off individually.
Extremely thin in width makes for clutter free use.
PRICE CHECK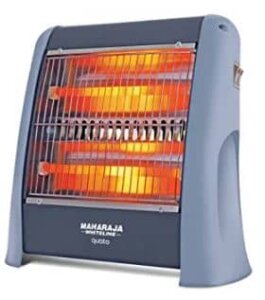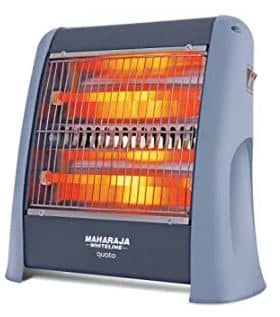 This is a small heater, meant for spot heating. If you want a stylish design, with economic power consumption – this should be on your list! Only 30 cm high, this small heater comes in 2 heat settings. You can run it on 400 W or 800 W depending on your need. Maharaja Whiteline is known to produce other home products like mixers, grinders and even garments. You can surely trust their products which have hundreds of positive reviews. This heater uses quartz heating tubes and is made specially to consume less power while running. A handle is provided and it is protected against tipping. This is good for rooms of around 100 sq.ft.
The seller offers a 1 year warranty. However, the tubes are not covered under warranty.
GOOD FEATURES:
Runs on low power, two heat settings of 400 W and 800 W.
Quartz tubes for infrared heating, great for spot-heating.
Consumes less power but the tubes tend to get fused.
Has handle for carrying and weighs very little.
ISI certified for safety.
CHECK PRICE


---
BEST ROOM HEATER UNDER 2000
Many of us live in places where heaters for room is absolutely necessary. Some can be quite expensive. But don't be worried. There are many heaters for room under 2000 that provide good service and can heat spaces in 20 to 30 minutes. We've listed down some of the best room heater below 2000 and discussed their major features below.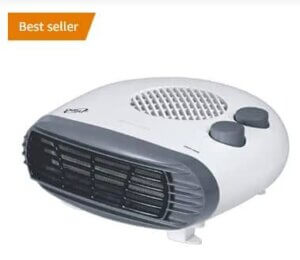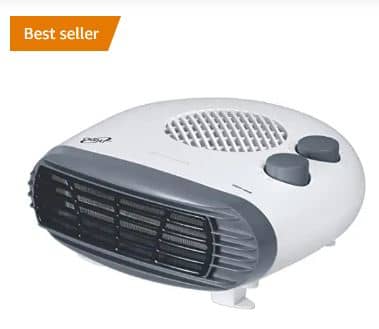 Orpat is also a well-known electrical goods company whose fans and heaters are a common sight. Their mini-heaters are just the right size for small rooms and come within the range of INR 2000. If you're looking for an economic solution, this is among the best heaters for room. This type of heater is mainly meant for spot heating and can consume up to 2000 W of power. It can heat rooms up to 250 sq.ft but will take some time. There is also minimal noise that is produced while it works. It weighs only 1.66 kgs and comes with a 1 year warranty time. This small and portable device can be placed anywhere, even on a table or shelf!
GOOD FEATURES:
Two heat settings of 1000 W and 2000 W.
Comes with a safety feature to automatically shut down when the desired temperature is reached.
Has a long heating element of the non-sagging variety.
Simple controls located on top.
PRICE CHECK


This is a great economic product under 2000. This product uses a 2400 RPM copper winded motor to circulate warm air throughout the room. You can control the temperature with the thermostat and keep in any of the 3 heating settings. There is a built in protection and the seller gives a one year warranty on the item. It is ISI certified, a mark of safety. In the third heat setting, it can immediately heat down a 150 sq. ft room in 20 minutes. A fan is present that can be run on cool mode during summers. But users said its speed is not as fast as needed from ceiling or table fans. Still, this is among the great heaters for room within INR 2000.
GOOD FEATURES:
Can be used in both horizontal and vertical mode for directing heat.
Safety feature for automatic shutdown to prevent overheating.
Three settings for fan are given.
PRICE CHECK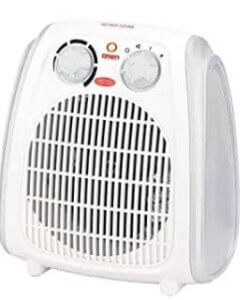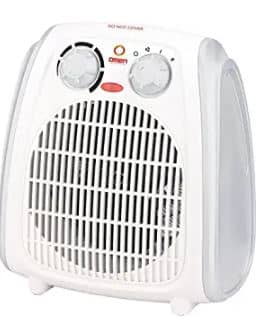 This is a small and handy heater for those looking for a product within INR 2000. This heater can run on two different heat settings. So you can run it either at 1000 W which is the recommendation or at 2000 W. This is a fan-based heater so it uses convection currents. The body is made from high-grade plastic. As with other heaters, there is a feature to allow automatic shut down for your safety. The product has a 1 year warranty by the seller. It is available in pure white color.
GOOD FEATURES:
2 different heat settings and 4 fan settings
Automatic shut down for safety
Light and portable
Dual-use of a fan during summer as a table fan
Latest technology heater for quick heating of room
PRICE CHECK


One cannot go wrong with any product from Havells. The Havells Cozio uses 2 heating tubes to provide immediate heat to a small room. It can operate at 2 settings. You can either run it on 400 W or at 800 W. There is an SS reflector to evenly distribute heat and it is coated to prevent rust from reaching it. The product has a safety tip over switch. There is also a handle as seen in smaller heaters. You can easily carry it between rooms. A grill is present on front to prevent accidental touching of the heating tubes. The seller has given 2 years of warranty on it.
GOOD FEATURES
Low heat settings of 400 W and 800 W.
Safety switch that shuts off the device if it tips over
Handle present on top to carry it
Mesh in front to avoid an accident
PRICE CHECK


CONCLUSION – BEST HEATERS FOR ROOM
After seeing this list, surely you must have decided on some heater that appeals to you. You can choose from small rooms, larger rooms, below INR 2000 or even low-power consuming ones. Larger oil radiators even come with their own dust filters so that you don't need to clean it every day. A ceramic heater is also included in the list. When compared to others, they operate at lower temperatures and are capable of releasing the same amount of heat across the room. Infrared heaters using quartz tubes or halogen rods work very quickly but they are best for spot or small space heating.
On average, a heater running on 2000W can heat up 200 sq.ft whereas a heater running on 1000 W can heat anywhere from 100-150 sq.ft. Based on this, and also the ceiling height of your home, you can choose the best fit for it.
In Winters, people commonly contact cough and cold, a steam inhaler can give some respite. For this we have a Best Steam Inhaler in India post just for you.
You May Like These Similar Posts From AirSwacch!