Do Air Purifiers Cool The Room? I wrote a post on this topic not very long back. With the arrival of the Blueair fan air purifier, I had to revisit and edit that article. There is a general perception that air purifiers somehow also cool the room's air. Well, even the dumbest of person won't buy an air purifier thinking to use it for cooling. But, what if you can get the best of both worlds? Blueair Blue Pure Fan is one such device, I would call it an 'affordable trendsetter'. The reason for this is because we have seen the costly Dyson Cool Link air purifiers which also claim to do the same. Blueair air purifiers have a number of models many of which even us have reviewed in detail. However, this Blueair fan review is special as it covers a beautiful device which is one of its kind. Atleast, I hadn't seen any air purifier of this design and air cooling feature.
BLUEAIR BLUE PURE FAN REVIEW
Worthy to let you know upfront is that Blue Pure fan is not an Air conditioner. "Yeah Yeah I Know", you'd say but I have to cater to all types of people right! Some of them may even have started imagining likewise. This is suitable for those who live in very hot and dry areas where dust abounds in the air. This fan would not contribute in re-circulating the dust and rather trap it inside itself.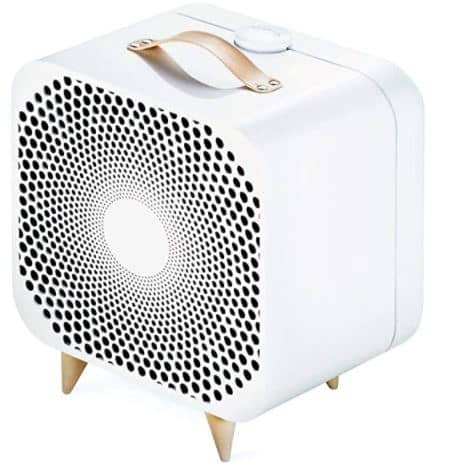 DESIGN AND LOOKS
All Blue Pure air purifiers are known for their minimalist features. Blueair company hails from Sweden and an obvious Scandinavian influence in design is palpable. A single button on the top is all there is for controlling the power and fan speed functions. Apart from this, a filter change indicator does signal when there's a need to replace the filter.
From the looks perspective, there is nothing amiss here. Blue Pure fan would only add spark to your room's décor. Looking at the legs that it rests upon, I can't help but it reminds of the Bissell air purifier. Seems the retro look is back in vogue these days! The body is glossy and the white color is generic like most air purifiers out there. The mesh is the exact same as seen in the Blue Pure 211+ or 121 models.
Its the pre-filter which lends the much needed color to it. You get a choice of 5 soothing colors including diva blue and dark shadow. They come cheap and allow you to customize the look of the Blue Pure fan in accordance with your home's aesthetics. This is something which is the signature style of all Blue Pure models.

DIMENSIONS
Blueair fan has dimensions such that it can be comfortably placed on tables, stools or floor. Placing it somewhere with some elevation is most suitable. Since the shape is nearly cuboid, it is space efficient. Be mindful to leave some gap between its backside and the walls. Its from the backside that this Blue Pure fan channels the room's air into its filter.
DIMENSIONS (H * W *D):

38 * 33 * 28 cm
HANDLE
How the Blueair fan operates has already been explained above. It weighs around 11.6 lbs and as such is not heavy. For placing it at convenient heights or again on the floor, a very convenient handle is provided. It resembles the handle of a briefcase.
POWER CONSUMPTION
What power does the Blueair fan draw? Not much, there is nothing special here. An air purifier's power consumption varies with it fan speed level. Thus, for this air purifier and fan combo, expect 30 – 61 W of power consumption.
BLUE PURE FAN PRICE
The price of the Blue Pure fan is not justified if I were to comment on it. Within Blueair's own catalog, there's an excellent air purifier, the Blue Pure 211+. Blueair fan is definitely an overpriced device with whatever utility it proclaims it has. I mean we all have fans/ACs/HVAC systems in our homes anyway. It has a small coverage, not so high grade filters and sans the carbon filter. You cannot expect it to do wonders to the air quality. It looks great and charming, there's no doubt in that.


COVERAGE AREA &

ACH
The air intensity coming out of the fan cannot compete with a standalone fan. Yet, the airflow is strong enough to make a difference in air quality. As per tests from AHAM, the Blueair fan can remove 99% of dust and allergens from a volume of 1,008 cubic feet. in 20 minutes. Expect this Blueair fan to cater to around 200 sq.ft. area with an ACH = 2.
Not very great air filtration I would say if we look at the cost. Had there been some mechanism to alter the angle of the fan face, it would have been great. Anyways, still the fan is able to deliver mild gusts of air at a 90 degree projection.
---
BLUE PURE FAN CADR
182 CFM (POLLEN)
---
BLUE PURE FAN CONTROL PANEL
You'd be introduced to the minimalist nature of this Blue Pure fan when you learn that it has no control panel per se. There's just a lone button atop the body near the handle and that's it! This button serves as the ON/OFF button as is atleast needed. With this same button you can scan through the 3 fan speeds as well.
There's really that much to discuss for the console, really!
BLUEAIR FAN FILTERS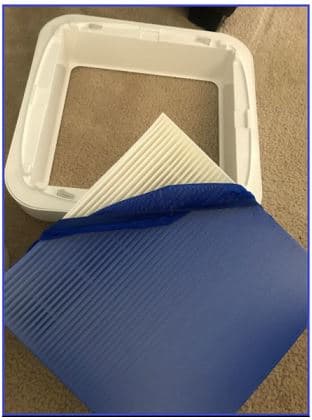 There's a single filter been given in the Blue Pure fan which is not a HEPA filter. No question of it being a True HEPA filter at all. Also, there is no activated carbon filter which must compulsorily be present if it is to pass off as a genuine air purifier. I believe there's a reason why multiple filter layers are not given. Many dense filtration media would have hindered air flow. HEPA filter in conjunction with the carbon filter would be too dense for the air to blow out unrestrictedly.
Whatever be the quality of the filter, you already know that it can filter out 99% dust and allergens like pollen. All in all, the pre-filter along with the main particle filter give near-satisfactory performance.
FILTER REPLACEMENT INDICATOR
Among all the minimalism, some things are unavoidable like replacing your filters. The need for filter replacement has no fixed timeline. There's an LED indicator to alert you of the impending filter change. Post five months of operation the indicator LED becomes yellow. After another 1 month, it turns Red which means its time to change the main filter immediately.
After changing the filter, you need to press and hold the LED button for 10 seconds.
The pre-filter as you is washable. You can even spin it in a washing machine for a thorough cleaning. However, do not wash it in hot water.
FAN SPEED SETTING
Do you see any button for changing the fan speed on the Blueair fan? Don't stress looking at the pictures because there ain't any. The power button itself serves as the control to alter fan speed. You just have to touch it lightly, no hard presses needed.
Start/Plug the air purifier, the air purifier starts in Speed Level 1.
Tap the button once to change it to Speed Level 2
Pat once more over the button to change the fan speed to Level 3.
Another press of the power button would turn off the Blue Pure fan.
HOW TO CLEAN THE BLUE PURE FAN?
Its obvious that this question may come to you mind. Any fan blades get dirty, laden with dirt and grease with time especially the edges. You'd be happy to know that this problem is absent in the Blueair fan. Since the fan blade is located behind the pre-filter and particle filter, no dust particles get a chance to settle on its surface.
---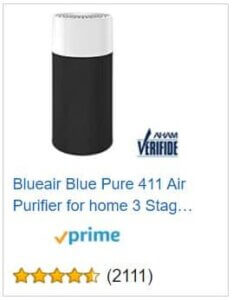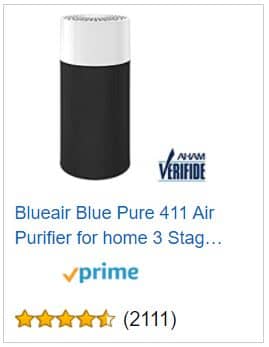 NOISE LEVEL
Blue Pure fan's noise levels too are not something to discuss about much as there's nothing peculiar about it. At the lowest fan speed, the machine produces around 31 dB. This is neither too much nor too less. We have seen air purifiers make as low as 20 dB noise which is close to silence.
At the maximum fan speed, it when things demand a special mention. Expect your Blueair fan to make around 56 dB noise with a White noise factor. This White noise is a non-disturbing noise which doesn't attract attention and blends in the surrounding noises. Even a simple fan makes sounds of vibrations and the air mass which it moves too adds to the noise.
How Is The Blue Air Fan Different?
Normally, we always see air purifiers which throw out purified air from the top face, right? Due to this, one normally doesn't feel any wafts of air on their bodies to feel any cooling. Air purifiers following Bottom-top or side-top air-intake approach are the only two types we see. And its a standard design which is efficient and in a way a necessity too. I mean this is how the air circulation happens. Now, the Blueair fan is just like an exhaust fan. Seen an exhaust fan? How it pulls the air behind its fan out of its front side.
The air exiting from an exhaust fan is impure or unwanted. This is what their purpose is. Now, what if a couple of high quality filters are introduced between the air-intake and exit points? The Blue Pure fan has done just this. Between a colored fabric pre-filter and the fan, a HEPA filter is present to rid the air of particles.
Does The Blue Pure Fan Really Cool?
Well, it doesn't cool as much as can be expected out of a normal fan. With a filter in its backdrop and a grille in front of the fan, there is an obstruction to air's blow intensity. So, comparing with a similar size table fan, you do feel the Blueair fan less effective. Due to its low height too, you cannot ask for a breeze caressing your face. Yes, the air can be felt around the legs. Ofcourse, this is when you keep it on the floor and not a tabletop. You can even place it at a height over something.
Hence, there is a trade-off in air cooling because this is not a normal fan but an air purifier and cooler combo. The legs over which the Blueair fan rests give it a classic look. However, you cannot adjust its tilt if you want the air to reach certain height. I would really have liked seeing this flexibility.
CONCLUSION- Blueair Fan Review
The Blueair fan looks very beautiful especially with its wooden legs which impart it a retro look. Opinions of users are split with some calling it a sheer waste of money while other demonstrating total satisfaction. In my opinion, your want of getting cool air out of this device would actually never fructify fully. Neither does the company speak a single word over the quality of the filter. If it doesn't name it, you can safely assume that the filter is not a True HEPA or even a HEPA-type. The description does say that AHAM has tested this Blue Pure fan. AHAM has tested this air purifier cum fan and found it capable of removing over 99% of airborne dust and pollen particles in just 20 minutes.
Buying this costly yet fancy fan which also does limited air cleaning is purely a matter of personal liking and choice. It is a good option if used in conjunction with another air purifier lets say the Blue Pure 211. This way you can keep it in close quarters and reinforce the air filtration of any of your proper air purifier.

You May Like These Similar Posts From AirSwacch!