This post is devoted to perhaps the smallest Blueair air purifier, Blue Pure 411 review. We are all familiar with the quality of Blueair products. To put it in short, people have a favorable outlook towards this company. Earlier, we reviewed the Blueair Blue Pure 211 Air Purifier.
Each one of us wants to get hold of the best things in our lives. Same applies when we venture out to buy a relatively costly appliance. Unfortunately, air pollution is not only taking a toll on our lives but also on our pockets. Think for yourself, is it not an unnecessary expense on air purifiers and pollution masks? Had the air and environment been clean, what was the need for air purifiers? Well, its not only polluted air that demands an air purifier. People allergic to pollen, dust mites and mold heave great relief from their symptoms courtesy some good air purifiers. There are smokers who sometimes can't resist the urge to smoke inside rooms. Air purifiers again come to the rescue and remove tobacco smoke odor.
BLUEAIR BLUE PURE 411 REVIEW
I have just one point to make here. It's that the need for an air purifier could be forced or unforced. But, we'd want it to be as much more efficient as much it costs less! This Blueair Blue Pure 411 review introduces you to one such air purifier. Blue Pure 121 is the tallest air purifier of the Blue Pure family.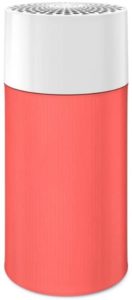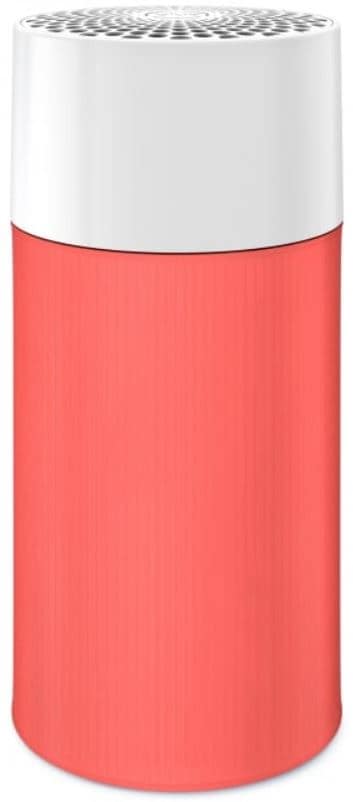 The Blue Pure 411 is ideal for small room sizes. Keep it running day in and day out, it won't complain. Its so light that you won't believe it for once. Its good quality filters are said to remove even ozone from the air. The air purifier comes off into two by the white part. This white piece is where the fan, its power cord, the power button is located.
BLUE PURE 411 COVERAGE AREA
Not hard to guess from the size of the air purifier, Blue Pure 411 is meant for small rooms only. For 5 air changes per hour, it can cater to 161 sq.ft. room with élan. A newer Blue Pure 411 Plus model covers slightly more, 185 sq.ft. area. With a 360° air intake it has no unnecessary hindrances due to any panels etc. When it comes to airflow, it varies with the fan speed. At lowest level of fan, it sends out 60 m³/h air through its fans. This goes up to 200 m³/h at the highest fan speed.
Blue Pure 411 PRICE




WHATS IN THE BOX
Along with the Blue Pure 411 air purifier the package contents are as follows-
⭐ Particle filter only or Particle + Carbon filter
⭐ A power cord, set of 2 fabric pre-filters and a user manual
DESIGN AND LOOKS
Like many other air purifiers, like most Levoit Air Purifier, Blue Pure 411 has a 360° design. It draws air from all directions and there is no blind spot. The good thing about cylindrical models is that they occupy very less floor space. Just 314 cm² area is all it covers on the floor! It is a very small air purifier and is only 42.5 cm tall and 20 cm in diameter. So light at 1.5 Kgs that it could serve as a toy too, Lol!
Blueair air purifiers have a minimalist design. The company seems to concentrate more on the motive of the product, which here is 'air cleaning'. The Blue Pure 411 occupies minimal floor space as its an elongated air purifier. There's just a single button on top of the console. Its all there is to power on or vary the fan speed. Pressing the button once would power on the purifier in its lowest fan speed. Pressing subsequently would increase the air flow to suit your needs. The corresponding number of circular LEDs get lit to denote the fan speed.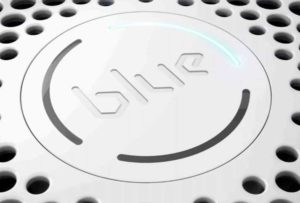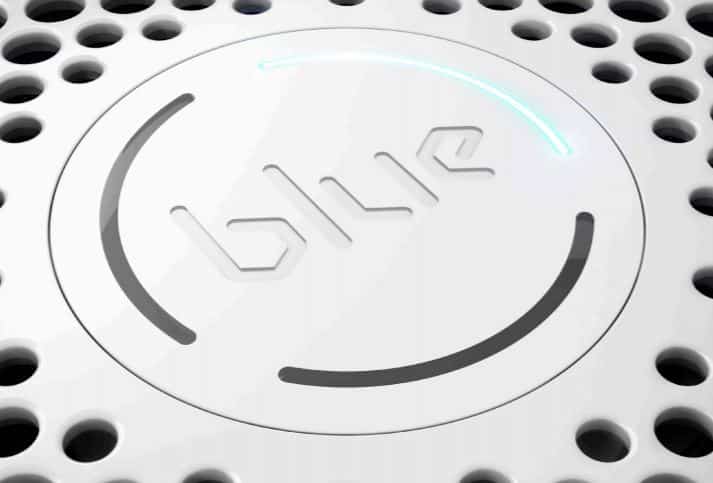 Why I Compared It To A Skeleton?
Are you curious to know why I am comparing this air purifier with a skeleton? This is so because the filters are not caged behind any perforated plastic body. A fabric pre-filter is all that covers the round HEPA filter and the fan. The cylindrical HEPA filter is housed directly inside the pre-filter. Even you can feel the furrows in the filter from the outside with the fingertips. This feature translates to an unhindered air flow directed towards the air purifier. Owing to this a good amount of dust and dirt accumulates on the pre-filters as well as the filters. If nothing, this sight is reassuring that you did not waste your money on an air purifier.
Whats The Story With The Pre-Filters?
The pre-filters collect the larger dust, hair, fibers and lint. You get a set of two pre-filters with the Blue Pure 411 air purifier. They are available in beautiful colors which render a new look to the air purifier. Each time you change the pre-filter, I am sure you'll find the device's new look refreshing. By default a blue and the other dark grey are shipped with the air purifier. While one is being washed and dried the other one can be used. Its just like wearing a new jeans which is inherently tight and putting the dirty one into the washing machine. Other colors like pink, orange can be separately bought to suit your interiors.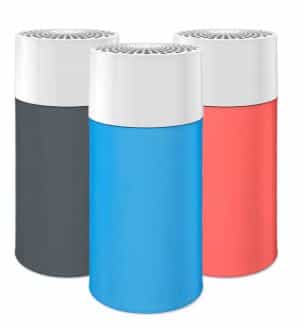 The Blue Pure 411 cleans the air like a pro. You would get to see its performance once you bring it home. Checking after a month you'll find the pre-filter and the filter laden with dust and sooty covering. Interestingly, the fan assembly would be as clean as new without any dust on it.
NOISE THAT BLUE PURE 411 MAKES
The Blue Pure 411 is a quiet air purifier. The low fan speeds are comparable to a whisper. In this mode of operation, it just produces 17 dB sound. It would be incorrect to even call this as noise. But things get noisy at the 3rd speed level. Some users compare it with a server room and some say its shrill. Well, for sure these are examples of hyperbole. The decibel levels at highest fan speeds is 46 dB. Most users do not mind whatever noise the Blue Pure 411 makes.
We have seen air purifiers with noise levels touching 58 dB also. So, if such models can survive in the market then why not this one!
DOES BLUE PURE 411 AUTO-START AFTER POWER CUT?
Yes, the Blue Pure 411 has an Auto restart feature. I would rather like to call it Auto-resume. The air purifier reverts to the last set speed after you turn it ON post a power failure or if the plug was yanked out. It could be annoying when a power cut or outage occurs. I am glad the air purifier won't need that annoying attention!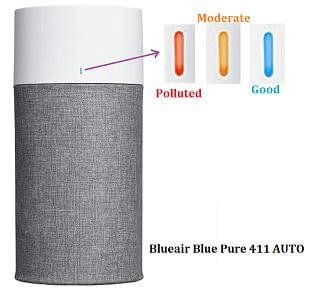 All air purifiers in the Blue Pure family are minimalist and you know that. The presence of an air quality indicator is so much important these days. Its not a novelty anymore if air purifiers have color LED based determination of what quality air we are breathing. While Blue Pure 411 still doesn't have an air quality indicator, Blue Pure 411 Auto has a tiny color LED which shows the air quality. With three different color LEDs you learn whether the air is Polluted, Moderate or Good.
AUTO MODE
Blueair Blue Pure 411 does not have an AUTO mode. For an Auto mode to work, any air purifier needs to have a particle sensor which Blueair 411 lacks. As you already know Blue Pure 411 Auto has overcome this deficiency, hence it now has an AUTO mode as well.
BLUE PURE 411 vs 411+
A newer version of the Blue Pure 411 Plus has been launched in the name Blue Pure 411+. Blue Pure 411+ carries forward the legacy of its predecessor with a few enhancements. It has an increased CADR and coverage area. More on Blue Pure 411 vs 411+ below-
Blue Pure 411+ has a slightly greater coverage area than Blue Pure 411. It can cover a 185 sq.ft. room size with ease as against 161 sq.ft. for Blue Pure 411.
Unlike other Blue Pure models, Blueair Blue Pure 411+ encourages you to skip using the fabric pre-filters altogether. For this they have upgraded the look and material of the mesh. The mesh now features finer holes and a matte finish.
The mesh is scratch-proof so its white color won't become an eyesore easily.
Blue Pure 411+ has a magnetic cord-straightener.
It too has a single button control and three fan settings.
Even the Blueair 411+ doesn't have an AUTO mode although it does have an extra SLEEP mode.
Filter Change Indicator
Once the filters have served you well for about 6 months or so, its time to change them. A manual inspection of the main filter can let you know its about time. Unlike the pre-filter the main filter is not washable. The air purifier glows a red light to indicate the need for replacement. Once you are done with the replacement press down the button for 5 seconds to reset the alert.
You would hardly need to replace the pre-filters as they are washable. Between occasional washings its good to vacuum clean it. The air purifier is already opened up while changing the main filter. Why not use this opportunity to vacuum the inside of the unit too? The main filter replacement is a DIY task. You can follow the user manual for instructions and its fairly easy.
We all hate spending money on consumables isn't it? I wish how good it would have been if things once bought went on and on! Anyways there's no end to my over expectations from life.
BLUE PURE 411 FEATURES AT A GLANCE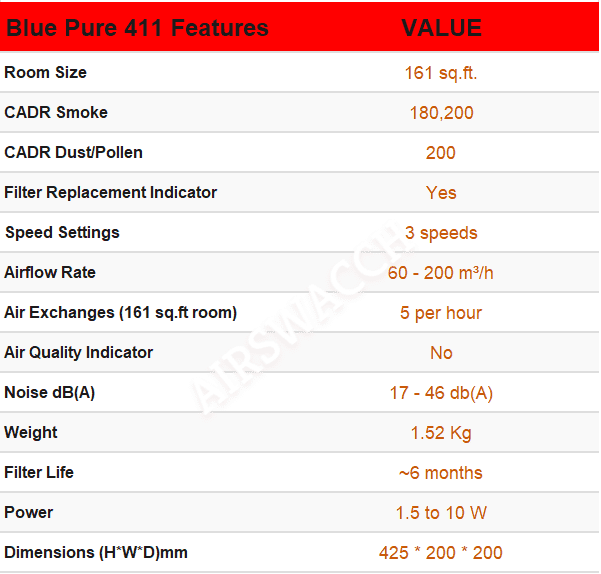 BLUEAIR 411 POWER CONSUMPTION
A tiny air purifier like the Blue Pure 411 is not expected to expense much power. In its normal operating speed, expect it to consume just 1.5 W of power. At maximum fan speed, this model draws 10 Watts, again very small.
SOME MISSING FEATURES
A few common features could not make the cut and I would have really liked them on. A timer is one function which even the worst of the air purifiers has these days. This is a time of connected devices. A time when air purifiers are already available with WiFi connectivity and Alexa compatibility. The LED lights cannot be turned off independently. However, they being on the top are not distracting while sleeping.
The Blue Pure 411 is an ultra light air purifier. This makes it prone to be mishandled by kids. They find its only button as a cool thing to play. The ubiquitous child lock function should also have been given. No need to mention that there is no air quality feedback. If not for digital PM2.5 reading, at least the color LED based provision could be made available.
On a side note, I think had these missing features been present, then the cost would not have been this affordable. What do you think? I think you have not seen the Levoit Air Purifier. In exactly the same cost, it has a timer, sleep mode, child mode, a better CADR.
PRECAUTIONS
Be mindful to place the air purifier wherever it doesn't get knocked off.
The best practice is to keep it away from house clutter for unrestricted airflow. Remove anything in its 10 cm radius.
This air purifier and so to speak any air purifier is for indoor use only.
Always place the air purifier away from radiators, fireplaces or ovens.
It being an electrical appliance, the unit must comes in contact with water.
Hope you enjoyed reading this Blue Pure 411 Review. Thanks for dropping by and I hope to welcome you again!
You May Like These Similar Posts From AirSwacch!