After posting our latest TruSens Z-1000 Review, here is our take on their flagship Z-3000 model. TruSens is owned by ACCO Brands Corp, a big name in North America. They also make office and home products and have now forayed into making air purifiers. But their other products include things like locks and markers. This is something vastly different from an air purifier. Not only is it a whole new industry, but it also focuses on a different user group altogether. So, how good is the TruSens Z-3000 air purifier? Is it prodigal to invest in it over its other 2 smaller models? Well, this TruSens Z3000 Review is here to tell you all that and more. On the surface, Z-3000 is definitely an improvement. It has a couple such features which catapult it into the big league.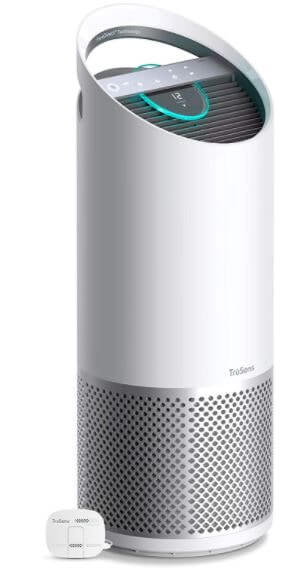 We've looked at every small aspect of the TruSens Z-3000 air purifier. From the touch buttons on its control panel to the noise level at each fan mode. We're dedicated to providing unbiased reviews. TruSens air purifiers use a unique air outflow designing that it claims removes any air dead zones in the room. It also uses an UV bulb to kill germs and prevent their recycling through the rooms. The device uses an axial-centrifugal fan which draws air from all directions. The fan speed is at least two times what is seen in TruSens Z-2000 model. In this TruSens Z-3000 review, as always we have discussed its each feature individually.
TRUSENS Z-3000 PRICE
The TruSens Air Purifier Z3000 can cover up to 70 Sq.m. which is way more than the Z-1000. In fact, the Z-1000 model could only cover 23 Sq.m. Overall, Z-3000 is such an air purifier which no one can ignore. Be it the looks, unconventional console or its air quality monitor pod, Z-3000 stands out in a crowd. Over the simple Z-1000 model, you'll have to shell out close to $250 extra to make it your own. The filter replacement also costs $59 which is more than most filters. While ACCO Brands promises an above-average quality, one must be sure before shelling out their cash for such a long term product.
I can find an uncanny similarity between Z-3000's price and even the looks with the Levoit LV-H134 Air Purifier. Both the air purifiers are or have been each companies' flagship models. In terms of features and coverage area both are evenly matched. However, Levoit wins in terms of the ACH nearing around 3.3 for around 700 ft² area. Compare this with TruSens Z-3000 which only has an ACH = 2 for the given area.




DESIGN AND LOOKS
Clearly, each TruSens Air Purifier have a distinct design. This design has also won them the 'Red Dot Award for Product Design' in 2019. The air purifier is a thorough cylindrical device with a uniform cross-section. But the top portion is angled at 45° from horizontal. This design is getting more and more popular as it makes for easy visibility if the controls. Its easier for the user to see the control panel and also access the buttons. For some this may become a nuisance if the night mode is absent. But, not to be in Z-3000 as the LEDs can be turned OFF in dark for a distraction-free sleep.
As for the air purifier placement, you can place it anywhere in the room. No hard and fast placement rules. This is because there is a 360° air intake through the mesh from all directions. A semi-circular screen lined with color LEDs to show air quality adores the control panel. It uses the guidelines set by the United States' Environmental Protection Agency to report its display ratings. Design-wise, it is similar to the TruSens Z-2000 series without any changes expect for the size and coverage area.
The top air vent is divided into 2 parts that share the air flow as 30% – 70%. TruSens says this helps in more efficient circulation. This TruSens Z-3000 review is going to be a long one, so stay tuned!
SMART SENSING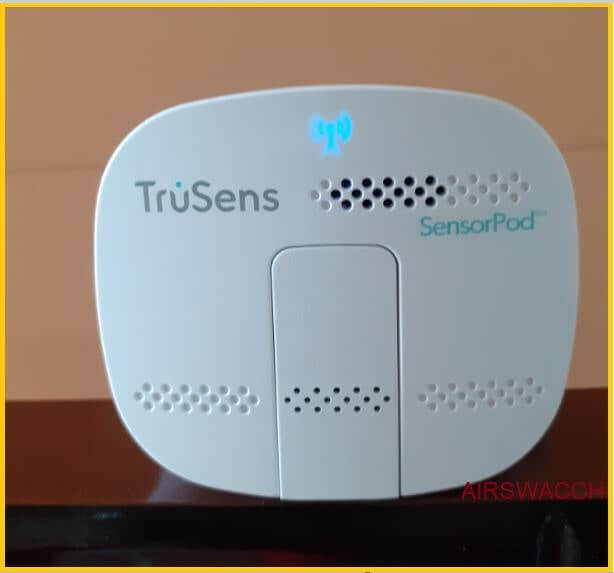 This Sensor Pod was introduced in the Z-2000 model and has become a fixture in this series. Which is good to see, because of its usefulness! Usually, other products come with an attached or inbuilt sensor. So they can only sense the air in and around the filter itself. But here, the SensorPod is a separately powered element.
You can place it at the other end of the room from the purifier. It will communicate with the filter and feed info about the air quality there. Then, in Auto Mode, then fan speed of the filter will arranged itself as needed. It uses a particle sensor to detect the AQI and comes with a plug.
DIMENSIONS
The TruSens Air Purifier Z3000 weighs just 6 Kgs which is light for an air purifier of this coverage. For an air purifier of this coverage area it can be called a feather-weight champion! Still, it has a carry handle which blends elegantly into the design. The body is all white with the mesh being colored in silver color. Overall, the air purifier is made from high quality plastic and looks ravishing.
The air purifier dimension are as follows-
263 x 263 x 726 mm
So you see how tall the air purifier is but at the same time taking little floor area. It is best placed on the floor, and slightly away from the wall behind it. The seller has offered 2 years of warranty on it.

COVERAGE AREA & ACH
This model is certainly a huge upgrade when it comes to the amount of floor area covered. It can be used in rooms that are 70 square meter in area. In other terms, that is 750 sq.ft.! This is the upper range of area that very few air purifiers satisfy. This even makes it useful for small offices. But the ACH is only 2. So, you should consider it to be having a coverage of around 400 sq.ft.
The CADR of the purifier is 200 cfm. This is slightly on the lesser side if the purifier is used in a 750 sq. ft. room. It is not enough to provide 4 air changes per hour. It would be optimum if used for a room size of 500 to 600 sq.ft. If used for 750 sq.ft. area or more, Z-3000 would only be able to provide 2 air changes per hour.
TRUSENS Z-3000 FILTERS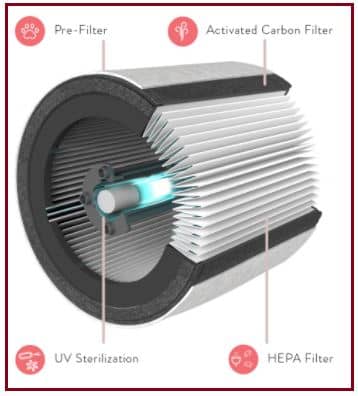 The 4 stages of air filtration cum sterilization has to produce great results. In most cases, within 20 minutes of use, the LED indicator can go to blue denoting pure air.
1.) Pre-Filter
This is the first and washable filter component that prevent larger dust particles from getting into the system. It catches things like hair, pet dander, lint, and sand. TruSens suggests that this filter be cleaned once a month to keep the product running at top rate.
2.) Core True HEPA Filter
The major filter used is a HEPA filter. It can be removed from the circular base of the purifier. This filter can remove 99.97% efficiency of airborne particles which has a diameter of 0.3 microns and more. You can rest assured this purifier will remove all pollen, allergens and dust.
3.) Activated Carbon Filter
As advertised in every TruSens Z-3000 Review, this product uses an activated carbon filter from DuPont. DuPont is an old and established company known firstly for their chemical manufacturing and later on, for their other industry items. The DuPont filter uses an impregnated carbon sheet that can remove any odor, VOCs, formaldehyde and ammonia from the air.
4.) UV Sterilization
This is the final stage of filtration. Here, a UV light bulb is used to fill any germs and bacteria from the filter surface. This filter can be switched on and off by using a button on the control panel. Since this involves ultraviolet light, not everyone feels safe using them. It is nice of TruSens to create it as an option. The UV bulb is not visible to directly to pose any risk to the eyes or skin. It has an average life of 2 to 3 years.
---
FILTER REPLACEMENT
The filters have a standard life of 12 to 15 months as stated on the website. This is longer than standard filter shelf life. However, there is an indicator light for when the filters need to be replaced, so you need not worry about this. 3 separate indicators are present for each filter. One noticeable thing is that the pre-filter is placed in a location with the help of an adhesive. So replacing it can be a time consuming process. You might want to consult a service executive the first time.


CONTROL PANEL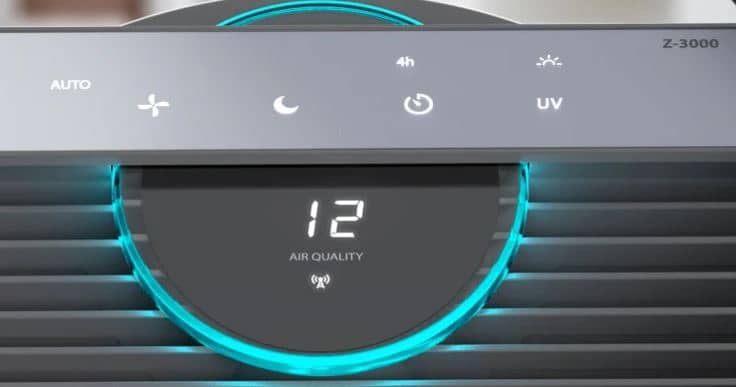 The control panel is back-lit and present on the oblique top portion. When put in sleep mode, the LED back-light dims down. It seems that TruSens has kept in the mind the needs of light sleepers. There is also a timer feature present. All buttons are touch activated. Where else would you find such a detailed TruSens Z-3000 Review!
LED DISPLAY – This shows the current AQI and also whether the purifier is connected to WiFi or not. The display is circular and has a LED ring running around it. This ring changes color depending on the AQI. For bad air quality, it turns red. For medium and good air quality, it turns amber and blue respectively.
BUTTONS:
ON/OFF – This button needs no introduction and is there to turn ON/ OFF the air purifier.
FAN SPEED –  Perhaps the second most used button after the Power button. This button lets you adjust the fan speed to anything from Auto mode, or other levels. AUTO mode is available only when you let the SensorPod pair with the air purifier.

DIMMER

–  Using this setting you can put off all the illuminations on the console. You may want to do this while sleeping. Choosing the Dimmer does not affect the normal working of the air purifier. To turn all display lights ON, just press this button again.
TIMER – Using this users can set up a timer. A user can choose between 2, 4, 8 and 12-hour options. To cancel the timer simply keep pressing the button until none is shown.
UV – This button activates the UV lamp/bulb, which is optional.
RESET – When you've replaced the filters or the UV bulb you need to press this reset button.
FAN AND TIMER
TruSens Z-3000 air purifier's air flow is slightly different from other filters that use a regular horizontal or circular top vent. PureDirect proprietary technology allows TruSens to send out two different air streams, which helps the air circulate more effectively. This method is proven to be 24% more efficient than the conventional designs.
You can select the fan to run in  5 different speeds. Again, this is an upgrade over most models that can run 3 different modes. The timer can be set up for 2, 4, 8 or 12 hours. A single button takes care of this.
NOISE LEVEL
Most users said that filter was one the quietest filter they had used. In the lowest mode or the Whisper Mode, the sound generated is barely noticeable. It is around 30 dB as claimed by the seller. However, at top speed the sound produced is around 60 decibels. This is quite loud and definitely not bearable while sleeping. Even compared to other products that have a range of 50-55 decibels, the top speed can be classified as noisy.
ADDITIONAL INFO
The Z-3000 consumes 68 W of power. This is higher than in other market brands. But do remember, that the filter can cover up to 750 sq. ft. of floor area. The Auto mode will also help users save electricity by adjusting fan speed and power consumption accordingly. It is an Energy Star certified product since the power consumed is quite reasonable for its capacity. The Sensor Pod can be used from a distance of up to 49 feet. This is enough to cover the diagonal width of residential rooms. It is advised that the path between the two is free of obstacles or walls.
---
TruSens Z-1000 Vs Z-3000
Although this post is a TruSens Z-3000 review, I thought of listing out the differences between the Top and Introductory TruSens models.
1. SensorPod

Doing a TruSens Z1000 vs Z3000 comparison yields a couple of new features. Let me introduce a cool new thing which Z-3000 and even Z-2000 have. This is what is called a SensorPod. This is a small air quality monitor that you can place away from the air purifier but where it gets power. Have you seen or used air purifier with real-time PM2.5 display? If yes, then where is the sensor located? Its in the air purifier's body itself right! Now, this is how the SensorPod works differently. The idea is that an air quality sensor measuring PM2.5 reading away from the main air purifier body should be more accurate. Moreover, the air purifier works in sync with the feedback the SensorPod sends back to the device. If in the area away from the air purifier the air is unhealthy, the air purifier ramps up its fan speed to make it better.
2. Fan Speed & Pre-Filter
Compared to Z-1000 which has just 3 different fan speeds, Z-3000 has 5 levels.This gives you more control over the air purifier's working.Another difference between TruSens Z1000 and Z3000 lies in the presence of a dedicated Pre-filter. While Z-1000 didn't have a separate pre-filter, Z-3000 has it and that too washable (a norm). A 3-stage filtration process followed by a sterilization of the filters through a UV-C lamp is enough to snatch the air of all its pollutants. If doubts about ozone contamination cloud your mind then just know that the UV lamp is independently operable. If you are too skeptical about it, just keep the lamp always OFF although it is certified by California Air Resources Board (CARB).
3. Night Mode/Dimmer & Auto Mode
TruSens Z-1000 didn't have any sort of air quality display LEDs, hence the Night mode was absent too. Here, in TruSens Z3000 vs Z1000, a night mode and an Auto mode are present in the flagship model.
---
We have seen some users complaining about the touch screen buttons. While there is no issue with the buttons, but the writing on top seems to smudge very easily. What can we say for this issue, not a very big deal according to me. Within this price range, this is a great product that satisfies all criteria.
CONCLUSION – TruSens Z-3000 Review
Overall, the TruSens Z-3000 is a good air purifier.  although a bit noisy. Things like the SensorPod are quite innovative. The way they have provided an optional UV Bulb is also a novelty.Their giving us an option to turn it ON/OFF induces confidence. It shows TruSens cares about the health of the users in the 'True Sense' of the term. In the long term, this is a great investment. Your TruSens air purifier Z3000 would need Filter replacements after a good length of time. The best part of the product is the long lasting HEPA filter. Unlike regular filters, it can last for 12 to 15 months! This is 1.5 times what regular filters can last. If you live in a place with less pollution, it could last even longer!
The futuristic design certainly sets it apart. It even has a handle on top that is expertly crafted to fit into the overall design. It is interesting to see TruSens add such touches which many others did not even consider as a necessity.

You May Like These Similar Posts From AirSwacch!