Time for our TruSens air purifier Z1000 Review post. The air purifier market is very competitive in the under-10,000 price range. Well-known companies like Philips, Honeywell, Xiaomi and Sharp have air purifier models in this price bracket. Given the fact how popular these companies are with users, is there any scope for any other company to make room? Yes, why not! All that the buyers look for is novelty, brand sentiment and performance. We have done a Dyson air purifier review wherein we see how this costly air purifier is also finding a market for itself. Doesn't matter if I call them the 'white elephants' in the industry. With the huge consumer base that India has, US companies head towards the country as if sleep-walking. TruSens is yet another US company trying to gain a foothold in the World's biggest and fastest growing market, India.
Come, let us see how this fresh new model measures up in this TruSens Z1000 review.
TRUSENS Z-1000 AIR PURIFIER REVIEW
Worthy to note here is that this TruSens Z-1000 review would not get carried away with just the looks of it. We would stick to our ever impartial style of looking at things and reviewing them for you. Want a hint of what would be my conclusion? Here goes nothing- The TruSens Z-1000 air purifier doesn't have a True HEPA filter. If you've been following our posts you'd be aware how important is this for an air purifier to have. Not having a True HEPA filter but just a HEPA-type filter is akin to compromising on performance and being fooled for a second-grade product. Enough disclosure for the moment, you'll find more such gripping information in this TruSens Z-1000 review.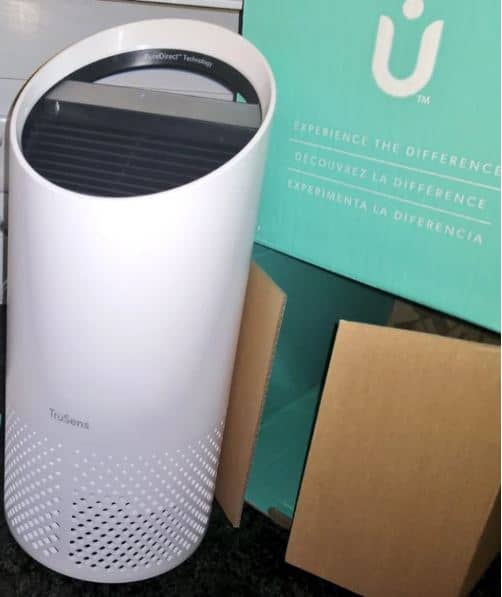 TRUSENS COMPANY
Firstly, its important that you know that TruSens is a North-American company. It's well-known for air quality control products like air purifies, air quality monitors and other air filtration and sterilization solutions. Furthermore, its parent company ACCO Brands Corporation is one of the world's largest 'designers, marketers and manufacturers of branded business, academic and consumer products'. Okay, so you've gained a clarity that its not just any other brand and not even a Chinese brand with some English name. Cool! But, the air purifiers are still manufactured in China.
Now, when looking at the descriptions of TruSens air purifier filters, you'd see a company named DuPont. Mind you its the world's largest chemicals company. You'd be amazed to know that Nylon was invented by Dupont. So, brand trust and experience are there behind the scenes.
I dislike mincing words, so I'll come straight to the point. Price-wise, TruSens air purifier Z1000 is aptly priced. The coverage area, features, innovation, brand and other specifications warrant this cost, no problem. Comparing with some of the better known and popular air purifiers in this price range, TruSens Z-1000 doesn't lag behind any of them so much that we reject it outright. However, filter quality is far superior in the Sharp air purifiers. Sharp FP-F40E-W has a H-14 grade True HEPA filter. By far the best quality, you can expect in a home air purifier. Contrast this with TruSens Z-1000 which doesn't even have a true HEPA filter and just a H11 or H12 grade filter.




---
What Features Do You Get At This Price?
You get an air purifier with 360° air-intake, which is a good thing. Then it has a HEPA filter, carbon filter, and a UV-C light sterilizer tube inside the filter drum. You also get three fan speed controls including a TURBO mode, touch panel, with filter change indicators. This and the much publicized PureDirect Technology. This TruSens feature splits the purified air into two directions. Doing this helps spread the air far and wide and not just near the immediate vicinity of the air purifier.
What More Features You Should Have Got?
Some degree of Air Quality Monitor. Had there been even a color LED-type air quality indicator, I'd have been happy. But, not to be so. Honeywell Air Touch i5 air purifier dons a real-time PM2.5 indicator.
Timer would have been a welcome addition as its a common thing across brands and models.
An AUTO mode is what makes you sit back and let the air purifier adjust its working automatically. TurSens Z-1000 doesn't have it either.
A Sleep Mode is also not there, but its Okay. Since, there are no flashy LEDs which may disturb you at night time.
---
DESIGN AND LOOKS
The TruSens Z-1000 is the smallest of the 3 model lineup the company has introduced till now. With whatever air purifiers are prevalent in the Indian market in the below 10,000 price, TruSens Z-1000 has a different look and feel to it. Another popular air purifier, the MI air purifier 3, is the closest to it from the filter shape point of view. Both have drum shaped filters and draw air from all directions (almost). Each of these air purifiers follows a bottom-to-top airflow design. This means that impure air enters the air purifier from the numerous perforations near the base. The purified air leaves from the upper part.
TruSens Z-1000 is very light weight at just 4 Kgs (7.7 lbs). Even though it can just be lifted as it is yet it has a prominent handle too. The cylindrical shape makes it very compact so much so it hardly takes up and ground space.
One design innovation deserving special mention is the PureDirect technology. What it does is – it directs the output air into two different air streams. One stream rises straight up and the other bullets out horizontally. This design ensures there are no such areas in the room where the effect of the air purifier is not felt. The purified air reaches to every corner of the room.
TRUSENS Z1000 DIMENSIONS
TruSens Z-1000 is a small air purifier. It's just 8 inches wide and 18 inches high.
TruSens Z-1000 : 8 x 8 x 18 inches
CONTROL PANEL
TruSens air purifier Z1000 does not have many buttons. There are just three of them, an indication to why we felt some common features are missed out. Symbols denoting the fan speed or the UV lamp are back-lit.
Below is a brief summary of what each button on the console does. I believe you are finding this TruSens Z-1000 review informative?
POWER – Starting from the right, the function of this button is a no-brainer. It just to ON/OFF the air purifier.
FAN SPEED – There are 3 fan speed settings of Level 1, Level 2 and Turbo mode.

ULTRAVIOLET LAMP

– This lamp on the inside of the filter drum serves a good purpose. It gives out ultraviolet light which kills bacteria, spores which are trapped by the filter. In a way it renders the air filter free from germs. But, I suspect some ozone may be created in the process as a by-product. You can choose to turn the UV-C lamp ON/OFF at your discretion.
COVERAGE AREA &

ACH
TruSens Z-1000 air purifier is meant for small rooms. A room size spanning 250 sq.ft. is what is advertised to be its coverage area. It is not clearly mentioned how many times does it clean the whole volume of room's air in an hour. This is what is called the air purifier's ACH (Air Changes per Hour). Worry not- as I'll tell you what it is for TruSens Z-1000. This model processes the air twice (ACH=2) for a room sized 250 sq.ft. A good air purifier must have ACH=4 for a given coverage area.
Mathematically speaking, the actual coverage area is around 125 sq.ft. For this space the air purifier would be able to clean the air 4 times hourly. Hope this TruSens Z-1000 review is delivering your expectations?
The CADR of TurSens Z-1000 is very less. In Cubic Feet per Minute (CFM) as it is usually measured, the various CADRs are as follows-
DUST

84

 
SMOKE

56

 
POLLEN

96
FILTERS – TRUSENS Z-1000 AIR PURIFIER
Any air purifier model must have high quality filtration media and as many stages. Sadly and as I informed above, TruSens Z-1000 has a not so good HEPA filter. In technical terms it just has a 'HEPA-type' filter which is seen with contempt in air purifier industry. An air purifier HEPA-type filter is referred as if its a duplicate product of substandard quality. Being a product of Dupont company I cannot reject the quality outright.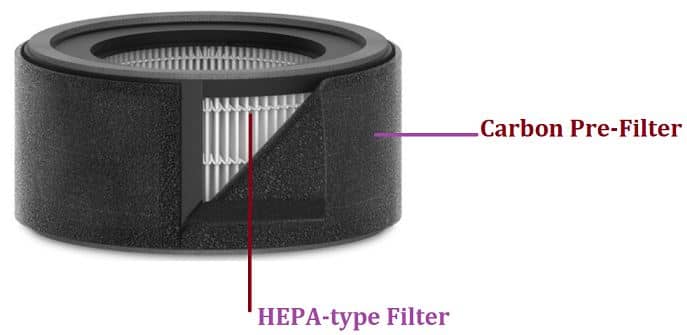 Another deficiency I observed is the absence of a proper Pre-filter. The holes to suck in the polluted air are so near the ground level. In the absence of a pre-filter to catch larger dust particles and dirt, the HEPA and carbon filters would quickly get choked. Needless to say it would impact the efficiency and air cleaning performance negatively.
FILTER DETAILS
CARBON PRE-FILTER

–  An activated carbon filter doubles up as a pre-filter. It removes odors, harmful gases, VOCs from the air. It also stops the HEPA filter from getting dirty very quickly.

HEPA-type Filter

– A HEPA filter arrests the dust particles mechanically to its own surface by using electrostatic forces. Since the filter quality is not of very high grade, expect some degree of compromise here. Not all the dust in the room would get filtered by the air purifier even if it is drawn into it.

UV Sterilization

– There is a risk of re-circulation of dust and germs into the room's air due to any design flaw or high face velocity of the air. This stage destroys the germs from the surface of the HEPA filter.
UV-C radiation is known to produce Ozone gas which is harmful to health in the long run and high doses. Atleast from this side, you can feel assured that the ozone level is within safe limits. TruSens Z-1000 air purifier is CARB certified. The Californian agency CARB is very strict in this regard and can even restrict the sale of such air purifiers which are found to violate the permissible limits.
Moreover, you may be thinking what would happen to you upon exposure to the harmful UV rays. Don't worry as the UV lamp is secured within the filter chamber so there is no direct exposure to eyes or skin. The blue glow of the light may still be visible in total darkness.


FILTER REPLACEMENT
Two separate filter change indicator light up in Red letters when its time for a replacement.
TruSens recommends replacing the Carbon filter every 3-4 months.
HEPA filter can be changed every 12-15 months.
The UV lamp every 1-3 years.


NOISE LEVEL
A not so refined fan has resulted in this air purifier being one of the noisiest ones around. Small air purifiers on one hand have small fans as they have to move small air mass. But, TruSens Z-1000 makes 65 dB noise (quite noisy) at top fan speed. Even at lowest fan speed, it produces 39 dB noise. Just so you can compare it, we have seen air purifiers making as low as 20 dB sound at lowest fan level. 40 dB noise is not a noiseless performance.
39 dB – 65 dB
POWER CONSUMPTION
The TruSens air purifier Z1000 consumes 40 W power. It is a small air purifier so anyhow we didn't expect it to consume any more power. Good that it doesn't but no pat on the back!
CONCLUDING WORDS – TruSens Z-1000 Review
If you go by my word, then this TruSens Z-1000 is very tiny to produce much difference in worse air quality. Unless you are looking for an air purifier for very small rooms, it'd be a waste of money. There are other models within TruSens which are better equipped and capable to produce much better results. Ofcourse, the TrueSens Z-2000 and Z-3000 are much costlier than it.
Talking about comparable models (in value for money), the MI AIR PURIFIER Review talks of a much better air purifier.

You May Like These Similar Posts From AirSwacch!