Are air purifiers necessary? Most of us living in crowded metropolitan cities are wary of pollution. If outdoor pollution is synonymous with the word pollution then indoor pollution is a hidden menace. We feel as if pollution exists only on roads. Various studies have concluded that owing to poor ventilation, the indoor air quality is often far worse than the air outdoors. Its true that dust particles are far more outside than inside the home. However, the equation turns turtle for the obnoxious gases levels. Indoor air also contains a high amount of carbon dioxide due to continued breathing, invisible smoke generation from kitchen. Not only do varnished furniture and plastics release VOCs but also cause allergies when you never come to know the source. Leakages in refrigerants of ACs or refrigerators may also produce ozone. All this makes the importance of air purifiers more pronounced.
Sunlight is a natural exterminator of germs and also disperses photochemical smog. How many rooms in your home receive direct sunlight? These places can also invite growth of mold and microscopic dust mites. If you're conscious about the food you eat, the clothes you wear, then why not the air you breathe?
ARE AIR PURIFIERS NECESSARY?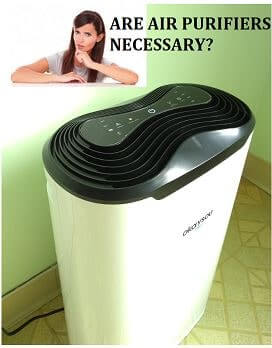 It's true that an air purifier is not a necessity per se. You can easily live your life without one. But owning one does help you pass off avoidable pollution. If you can buy a good phone then whats holding you back to spend for your own and family's well-being. Owing to pollution the host of diseases that may affect us and the ensuing medical bills should bot be forgotten. Air purifiers make the air healthier for breathing. Some air purifiers also release anions or negative ions into the air. These millions of ions decimate molecules of polluting substances. Also, they make a very big contribution in promoting euphoria. Anions are known to be good for mood enhancement and alleviate anxiety and help depression. They ensure the energy level of the home occupants. They allow us to focus more on activities.
USE CASES FOR AIR PURIFIERS
Are air purifiers necessary for homes with smokers, pets or allergy patients? Still, the answer is no. But, air purifiers can greatly help in mitigating these common problems faced.
SMOKERS IN THE HOUSE
There are many reasons or use cases where an air purifier may become an absolute necessity. For example, the level of indoor pollutants sky rockets when any family member is a frequent smoker. This can be detrimental to the health of everyone since it has been proved that even second-hand smoking is injurious to health. Smoke from cigarettes and cigars is rich in organic compounds and is heavy. This smoke does not just rise above our heights. Rather, it stays at lower heights inside the room and all have to breathe the poisons. An air purifier with a good HEPA filter and also carbon filter can get rid of the pollutants effectively.
PETS IN THE HOUSE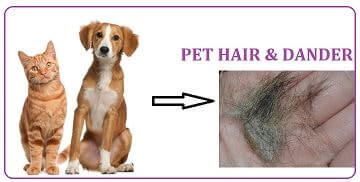 Pets become one of the family members but with special needs and problems. Pet dander is a major cause of allergies and who can forget to mention the odor their fur/coat emanates. Pets harbor bacteria and viruses no matter how many time you bathe them daily. In totality, pet owners can also harness the goodness of air purifiers. Specialized HEPA filters for pets are available or slowly being introduced by major air purifier companies. Levoit Core P350 is one such air purifier custom made for pet problems.
FOR ALLERGY AND ASTHMA PATIENTS
There is no single cause for asthma and respiratory allergies. A host of allergens and factors are responsible for these problems. Best Air purifier for Allergies are fully capable of giving respite to anyone who sneezes incessantly any moment. Watery eyes, sneezing, coughing and running or itchy noses are common signs of allergic rhinitis. Similarly for asthma sufferers air purifiers couple with humidifiers can be a blessing.
Air purifiers remove allergens from the air which are nothing but particles of some sort only.
 AIR PURIFIERS FOR DUST OR AREAS NEAR CONSTRUCTION SITES
Similarly, if your house falls in or around a construction zone, then the air can be full of dust or particulate matter from the site. Dust blowing from construction sites is not just plain dust. It may have anything from cement, asbestos or other numerous pollutants in it. All of this is detrimental to humans. You might have seen how people working in manufacturing industries wear N95 respirators. However, no such protection is given to people who live in the area surrounding these sites. The best to protect yourself would be to invest in an air purifier.
Are Air Purifiers Necessary? No! Then Any Alternatives?
Necessary or not, we understand that buying an air purifiers can be an expensive proposition. There are some alternatives that can be suggested.
Reduce Use Of Air Fresheners Etc. – Incense sticks, artificial room fresheners decrease the air quality. Also, these may not suit all in the family equally.
Wash Curtains, Upholstery And Fabrics Frequently – Even showing sunlight is a very good disinfectant. Use vacuum cleaners whenever possible. All this can kill most germs and prevent mold growth.
Good Ventilation – Unless the air outside is very poor, nothing beats having good ventilation in the home. It ensures a balanced oxygen ratio also.
Use Dehumidifiers – These too prevent the growth of fungus and mold.
Use Humidifiers – Best Room Humidifiers are non-costly devices which definitely add to the indoor air quality. Maintaining a balanced humidity level in the rooms is good for our respiratory system. Apart from helping in so many aspects of health, humidifiers do bring down pollution somewhat.
Overall, you must remember that these are simply alternatives. They come nowhere near to the actual service provided by air purifiers. Since purifiers were specially made for this function, you won't find any other suitable alternative in the market that provides same level of service.