A Humidifier for room is a must for Urban homes. You would benefit when the ambient moisture levels drop below the comfortable zone. We have reviewed small humidifiers previously. Read our BEST HUMIDIFIER IN INDIA WITH LED, AROMA, ESSENTIAL OIL DIFFUSER which are also safe for baby. Small humidifiers cannot cater to whole rooms or home and are cheaper. The water tank of such humidifiers does not exceed 1000 ml. Generally, smaller humidifiers are used for dispensing Aroma and Essential oils in the air. Humidifiers come with larger water storage capacity as large as 11 Liters. In this post we will list out the Best Humidifiers for Bedroom in India.
BEST HUMIDIFIER FOR ROOM IN INDIA
You should choose a humidifier based on your own needs and room size. Humidifiers with very small water tanks are suited for small spaces. One would not want to go fetch water to refill many times in a day. Do check reviews as to which humidifiers are most robust and hardy. A product should be long lasting. You should also consider checking if the humidifier is dispensing very fine (atomized) droplets. Bigger droplets diffuse moisture only up to small distances and hence not effective. Larger droplets also stain nearby glass and wooden surfaces. Do check for the cleanliness of the water tank. Also, clean the deposits of lime etc periodically. You must refer to the user manuals accompanying the products for best How-To instructions.
MAKE A QUICK CHOICE
1. ULTRASONIC HUMIDIFIER FOR SMALL ROOM                  ALLIN EXPORTER DT-1618
---
2. ULTRASONIC HUMIDIFIER FOR BABY ROOM                    HONEYWELL  HUL535W
---
3. OPTIMUM ULTRASONIC HUMIDIFIER                                 ALLIN EXPORTERS H-182
---
4. HUMIDIFIER FOR BIG TANK & MIST OUTPUT                    URPOWER
---
5. ULTRASONIC HUMIDIFIER BIG TANK & REMOTE             ALLIN EXPORTERS H-189
---
6. BEST EVAPORATIVE HUMIDIFIER                                       VORNADO 
---
7. BEST OVERALL COOL MIST HUMIDIFIER                           ALLIN 11 L
---
BENEFITS OF A HUMIDIFIER FOR ROOM
The most obvious Use of a Humidifier, is that it maintains optimum humidity level in the air. Optimum moisture level helps achieve the following benefits.
KEEPS YOUR SKIN MOIST
The glow and health of your skin depends on your food and water intake as well as ambient conditions. Warm dry or cold dry as well as windy weather can cause your skin to dry up. Dry skin looks unhealthy, dull, not to mention it may become chappy and rough. Your lips may crack overnight and cause discomfort. A Room Humidifier can help you cope up with these symptoms. A good humidifier for room helps ease skin conditions.
EASES YOUR SINUS & HEADACHES
A good room humidifier can help ease congestion in your sinuses. Foggy winters when pollution is high especially at night is a bane for people with sensitive respiratory system. Top it up with indiscriminate burning of waste which is common during nights. People with allergic rhinitis literally count out such days with misery. Dry air can even cause bloody noses, headaches and sinus pressure. Your doctor often prescribes steam inhalation for a stuffy nose. The reason is simple. Moisture decongests your nasal passage and helps ease your condition. A humidifier spews moisture in the air in the same way a steam console does. Know The Best Steamer For Cold Cough And Sinus In India.
EASES DRY COUGH CONDITIONS
Another humidifier benefit is that it can rid you of a nasty dry cough. A cough which produces mucous is less harsh than a dry one. A dry cough puts pressure on your complete respiratory system. Dry air can also make vocal cords sore and scratchy.
HELPFUL IN ASTHMA
A humidifier cannot alleviate the ailment but can definitely help blunt its attack. A humidifier raises the relative humidity which eases congestion.
BOOSTS IMMUNITY
The lining of your nasal passage is dotted with very fine hair like structures. Called cilia, these prevent dust, mold, dander and particles from entering your lungs. Dry air impedes this function of cilia while moist air facilitates it. Naturally when you are protected from foreign bodies, you fall ill less. A use of room humidifier here is implied.
REDUCES SNORING
For reason highlighted above, nasal passage free from inflammation helps reduce snoring. Snoring can be a very disturbing ailment for others. It can lead to strained relations due to regular disturbances in sleep. If you or someone else in your family snores, a humidifier should bring relief.
AN UNUSUAL BENEFIT OF HUMIDIFIER
This can come as a surprise to you. Your wooden furniture or flooring benefits from a regulated humidity level. Seasonal variations in temperature and humidity can cause them to crack. Water vapor keeps your room's air warm which wood likes a lot. Plus, returning moisture to dry air helps reduce shocks due to static electricity.
ILL EFFECTS OF HIGH HUMIDITY
As with everything, too much of moisture level can cause havoc to your health. Remember how unhealthy it gets in rainy days with little Sun. High humidity helps germs, mites, molds and insects to flourish. Too much moisture can make everything in your house from curtains to drapery smelly. Even the condensation on walls can promote mold growth. Hence, its necessary to keep humidity at an optimum level.
TYPES OF AIR HUMIDIFIERS
1. ULTRASONIC HUMIDIFIER
These are perhaps the most widely used humidifiers nowadays. Ultrasonic humidifiers do not employ any heating element. As you'd know that the term ultrasonic means sound waves with very high frequency. Such sound waves are not audible to the human ear. Ultrasonic sound waves make a metal plate to vibrate. The vibrations force very fine water mist to form which is then thrown out in the air. These humidifiers are very quiet and their maintenance is straight-forward.

Ultrasonic humidifiers often create an unwanted situation. These spew fine water droplets and not vapor into the air. Due to this reason the minerals present in the water may settle on the nearby surfaces. When the mist evaporates a white mist is left behind. Ultrasonic Humidifiers without humidistats can cause extra humidification. As we mentioned before, over-humidification is equally detrimental to health as low humidity. Hence, also check for humidification control function called humidistat. You can buy a separate humidity monitor too.
2. EVAPORATIVE HUMIDIFIER
The Evaporative humidifiers employ the basic fundamental of evaporation. There's a cotton or foam wick which is soaked in the water tank. An internal fan forces the moisture to evaporate through the wick. The simple design basically make them robust and hardy. The minerals in the water are held up in the wick and hence no white dust problem. Since the wick withhold all the impurities, it needs frequent replacement. There is no heating involved here as well. Its common knowledge that when evaporation takes place, it causes cooling of the surface. Hence, the dispensed mist feels cool. Evaporative Humidifiers are exempt from over-humidification. Once the air's moisture content becomes sufficiently high, evaporation slows down. The running fan can make it to produce a slight noise which just blends in the surrounding noises.
3. WARM MIST HUMIDIFIER
There are two ways to cause evaporation. One is to blow air onto the water to evaporate it. The other is to boil the water and cool it slightly to generate warm mist. Warm Mist Humidifiers perform humidification using the latter technique. A warm mist humidifier may seem more soothing to use during the winters. There is heating and hot surfaces involved. Hence keep children out of bounds from the humidifier to avoid burns.
FREE GYAN
Use an Air Purifier in combination of a humidifier for wonderful results. There are good Combo Air Purifier cum Humidifiers from Philips AC3821, Sharp and Atlanta Healthcare which you can buy. Our advice is to buy separate devices for Air Purification and Humidification for better results. Still, go through our Best Air Purifier With Humidifier Post. A humidifier becomes necessary in houses with artificial external heating like fireplaces or radiators.
1. Allin Exporters 2.4 L Cool Mist Humidifier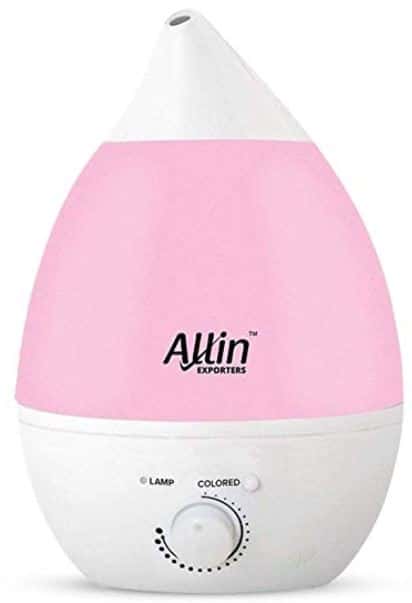 This particular model is a bestseller humidifier. It has a 2.4 L water tank which can be called a good capacity. But do not use it for aromatherapy with essential oils. It is not an aroma diffuser. This model is the Best humidifier in India ideal for Baby room.
FEATURES
Humidifier body made of ABS plastic. Please note its not BPAA free plastic. Hence cannot be used as an aroma diffuser.
Colors- 7 color LED Can be set to a fixed color or constantly changing. Light can be turned off.
Its a Cool Mist Ultrasonic Humidifier
Essential Oils or Aroma Diffusion NOT Available.
You can adjust the mist output with the turn knob.
Germ-proof Tank capacity- 2.4 L (sufficient to last 8 hours in low mist mode)
Auto cut-off when tank runs dry.
NO Remote Control.
NO Timer
Dimensions : 29 x 20 x 20 cm

2. Allin Exporters DT-1618 Aroma Diffuser & Ultrasonic Humidifier 1.5 L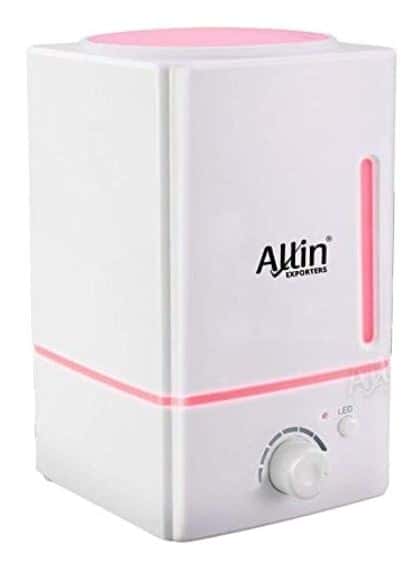 This humidifier caters to small areas and has 1.5 L of water tank capacity. If you have small use-case and rare requirements of a humidifier, this one is the best. It can diffuse aroma in your room for a pleasant ambience. This is a 5-in-1 product which is a humidifier, an ionizer, a spa-quality aromatherapy device, an air purifier as well as a night light. 7 LED lights can be turned ON or OFF to suit one's mood. It alerts you when the water is about to run out in the tank. It does not use any heating, rather an ultrasonic device to generate minute mist. The body is made of high quality ABS plastic and looks decent.

Honeywell Offers a wide range of Room Humidifiers. You can browse the complete range here. The Honeywell HUL535W is optimum sized and costs just fine. It is an Ultrasonic cool mist humidifier for baby room.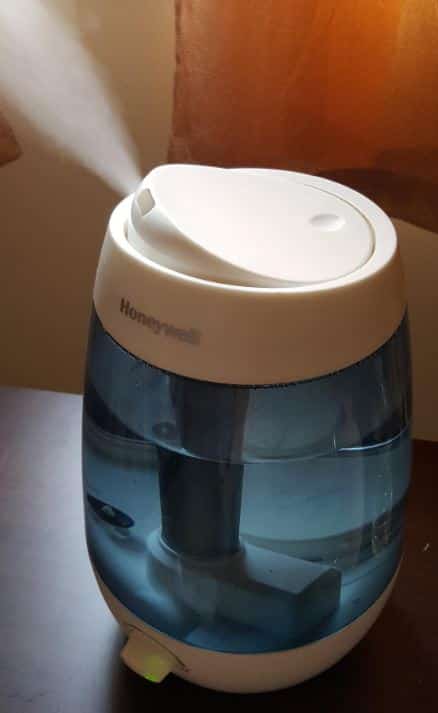 FEATURES
Gives an enormous amount of vapor so its suitable for comparatively bigger rooms.
Larger opening to fill up and clean the tank. Your hand can easily go inside.
No filters are required. Still, please pour only pure, distilled water.
Mist output can be regulated.
Honeywell HUL535W also shuts down when tank runs dry.
Little white noise which is non-distracting.
Tank capacity of around a gallon.
May seem noisy to some people.
If money is not a constraint for you, then buy the Honeywell HCM-350 Germ Free Cool Mist Humidifier. It is the Best Humidifier in the World.

This Humidifier model comes in two water tank capacity variants- 2 L and 3.8 L. So, for home use to cater to room humidification, prefer the 3.8 L one. For therapeutic use or rare usage you can go for the 2 L variant. It is the Best Humidifier In India For Room as far as Optimum Cost and Storage matter.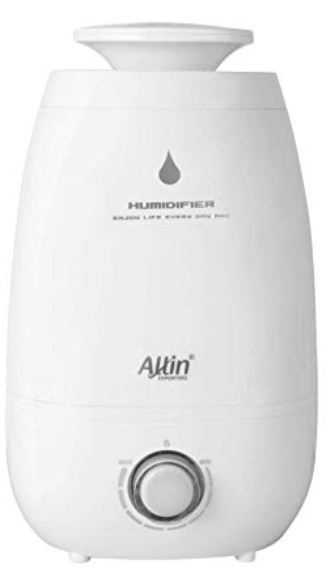 FEATURES
It spews moisture at the rate of 350 ml/H.
Given the 3.8 L water tank capacity, approx 12 hours running time without refill.
Should the water level fall to dangerously low levels, it Auto shuts down.
Ultrasonic plate generates fine mist.
Adjustable nozzle which can be rotated 360 degrees to focus moisture beam in a particular direction.

The Humidifier catalog is dominated by Allin Exporters. While we can't help increase the variety in manufacturers, URPOWER lends some variety. The humidifier looks a no nonsense device with straight functioning. Set it to Low, Medium and High Moisture output. It too shuts down when water gets finished in the tank. Ultrasonic technology ensures that optimum humidification is achieved. Please make it a point to clean it after 3-5 uses. It is arguably the Best Humidifier for Room in India.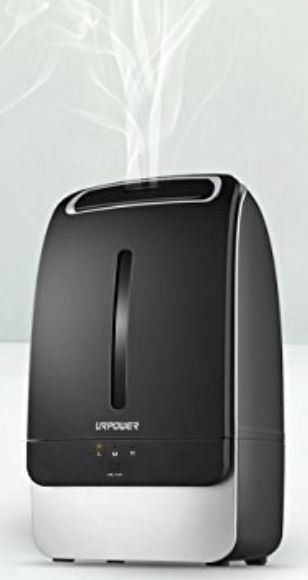 FEATURES
350 ml/h moisture output can make it last for 8-10 hours.
Sleep mode has been provided.
Adjustable mist output for your varying requirements.
Auto shut off for safety
No Fuss Design
Super Quiet

Shell out some extra bucks for added comfort in the form of a remote control. You can control the moisture output (Fogmeter), Set Timer and control Ionizer through the remote. Allin Exporters H-189 has just the right water tank capacity to make it last for 10-12 hours.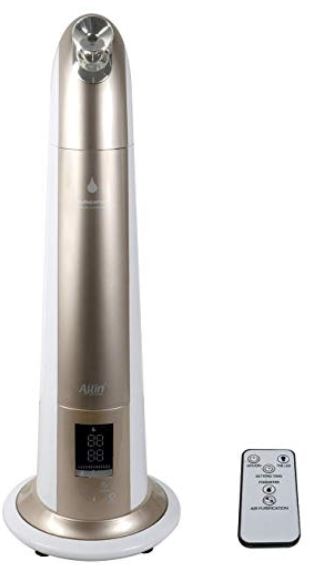 FEATURES
Negative Ion Generator acts a mood enhancer.
Touch panel to operate and control the settings.
Remote Control for easiness of control
Soft Violet Light creates a Feel-Good atmosphere.
Low noise

How can Honeywell not offer a humidifier when it has a dominant Air Purifier catalog! The Honeywell HCM-710 Cool Moisture Humidifier has a wicking filter. This filter traps minerals in the water before it is evaporated. It has a visual water level indicator with water level markings. The operation is conventional and not involves any ultrasonic mist generator. A simple fan whose speed can be varied is atop a bucket of water. As simple as that! The bright Blue light may be an irritant for people. Placing it down the countdown because its price is quite high.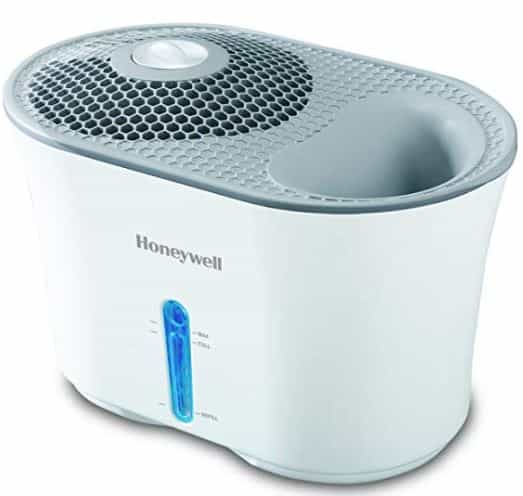 FEATURES
Very Easy to Clean and fill water.
Suitable for hard water.
Good performance. The Best Humidifier For Rooms with Evaporative technology.
No White dust (white scaling deposits which get attached to surfaces).
It's NOT an ultrasonic humidifier, hence not a "Mist" type humidifier.
Replaceable filters which trap the white mineral dust.
The filter and humidifier body resists mold or fungal buildup. An antimicrobial cleaning agent is given free with the product.

This is a sleeker and advanced humidifier compared to the Honeywell model above. Vornado works like an air purifier as a fan draws outside air and pushes out moist air from top. The dry air is passed through a moist wick/filter. This is how it works. Advanced features come with an extra price, same with it. The best thing about this humidifier is that the humidity level can be regulated. The humidity control button lets you set it at anywhere between 40-60% in steps of 5. You can also set it to run continuously and give out moisture if you want.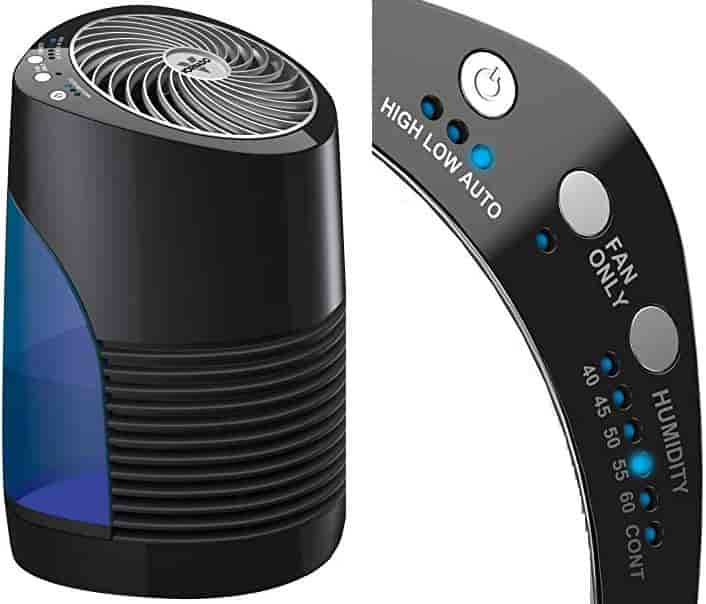 FEATURES
Can humidify a room sized about 600 sq.ft.
Water tank can store 3.5 L.
A high grade Evaporative humidifier, does not generate mist.
Ability to be used as just a Fan through 'Fan Only' mode.
Adjustable humidity is a very good feature.
Powerful fan generates an air torrent to deliver moist air far and wide quickly.
PROS
A robust humidifier with minimal chances of malfunction compared to ultrasonic humidifiers.
Very easy to fill water tank.
High, Low and Auto mode of operation available. The fan slows down or runs faster on its own in Auto mode.
Hard water can be used but then wicks need earlier replacement. Keep spare wicks handy.
Easy to clean and maintains near accurate humidity levels.
Translucent water tank for you to keep the water level in check.
CONS
Price is the only factor which can hurt your wish to buy it.
This model is perhaps the one with the largest storage tank. 11 Liters water tank means that once filled you can forget refilling for about 24 hours. Other Features are the same as in other Allin Exporter humidifier models viz. Auto Shutoff, 360 degree targeting and adjustable moisture control knob. The bazooka looking moisture dispensers look interesting. It is the Best Humidifier For Rooms With Large Water Tank.
AREA CATERED TO – 120 sq. mt
Finally, an absolutely affordable choice which does the job well. The Deerma F628 Humidifier costs just around ₹2000. It has a water tank of 5L.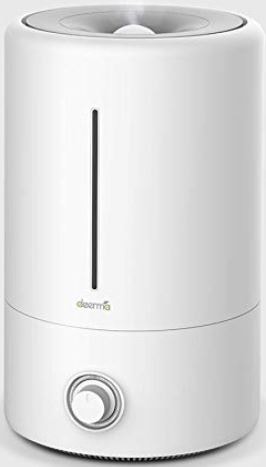 FEATURES
You can add Aroma to the water but it should not be oil based.
Ample water tank capacity to last for 10 hours.
Visible Water Level window strip.
360° wide reach
Air Volume control Knob

Considerations Before Buying A Room Humidifier
CONVENIENCE FEATURES
An important buying decision is to see the settings and features of the humidifier. It should have multiple presets for ease of operation. Mechanism for moisture control, LED light control etc should be present. A high output and a low output setting are absolutely necessary.
COVERAGE AREA OR SIZE
A humidifier has a stated coverage area. Some cater to 200-400 sq.ft.; some 400- 700 sq.ft and others still larger areas. It is very important to right-size your humidifier. A device meant for a larger area would over-humidify your room unless it has a humidistat. And, excess humidity invites all sorts of diseases to your home and is unhealthy. This often results in condensation on surfaces.
WATER TANK CAPACITY
How much water can your humidifier hold and thus last without running out of it? Tank capacity is more of a convenience factor. You'd definitely not want having to refill it multiple times in a day. Once filled an optimum sized tank should allow operation for one complete night.
AUTO SHUTDOWN & SAFETY
Most humidifiers come with a fail safe mechanism of auto shutdown when water level falls to minimum. This prevents damaging the device and rendering it unusable. Look out for such safety features diligently. For households with small kids or baby this becomes a prime priority. Warm mist humidifiers are especially prone to causing burn injuries. Hot water may cause scalding burns on an ominous day. You must watch out for the device balance.
MAINTENANCE & HANDLING
When making a decision, test how convenient the humidifier is to handle. A humidifier needs frequent and thorough cleaning. So, cleaning should not be fussy, lest you should begin to avoid it. See how easy is it to detach the water tank for cleansing. See how to clean humidifier post.
If a filter accompanies your device, then worth seeing is how easy is to clean/replace it.
NOISE LEVEL
A good room humidifier should be fairly silent. It should not be disturbing to your sleep or distracting in general. The most silent types are the Ultrasonic-type humidifiers. Warm-mist type are more noisy due to the boiling water. Noise if it is a constant white noise will not be a problem.
IMPORTANT TAKEAWAYS
Keep special care of the cleanliness of the water tank. Clean it frequently and properly. Some humidifier come with antibacterial cleaning agents, use them!
Use distilled water wherever possible. Hard water or water with suspended impurities can make mineral dust to settle on objects.
Maintain proper water level in the tank. You should fill water neither too much nor too less. Follow the markings.
Keep a tab on the moisture level. Maintain humidity to between 40-50%.
Change water and clean the filter frequently.
Warm-mist humidifiers should be kept out of reach of children to prevent burns.
LET'S TAKE SOME QUESTIONS
1. Can Hard Water Be Used In Humidifier?
The water tank of a humidifier is usually a few litres. You can try and avoid using hard water and use distilled water. If at all there is no option, yes hard water can be used. However, mist humidifiers leave white dust atop surfaces of tables etc. Some humidifiers give you this liberty as they employ a mineral cartridge. This cartridge removes the mineral impurities before the mist is generated. Please note that mineral pads need replacement after around 2 weeks. Once the pads become hard, you can come to know that its time for a change.
2. How To Refill The Humidifier Water Tank?
For refilling the water tank you need to refer the procedure in the user manual. The correct way varies from make and model. In general terms, there's a cap on most models through which water can be filled. Make sure to fill the water only upto the recommended level markings.
3. When To Change The Water?
If you have not been using the humidifier for sometime and it still has the old fill, drain it. Distilled water is the purest form of water and if you use it there are little chances of mold or fungal growth. Still, try to replace the water every day or as the water tank capacity demands. Changing the water is an essential maintenance activity you can never get rid off.
4. What Humidity Level Is The Best?
We have mentioned it above and to reiterate humidity in air is an ever changing thing. 45-55% Relative humidity is ideal for our health. If your humidifier has options to set the desired humidity level, use it. Too much humidity is a precursor of diseases caused by mold, bacteria and mites. Dry air tortures your skin and respiratory system linings. Humidity below 30% reduces body's immunity towards air-borne diseases.
5. Where Should You Place The Humidifier?
There can be no definite answer to this query. From the day 1 you bought the humidifier you know for what purpose you purchased it. There's no one size fits it all concept here. A humidifier for large rooms would not be suitable for smaller spaces and vice versa. Place the device where its effects can be felt at maximum. No house is air proof and should not be either. The motive behind using a humidifier is to let moisture optimized air be breathed by your family members. So, placing it near an open window far away from humans would be a waste.
Places which see maximum human presence in the home should have an humidifier around.
6. Cool Mist Or Warm Mist Humidifiers?
Each has its pros, cons and utility. Ofcourse safety is one big factor for which cool-mist humidifiers getting more popular. Another reason is the sheer variety of attractive shapes and LED light laden models. Warm mist humidifiers are ideal for medicinal and therapeutic use. Say you have some patient suffering from respiratory ailments like asthma or allergy. This is because water first come to boiling temperatures before being spewed out. Warm mist humidifiers provide a degree of assurance that bacteria would be absent in the mist.
Warm mist humidifiers are ideal for infants and not toddlers. We say this since infants are restricted to their cribs while toddlers can get burns. Don't mistake that warm mist humidifiers have the same effect as steam consoles. By the time mist from a cool-mist or warm-mist humidifier is inhaled they both are at room temperatures.
CONCLUSION
Hope you followed our post diligently and did not miss any part of it. If you give proper care to your appliances, then you can get the most out of them. We hope this post on the Best Humidifier In India for bedrooms would have been helpful for you. If you are fed up with too much humidity, then get a DEHUMIDIFIER.
You May Like These Similar Posts From AirSwacch!