Hi there! This post is the most elaborate Coway Airmega 150 review you'll find on the Internet. Coway is a big air purifier brand internationally. I've not seen them introduce newer models very often. Although the number of models in Coway's catalog is big, but they do not release each one of them in all countries. Their Coway Airmega series is a rage in North America. When they are already selling air purifiers in tranches, what's the need for new releases? Well, its due to competition from majors like Honeywell and the relatively newer Levoit which have so many models in their kitty. This has prompted Coway to also roll out a couple low cost small room air purifiers. Coway Airmega 150 (AP-1019C) is no longer the newest model. Coway Airmega 250 is the bigger and meaner new model.
Its all about looking different, as this is what attracts attention and the product musters curiosity. Coway Airmega 150 looks simple with nothing flashy about it. It caters to small rooms and is silent if not run in its top fan speed. I received my Airmega 150 and this is an account of how I found it after use.
DISCLAIMER – This model is specific to India and its specifications vary from the US release. Please check local listing on AMAZON.com for technical aspects. You are most welcome to get to know the Indian review of it though. 🙂 The USA model covers a smaller area and is otherwise the same in other aspects.
Coway Airmega 150 Review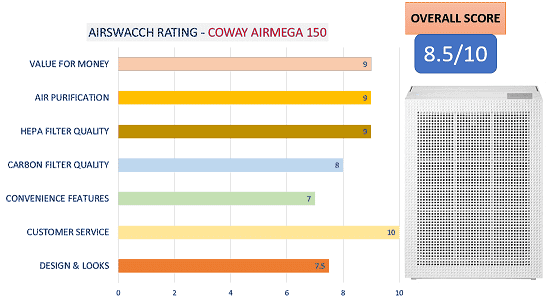 VERDICT
Expect the Airmega 150 to be able to clean the air of small and mid-size rooms. Rooms sizes within 355 sq.ft. can have their complete air volume cleaned atleast once in an hour. An ideal air purifier for room should be able to clean the air 5 times per hour. Most homes in India have smaller rooms than this size. Hence, in all probability it shall suit your needs as well. Nowadays, air purifiers having a True HEPA filter is a norm so don't worry about it. It too has a good quality H13 grade True HEPA filter. You would miss the Smart WiFi features rendered by an App because not every air purifier is the Levoit Core 200S.
AIRMEGA 150 UNBOXING
My Airmega 150 arrived in about 4 days of ordering on Amazon. ETA in your case may vary according to your location. The packaging was good and the air purifier was secured in its place well. The pre-filter, the HEPA filter and the carbon filter were all housed inside the air purifier itself. The uniqueness lies in how the filters are housed inside the air purifier (Cartridge feature). Apart from this a user manual, a quick start guide and a power cord came along. I was also sent an original N95 mask inside as a promotional gift which was a smart marketing strategy. You may not get one nowadays since COVID is over!
The filters were all wrapped in plastic covers to keep them new and dust free till used. 
DESIGN AND LOOKS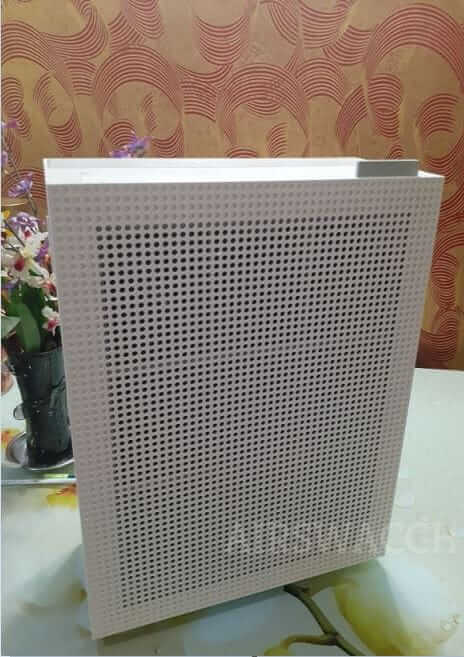 When I unboxed the Coway Airmega 150, it turned out to be smaller than expected. Happens so many times that a product looks larger in pics than in reality. Funny thing is that Coway Airmega 150 doesn't look like a typical air purifier. It may seem to be a ventilated cabinet if seen from only the front. I personally keep things simple in life, as then you can devote greater time to the important things. This time around Coway has taken simplicity to the next level or rather too far. And here I am talking about its raw looks which may not be liked by all. But, for me its kind of cute little device.
Coway AP-1019C (Airmega 150 model name) is available in a single color option at the moment i.e. White color. In US, you also get a choice between a Sage Green or Peony Pink body. I cannot think of any air purifier scoring more on minimalism than the Blue Pure 121. Coway Airmega 150 definitely is way more endowed to be called minimalist. It has an air quality indicator LED to provide feedback on the ambient air quality. The air purifier does a small POST when powered up.
MODULAR FILTER SETUP
The thing that stands out is the ease of cleaning of the pre-filter. This is the World's first Batch separation technology. Have you seen how beehives are kept in apiaries. The Coway Airmega 150 has a similar arrangement for checking/cleaning the pre-filter. Its good to clean the pre-filter frequently and this comfort means you'd never feel it as a burden. You can pull it out with the help of the grey plastic jutting out from the top. No fuss at all in the maintenance.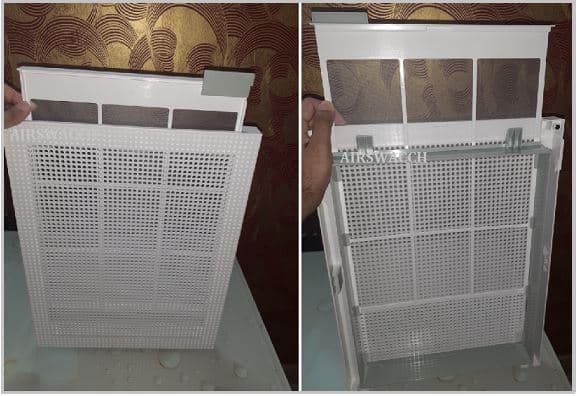 The three filters can be pulled out without any risk of contamination. You've already seen how the pre-filters can be cleaned. Its similar to how it is in air conditioners. For the HEPA and the carbon filter, you should be cautious not to take them out too often. The carbon filter being rugged in texture can be made to stick on the HEPA filter frame via inbuilt Velcro tapes. The HEPA and the carbon filter held together with the Velcro tape, become one unit as shown below.

DIMENSIONS
I do not have anything peculiar to say for the size and dimensions of the Coway Airmega 150. Its a standard sized air purifier for small rooms, but yes it is not heavy at just 5.5 Kgs. The shape is also such that it can easily fit in corners. The air intake is from the front only and not from the sides. The grille on the top face is from where the purified air comes out.
DIMENSIONS (W x D x H): 13.4 x 6.5 x 18.5 in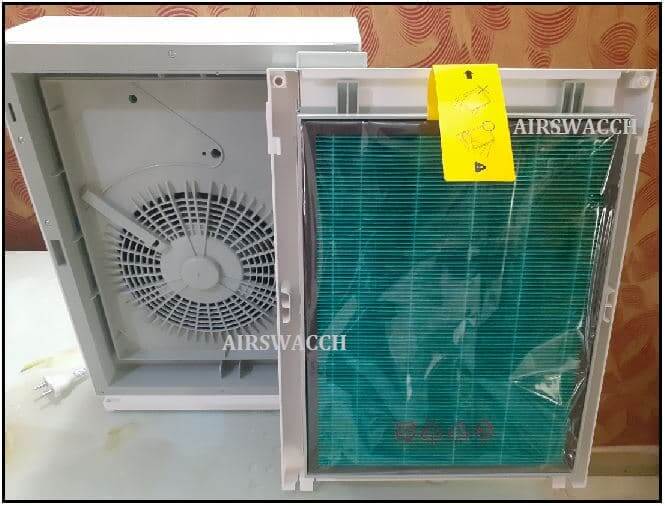 COWAY AIRMEGA 150 PRICE
In India, air purifier prices vary considerably with the time of the year. During highly polluted days like when stubble burns or winters set in, the prices may be hiked to cash upon the increased demand. At the moment, the price is the maximum that I have seen. Last year 2022, I have not seen the company inflating the prices at a whim, which is good. Anyways, expect the price to vary between ₹11,990 to ₹14,500 throughout the year. The country of origin as mentioned on Amazon website is China. The next higher model is the Coway Airmega 200 which is way pricier, don't know why. It could be justifiable if it has larger filters, body and covers a larger area. But, nowhere in the product description is this thing clearly stated.
Coway Airmega 200 is definitely way more beautiful in looks. Everything factors in the price. However, I've come to know that the company intends to bring the goodness of costlier models to cheaper new releases. This is a consumer friendly strategy to make air purifiers more attractive to the masses.
---
UPGRADE FOR BEST IN CLASS PERFORMANCE

– SHARP J40M-W
---
Airmega 150 was released in the USA prior to being rolled out in India. There is has been pitted against medium to small room air purifiers from other brands. As such it was priced at $189.99 originally which is now down considerably at this time. Its price now after the reduction is more justifiable than before. We see small air purifiers from brands coming in at as low as $40, ofcourse they are more like a placeholder. But Yes, as far as Coway's own catalog goes, Coway Airmega 150 is currently the lowest priced model. And why wouldn't it be, it has the smallest coverage area among all other Coway air purifiers.




COVERAGE AREA &

ACH
Air purifiers cannot do magic time and again when it comes to the utterly menacing air quality in North India. Coway Airmega 150 has a perforated front cover to suck in the polluted air through. The air purifier has a front to top air flow. Using an air purifier for smaller areas than it is made for means greater number of Air Changes per Hour (ACH). The more the ACH, the greater number of times the whole volume of the room's air is cleaned. So, its good to use an air purifier for areas smaller than its rated coverage to get best results. Or, use a big air purifier to clean smaller rooms. One and the same thing. Philips AC3059 is a feature packed model released in 2020 with 452 sq.ft. coverage.
The air purifier market is already saturated for all room sizes and specifications. Anyways, Airmega 150 claims to cater to 355 sq.ft. room sizes. Looking at its CADR ratings, I can say that its ACH would be below 4. Coway Airmega 150 has decent CADR ratings for midsize rooms. This model helps reduce incidents of watery eyes, cough, running nose, shortness of breath etc.
---
AIRMEGA 150 CADR

---
CONTROL PANEL
Coway Airmega 150 Console
In this video, I've captured the control panel up and close. You get to feel the sheer power of the fan towards the end of it demonstrated with a paper.
I would call Airmega 150 control panel to be a very simple one. Coway has not spent much effort in making it more eye catching or stylish. I feel minimalism is one thing, but adding a little color/contrast to the console would have made it more appealing. Atleast the LEDs could have been a bit larger, they're as small as a rice grain. The Air quality indicator LED is hidden from view unless the air purifier is seen from the top. Hence, I'd not call it a great control panel design. Seems things have been ignored in the oversight.
The buttons are touch sensitive but not very responsive. You have to touch the embossed markings to get your preferred setting. Not many buttons feature on the control panel. Its just the Power button, the filter reset button and one for the fan speed. I especially struggled with the Power button initially. The Power button needs to be touched longer for it to do its thing. Other buttons like the fan speed buttons respond instantly.
AIR QUALITY INDICATOR
Coway Airmega 150 has an LED which changes color in accordance with the room's air quality. Upon staring the air purifier, all colors except the yellow one light up once with a short jingle. The particle sensor takes sometime to analyze the air quality. Hence, just after power up, the LED would always be toggling colors quickly until it shows the true air quality status.
Perfectly clean air is shown by

BLUE

LED.
Moderately clean air is depicted by GREEN LED.
When the indoor air is impure then the

YELLOW

LED glows.
A

RED

LED means the air inside is very unhealthy.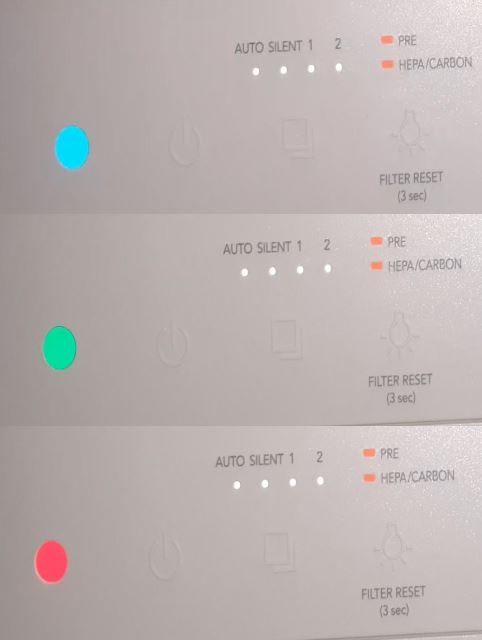 A little complaint is that this light is very small and only visible from the top. Other Coway air purifiers have a way more discerning and pronounced AQI light.
AIRMEGA 150 FILTERS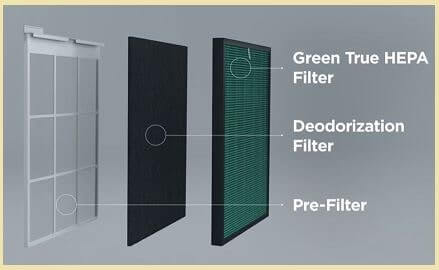 The same three filter types are present like the True HEPA, deodorization filter and a pre-filter. Note that unlike the MAX2 Filter in the Airmega 300S which is a composite filter, here you have three separate filter units. The HEPA and the carbon filters merge after you affix them together with the Velcro tapes. The HEPA filter should be facing yourself.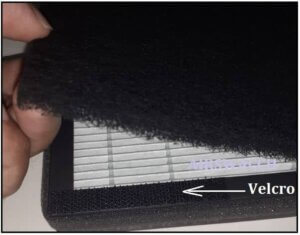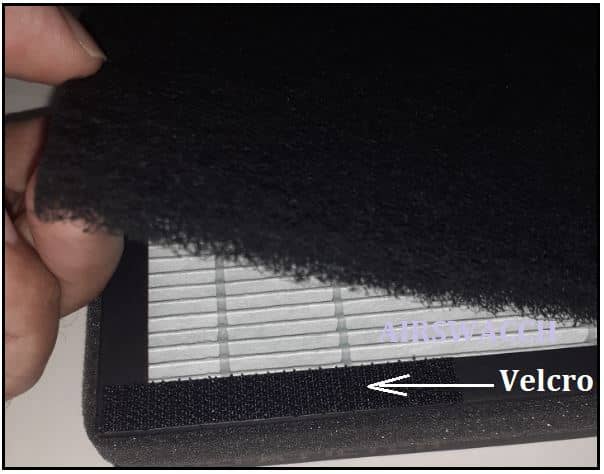 These filters are secured in a plastic sheet when your air purifier arrives. You need to remove the plastic covers and place the filters back in the same order. Try not to throw away these plastic covers to use them later. In months of good air quality when you put the air purifier away, seal them again in the plastic to maintain their longevity.
TRUE HEPA FILTER
Coway Airmega 150 has a H13 Grade True HEPA filter. This grade of HEPA means its a high quality one. Only a select few with an even better H14 grade are otherwise available. The Sharp Air purifiers have H14 grade HEPA filters. It has a customary green coating of extracts from Sumac and Gingko plants to impart anti-microbial and anti-viral properties to the filter. Note that the coating is only on the outermost layer of the filter and not on the other side. As is expected from any True HEPA filter, it removes 99.97% particles of size 0.3 microns and above.

The HEPA filter is like a mini MAX2 filter that the Coway Airmega 400 have two of them. I felt the filter without any manufacturing defects and of fine quality. However, it was apparently a little flimsy in terms of maintaining its shape. But, once packed inside the front panel frame, no worries. It is lined with foam to pack a good sealing without any air leakages; a good thing and also essential.
The expected life of the HEPA filter is 8500 hours. However, the filter life cannot be generalized; its always a rough estimate. Your filter would last in accordance to the air quality it has been dealing with. Logical enough!
ACTIVATED CARBON FILTER
The activated carbon filter removes organic gases, odors and fumes from the air. I prefer air purifiers which have actual carbon pellets. I am not very impressed with the activated carbon filter of Coway Airmega 150. It is still sufficient to do its job well. It is a non-costly sheet of carbon-woven fiber. Also, the lack of any supporting frame makes it flimsy. Its another story that it obtains rigidity after attaching to the HEPA filter's frame. I expected a better carbon filter from Coway. Another upside is that you can go for cheaper replacement filters from other brands. Just cut them to size and you are ready to go.
PRE-FILTER
There's a pre-filter which you have already come to know above. It traps fine strands of fiber, larger dirt like hair and lint. Its a fine mesh which is washable and comes out easily with the help of a flap jutting out. It would have looked odd if not for the Coway name marked on it. The pre-filter does not come packed in any plastic cover. So, in summary the pre-filter comes out without having to open the air purifier's front panel. Clean it frequently with a brush.
COWAY AIRMEGA 150 REPLACEMENT FILTERS
You would normally not need to re-purchase the pre-filter. So, I've placed the links to buy the other two below for your convenience. Using fresh filters and changing the old dirty ones in a timely fashion is crucial. Filters themselves begin harboring germs and dirt with time and need replacement. The indicators atop the console alert you for that.
AIRMEGA 150 HEPA FILTER COST

AIRMEGA 150 CARBON FILTER COST

FILTER REPLACEMENT INDICATOR
When the time comes for changing the filters, the Coway Airmega 150 would warn you about it. There are two small LED lights to alert when the HEPA has run its course and similarly one for the deodorizing filter. You'd need to reset the warning by pressing the filter reset button for 3 seconds.
Apart from timely replacing the filter, you must store it away in a clean and dry place. A Coway Airmega cover can come of help in this situation.
FAN SPEED SETTING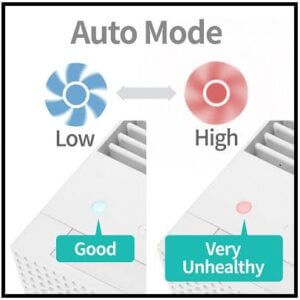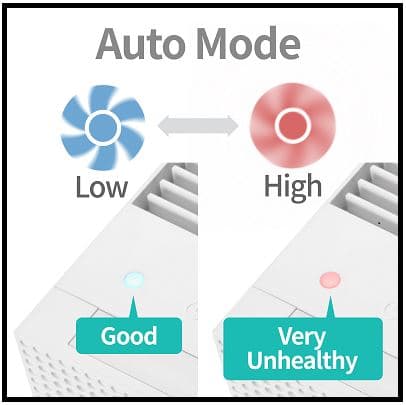 Its not difficult to guess the number of fan speeds the Airmega 150 has. It has 4 fan speeds settings viz a Silent level, Level 1, Level 2, and the AUTO mode. If you are not sure what AUTO mode is, Let me tell its a good thing to have. Air purifiers with Air quality indicators have particle sensors doing the air quality analysis in the background. In AUTO mode, the particle sensors becomes the brain of the air purifier. You do not need to worry about setting the optimum fan speed at all. This would be taken care by the air purifier on its own.
You can observe the AUTO mode in action very easily. When some activity in the rooms stirs up dust or even frequent movements, the fan speed would adjust in order to clean the air. In AUTO mode, when the AQI light transitions from Green to Yellow or Red, the fan speed too increases and then decreases when the light turns Green again.
---
PARTICLE SENSOR

If an air purifier comes with equipped with AUTO mode and Air Quality Indicator; it ought to have a particle sensor.  The particle sensor takes in a little of the room's air. It then analyzes the air composition wrt to concentration of dust particles. Believe it or not but it also has a Nano size fan for that. With time the sensor surface can also get dirty. The cleaning of the particle sensor with a soft cloth or an ear bud from time to time is a good practice.
POWER CONSUMPTION
A midsize room air purifier doesn't need to have a big fan. As such mostly all air purifiers covering upto 200 sq.ft. consume nearly an average 40W of power. Coway Airmega 150 also comes true to this generalization with its 35W rated power. Remember this is what it consumes at the highest fan speed. At lower speeds, it would consume even less power.
NOISE LEVEL
At the highest fan speed i.e. Level 2, the Airmega 150 makes the greatest noise of all other speeds. This has been recorded at 48.3 dB which is definitely audible from a distance. However, all air purifiers make extra noise when their fans run in full speed. One of the reasons for it could be the strong but small fan which has been tasked to move large air volume. This noise level is tolerable, not something too loud but it may not be comforting during sleep time. The Airmega 150 lacks any Sleep Mode. Hence, before sleeping you may need to set it to manual mode to either Silent, Level 1 or Level 2 fan speeds.
I personally do not feel any distractions in sleep. The noise is actually 'white noise' which blends in the surroundings. It doesn't sound irritating to the ears. Remember the old time television sets? Whenever there were no picture signals, the haphazard ants-like screen would make a typical sound. I find the same noise on Level 2.
WARRANTY
A simple description of what is an air purifier, what could it be? Its just a fan unit pulling in air from different directions and making it to pass through the filters. So, if your fan motor keeps working, you are mostly covered. Coway offers a 5 years warranty on fan motor. A 1 year warranty on parts. Also, if you register your air purifier on the Coway site, or call them, a Free 2 years Extended warranty can be secured. This way a 7 year warranty on the product's fan motor can be availed.
DOES IT WORK AGAINST COVID?
The sale for air purifiers shot up as soon as waves of Coronavirus struck India. As far as combating COVID-19 or any airborne infection goes, relying only on an air purifier won't suffice at all. However, the green HEPA filter destroys the captured virus and bacteria. Definitely an air purifier like Airmega 150 would help, but it is no magic bullet that would safeguard against infection.
NEWER COWAY MODELS LAUNCHED
I keep checking with Coway company representatives about any newer models in the pipeline. Airmega 150 and Coway Airmega 200 would continue to dominate their product listing. These models cost such that an average Indian won't be keen on spending more than their price. Although, the hugely popular, costlier and more endowed Airmega 300S and Airmega 400S are also up for sale in India. The Coway company is now prepping water purifier launches.
CONCLUSION- Coway Airmega 150 Review
I find that the airflow of this air purifier is very good at highest fan speed. It may look small but it cleans the air well. Super easy filter maintenance is its another highlight. I would not call the looks of Coway Airmega 150 too inspiring. There are far better looking air purifiers in this price bracket. But, looks are not what you want an air purifier right? The good thing is that the full frontal air intake helps perform better as far as the air cleaning goes. There is no obstruction from the any front panel to the path of the incoming air. If I were to pronounce a judgement, I'd definitely try out this Airmega. Stay tuned and Coway would relaunch the powerful Coway Airmega 200 in India. This model is even more powerful and in a different league than the Airmega 150. You can all it Coway company's flagship model in India right now. 
Telling you frankly, people often return the products they don't like. I have seen not more than 5% of these sold air purifiers being returned. That's a very encouraging thing you know. In a nutshell, majority of people who choose to buy it, stay with it.
In USA, instead of this, the Levoit Smart WiFi LV-PUR131S is a much better choice in the same cost. It comes with WiFi support and can be voice controlled by Alexa. You can even set Schedules in it through the VeSync App. Sleep mode which is absent in the Coway is present here. What more, it has a better carbon filter with actual pellets which deodorize better.
You May Like These Similar Posts From AirSwacch!