Are air purifiers effective? Air Purifiers are useful but an expensive addition to your home. There are rising concerns about the worsening air quality in cities during some parts of the year. People are compelled to buy air purifiers as there is no other option. Running away to hill stations or wherever air is purer is also not practical. Air purifiers make our lives easier in those polluted days and that's definite. The air purifier market is replete with so many brands and models. Every air purifier has some Pros and Cons. The idea behind an air purifier is practically the same. Pull in the room's air and pass it through its filters to clean it. Now, there is no exception to this way of working. What different or unique can an air purifier be to stand out?
Air purifier brands are so many and each has its own fan following. They all compete to bring out models suited for varying needs and price bands. Coway and TruSens are popular yet so different. Air purifiers with HEPA filters remove up to 99.97% particles up to 0.3 microns from the air. This sounds good in hearing, the reality may or may not be different. The design, shape, filter quality, fan power, air leakages and so many other factors impact the user's experience. Hence, different users may utter dissimilar answers when asked the question- "Are air purifiers effective?". The reason being they chose to buy from different brand of air purifiers.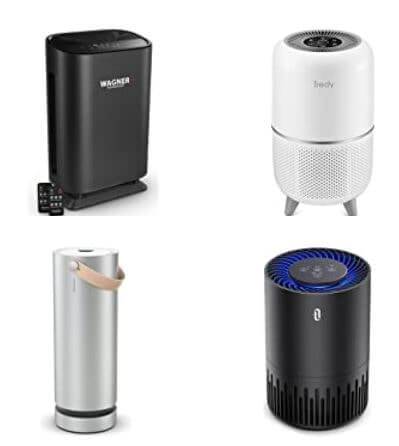 ARE AIR PURIFIERS EFFECTIVE?
If you are interested in knowing a reply, crisp and quick, then YES it is. If you choose a good air purifier by properly researching then you'll definitely feel a difference in the air quality. Air purifiers are effective in removing dust particles, pollen, pathogens, allergens and odor. Carbon filters work to remove toxic gaseous compounds from the air including ammonia, and formaldehyde. The number of purification stages inside, the better it is. But, too many filter layers can also hinder airflow. So, a delicate balance in this respect is essential. If too many filters were of any good, brands would have stuffed filter after filter to come in the limelight.
HOW WELL AIR PURIFIERS REMOVE DUST?
Air purifiers using HEPA filters are capable of removing 99.97% of all particles above 0.30 microns. They are also fitted with sensors that continuously monitor the AQI. If you've checked the other posts, you might be aware that air purifiers work on the basis of filters placed inside them. These filters require annual or periodic replacements. Anyone using one would be shocked at the amount of dust they will find accumulated on these filters. While many harmful dust particles may not be visible to the naked eye, that does not mean we can ignore their existence.
A Basic Understanding of Air Purifiers
If our living spaces have good air circulation and sunlight, its a natural way of breathing fresh air. But, what if the whole of the city or region is enveloped in thick plume of smog and smoke?  The increasing population density in our cities has made having spacious homes which receive sunlight, a luxury. Air purifiers work to clean the air in two ways:
Firstly, suction of air from the vents or perforations in their body and make it to pass through a filtration process. Ensure the trapped particles and pollutants are not re-introduced into the air due to high face-velocity of the fan. This is the normal air filtration process.
Secondly, air purifiers can eject charged particles into the air, which latch on to the particles making them heavier and settle down.
Some air purifiers like the TruSens Air Purifier have ultraviolet bulb also. What it does is to sterilize the inside of the HEPA filter drum.
Get an air purifier with good fan speed, high quality filters and read reviews to choose among the Best air purifier in India. Then surely your answer to the question – "Are air purifiers effective?" would definitely also be in the affirmative.
AIR PURIFIERS FOR DIFFERENT ROOM SIZES
A user must give due importance to measuring the area in square feet where he wishes an air purifier for. Most air purifier product descriptions list their coverage area in sq.ft and sq.m. Ignoring this and buying any model randomly would not give optimum and expected results. There are models for room sizes as small as 150 sq.ft and as large as 1500 sq.ft. Air purifiers for small rooms come in pocket friendly budgets and are sufficient for small rooms.
Models like Philips AC0820/20 and Levoit LV-H132 are ideal for rooms under 200 sq.ft. Remember not to expect wonders from them though. It must be noted that purifiers work best when the doors and windows are closed since it gives them a fixed volume of air to purify. However, they do not add new air to the room, hence windows and doors should be opened at regular intervals unless you are using an AC as well at the same time.
For larger rooms, how can we miss mentioning the Coway Airmega 300 air purifier. Overall, air purifiers are good at what they do. Purifiers like the Dyson Pure Cool series can be of interest to customers who do not want a cylindrical purifier, but something more edgy and elegant.
AIR PURIFIERS ARE NOT EFFECTIVE IN SOMETHINGS
So, here is what air purifiers are NOT good at. Unlike air conditioners, air purifiers are not a source of outside air with more oxygen. They do not have an external counterpart like an AC. They keep circulating and recirculating the air present inside the room itself. Therefore, they cannot in any way increase the amount of oxygen in a room or decrease the percentage of carbon dioxide. People who may think of using air purifiers to cool down the room would also be disappointed. Hence, air purifiers are not replacements for ACs or fans.
So, Are Air Purifiers Effective?
Air purifiers can, however, remove allergens and PM2.5 particles. Removal of these itself makes breathing significantly easier for those with asthma or other breathing disorders. Most people who suffer from breathing problems are actually affected by dust and pollen. Viruses and bacteria are harmful to health but they do not cause breathing trouble. Hence, air purifiers are effective air purification systems. They do not improve the quality of the air in terms of oxygen or temperature. They are highly recommended if you live in a place with bad air quality.
You May Like These Similar Posts From AirSwacch!