In our earlier post we reviewed the Coway Air Purifiers. Coway Air Purifiers have gained a strong foothold in Asian and American markets. Talking about India, Coway outsells all other company's air purifiers. Within a short span of their introduction, Coway has managed to impress the demanding Indian customer. To reiterate as in earlier posts, Coway's customer service experience is exceptional. If you are looking for a good brand with best after sales support- go for Coway. In this post, let us bring to you the Coway Sleek AP-0509 Air Purifier Review. Do check of its availability as the company has shifted their focus on its better model.
On some particular days of the year, pollution touched grave levels. Exposure to such air for just 10 minutes can fill your lungs with smoke equivalent to over 100 cigarettes! When crop stubble burns in Punjab and Haryana, those days are really tough on the people in nearby regions. The situation again became ugly in 2020 but not as much as in 2019.
FEATURES – Coway Sleek AP0509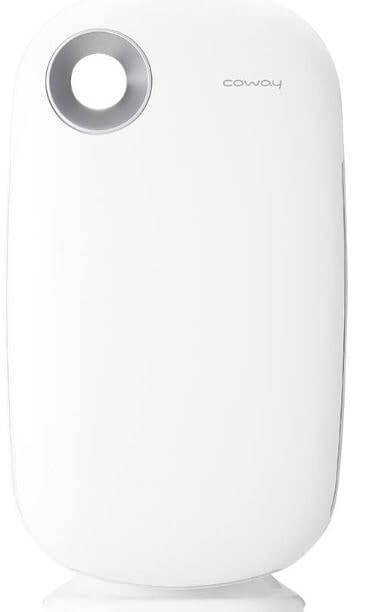 General Information
Coway Air Purifiers are 100% Made in Korea. You can rest assured that none of their products are made in China. Coway was a new name in India until 2019 but do you know it holds approx 50% global market share? According to company site, it sells an air purifier every 8 minutes somewhere. The product packaging is optimal and safe. Unlike other air purifier companies which get their products made in China, Korean products are considered better.
CHECK LATEST PRICE

REVIEW
The Coway Sleek AP-0509 is an excellent product and rightly priced. Given the fact that Coway AP-0509 lacks sophisticated features, the price is reasonable. The quality of filters and the air purifier functioning is top notch. Its design is such that it doesn't occupy much floor space. Users have experienced a marked improvement in Air quality. Right from packaging to delivery and installation, all goes smoothly. As like any new player in the competitive Indian market, Coway is giving best service and quality.
Another thing users have experienced with Coway is their helpful after sales support. Normally with other brands you would want to pull your hair off should your device goes awry. You would have to call customer care many times and repeat the issue over and over again. Still, there is no guarantee that your device would be set right. Things are different with Coway. Users have reported that in case their air purifier has malfunctioned, Coway was responsive and quick to dispatch spare parts and servicemen. In most cases, you won't be charged a penny for the service!
COVERAGE AREA
Coway AP-0509 Air Purifier can clean a room of small to mid size. A room of size 255 sq.ft can be comfortably handled by the device. An extra long power cord helps keep the air purifier in an open space. Keep your device away from clutter of household to allow unrestricted airflow.
The air purifier sucks in the indoor air from the side vents visible from the front. Purified air is thrown out from the back side of the air purifier. This is a common air purifier design and an effective one.
CADR
CADR is Clean Air Delivery Rate or the Volume of fresh, clean air delivered in an hour. This is a standard parameter and the more it is the better. The CADR for Coway AP-0509 is  216 cubic m/hr.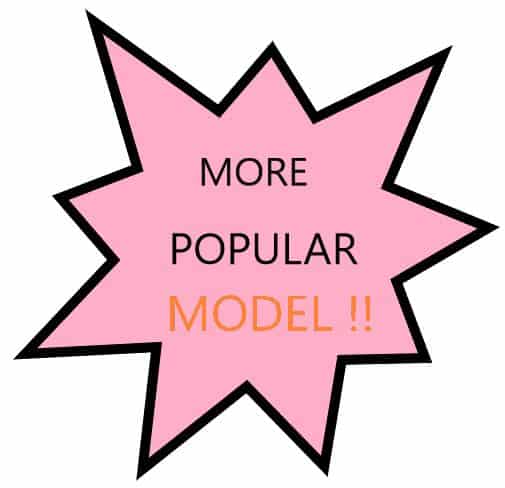 Air Filtration
The Coway Sleek AP-0509 Air Purifier employs 3 stage filtration.
Coway's First and outermost stage is of the Pre-Filter. The Pre-Filter stage prevents larger dust particles from spoiling the costly HEPA filter. You should clean it frequently for best results and improved filter performance.
The Second stage is the Patented Urethane Carbon Filter. A carbon filter is a cloth woven with Activated Carbon inside it. Activated Carbon is very effective in adsorbing gaseous pollutants. The deodorizing efficiency of Carbon Filter is about 98%.
The Final stage and essentially the most important filter is the Multi Layer

TRUE HEPA

filter. A True HEPA filter can filter the very small PM2.5 particles. PM2.5 pollution is the most dangerous kind of pollutant. Such particles can enter deep inside the lungs and cause serious health issues.
Filter Life
A filter's longevity means money savings. Hence, the longer the filters last, the better it is. The exact filter life cannot be predicted. It is thoroughly dependent on the daily usage duration, environmental pollution and maintenance.According to the product description True HEPA Filter Life: 8500 hours | Pre-Filter: Life Long | Patented Urethane Carbon Filter: 8500 hours.
A Filter Replacement Indicator is provided to warn of filter change requirement. In reset mode, blinking speed LED indicates a filter that needs to be replaced.
Fan Speed Settings
There are three settings to control the fan speed. Higher the fan speed, the faster is the air torrent. You can prefer to always run the air purifier at maximum fan speed. At max speed the air purifier also eats the most power. Just letting you know, its not that the electricity bill would be inflated. Air purifiers hardly effect your monthly bill compared to the ACs.
Can Your Coway AP-0509 Monitor Pollution Level?
Lets set the tone straight. Nowadays customers expect to know the live status of the air quality in the rooms. There are many air purifier models with Air Quality Indicators available in India. Most of them have either Color LED based indicators or digital PM2.5 display. The Coway AP-0509 lacks any sort of AQI, not even color LED ones which is a shame. For the price tag attached to Coway AP-0509, it should have been provided.
Which Air Purifiers Have Real-Time Pollution Tracking?
The following is the list of some Air Purifiers with numerical or digital AQI. Click the links to follow their Reviews-
The following Air Purifiers have Color LED based AQI. Click to follow their Reviews-
How Coway Sleek Differs from Coway Sleek Pro?
The Coway Sleek Pro (AP-1009) is around INR 2,000 costlier than Coway Sleek (AP-0509). It covers more area than the Coway Sleek and has an additional LED based air quality indicator. Most people prefer it as you can see on your own.
CONCLUSION- Coway Sleek AP-0509 Review
The Coway Sleek AP-0509 Air Purifier is a value for money. It has been unavailable on Amazon since sometime. Add a little more money and get Coway Sleek Pro AP1009 with greater coverage area. Although Coway AP-0509 lacks in the AQI area, its performance is excellent and this is what maters the most. An external PM2.5 meter can set right absence of AQI functionality. The looks are decent and in no way inferior to Philips models. In the quality of HEPA filter area, Coway air purifiers leave Philips long behind. Coway uses H13 class True HEPA while Philips uses E11 class. We would recommend you to go and buy this model without second thoughts.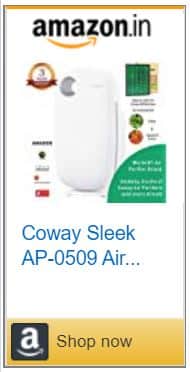 You May Like These Similar Posts From AirSwacch!