Just with the onset of winters, Delhi & NCR pollution is the hot news on TV channels. In October, farmers in mainly Punjab and Haryana burn the leftover stubble of their crops. Fires in such widespread area and easterly winds flowing towards Delhi wreck havoc on the air quality. This is one of the main reasons for sudden spike in Delhi NCR pollution. Another reason is the atmospheric conditions become cooler. Cold air is heavier than hot air, so it brings pollution from upper atmosphere down. Only the Best Air Purifier for Delhi pollution can help you tackle such a scenario.
The PM 2.5 index crossed over 600-700 ppm in 2018. Last year on November 3rd 2019 all hell broke lose on Delhi NCR. The AQI was pecked at over 700 in Gurugram, Noida and Ghaziabad. There was hardly any place left undisturbed by this environmental mayhem! Let's see what transpires in 2020, fingers crossed.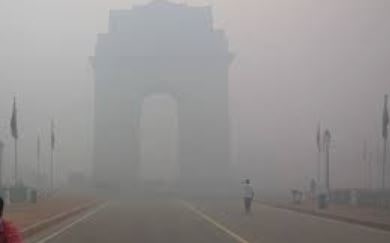 Where would one hide himself on such days of poor air quality? Every living being needs air and one cannot escape from it. There is no excuse from stepping out of your home for your jobs and work. Air Purifiers can save you indoors, what about outdoors? See Best Pollution Masks in India.
Best Air Purifier For Delhi Pollution
Some areas in cities like Pune, Bengaluru, Hyderabad can have high pollution. Delhi has high pollution levels almost everywhere. An ideal air purifier for should have all or most of the following-
It should have a good coverage area, the more the better. Prefer those which can clean more than 200 sq.ft.
Best Air Purifier for Delhi should have a TRUE HEPA filter. Check the product description or call on customer care to inquire about the HEPA filter quality.
Latest Air Purifiers come with real-time Air quality indicators. They display the live PM 2.5 particle concentration in the room.
If digital PM 2.5 is absent, your air purifier must have a color LED indicator at a minimum.
Delhi and metros as high on vehicular pollution. See to it that a good carbon filter is present.
Convenience features like Timers, sleep mode, Turbo mode, filter replacement indicator are good to have.
It's a waste to buy air purifiers costing over 25,000 INR. Its always better to own smaller units instead of one giant.
Look for reviews on trusted blogs like Airswacch. All the Pros and Cons are difficult to determine from Amazon descriptions.
Its not so that Delhi's air is filled with smoke and smog throughout the year. For the most part of it, vehicular and dust pollution dominates. For days or months when nearby states burn crop stubble, a separate post is devoted for that. Smoke combines with moisture in the air and form smog. So harmful is this smog that we are literally inhaling carbon!
Air Purifiers from Coway are the latest rage in India. After Korea and the world, Coway has made a huge impact on the already competitive Indian market. Be it the online reviews or ratings, Coway Air Purifiers have taken even us by surprise. How often do you see 5 star ratings for a product in hundreds of reviews? Coway air purifiers have the best quality air filters. At the end of the day, its the filter quality that matters the most. No body color, design or features would be useful if poor quality filters are used.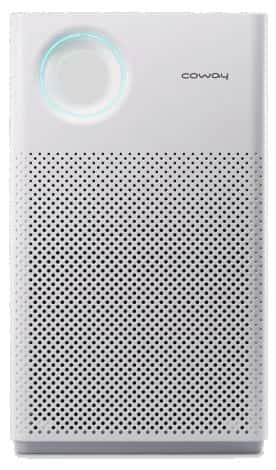 Coway AirMega is a new model but the most preferred choice for Delhi. This is so for multiple reasons. First is, it has a wide coverage area. Secondly, it is sleek and tall with a good air circulation capability. With a CADR of over 300, the Coway AirMega is simply awesome in its price! Although the real-time AQI is missing, still it has the LED color based indicator. We did not name the Coway Storm AP-1516 because it is very costly. Otherwise nothing beats the giant Storm. It can cover around 600 sq.ft area. It also has an impressive CADR of 492.
Coway service is top notch even if any faults in the device are detected. They will simply replace the unit or change the faulty parts without giving you the jitters.
Best to keep the Air Purifier in full fan speed before bed-time. Turn the mode to Auto-mode while sleeping for best results.
Why Is It The Best Air Purifier For Delhi?
The reason why we recommend AirMega for Delhi is because of its filter quality. The HEPA filters are TRUE HEPA and of excellent efficiency. Second reason is that there is a pre-filter in it. Coway Air Purifiers are very convenient to clean or install. AirMega 200 has an optimum coverage area and the air circulation is strong enough to attract all the dust in the air towards itself.
CHECK THE LATEST PRICE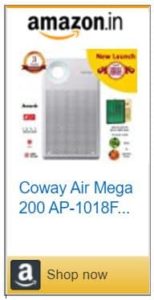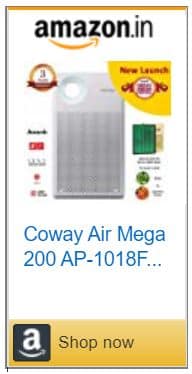 Number two in our countdown is the Coway Sleek Pro Air Purifier. We can't help have another Coway product is succession with AirMega. Its not about variety of brands. If multiple models from the same brand qualify to be the Best Air Purifier for Delhi Pollution, so be it! Check its ratings on Amazon. This particular model has fantastic reviews and Ratings on Amazon and Flipkart.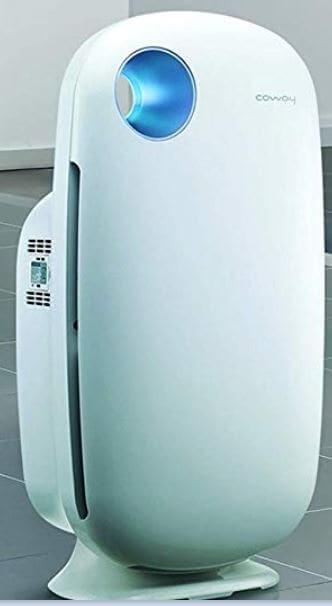 What we liked the most about Coway Sleek is its ease of use and cleaning. In just over 15,000 its a complete value for your money. Coway Sleek Pro has simple white body with round edges which look kinda cute. The console is pretty basic with push buttons. Still, they serve the purpose well. Models from Philips or Honeywell have touch buttons in almost all models.
Three stage air filtration with very high grade HEPA and other filters.
Pre-filter is present to prolong the life of HEPA and carbon filter.
Customer care is very responsive and professional.
Mood button to turn the lights completely off. The blue light looks soothing.
Auto mode self adjusts the air purifier fan speed as per the air quality around it.
Air Quality lights give an overall very nice look to the air purifier.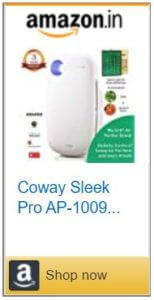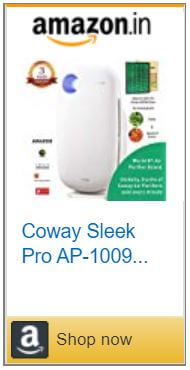 Coway's super performance but basic features are popular worldwide. How can Honeywell be forgotten in this countdown. Honeywell Air Purifiers are very well liked in India too. Before Coway came, Honeywell and Philips were the top brands. Honeywell Air Touch i8 has all the good things of Coway Sleek Pro PLUS a digital PM 2.5 display. It's CADR is 300 which is similar to Coway AirMega and Sleek Pro.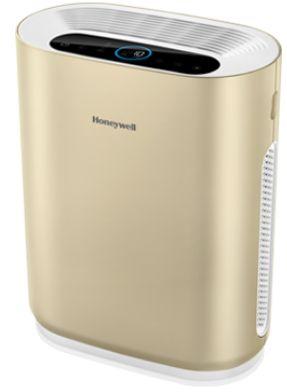 NEWER MODEL ALERT!
A newer model is the Honeywell i9.
Another smaller model from Honeywell with a CADR of 250 is the Air Touch i5. It too has a PM 2.5 display. As we pointed out earlier a high CADR and good filters is a must. Honeywell Air Touch i8 has all these. It can be a little noisy at times. The body is sturdy and looks are refined. If floor area is a constraint then air purifiers with round filters and 360º surround air flow are the best. A cheaper model from Philips is also available with round body. It's the Philips AC0820 Air Purifier. Avoid buying AC0820 as I've seen that all those who buy it ultimately return it.
If your budget allows you, go for Dyson Pure Cool Link Tower. It is the Best Air Purifier For Delhi Dust. It has a mechanism which doesn't let the dust that it collects to escape. Some air purifiers have a design flaw called high face-velocity. The fan creates such an air circulation that the pollutants collected on the filters are blown out. This is a dangerous situation for health. Dyson has a low face velocity and the collected dust is sealed away in a vacuum.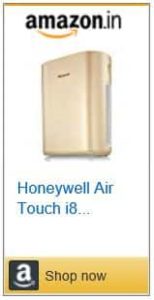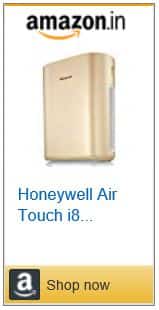 Delhi's climate is warm and dry for the most part of the year. In other words, the air humidity is lesser than it should be. There are air purifiers which can regulate the room's humidity levels too. This way you get air devoid of pollutants and laden with optimum moisture. You must have felt discomfort in breathing when the air around is too dry? This is because our nasal passage loves to remain moist to keep us healthy. The Philips AC3821 is the best air purifier for delhi in dry weather.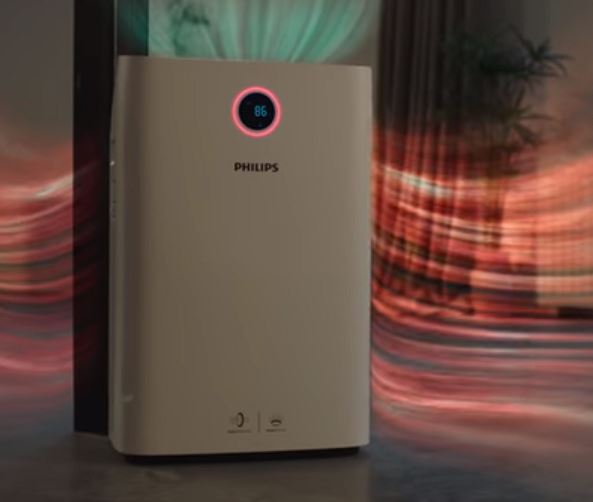 One such air purifier is the Philips AC3821 Air Purifier and Humidifier. Philips AC3821 has a real-time pollution display plus a color LED air quality indicator. It is a costly appliance but it can cover a huge area of 861 sq.ft. This is the average size of a 2 BHK flat. In other words, this single air purifier is powerful enough to cater to a large area. Not just it cleans the air but also plants enough moisture to maintain a relative humidity of 50-70%.
CHECK ITS PRICE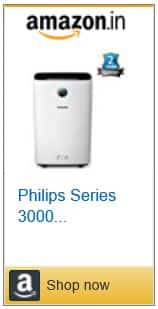 COMPARABLE ALTERNATIVE!
The Panasonic F-VXF35MAD is also an air purifier-humidifier combo. It has a smaller coverage of around 230 sq.ft. and has an Ionizer which can be independently operated. With a water tank of 2.1 L, it is also a good option. It does not have any sort of air quality display, rest is all good. We have a detailed review of this model, just search it.
APART FROM BUYING AN AIR PURIFIER- DO THIS TOO!
There are many things to save yourself from direct exposure to polluted air in Delhi NCR. Air Purifiers can produce speedy results and a much cleaner indoor air quality. Delhi and metros often witness dusty winds. Air Purifiers can help combat dust, allergens and air-borne pollutants like poisonous gases. But, this is all up to a limit. What if we stop the pollution at its source itself? Below are some tips.
Humidifiers can significantly improve the air quality in your rooms. Air laden with optimum level of moisture is good for your health. Plus moist air strengthens your body's inbuilt defenses against pollutants. In dry and hot weather or smoggy days, humidifiers can prove to be a blessing. Patients who suffer asthma and breathing difficulties see a clear difference.
Humidifiers from Allin Exporters and Tesco are most loved by users. Humidifiers with timers and beautiful color LEDs are available. There are cool-mist humidifiers which have no hot parts and are safe to be kept around small kids. Most humidifiers have an auto cutoff feature when the water tank gets empty.
Best Cool Mist Humidifiers For Room
2. Wear Anti-Pollution Masks
Air Purifiers can provide respite only while you are at home or in office. For times when you have to compulsorily venture out, get a mask. Good quality pollution masks are very useful when you are on the go. We have a very detailed post on Best N99 pollution masks and it has N95 masks as well which you can purchase. A good quality pollution mask definitely helps in preserving your health in this pollution.
Best N99 Pollution Masks For Bikers
You need to be watchful to buy a right-sized pollution mask only. An ill-fit mask would not do any good.
3. Maintain Greenery Near Windows & Balconies
Plants come to your rescue here as well. You can plant some creepers near your windows. This would allow oxygen rich air to come inside. Plus dust and pollution would be stopped from entering your home. Splash the plant leaves occasionally with water to clean them. Keep the windows semi-open and draw curtains in front of them. Trust me it really helps this way.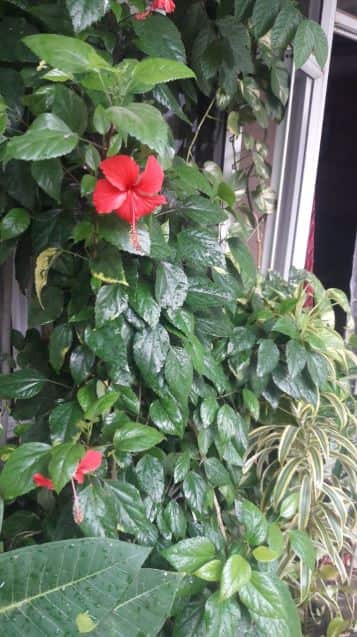 Above is an actual image how I have achieved this setup at my home. There are many varieties of plants for indoor use. Such plants have been tested by NASA and absorb fumes which are commonly found in your homes. Sprinkling water on dusty roads is a common and useful practice. Recently Delhi Municipal corporation has deployed water sprinklers to bring down the PM 2.5 levels.
BEST INDOOR PLANTS WHICH REMOVE POLLUTION
4. Use A Vacuum Cleaner Wherever Possible
Your maid brooms your home daily setting up a mini dust storm isn't it? Dust from the floor settles onto other household stuff. You can avoid this by asking her to only wet-clean the floor. Here are some of the Best Vacuum cleaners. Always keep your Air Purifier away from direct dust. Keep them covered in their case when not in use. Identify the time of the day when the air quality is the best. Open the doors and windows to let fresh air fill up. After that keep the doors and windows closed until night when you repeat this before going to bed.
Do read an extremely comprehensive post on the Best Air Purifier in India and Air Purifier Guide.
5. Use Natural Room Fresheners
Room fresheners smell good and are very commonly used everywhere. Products with natural ingredients are safe for you and the environment.
What Pollutants Are Present in Delhi's Air?
Delhi's air quality is moderate for most part of the year. In months of October to December, the air quality takes a hit. Stubble burning, cold weather and people burning bonfires for warming water are the top reasons. Dust particles suspended in air contribute 22% towards worsening air quality. Hope someday the government plans to plant grass or does landscaping along the roads or in vacant plots. Dust can be greatly reduced if it is done on a war-footing.
You name the pollutant and you have it! Delhi's air can get probably the worst after Beijing's air in some months. Industrial units operate illegally and flout norms of pollution control. Crores of private vehicles cause severe pollution especially during traffic jams. Pollution from vehicles is the top contributor to Delhi's pollution woes. Government has introduced a much cleaner fuel with BS VI which is a welcome step. Along with this we would suggest stricter implementation of PUC checks and punishments.
LOCK-DOWN BROUGHT DOWN POLLUTION
You have witnesses with your own eyes, how remarkably cleaner the atmosphere had become. Visuals of far-off mountains visible from cities were so common. Many people in metros, showed how a sky full of stars looks like at night! This sea change can be brought about, if our vehicular traffic is controlled. I don't say the lockdown situation is a practically viable thing. But, its just an indicator of how much damage we do to the environment with all our activities. Perhaps nature put a comma with Coronavirus to set our thinking right.
Final Words – Best Air Purifier For Delhi Pollution
We must be conscious of our actions and fulfill our responsibility towards nature. Just with a little care and effort we can beat the Delhi pollution menace. Why leave everything on the government to do? This may sound cliché and boring but its for our own good. At least cut single-use plastic use, it will make a huge difference. Waste segregation if done at home can decrease the burden on overflowing landfills. Seen the garbage mountain at Ghazipur and Okhla? Every waste you throw away recklessly comes back to you in some way or the other.
Only a portion of the plastic and inorganic wastes reaches landfills. Majority of it is burnt off in nearby vacant plots. The leachate (word for concentrated toxic liquid) from the waste seeps into the ground and pollutes groundwater. Waste in landfills too often catches fire or is burnt and you breathe its fumes. This is how our waste mismanagement haunts us.
Its very sad state of affairs that nothing is pure in current times. Already the food is causing cancer, water is toxic, air is poisonous. Still, a small step in the right direction is necessary to lead us to our destination. Remember, what you sow is what your reap.  I hope my tips could prove to be of some benefit to you.
Please share this post on the Best Air Purifier For Delhi Pollution on social media if you think it worthy…
You May Like These Similar Posts From AirSwacch!