Philips is a household name in the field of consumer electronics in India. Time now to welcome one of the newer and the most affordable model, the Philips AC0820 air purifier. It is a small air purifier and probably the first where the company introduced a cylindrical body and filters. Read this Philips AC0820 Air Purifier review to know what new does it offer. Know the List of Best Philips Air Purifiers in India.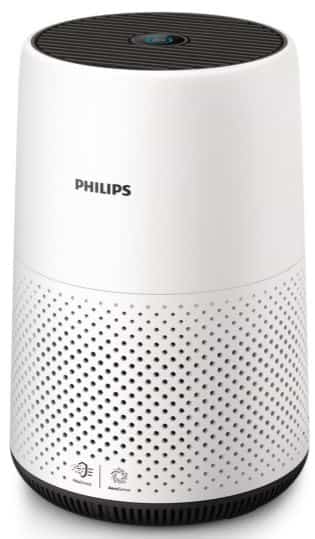 TODAY's PRICE ON AMAZON

DESIGN & LOOKS
The cylindrical shape of the air purifier is what is different from other Philips Air Purifiers. This shape is better for drawing polluted air from all directions. A 360° air suction is created by the jet-engine shaped powerful fan. With other air purifiers at least one side like the back does not suck the air in. This limitation demands that you keep the air purifiers a minimum 1 foot away from the walls. Not so with the Philips AC0820. As is true with any circular shape, when it presses against any surface, it does so only tangentially. Hence, there is no obstruction in the path of airflow.
Dimension of product (L*W*H): 250 * 250 * 367
Gross Weight of packaging: 3 kg
Weight of product: 2.4 kg
Power Cord Length: 1.6 m
Let us inform you that it covers a smaller room space, especially floor area. Mathematically, for a fixed volume a circular shape occupies the least surface area. So it fits well where space is a constraint in most homes.
COVERAGE AREA
The Philips AC0820 Air Purifier is suitable only for small rooms. A room sized around 190 sq.ft is served well through it. Do not buy it for your bigger rooms as it would not succeed in its purpose. Instead, go for the all powerful and the Best Philips Air Purifier AC2887.
Ease Of Use
With a one touch button operation, its as easy to use as it can get. The Intelligent auto purification mode makes your life even easier. It itself senses the slightest deterioration in air quality and adjusts the fan speed.
The three modes of operation – Auto, Turbo and Sleep modes are provided to suit your needs. In sleep mode, display lights are dimmed so that you can sleep without distractions while the air purifier does its job even more silently.
Real-Time Air Quality Indicator
The power button has an additional circular LED ring around it. It changes color according to the prevailing air quality conditions inside the room. The particle sensors detect dust particles in the air and accordingly the LED color changes. The LED changes color from RED -> Purple -> Blue as it purifies the air more and more. It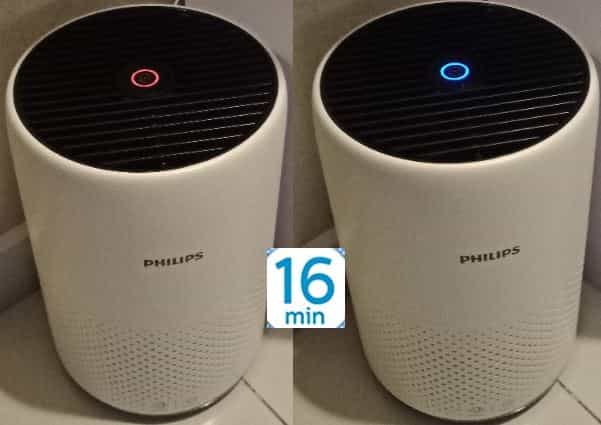 Performance
Below are some stats for how the air purifier fares against the pollutants.
CADR (Particle): 190 m³/h
0.3µm particle removal: 99.5 %
Filters out Avian (Bird flu) H1N1 Virus: 99.9 %
Filters out bacteria: 99 %
Ultra fine particle removal: 0.003 µm
Recommended filter life time: 12 months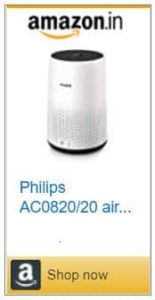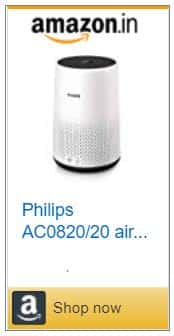 CONCLUSION
Overall a nice design in sync with the trends. Almost all major air purifier companies offer models with cylindrical filters and 360 degree air intake. A better choice would be to buy the MI Air Purifier 2S which comes with/without Echo Dot. This enables you to control the air purifier by your voice. The MI Air Purifier has a real-time PM 2.5 digital display and a greater CADR in just a few hundred more Rupees. Both, MI and AC0820 are very close in internal fan and filter design. If you are looking for a model within Philips then you can buy Philips AC1215.
You May Like These Similar Posts From AirSwacch!