I am so excited to write this post on one of the Best Coway Air Purifiers. We have discussed in great detail about various Coway air purifier models in various posts. Time now to analyze Coway Airmega 400, the flagship model from Coway. Like any company's flagship model, it is the costliest of all Coway models! This Coway Airmega 400 review highlights the good features and also doesn't miss out on the bad ones. Not just it, we take a look at its smarter version, the Coway Airmega 400S too. Earlier we have meticulously captured our insight on the AIRMEGA 300 Review. The AirMega 300 is just a tad smaller in size. From a distance both brothers are indiscernible.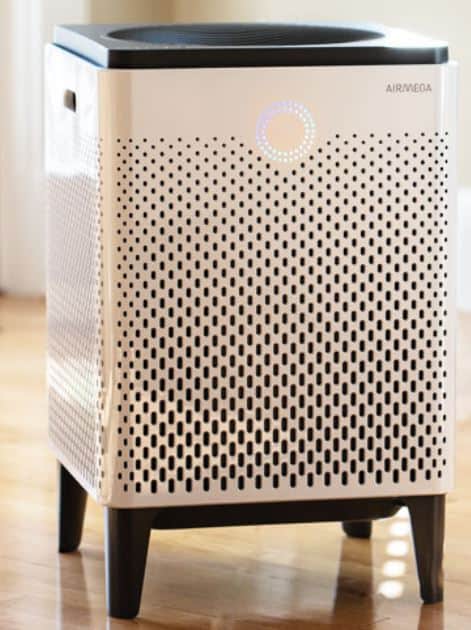 Choosing an air purifier can often turn into a confusing and tedious affair. There are so many brands and a multitude of models out there. This is where unbiased reviews can help. But, how to differentiate true reviews from shallow or paid ones? Its simple, search for reviews from verified buyers and multiple sources. If you have patronized a blog then watch out if it has only positive things to say for every product. Match what the blog says with what online reviews on Amazon or Sylvane say. This should give you a fair idea of what to expect.
COWAY AIRMEGA 400 REVIEW –

Why Its A Cut Above
The first and foremost thing all of us are interested in knowing is whether an air purifier delivers on its promise. Promise of performance, efficiency and good customer support. My answer for Coway Airmega 400S is a big Yes but a squeaky No both. The reasons for YES outnumber the NO by a good margin. If you have a big living room touching 1500 sq.ft then go for it without a shred of doubt. Especially in times of wildfires, only the powerful among air purifiers can spell out some difference.
A few unique design changes in Airmega 400S/400/300S/300 have transformed these units completely. Notice for instance the raised legs over which these air purifiers rest. This by default saves the filters from floor dust and raise the height of the unit for better air circulation. Another one is the awesome quality of MAX2 Filters and having 2 sets of them.
LATEST

COWAY AIRMEGA PRICE
Recent months have seen an appreciable price drop of the Airmega models. Earlier, the price was definitely too high to be called affordable. Here, I am talking to the tune of $700, its price for sometime after its launch. Compare its price now, and you'll see a marked reduction in pricing. Good for us, no?


CLASSIC DOPPLEGANGER ALTERNATIVE
There's this new brand called Mila up for grabs. Its air purifier has an uncanny resemblance with the Airmega series. In my opinion it is not lacking in any department in comparison to the mighty popular Airmega 400S. The Mila Air purifier too comes with a mobile App to control all its features. It has a vast coverage area of around 1000 sq.ft. Its CADR is 447 which is very good for its size. Weighing in at just over 6 Kilos, you can consider buying it. It costs lower than the Airmega 400S smart air purifier too.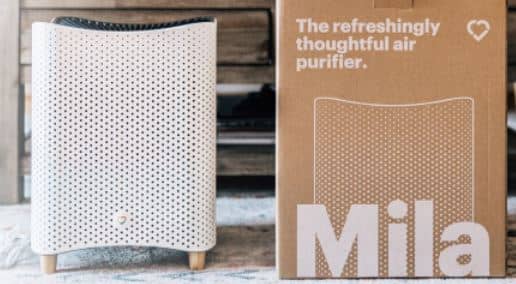 Its wooden legs lend a classic touch to its looks and the wavy edges look pleasingly different.
GOOD THINGS ABOUT COWAY AIRMEGA 400S
While this is intended to be a Coway Airmega 400 review, I take your permission to introduce its smarter version here. Below are some
Excellent looks and an unconventional shape of the body make it an attraction.
The fans generate very good air circulation. The high coverage area is not a marketing gimmick.
Excellent air purification is achieved by the double set of the MAX2 filters. TRUE HEPA and activated carbon filters constitute a composite filter called the MAX2 filter.
Some entry models from Coway lack a couple basic convenience features. Not so with the Coway Airmega 400 and 400S.
The Airmega 400S Smart air purifier is WiFi enabled like its smaller brother 300S. The Coway 300 and 400 series being the top of the line air purifiers, are a robust air cleaning package.
We all come across negative reviews for a product. But, do not like even the idea of experiencing it ourselves. You can see how users have reviewed Coway air purifiers. Anyways, for starters Coway air purifiers are world renowned with their origin in Korea. Which one you may ask – North or South? Ofcourse South Korea, where Samsung originated. That little psycho dictator of the north only produces bombs!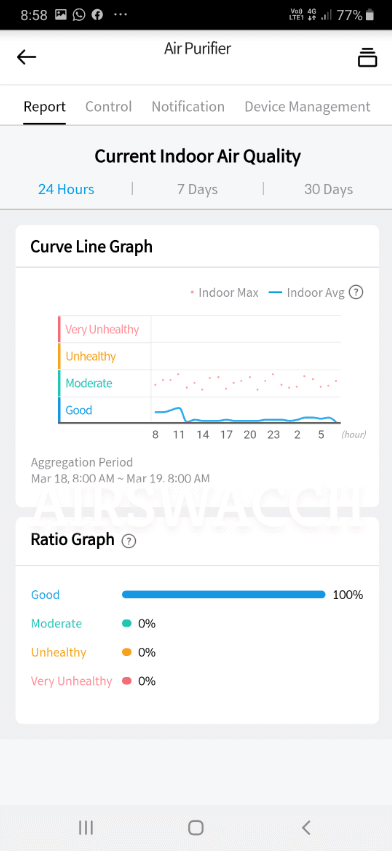 Not everyone can think of comfortably buying it. The filters last considerably long. Whenever they need replacement, a considerable amount needs to be shelled out. Its a little impractical to spend this much on an air purifier.
The size is quite imposing so you need to consider this factor as well.
INSIGHT – ITS AIR CLEANING
Just to let you know distinctively that there is no Ionizer or UV light provision. Some US states have stringent guidelines and checks on what can sell on marketplaces and what not. Ionizers as you may already know are always looked with suspicion as a source of ozone. Ozone can be harmful in the long-run.
AIR CHANGES PER HOUR (ACH)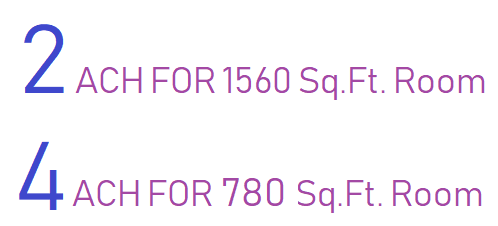 ACH is an important parameter which indicates the performance of an air purifier. The more the ACH the better it is. This reflects how many times the complete volume of the room passes through the filters in an hour. This can be more that the rated value if a larger air purifier is used in a small space. For the Coway Airmega 400, ACH stands at 2 air changes per hour. If you place your Airmega 400 in a 1,560 ft2 room then it will clean all of the room's air atleast twice hourly.
The ACH can go up to 4 if used in a room sized 780 sq.ft. This is tested when the height of the ceiling is 8 feet as a standard. For patients of asthma and allergies specialist recommend an ACH of 4 or above. I hope you are liking this Coway Airmega 400 review till now?
---
---
EFFECT ON DUST, POLLEN AND SMOKE
I would call an air purifier trash, if after spending a hefty amount, it fails to remove all of the pollutants. As expected the Coway AirMega 400 counters these pollutants like a Boss! You can look at the CADR values in the table below. The low fan speeds are very quiet but the highest one records around 56 dB. The particle sensors modulate the fan speed according to how much pollution is around. For your satisfaction you can experiment to validate what we say is true. Let me tell you what you can do.
Put the air purifier in SMART mode which is the default mode by the way. Bring some cigarette smoke or incense stick near the air purifier. Let the pollution reach the sensors and see how the device reacts. SMART mode intelligently increases the fan speed to arrest the pollutants. The LED lights in the front change their colors to reflect all these air quality changes.
COMPARE COWAY AIRMEGA 400 vs 400S
There are a couple of differences between Coway AirMega 400 vs 400S. Same two differences exist for AirMega 300 vs 300S. One difference is that the 'S' version has an extra 2 hour timer setting. So, you have 1/2/4 and 8 hour timers in 300S/400S. Only 1/4 and 8 hour settings are available in Airmega 300/400.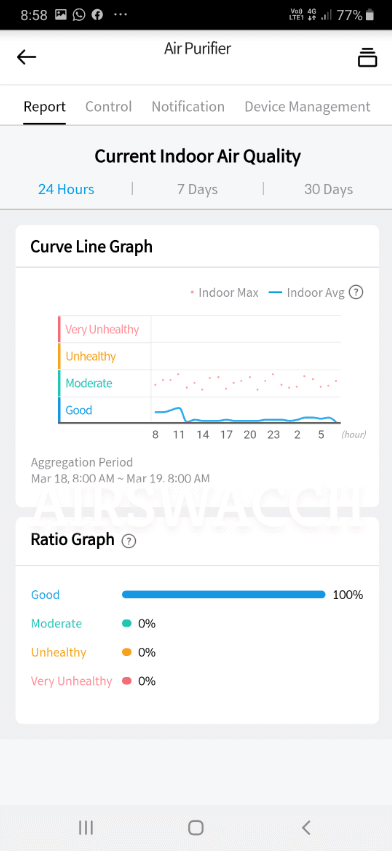 THE IoCARE APP
The Coway Airmega 400S and 300S both have a WiFi module which Airmega 400 and 300 lack. The IoCare APP enables controlling the air purifier through your mobile or tablet. The APP shows you outdoor and indoor air quality comparison, temperature, humidity and much more. Not just this, Alexa voice control is a possibility now. You can ask the AirMega to switch fan speeds, set timers or about the air quality levels.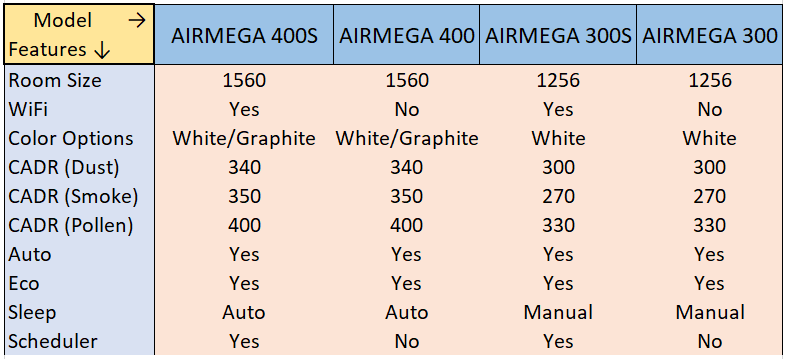 The Airmega 400S is the Smart version of Airmega 400. Don't confuse it with the SMART mode which is present in both. By 'Smart' what we mean is Intelligent. There are three subtle difference between Airmega 400 and 400S models.
FIRST would be the price difference which is close to a $100 but prices vary. Airmega 400S is supposed to be costlier. However, the company often puts the model which it wants to popularize at a lower cost. So, there is no hard and fast rule to the price gap.
SECOND is the ability of the Airmega 400S air purifier to be connected to WiFi. The trend of connected devices controllable by voice or mobile Apps is getting viral. You can instruct the air purifier using Alexa and it will do some predefined tasks for you.
LAST, the Airmega 400S comes with an additional 'Scheduler' feature which Airmega 400 lacks. More on how the Scheduler works is described ahead.
This was a short yet complete list of differences between Airmega 400S and Airmega 400.
---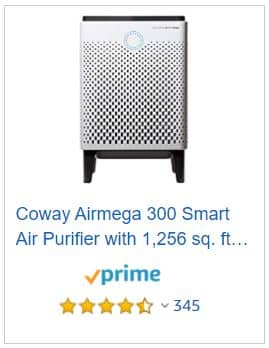 ---
CONNECTING WITH ALEXA
Before you can use Airmega 400S/300S/1512HHS air purifier models with Alexa, you need to pair them. Let me explain here the way to connect Airmega with Alexa.
Your Alexa device must be paired and connected to the network.

Coway Airmega Smart air purifiers must also be paired and on the network.

Open the Alexa App.

Search "Coway Smart Home" under the "Skills" tab.

Now, "Enable Skill" on Coway Smart Home in-app, then login using the Coway IoCare App credentials.

On successful connection, a message "Coway Smart Home has been successfully linked".

The default name of your air purifier is Airmega. So, you need to call it out before speaking any commands.
Hope you find this Coway Airmega 400 review interesting till now?
SCHEDULER
Third difference as listed above is in the Timer functionality. The Smart models have an advanced timer that you can schedule as per the need. Here you can choose the time interval in which the air purifier should turn ON and OFF. Not just this you can choose the day of the week to schedule the timer. Isn't it a great thing to have!
Setting timers for preset number of hours is a basic thing. Coway Airmega 400S has taken it one step ahead with a Scheduler. You can now define in advance the time when the timer would start. Say, you can set the timer for 8 hours, 2 hours from current time.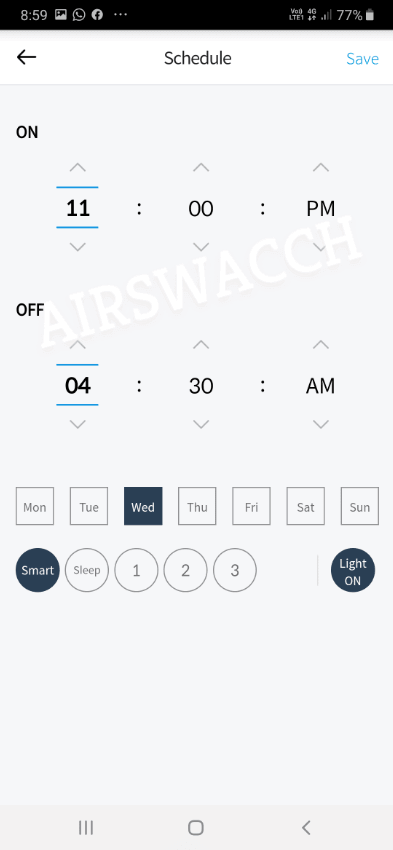 The mobile APP is very informative. So much so that some people get bogged down by information. APP, WiFi connectivity, Scheduler are good features to have. But, I doubt you'll want to spend extra for it. With all due consideration, Airmega 400 is still our preference.
MORE INFO ON :

AIRMEGA 400S SMART MODE
Coway's SMART mode is easy to set. You can set it directly from the console or via the APP incase you have the 'S' models. There's a slight difference in how the SMART mode is activated in 400/400S from Airmega 300/300S. There's no separate button for this in the 400 series models. You need to touch the sensor to activate it. While you touch the Air speed/mode button repeatedly until the LED against Smart lights.
ACTIVATING THE SMART MODE ->

AUTO
If the air purifier is set to Smart mode, it automatically adjusts the air speed according to the current air quality around itself. This is what is commonly called the AUTO mode across air purifiers from different brands. The fan runs on Level 1 speed when the air is Good, Level 2 for unhealthy and Level 3 for very unhealthy air.
ACTIVATING THE SMART MODE ->

SLEEP
In Smart mode, Sleep mode is activated automatically when the room is dark. Also, the air quality should have been Good (Level 1) for 3 minutes. The Airmega operates in this mode to reduce noise and power.
Smart Sleep mode would not be triggered automatically if the light sensor detects the light for 5 minutes or longer and/or if the air quality level in the room is not 'Good'.
ACTIVATING THE SMART MODE ->

ECO
Wouldn't it be good if your air purifier saves on your monthly power bills also? Airmega's ECO mode intelligently stops its fan in Smart mode. This happens when its sensors calculate that the room's pollution level has remained Good for more than 10 minutes.
Similarly, the sensors turn the fan back ON if they against detect polluted air around. The air purifiers breaks out of ECO mode after 30 minutes anyways. This cycle continues in 30 minutes – 10 minute intervals. But, this rhythm is broken anytime indoor pollution spikes.
ADJUSTING THE SENSOR SENSITIVITY
There can be times when the air purifier continues to show the same LED light color no matter what. This may not necessarily be a fault so first try out adjusting the sensitivity of the sensor. The way of sensitivity adjustment is a little different in Airmega 300/300S due to a dissimilar console layout and buttons.
For AIRMEGA 400/400S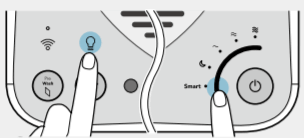 Start off by doing these steps in order.
1.) Holding the Light AND the SMART buttons simultaneously
2.) Touch one of the fan speeds to modulate the sensitivity.
FAN SPEED 1 – The sensitivity of the particle sensor is the Maximum. This means it would react to even small changes in particle count.
SPEED 2 – Choose this setting for a Normal sensitivity.
SPEED 3 – The least sensitive of all.
3.) After doing Steps 1 & 2 – Again Hold the Light and the SMART buttons simultaneously. You'll hear a sound when you save the settings.
CONCLUSION – COWAY AIRMEGA 400 REVIEW
If your pocket allows you then nothing like owning a Coway Airmega 400. A little deeper pocket and Airmega 400S can be yours too. I have tried to explain in good detail the subtle differences in features of the two. You can decide if the extra things that Airmega 400S brings forth are of any worth to you. My personal choice if I were to make a choice would be the Airmega 400. I see no point in shelling out extra money for things which I can do manually. Take the case of outdoor air quality dashboard in Airmega 400S. I can see that info on many websites. Moreover, the App still does not show real-time PM2.5 reading in numbers. If only this feature were present I could have swayed to buy it. This Cost I think I can afford.
Reviews are great for Airmega 400 leaving aside a few negative ones. Negative reviews become important to note when they all point to some design flaw or recurring problem. Nothing like that is anywhere to be seen. Whatever the users suffered was mostly to get the Airmega 400S to pair up with WiFi. When looking at reviews, we need to focus on what proportion do the positives hold against the negatives. In this case, as I said at the very start, the positives outweigh the negatives decisively.

You May Like These Similar Posts From AirSwacch!