Most health experts recommend using an alcohol-based sanitizer to kill germs. In this post we will list out some of the kids friendly Best Hand Sanitizer for Baby. Many hand sanitizers are available in the market but only a few in the baby hand sanitizer segment.
With the ongoing pandemic, the sale of masks and hand sanitizers have shot through the roof. Whether you're a travelling professional or a stay-at-home parent, washing hands every few hours is advisable. But, is it practically possible? How can one find soap, a sink or water everywhere. To alleviate this problem, hand sanitizers have become a go-to product. They're quick to use AND you don't require water. Just put a few drops on your palms, rub it all over and you're done! Time is too precious right! Hand sanitizers are certainly a must have item if you're going outdoors especially to any public place. Families sometimes hold 'stocks' of sanitizer bottles for each family member. But are our children and kids ready for this change? Are hand sanitizers safe for babies? Probably not very safe for children as it has alcohol.
Isopropyl and Ethyl alcohol-based sanitizers can be great for good skin or surface disinfection. But, Isopropyl alcohol is not something you can risk your child to put in their eyes or intake. I would not mince words but they might be a bit too strong for babies delicate skin. For infants under the age of one year, choosing the right sanitizer can be a tricky deal. First, let us see what we should look for in hand sanitizers for kids.
BEST HAND SANITIZER FOR BABY – WIPES & FOAM BASED
There are only a handful baby hand sanitizers available online. Still you may be confused which one to prefer? We've listed down the best ones by comparing their reviews and content. Have a look and find the one that suits your little ones best. Hopefully, more brands and options will come out in the next future with the growing demand. These hand sanitizer for baby are not categorized by price.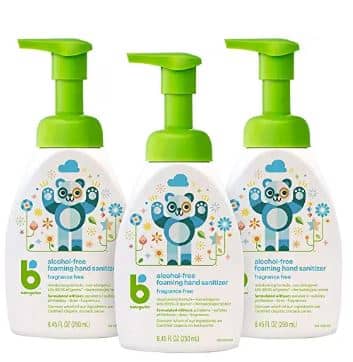 Babyganics is a children's product company founded in 2002. It is a subsidiary of S.C. Johnson & Son, Inc. that creates sanitary and safe products for babies. Their products use plant-based and organic derivatives. Their name itself suggests that they make organic products for babies.
The Babyganics Alcohol-Free Foaming Hand Sanitizer is one of the best hand sanitizers for baby and comes in 3 packs of 8.45 oz each. Due to its non-alcoholic content, it does not dry out the skin. But can still kill 99.9% of germs! Testing carried on the product by dermatologists declared it safe for babies. Babyganics components are aimed at only kids. Unlike other brands that aim at both adults and kids, Babyganics have defined their user base i.e. kids. Such brands are always more reliable than those that try to please everyone.
BABYGANICS BABY HAND SANITIZER PRICE


ACTIVE INGREDIENT
Benzalkonium Chloride, which is perhaps the most common preservative used in medicines. You'll find its mention in many liquid medicines even eye drops as a preservative. This is proof that its safe.
GOOD FEATURES
The product is totally Paraben-free. Its also free from Sulfates, and Phthalates.
Uses plant-based organic ingredients unless stated otherwise in packaging.
Does not use any artificial fragrances or dyes.
Non-alcoholic and uses citric acid as the base.
Uses foaming moisturizing formula to keep the baby's skin from drying.
SOME DOUBTS
At the back label of the product, its written that  "This product does not contain Certified Organic Ingredients". This roughly translates to the fact that its ingredients are not approved? Maybe, but nothing harmful can be sold in US like that so easily. Also, its written that the product used plant extracts among other ingredients. So, it certainly keeps gentle on the baby skin and doesn't have any alcohol. Its organic ingredients, be them certified or not, users have reported no side-effects after using it.
People wanting to use it against Coronavirus may contest that what good is it without alcohol. Well, alcohol may or may not kill Coronavirus as well as soap/foam does. As Babyganics baby sanitizers is a foaming product, its effective against the virus just like soap.
---
HOW SAFE ARE ALCOHOL-BASED HAND SANITIZERS FOR BABY?
Doctors recommend using hand sanitizers with alcohol to kill 99.9% of the germs. However, this only happens if the sanitizer used has an alcohol content of 60% or more. Due to this you wouldn't find any with less than 60% concentration anyway. The preferred content is actually 70%. This is a higher concentration of alcohol than is present in vodka (which is only 40-50%)! Babies have weaker immunity and it is suggested that you use alcohol-free sanitizers on them. According to the US FDA guidelines, it is suggested that infants below one year of age should not be exposed to alcohol based sanitizers. The smell can affect the respiratory system. While rare, it can also cause allergy for those with sensitive skin.
So, How Do Alcohol-Free Sanitizers Kill Germs?
Firstly, look for sanitizers that use alternatives like natural acids. Some use citric acid found in fruits, while some use coconut-based cleansers. Sanitizers that use Benzalkonium Chloride up to a concentration of 0.13% are also safe for babies. Of course, all sanitizers irrespective of ingredients are toxic if ingested. Still, avoid sanitizers that use sulfates, formaldehyde or artificial dyes.
Secondly, the strong and sweet smell of sanitizers can trigger asthma in those susceptible to it. Fragrance-free or mild-fragrance sanitizers are best for babies and their sensitive skin. Thirdly, check for foaming sanitizers since these are more gentle on the skin than regular sanitizers. Sanitizers with Aloe Vera or Coconut oil as moisturizers are also good options.
---

BAC-D Hand Sanitizer & Wound Care is an alcohol-free formulation. Being devoid of alcohol makes it a non-stinging and non-irritating sanitizer for kids. It can serve the dual purpose of wound disinfection as well. It has been well tested and approved by FDA to be hand sanitizer safe for baby and pets. Hence, if you're looking for a non-sticky, non-smelly mild hand sanitizer for baby that doesn't cause burning on any small cuts, this BAC-D is the way to go!
For people with a soy or gluten allergy, this is the best alternative since it is soy-free as well. This is an alcohol-free sanitizer that is available in a 2.0 oz or 59 ml packs. Additionally, it can also be used to treat small cuts, scrapes and burns. It functions as a "leave-on" antiseptic and thus provides extended protection period. This makes it an ideal hand sanitizer for baby to be carried into public spaces. The product is guaranteed to kill 99.9% of all microbial germs.
GOOD FEATURES:
This sanitizer too has Benzalkonium Chloride as its active ingredient.
Does not include any artificial fragrances, chlorides or harsh chemicals.
It is alcohol-free and derived from plant-based products. It can kill germs without drying or irritating the skin.
The formula used as an anti-microbial agent is water-based and does not use any GMO.
A leave-on antiseptic that provides protection for up to 3 hours. Hence, best for school children.
The product is non-flammable as there is no alcohol. This makes it safe to be used around kids.
BAC-D HAND SANITIZER PRICE


---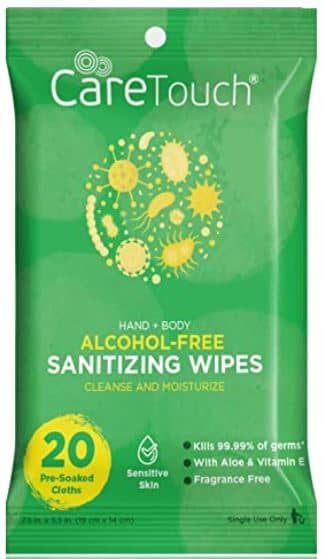 Everyone is aware of the wonderful properties of Aloe Vera gel. The plants can improve skin, treat burns and stimulate collagen production. Every single part of an Aloe Vera plant is said to be useful. If always carrying liquid sanitizers around  isn't your cup of tea, then perhaps anti-bacterial wipes are. Available to buy in pouches of 5 with a total of 100 wipes, Care Touch wipes are fully safe for babies.
Using Aloe Vera extract and Vitamin E, it both cleanses and nourishes the skin. It contains a tiny trace of chloride as an anti-microbial agent to prevent germ growth. A hypo-allergy test conducted on the product has deemed is safe for use even by sensitive skin types. So many moisturizing agents put it in the league of Best hand sanitizer for baby.
GOOD FEATURES
This baby sanitizer is Alcohol-free and no artificial fragrances are used.
It uses Benzalkonium Chloride as a disinfectant at 0.13% rate and is fully safe to use on baby skin.
Easier to carry around and store that gel sanitizer, as there is no fear of spillage. The wipes also come in a canister.
The wipes come in individual packets for easy disposal. The larger packet is

resealable.

But the individual wrappers are not.
Has the goodness of Aloe Vera and promotes collagen production.
Safe for use by those with sensitive skin types.
CARE TOUCH SANITIZER WIPES PRICE


---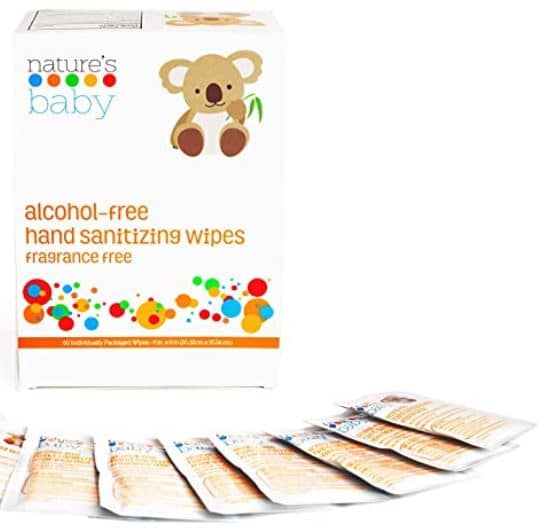 This is another great baby hand sanitizing wipe with Benzalkonium chloride as the main ingredient. Environmentally aware people never throw away waste carelessly. These wipes are biodegradable and 100% compostable. The viscose fabric is safe for the environment and for the marine life. The pack contains 60 individually packed wipes of 8 inches x 6 inches in size. This makes them as one of the best baby hand sanitizers to be carried around.
GOOD FEATURES
These wipes are alcohol and fragrance free, mild on the kids skin.
Totally breakdown with time when discarded, hence it is environment safe. This makes it easy to dispose them off in trash. However, you should not flush it.
These baby hand sanitizer wipes are 98% water. Also, they are free from chlorine phthalates, parabens or sulfates.
Wipes contain Aloe Vera, are soft on the skin, and are FDA licensed.
CHECK PRICE


---

Safe Hands is a trusted brand that makes only sanitizers. They have long been in the market churning out medical-grade sanitizers. Available in a 7 oz bottle, this product is an alcohol-free, foam-based sanitizer. Foam-based sanitizers are gentler than gel-based ones.
While the pricing is a bit higher, the positive reviews certainly attest to its effectiveness. It can kill up to 99.9% of the germs and leaves the skin smooth. Even among non-alcoholic sanitizers, not all have ingredients for gentle skin repair. This is an unscented product and best for those who have skin sensitive to fragrant products. Dr Jay Reubens developed the ingredients for this product. He is also credited with the development of the first touch-free dispenser.
GOOD FEATURES:
Alcohol-free and non-flammable, ideal baby sanitizer.
Foaming sanitizer that is very gentle on the skin. Hence, it takes some time to dry out.
The agent used is 0.13% Benzalkonium Chloride that kills most germs.
Contains glycol and phosphates, but in the form of inactive ingredients. Hence, safe for sensitive skin.
Among the stronger sanitizers for babies on the list, so must be purchased after contemplating properly.
SAFEHANDS #1 HAND SANITIZER PRICE


---
The Hands2Go Sanitizer is a minimalist product. Using only 6 ingredients including Aloe Vera, lavender and chamomile, this product claims to kill 99.999% of germs. This is a fully vegan product that has never undergone animal testing. If you're against animal cruelty, then surely you will appreciate brands like Hands2Go that are against animal testing. The product is hypoallergic. This means it has been dermatologically proved to be easy on sensitive skins. The product comes in tiny bottles that can be easily carried in a purse.
GOOD FEATURES:
The anti-microbial agent uses water as a base instead of alcohol.
Does not contain any surfactants, parabens, sulfates, phthalates, dyes, fragrances, triclosan, or gluten.
Free from artificial fragrances and scents. Hence, good for sensitive skin.
Keeps hands soft and moisturizes them.
It uses Benzalkonium Chloride as a disinfectant at 0.13% rate.
HANDS2GO HAND SANITIZER PRICE


---
SO WHICH ARE THE BEST HAND SANITIZERS FOR BABY?
Non-alcoholic sanitizers have a small target user base. Babies and people with sensitive skin are their foremost users. Those who prefer non-scented sanitizers come a close second. Most sanitizers boast of more than 70% ethyl alcohol content. Production of hand sanitizers for baby is mostly monopolized by limited brands. Babyganics and SafeHands are some good examples. It must be kept in mind that most non-alcoholic sanitizers are poor at dealing with the COVID-19 virus and hand sanitizers are always a second alternative.
CONCLUSION – BEST BABY HAND SANITIZERS
Sanitizers are highly effective against bacteria. But viruses have a completely different structure. Only an alcohol-based content can break down the external lipid-layer of the Coronavirus. So, they should only be used when there is no access to water. The best way to keep them safe according to doctors is to always opt for the tried and tested soap-water method. Only remember to moisturize their skin after that! Even non-alcoholic sanitizers have some frying effect. Unless the product uses Aloe Vera or coconut oil, or any organic smoothing extract, the product is will leave your skin drier.
Sanitizers with even a little chloride content are better at dealing with micro-organisms. 100% plant based products lag behind in some way or the other. There is some debate on how useful the latter is. Other than this, baby hand sanitizers aren't everyday play items and as such must be kept out of reach from children. Non-alcoholic sanitizers are generally non-flammable. If your child happens to ingest any amount, you should contact the paramedics immediately.    
You May Like These Similar Posts From AirSwacch!