This post is one of our most comprehensive one and lists the Best Air Purifier in India for rooms. I am confident that after you invest sometime here, you'll emerge sharper in your knowledge about air purifiers. The sheer information you'd gain after reading it could make you a Guru of air purifiers. Just a request, please read this article when you have sufficient free time as its a long one. No part of this post is redundant or useless. Read, explore and decide which best air purifier for room could fit your needs perfectly.
Dedicated review posts on every air purifier model available in India are available on AirSwacch. This articles give you meaningful insight into what features or factors are important while buying an air purifier.
Top Best Air Purifier in India For Rooms
No single air purifier can be regarded as the Best in all aspects. There are multiple air purifier models from within the same brand just due to this reason. Different air purifier models have some uniqueness or the other. unique USPs. So, first analyze what are your key requirements.
Short On Time? Quickly Choose The Best Air Purifier For Rooms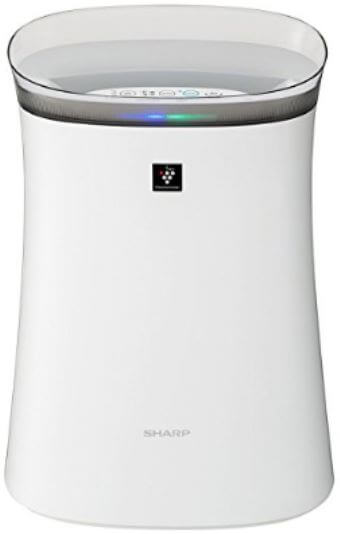 Sharp is a Japan's leading consumer Electronics company. Its reputation needs no mention. The demo provided is a good experience and after sales service is excellent. The best thing about Sharp air purifiers is that they use H14 class True HEPA filters. Check your model documentation before purchasing. If it indeed is H14 grade then its the best quality HEPA filter available in Indian market. A H14 grade means 99.997% efficiency in trapping particles. Even Amazon description wrongly mentions it as 99.97% which is for H13 class.
Features
CADR of 240 Cum/H
Coverage Area of 320 sq.ft.
Sleep Mode
2, 4, 8 hours Timer
Auto-restart on power resume
4 Modes of Fan speed- Medium/High Haze, Auto and Low
Unique Haze mode- fan runs between a loop of high and low speeds for different time intervals, suitable for city environments.
Up to 2 years filter life as claimed by Sharp but does not hold true for Indian conditions.
Check Price

PROS and CONS

VERDICT
The most beautiful console and LED lights I've ever seen on any air purifiers. The performance is excellent and unique Sharp Plasma Cluster is a plus. This air purifier achieves both Active and Passive filtration. Active through Plasma Cluster and Passive through the filters.
Coway Air Purifiers are the latest entrant in the booming market in India. Do you know, Coway is the leading Air Purifier brand internationally. This reflects in the product quality and customer satisfaction. Coway provides one of the best after sales support. We recommend you to try out Coway brand as they make the Best Air Purifiers.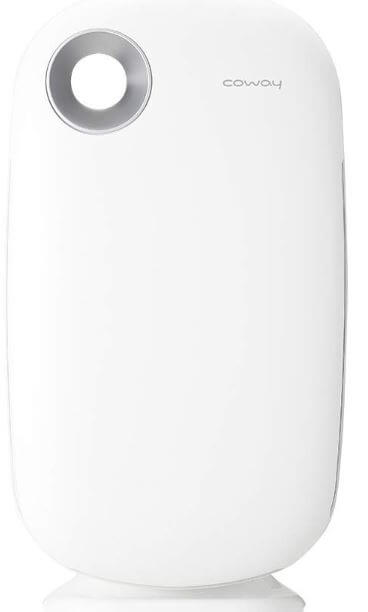 Price Check
More Popular Model
Features
Coway AP-0509 is suitable for small rooms sized below 255 sq.ft.
Three Stage Filtration viz Pre-filter, Poly-urethane carbon filter and the multi-layer HEPA filter.
Filter Life up to 8500 hours
3 Fan speeds
No AQI monitoring available
PROS and CONS

VERDICT
The Coway Sleek AP-0509 is an excellent product and aptly priced. The filter quality and the air purifier functioning is top notch. Its design is such that it doesn't occupy much floor space. Users have experienced a marked improvement in Air quality. Buy it if you are the one who wants thorough clean air even though some convenience features are missing. If it is unavailable then Coway Sleek Pro AP-1009 is the next in line.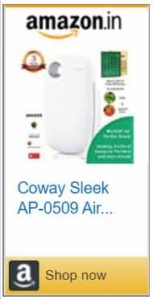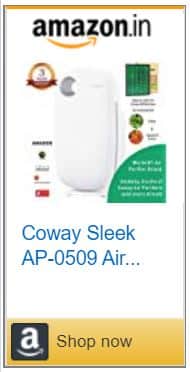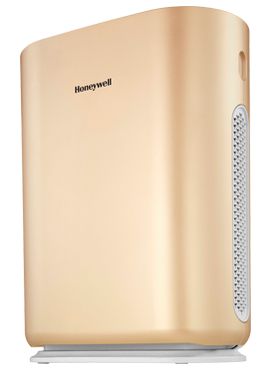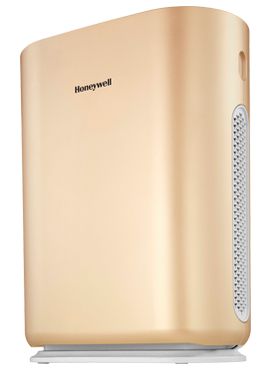 Check Price
Check current cost on Amazon
Design and Looks
Honeywell Air Touch A5 has a model name of HAC25M1201W. The Honeywell Air Touch A5 comes in two colors- Champagne Gold and Classic White. It's looks are decent and the air purifier reeks of class. The control panel is all black and has a glossy finish. The Air Purifier releases air at an angle of 15-20°. This creates optimum air flow to clean air from even the farthest corners. The purified air comes out from the top and the funnel design helps throw the air wide.
Filters
The Honeywell Air Touch A5 comprises of three filtration stages. The Pre-Filter, HEPA Filter and Activated Carbon Filters are the standard set of filters. The HEPA and the Activated Carbon Filter are merged together in one Compound filter.
CADR
The CADR for Honeywell Air Touch A5 is 250
Coverage Area
Coverage Area is 323 sq.ft
Air Quality Indicator
The Honeywell Air Touch A5 has a Tri-LED Air Quality Indicator mechanism.
Convenience Features
Honeywell Air Touch A5 has Child Lock and Sleep mode too. Auto mode is intended for use when you do not want to get into manually changing the settings again and again. The Air Purifier automatically adjusts its fan speed as per the pollutant levels.
Summary of Features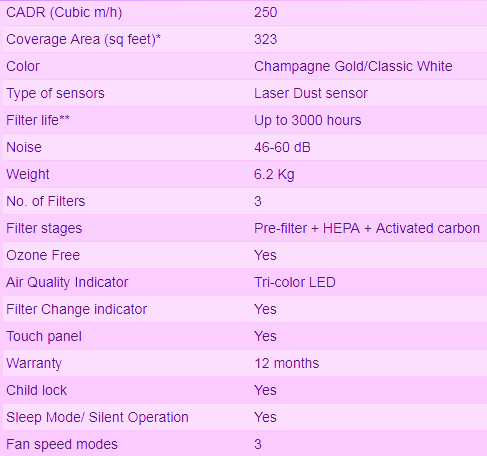 PROS and CONS

VERDICT
Honeywell Air Touch A5 has excellent build quality and filters. Child Lock and Sleep Mode is provided. However, Timer is absent. It is among the Best Air Purifiers in this price range. The Honeywell i9 is a newer and better model. Do check for after sales support in your area if living in remote region.
The MI Air Purifier 2S is impressive. Like other MI products, its air purifier has also been a best seller. A newer version "MI Air Purifier 3″ has been launched recently. It has a touch enabled OLED screen. Most importantly, it has a TRUE HEPA filter which removes 99.97% PM0.3 sized particles.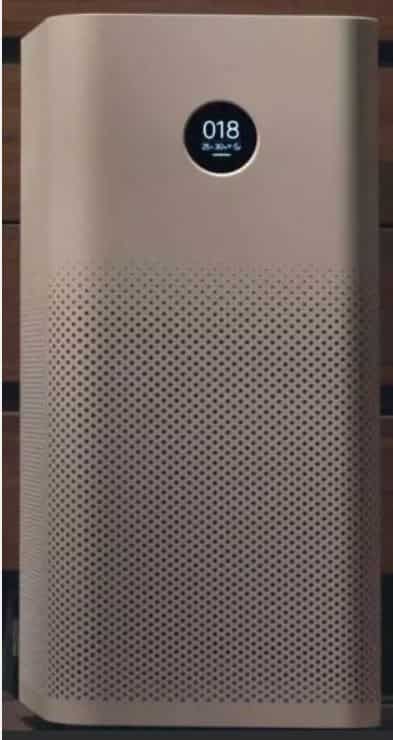 Price Check
Design and Looks
The MI Air Purifier 2S has clean and elegant looks. The device is cuboid and occupies less area on the floor. It being rectangular in shape can easily fit in the corners. It is recommended to keep the air purifier away from walls for proper air circulation. The unit is not heavy and can be picked up and moved around.
MI AIR PURIFIER COMPREHENSIVE ANALYSIS
We used the MI Air Purifier 2S in days of severe air pollution in Delhi. Since the start of November, pollution levels were off the charts. The stubble burning by farmers in Punjab and Haryana as well as cooler environmental conditions were responsible for this. This is an annual phenomenon during October and November months in Northern India especially NCR regions. The Air Quality Index was permanently seated in the hazardous region. Such air is more than enough to make you unhealthy- very unhealthy.
Some days are omitted since the air purifier was not used on those days. Place is Noida (NCR).
| | | | | | |
| --- | --- | --- | --- | --- | --- |
| Day | Auto | Turbo | Filter Remaining | PM2.5 Reading | Room Sizes |
| 31-Oct | 4 | 4 | 99% | 6:15 PM to 7:40 PM Reading down from 141 to 15 ppm | Smallest Room 147 sq.ft Master BedRoom 169 sq.ft Drawing Room 260 sq.ft |
| 1-Nov | 7 | 3 | 99% | 11:30 | Used in different rooms one by one |
| 2-Nov | 3 | 3.5 | 99% | 160-30 ppm(MBR) | Used in different rooms one by one |
| 3-Nov | 0 | 1 | 99% | 70 | Used in different rooms one by one |
| 4-Nov |   | 10 | 99% | 750 | Used in different rooms one by one |
| 5-Nov |   | 3 | 98% | 274 | Used in different rooms one by one |
| 6-Nov |   | 1 | 98% | 215 | Used in different rooms one by one |
| 7-Nov |   | 1.5 | 98% | 600 | Used in different rooms one by one |
| 8-Nov |   | 9 | 98% | 600 | Used in different rooms one by one |
| 9-Nov |   | 4 | 98% | 370 | Used in different rooms one by one |
| 10-Nov |   | 2.5 | 97% | 570 | Used in different rooms one by one |
| 11-Nov |   | 2.5 | 97% | 350 | Used in different rooms one by one |
| 12-Nov |   | 4.5 | 97% | 347 | Used in different rooms one by one |
| 13-Nov |   | 4 | 97% | 210 | Used in different rooms one by one |
| 14-Nov |   | 3 | 97% | Overnight rainfall 151 ppm | Used in different rooms one by one |
| 15-Nov |   | 0.5 | 97% | Overnight rainfall 65 ppm | Used in different rooms one by one |
| 18-Nov |   | 6.5 | 97% | 303 | Used in different rooms one by one |
| 19-Nov |   | 3 | 97% | 335 | Used in different rooms one by one |
| 20-Nov |   | 1.5 | 97% | 428 | Used in different rooms one by one |
| 21-Nov |   | 3.2 | 97% | 330 | Used in different rooms one by one |
| 22-Nov |   | 4 | 96% | 442 | Used in different rooms one by one |
| 23-Nov |   | 3 | 96% | 260 | Used in different rooms one by one |
| 28-Nov |   | 2.5 | 96% | 360 | Used in different rooms one by one |
| 29-Nov |   | 3 | 96% | 280 | Used in different rooms one by one |
| 1-Dec |   | 2.5 | 96% | 400 | Used in different rooms one by one |
| 2-Dec |   | 1 | 96% | 356 | Used in different rooms one by one |
| 3-Dec |   | 3 | 96% | 220 | Used in different rooms one by one |
| 4-Dec |   | 2 | 96% | 310 | Used in different rooms one by one |
| 8-Dec |   | 1 | 96% | 234 | Used in different rooms one by one |
There is a button at the backside, just above the filter casing to turn ON and OFF the OLED display. It is recommended to turn the OLED display OFF when not needed. This would enhance the life of the laser.
In-Depth Review of MI Air Purifier
Our MI Air Purifier 2S was bought from Amazon. It came in a nice and sturdy packaging. The packaging was such that there was no chance of any tampering. The Air filters were brand new. There was no trace of dust or strands on them which means the air purifier was unused and brand new. The filters could have been sealed in some plastic sheet though. Although we have verified that MI delivers the filters like this only everywhere, no exceptions.
The composite drum filter comes loaded inside the device. You need to adjust it properly on the raised footing. The power cable comes packed inside the air filter chamber itself. The power cable could have been longer for sure.
The dangerous levels of PM2.5 were displayed in the OLED display of the MI Air Purifier 2S. The maximum PM2.5 reading calibrated in the air purifier is 600. You'd be surprised to know that the actual PM2.5 concentration was over 750. So, it took some time for us to be able to monitor the air purification in action. Only when the air purifier had reduced the PM2.5 levels to below 600, could we see it's current value.
Where To Place The Air Purifier
It is always recommended to place the air purifier at such a place where there could be maximum unhindered air flow. The backside of the air purifier does not have air vents. So you can place its back facing a wall, but the sides should not be obstructed by anything. In such high pollution levels, every mode of operation like the Auto mode or the sleep mode fails. The Turbo mode which spins the fan at the highest speed itself barely manages to keep pace with the pollution which seeps from the door and windows creaks.

Hence, it is of utmost importance to keep the doors and windows closed to the maximum possible manner. There is no dearth of pollutants in the outdoor air. You cannot torture your air purifier by not letting it achieve any results. Keep the doors or windows closed so as not to expose the room to unlimited supply of PM2.5 pollutants.
After some hours of continuous running in turbo mode the MI Air Purifier 2S managed to bring down the pollution level to about 100-130. Worthy to note here is that we moved around the air purifier from one room to another in tandem. First we'd isolate and clean the air in one room and keep it closed. Then do the same to another room and finally cleaned the drawing room. This let us finally open all the rooms without worrying that the foul air from one room would enter and pollute the air of the already cleaned rooms. Sometimes we feel a burning smell as we enter the room in which the air purifier is running. You'd remember the smell which was caused by burning of crop stubble. Guess so great was the pollution that the filters got immersed in its smell completely.
We inspected the filter after 2 weeks of regular use. To demo, we cleaned the filter with a soft tooth-brush. We found very fine dust particles and minute cloth fibers clung to the outside of the pre-filter layer. The amount of dust and other pollutants collected was not much. Credit goes to our healthy and clean living ways.
We always kept the MI Air Purifier 2S covered with the accompanying case when not in use. We always moved it away when brooming was underway. As indicated above, we used the air purifier only with doors and windows closed. Do not take pride in cleaning the filter only after there are layers of dirt accumulated on it. Clean it at regular intervals preferably with a vacuum cleaner.
The Air Purifier Filter life indicator is another useful feature. On its fun run the filter life was showing as 100% intact. Till the close of the first day, the filter was already showing 1 wicket down at 99%. We would not put the blame on it. It delivered good results in drastic conditions which even the manufactures may not have imagined. After two days of hard work with average. For another 5 such days, the Filter life remained at 99% before going to 98%. On the 30th day, the life remaining stood at 95%. This was after 96 hours of usage in Turbo mode or highest fan speed.
Worth mentioning is that the light weight of the MI Air Purifier 2S is an added advantage. In all this room purification exercise you need to lift up the device to put it at different places within the home. However, be cautious to always be patient in managing the power cable. Place the air purifier gently on the ground without giving any shocks to it.
How Sensitive Is The Laser?
The high precision laser sensor which is the brain behind the real-time AQI display also impressed. It is situated at the backside just above the filter casing. So, in an way the air purifier is more sensitive the air quality changes at the backside of it. This we tested when the back of the air purifier is toward the door. The environment outside the door is in its natural state (polluted) or not at pure as the room air. On each opening or closing the door, the gust of wind from outside would at once shoot the PM2.5 reading.
We even tried moving the MI Air Purifier 2S around at different places within the same room. This was done to test whether it collects the PM2.5 reading only in its immediate vicinity. We were pleased to conclude that the air purifier is not at all frivolous or dishonest in depicting decrease in the PM2.5 readings. After an initial couple of seconds of starting the device, its real-time AQI reading gets steady.
CADR and Coverage Area
The CADR for the MI Air Cleaner is 310 m³/h. The coverage area is 400 sq.ft which is great!
Filters
The MI Air Purifier 2S has a cylindrical 3-layered filter. The triple layer filter consists of the primary filter, the EPA filter and the activated carbon filter.
Mi Home App and WiFi Module
The MI Home App alerts you when the filter life is nearing end. Apart from this the device can be turned ON/OFF. The temperature and humidity levels in the room can also be monitored. Convenience Features like Auto mode, night mode or timer can also be operated through the APP.
PROS and CONS

VERDICT
The MI Air Purifier 2S has an affordable price and comes with a Mobile APP. It works well to clean the air at the highest fan speed. The Auto mode or low fan speed is not useful. The air purifier has a powerful jet-engine inspired suction mechanism. The PM 2.5 pollution meter is arguably the most sensitive and accurate. It Max out at 600 ppm though. Overall, we were happy with the performance of this Air Purifier.
Blue Star is a well known name in Air Conditioner market. BlueStar's Air Purifier is also a nice product.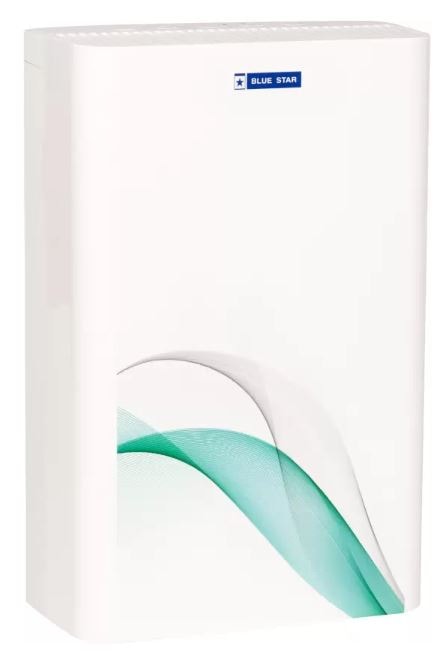 Specifications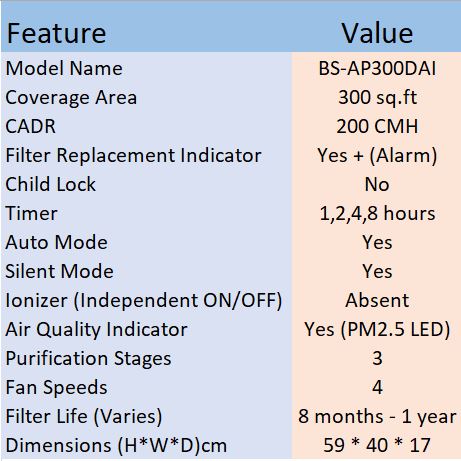 Check Price

The Atlanta Healthcare Beta 350 Air Purifier has additional Anion (negative ions) generator and a UV sterilization stage. Atlanta healthcare offers good air purifiers and anti pollution masks.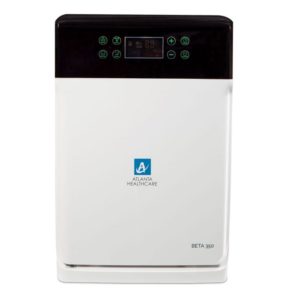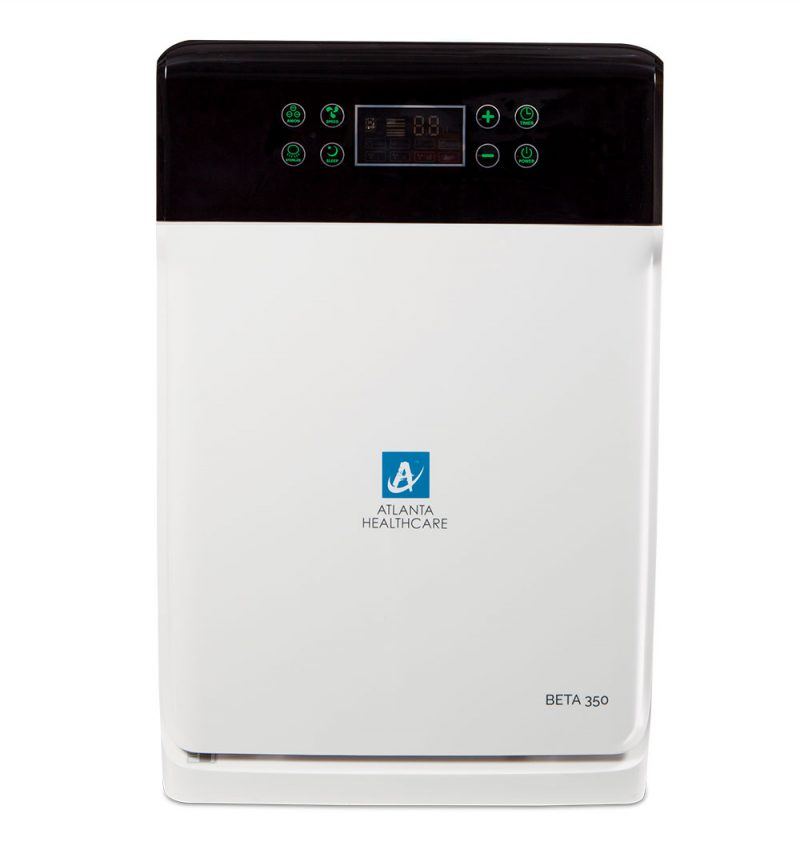 Price Check
Design and Looks
The Atlanta Healthcare Beta 350 air purifier rates "OK" on the looks department. There are other far chic looking air purifiers out there. Still, given the cost and the features, looks should not be given too much importance.
CADR and Coverage Area
The CADR for Beta 350 is 170. This makes the air purifier suitable for small rooms.
Filters
There are seven stages of filtration viz. Pre-filter, Anti-Bacterial Filter, HEPA Filter, Activated Carbon Filter, UV -Lamp, , Photo-catalytic Filter and Ionizer.
Convenience Features
Sleep Mode is available. Timer enables you to set the time after which the air purifier will stop automatically. Fan speed can be controlled through buttons on the console.
VERDICT
The Atlanta Beta 350 is a good air purifier. Its unique due to 7 stages of air purification. The anion generator can be independently operated which is good. Always avoid prolonged used of ionizers as it may produce harmful Ozone gas.
The Philips AC1215 Air Purifier is a mean machine. It is a member of the Philips 1000 series air purifier family. It is designed to be as efficient as possible even if it means sacrificing on the looks department.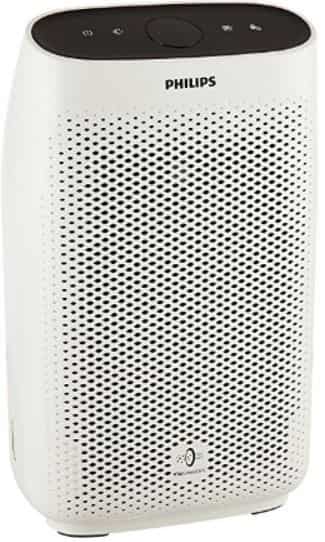 Price Check
Design and Looks
Philips AC1215 Air Purifier has "good-enough" looks. Although the numerous holes in the white mesh tends to get dirty. It may need to be wiped frequently. The air purifier doesn't occupy much floor space. It is hardly noticeable in office spaces.
CADR and Coverage Area
The CADR for Philips AC1215 is 270 m³/h and it's Coverage Area is up to 677 sq.ft.
Filters
There are 3 filters in the unit viz. Pre-filter, HEPA and Activated-Carbon filter. Replacement filters are easily available on Amazon.
Convenience Features
NightSense Auto Mode, Auto mode and allergen mode.
PROS and CONS

VERDICT
The Philips AC1215 used to be a recommended choice until the newer model AC2882 and AC2887 were introduced. Still it's relevance still holds good due to its performance.
Best Air Purifier For Home Under 17,000
If there is one Air Purifier we did not find a flaw in- its the Coway AP-1009. What a sleek design and performance! Air Intake from the front sides and bottom, and clean air is blown out from the cavity. Earlier to the arrival of Coway on the Indian arena, we used to recommend Philips AC2887. With Coway making a huge impact in the Indian Air Purifier market, we rate it No# 1. Just check out the reviews on Amazon and its ratings once.
The Coway Sleek Pro AP-1009 has an Auto mode which automatically controls the airflow. The fan speed is modulated according to the level of indoor pollution detected. Also, there are 4 beautiful Air Quality Indicator LEDs. There is a Filter change indicator when the filters need replacement. The air purifier can cater to a room size of 355 sq.ft. The company claims that the filters will last for over 8500 hours, but it varies. It's sleek design occupies less floor space.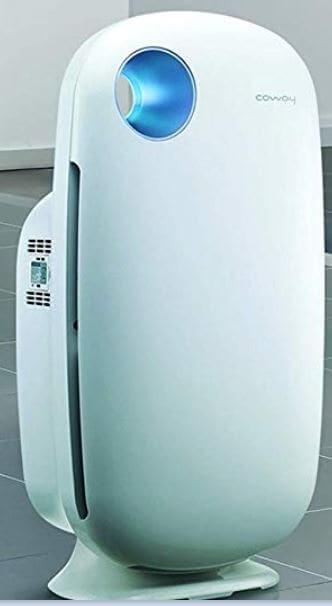 VERDICT
The Coway AP-1009 Air Purifier is the best choice. Just go for it if you want tension free air purification. Believe the reviews and ratings of thousands of content customers. Advice to monitor its price as on some days it is available for Rs.1000 lesser.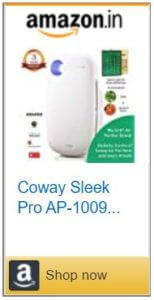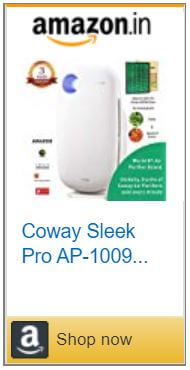 The Philips AC2882 Air Purifier is truly worth its price tag. It comes loaded with almost all features except for air quality display or mobile App. Its other variant AC2887 comes with an extra Real-time PM 2.5 display.
CADR and Coverage Area
Philips AC2882 Air Purifier has a CADR of 333. The coverage area is close to 258~441 sq.ft or 24-41 m². As is quite apparent, this air purifier is best suited for larger sized rooms.
Filtration
The Philips AC2882 Air Purifier has different operational modes. A General mode, an extra-sensitive Allergen mode, and an extra-powerful bacteria and virus mode.
Convenience Features
Sleep Mode, Air Quality Indicator and Auto mode.
PROS and CONS
VERDICT
Philips AC2887 or AC2882 is the undisputed air purifier of choice. It is the optimum blend of right price, features, size and performance. Go for the cheaper AC2882 if you can do away with the absence of Real-time Air Quality Indicator meter.


The Samsung AX40K3020WU Air Purifier cannot be rated high for it's looks. The design is simple with light Blue and Pink body. Just a pattern of curvy lines impart what can be deemed a "design". We have definitely seen better looking & suave models. The dimensions are a bit bulky.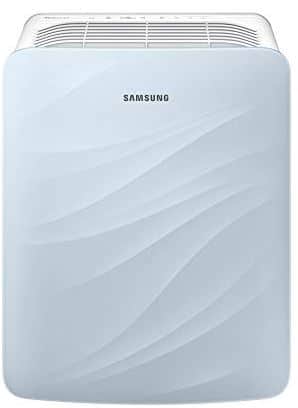 CADR and Coverage Area
Samsung AX40K3020WU Air Purifier has a CADR of 326. The coverage area is 419 sq.ft. As is quite apparent, this device is best suited for larger sized rooms.
Filtration
The Samsung AX40K3020WU Air Purifier has 3-step air purification. It has a pre-filter and a compound filter with Activated carbon and PM2.5 filter combo.
Convenience Features
Virus Doctor, Filter Replacement Indicator, Sleep Mode, Air Quality Indicator and Auto mode.
Check Price

Philips AC4025 Air Purifier to cater to small spaces and low budgets. This purifier is meant for small rooms. Its coverage area is 323 sq.ft/30 sq.m nearly. The design and looks are proportional to the price and accordingly may seem a bit cheap as compared to the other higher range models. It has more or less the same functions and capabilities as AC4012.
Filters
The AC4025 model does not have a pre-filter, it has two filters- The activated carbon filter and HEPA filter.
Convenience Features
Healthy Air Protect Alert, Step Fan Speed, 1/4/8 hours easy-to-set timer, Sleep mode.
Best Air Purifier For Home Over 20,000
Philips AC3256 Air Purifier is the Top Air Purifier over 20,000 range. Philips AC4372 looks stunning and works like a charm. If you can afford to spend more then Dyson Pure Cool Link Tower WiFi-Enabled Air Purifier.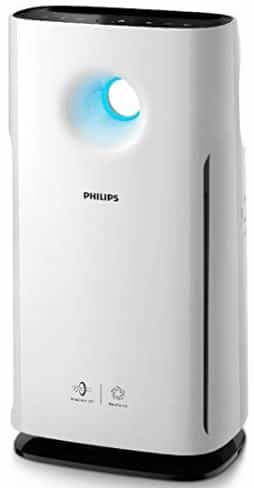 This model from Philips is popular all over the world especially in Europe. It is a tall and powerful air purifier. Body is white with a black console and base. The Air Quality feedback is in the form of numeric display on the console. Not just this, there is a color changing LED provision in the cavity as well. The cavity is illuminated with different colors to indicate the Air Quality.


This model from Philips is the BEST Air Purifier in India for ASTHMA patients. The reason behind this trophy is the absolute torrent of air that its fan can generate. It's air circulation is so good. An air purifier which can create good air circulation through it is automatically good. Its users have felt a marked decrease in the number of asthma episodes they used to suffer.
CADR 367 m³/h Coverage Area 800 sq.ft Power 11~60 W Noise Level 32.5~63.8 dB(A)

Dyson Pure Cool Link has an unusual design. Usually we see a small round cavity in the center of most models. But nearly all Dyson models have this huge circuitous one. This design has a cool reason behind it. The wide opening enables the device to achieve 90° wide reach. The purified air is blown far and wide just like a swing in an AC does.

A WiFi controllable mobile APP lets you monitor the air quality. To top it up a remote control is provided too. As we may have pointed out earlier, round air filters are also a plus. Round filters have a jet-engine type powerful fan inside. This design pulls in air from all directions in a 360° fashion. A circular base covers lesser floor area as well. No other air purifier gives so many speed levels as its 10! Overall it produces excellent air quality.
Check Today's Price

A very important thing to mention. Air Purifiers with very powerful fans suffer with high face velocity. What this means is- the design often is flawed one. The fan after a point starts blowing out the trapped particles from the filters. This can do more harm than good to your health. Dyson air purifier traps the pollutants in a vacuum sealed area. This, coupled with a low face velocity do the trick. The filters are densely packed so that the pollutants cannot escape through any region.
Best Air Purifier Features and Reviews
A separate post on the Best Air Purifier For Delhi Pollution suggests you specific models to buy if you live in Delhi-NCR or other polluted cities.
Questions To Ask Yourself Before Buying An Air Purifier
What is my Budget and is it flexible to scale up if required?
What is my purpose to buy an air purifier? Is it to combat dust, gaseous fumes, allergens, particulate matter or all of these?
Have I measured the Size of the Room where I'll be placing the Air Purifier?
Do I need just simple air filtering or advanced filtering technologies?
Would I like to have ionizer, humidifier and multiple purification stages or not?
Am I going to use the device for home, office or car?
Can I do without Air quality indicators or mobile Apps?
Do I need convenience features like night mode, timer, child lock, auto-start on last set mode etc?
Will I succumb to buying a multi national brand with less features and more cost ? Or a lesser known brand with a host of features?
A good Air Purifier is an utmost necessity for our homes and offices. However, one should strive to adopt practices to protect the environment so as there doesn't fall any need for air purifiers. The earth is in its worst shape ever. Pollution is something which is more dangerous than terrorism if the number of deaths caused worldwide due to it is taken as a measure. In an estimate from WHO, some 4.6 million people die due to direct or in-direct exposure to pollution.
Pollution is a silent killer and its adverse effects show up slowly. Not to mention the plethora of ailments which show up as precursors of imminent death. Thus, its important to find ways and means to try to avoid pollution-the worst from of which is Air Pollution. Ever since the media has started reporting the worsening of Air-Quality index in News, people have come to notice the importance of Air Purifiers. Don't want to go in the details ? Check best air purifiers.
What is an Air Purifier?
A majority of people spend most of their times in office or at home. Although commercial scale purifiers are available, but here we'll discuss the more common ones- the one's used in homes/offices or small, confined spaces. An Air purifier is a suction device which has in-built technology to filter the incoming air and remove pollutants. The so-called pollutants can be as chemical as harmful gases or as organic as pollen grains, mold spores or invisible mites which live on pets and bedding. Not all purifiers remove all the pollutants there are.
Air Purifier Filter Stages
Pre-Filter
A Pre-filter saves your costlier HEPA and carbon filters from bigger dust particles. A pre-filter arrests dust, pet hair, fine fabric strands from clogging the inner filters. It is in most cases washable.
HEPA Filter
The most common of the lot and by far the only type you'd have heard. It filters the contaminants based on the traditional principle of filtering- Make the air to pass through a filter/sieve with micrometer-sized holes. Well, that's 1/1000000th of a meter! A TRUE HEPA purifier can achieve a 99.97% removal of particles; not smaller than 0.3 micrometers(Of course, it stops the bigger ones) and hence the name High-Efficiency Particulate Arrestance. These are mechanical air cleaners and rely on making the contaminated air to pass through the air filters. High efficiency runs in its name! Philips, Panasonic, MI, Sharp, Atlanta, Honeywell, Kent and BlueAir have excellent HEPA Air purifier options. Read the HEPA vs IONIZER post.
Pros
Simple design yet if high grade filters (True HEPA) are used, they can be very efficient.
No side-effects on health compared to purifiers employing Ionization or oxidation technologies
Cons
HEPA Filters do not have the capability to remove gaseous pollutants. Pollutants like VOCs, bad-odors, smoke or chemical vapors and needs Activated Carbon filters.
Not Washable so you need to replace them when Filter Replacement Indicator asks.
May prove ineffective in case your device uses poor quality or low grade HEPA filter.
Activated Carbon Filter
Activated Carbon is a powerful agent for adsorption of gaseous pollutants. So, Activated carbon traps VOCs and poisonous gases inside the enormous surface area its pores hold. A pound of activated carbon has a surface area of a football field! An Activated carbon filter should also not be washed. Rather it can be exposed to sunlight to warm it up. This method helps release the trapped gases and recharges the carbon.
Ozone and Ion Generators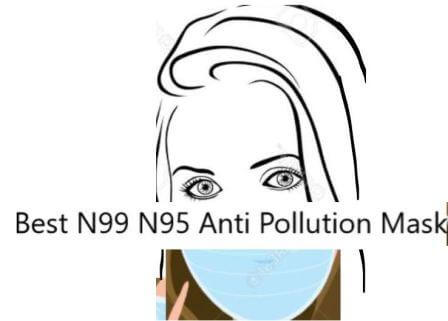 Some Air Purifiers employ additional stages like Ion Generators or Ozone Generators. Ion Generators produce charged particles called ions mostly negatively charged. Negative ions or anions are known to be mood enhancers. Also, anions react with pollutants and convert them into harmless byproducts. Some Ion generators can produce Ozone gas. Do check whether there is any ozone production or to what level. Higher ozone concentration is known to be harmful for humans. Ozone generators are passe now and hardly any air purifier uses this technology now. Ozone is a known oxidizing agent and thus kills bacteria and pathogens.
Best Air Purifier Buying Considerations Guide
Chances are that you have made up your mind that you definitely need an air purifier for your home or office spaces. Before you venture out in your search for the ideal device, you must prepare a checklist. Here we've compiled an exhaustive checklist which you can take clues from.
Home/Office Use or HVAC Scale
HOME
The place where you're gonna use the air purifier is an important consideration. The size of your rooms and the extent of pollution in air impacts the choice. You may be proud of the hygiene and the cleanliness that you maintain in your kitchen, but the reality may be a stark contrast. Majority of the cooking chores release colorless fumes of pollutants not to forget a variety of smells and odors. Things may turn really ugly in poorly ventilated spaces. Gases like Carbon monoxide abound in insufficiently aerated and confined spaces and where combustion is taking place.
The conventional gas stove releases carbon monoxide, nitrogen dioxide, particulate matter and other fumes. Consider replacing them with electric stoves. If there are restrictions which limit proper ventilation get a chimney installed. A chimney cannot be very effective because fans and gusts of air still circulate the polluted air within the home. Cigarette smoke may also be a major contributor of air-borne pollutants. The best remedy is to adopt recommended best practices and install an air purifier with mandatory activated carbon and HEPA filters among other filter types.
OFFICES
Offices although are much cleaner than our kitchen areas so to speak, but other type of pollutants abound there. Many people work in offices and they are not always healthy. Needless to state it is highly probable that many of them are vectors of bacteria and viruses. The vast expanses of office furniture and electronic devices are sources of TVOCs, Formaldehyde, Toluene, and other organic gases. Air Purifiers with large coverage area, high fan speeds and prolonged filter lives should be employed in offices. Air Purifiers can be installed in HVAC (Heating, Ventilation and Air Conditioning) systems too. For homes or offices with centrally air conditioned provisions, this can be a quick, cost effective and convenient way of tackling with pollution.
Decide Your Budget
Perhaps the only thing that really matters is how much money you are willing to shell out for an Air Purifier. This amount is directly proportional to the size of the problem (Read area, pollution levels and diseases or allergies). You can get a functioning air purifier for rooms in as low as INR 5,000 and this figure can easily scale to over INR 50,000. The cost depends on the CADR (Clean Air Delivery Rate), the number of filters in the machine, the range of air flow, the primary technology used for air purification (VitaShield IPS, Nanoe etc), add-on features pertaining to different modes of operation and comfort and not to forget the durability of the filters.
Go For The Middle!
We would suggest to always go for the mid-segment models of air purifiers from any company of repute. So, why are we dissuading you to desist from buying the top notch models? The answer is simple, spend only that much for which you do not have to repent later. Its not that those "top" purifier models have any flaws per se, it's more in the running and maintenance cost incurred in the short term and long term (filters cost more etc.) as well. If your requirement is such that you want large coverage area, then that's a different case. For an average use case always prefer the mid or lower segment air purifiers.
Purpose Of Buying the Air Purifier
Are you purchasing the Air Purifier hoping it to remedy some specific disease or problem? Is there anyone with allergies or other respiratory diseases in the home? Does someone in the house falls ill when seasons are changing? Or, if anyone sneezes incessantly when Pollen grains abound in the air? Do you live in a warm and humid environment where molds and fungi flourish? Then an Air Purifier with Ionizer would suit you. Do you have pets in the house? If Yes, you'd know of those months when every square foot of the house has their fallen hair. Does the place where you intend to place the air purifier have scope for sealing it out from the outside environment? These are some of the questions you should find the answers for before venturing out to buy an Air Purifier.
How To Select the Right Air Purifier
Once you have found the answers to the questions listed above, you have made good progress already. Now is the time to look out for the finer details in the actual product. Below, we have listed out the features you should diligently seek in an air purifier.
A High CADR Rating
The Clean Air Delivery Rate or CADR is the most commonly quoted value. If you have to make a choice between air purifiers with different CADR ratings, go for the one with the higher one. Although ACH (described below) is more important. CADR rating is a reliable indicator of the "cleaning" prowess of the air purifier. How much CADR should your Air Purifier have? Simply calculate the room volume in cubic feet. Now, multiply the CADR rating by 12. The result should be greater than your room's volume.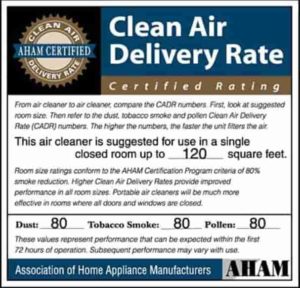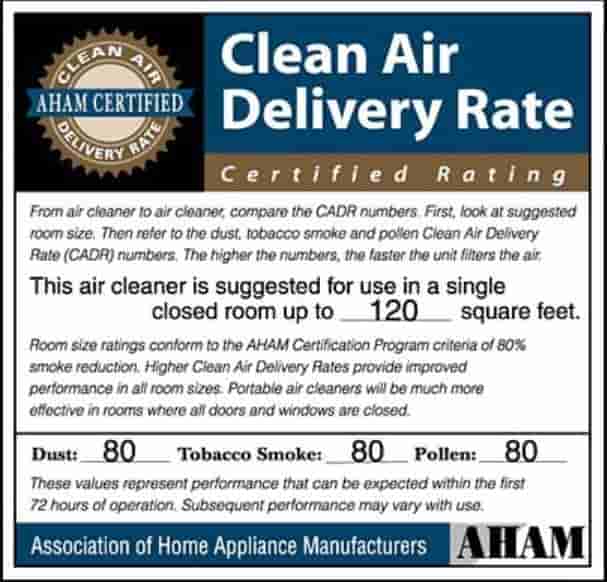 ACH (Air Changes per Hour)
ACH value denotes the number of times the air inside the room has passed through the filters. The volume of the room is important in ACH calculation. By default, an air purifier makes around 5 complete air changes (5x ACH). Along with a high CADR, an air purifier must have a ACH value greater than 4. For home and office, a 5x ACH rating suffices while a 8x ACH rating is suitable for commercial use like in shops near polluted roads etc. For industrial and health facilities like hospitals an air purifier with an ACH rating upward of 10 should be employed.
More The Stages of Filtration The Better
Air Purifiers come with 2 to 7 stages of filtration. Each stage employs a different set of filters or mechanisms to clean a targeted pollutant from the air. Sometimes there are multiple layers of the same filter like mostly seen for HEPA filters. The more the stages, the more probable it is that the air purifier will succeed in its operation. Pre-Filter, Anti Bacterial Filter, HEPA filters, Activated Carbon Filter, Photo Catalyst, UV stage and ionizer stage is an example of 7 stage filtration. Some models have ionizers as the last stage before clean air is egress. In all likelihood, the ionizer would be a precipitator one and not the ion spewing generator type which you should avoid.
Sensor Rich
The sensors are an integral part of air purifiers without which it would lose all its intelligence. Sensors co-ordinate the working of the air cleaner in many ways than one. Air Quality Sensors record the pollution levels in the air. Depending on the pollution levels the air purifier changes its fan speed correspondingly. Then there are particle sensors which are synonymous with the air quality sensors. Specialized PM2.5 sensors and indicators display the level of dangerous PM2.5 particles. Technologies like AeraSense and EcoNavi are based on sensor functions and also employ heuristics for better efficiency. Similarly, light sensors sense when the ambient light intensity changes. Light levels dictate how the air purifier alters its operation during Sleep or Night mode. Odor sensors quickly detect foul odors and adsorb them. All in all, more is the variety of sensors the better it is.
High Customization
In today's scenario when artificial intelligence and IOT (Internet of Things) are gaining ground. You would not want your air purifier to be dumb. Turbo Mode (different brands of purifiers may have a different name of it) when the fan speed is the highest is a useful feature. You must be able to control the sensitivity of the air purifier. In other words, how responsive you want it to be against the pollutant composition of the room. You must see functions for setting timers and adjust the fan speed levels. Child lock is also a good thing to have when you have little tots around. Spot Air and Swing functions along with 3D air circulation are good to have.
Filter Replacement Indicator
Your Air purifier should alert you in advance when it deems it necessary to clean the filters or replace them. Some basic air purifiers show color code indicators to detect filter health which need to be manually monitored.Most models now have dedicated filter health check mechanisms and indicators. Many air purifier models now cease to function if you ignore its warnings and continue to use a dirty set of filters. It is always convenient if there are Pre-Filters which you can detach and clean yourself. Having Pre- Filters extend the life of the inner costlier filters as they trap the bulk of the larger sized particles. Pre-Filters can be cleaned under running tap or vacuum cleaned.
Power ratings
Air Purifiers are not power guzzling appliances and most models limit their power hunger to under 70 Watts. It means if you are extra conscious of your bills, don't sweat. An air purifier would not change your monthly expenses much. Still, you can always refer to the power specifications which is easily available. You can check the product manuals or labels for Energy Star certified air purifiers which guarantee savings and efficiency. A standard room air purifier, operating continuously, uses approximately 550 kWh per year in electricity. This is more than the energy used by some new refrigerators!
Certifications
ENERGY STAR certified room air purifiers are 40% more energy-efficient than standard models, saving consumers about 225 kWh/year and $30 annually on utility bills. Different countries may have different such agencies though. The more is the CADR/Watt ratio, the higher would the air purifier rate in Energy Star ratings. Certifications from ECARF and AIRMID are also good to have. Always read the product manual for instruction on placing the air purifier for optimum placement.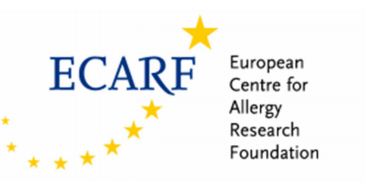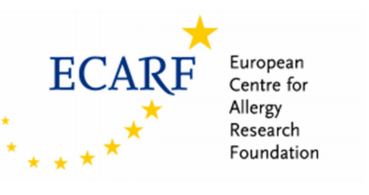 Portability
Most brands are conscious of the portability of their appliances, yet it is worthwhile to still check for it. After all, the device you buy would have to be moved around sometimes. Generally, air purifiers are not heavier than 8 Kilograms. If yours is heavier, then see whether caster wheels are pre-installed or not. Some air purifiers are wall mountable, which may prove to be a blessing for the households with space crunch. Also, check for the power cable/cord length which is usually 1 m. Look for strong handles as some models have them.
CONCLUSION
We know that making the right decision when it comes to buying an air purifier can be a daunting task. We hope the points we have highlighted would help you in making an informed decision. Don't trust any information blindly and always do a thorough check and analysis. The Best Air Purifier for you may not prove useful for some other home. Hope you read this post carefully! You should now be in a better position to purchase the ideal air purifier for your home 🙂 Be Prepared that the filters will need maintenance and even replacement. So, be ready to shell out more money. Using an expired set of filters is injurious to health.
You May Like These Similar Posts From AirSwacch!