Out of the many brands which call the shots in US air purifier industry, Winix is a front-runner. Many would not know but Winix originally is a Korean company just like Coway. Both these companies have captivated the industry with their breathtaking air purifier models. Coway's parent company was Woonjin Coway. Similarly Yooshin was the older name of Winix; typical names from the Korean peninsula. Winix's parent company is over 47 years old so they wield a lot of experience and goodwill too. Over the years, Winix has introduced a lot of air purifier models. A few of those available today are counted amongst the Best air purifier countdowns on websites. Our spotlight today is bring forth the Winix 5500-2 review. Winix air purifier 5500 is the most successful model from the company till date.
Winix is now an established name in air purifiers. They maintain a healthy variety in their catalog to cater to varying needs. Winix HR900 and Winix 535 are other models along with Winix AM90 which are stars among air purifiers. One thing is common among Winix air purifiers, its that they are feature rich yet economical.
WINIX 5500-2 AIR PURIFIER REVIEW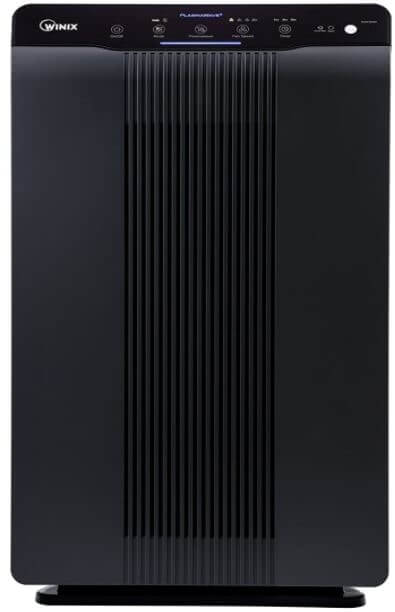 Winix 5500 air purifier is well-built and features the nicest of filters. The Winix 5500-2 may not look so great but its not the Amazon choice HEPA air purifier for nothing. An air purifier is a complete package of so many factors brought together. A popular air purifier like this means that the company has managed to gel those aspects seamlessly. A mere look at how many 5 Star Ratings it has accrued over the years gives you an idea of its popularity.
COUNTRY OF ORIGIN : Korea, but may vary. Check the labels.
As I mentioned above, Winix air purifier 5500 is genuinely priced. It used to cost anywhere between $224 – $249, which was already competitive. The price has further dropped to around $160. You'd see most of their models priced below $350 with a few exceptions ofcourse. Winix XQ costs over $1,000 and is the priciest of the lot. We have seen pricey air purifiers to not come with even a remote control leave alone an APP or WiFi support. Winix air purifiers must be complimented for being feature packed. Pleasure to tell you that without compromising on any department (looks?), Winix 5500-2 gives you a Remote Control. Happy! Check latest price below.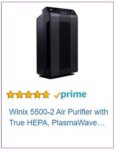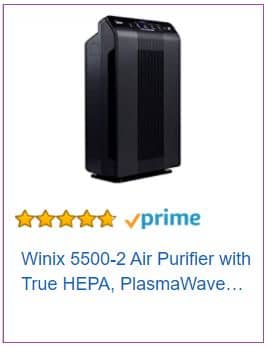 CHALLENGERS
No air purifier is the best in all regards. Even Winix 5500 has a few let downs which I'll highlight in just a bit. Although even its rivals aren't flawless, still its always good to make comparisons. Coway AP1512HH or the Coway Mighty as its called is its closest foe.
Whats Included In The Package
Winix Air Purifier 5500
3 Filters (HEPA, Pre-filter and Carbon Filter)
Remote control + Remote holder + Battery + Tape
Owner's manual
Quick start guide to get your air purifier working in no time.
DESIGN AND LOOKS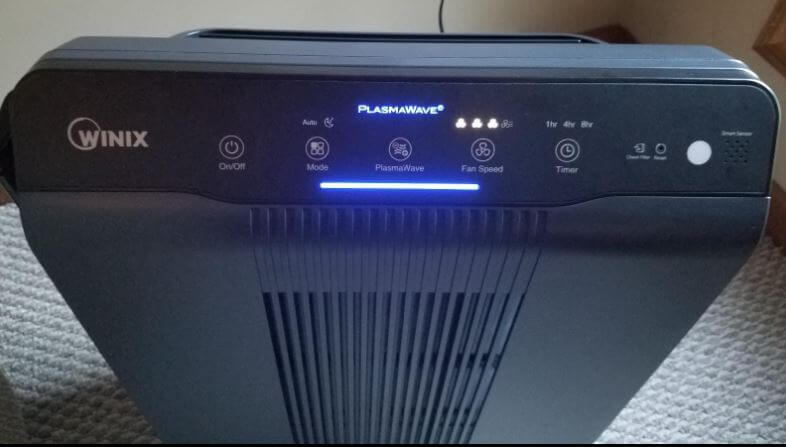 If you purchase the Winix air purifier 5500, it would arrive nicely secured in a cardboard box. The filters are already installed inside the unit, although in a plastic sheet. The body color is dark gray and the fitment of the joints is good. The gaps between joints and overall plastic finish is uniform. The control panel has markings of the buttons which are touch sensitive. The control panel is of the same color with white buttons. The markings above the buttons are back-lit. Just for a change, the PlasmaWave and Air quality indicator LEDs give a welcome relief from black magic. The Blue, Orange or Red lights of the air quality indicator denote Good, Fair or Poor air quality.
Overall, the build quality of the air purifier is at par with other air purifiers of similar cost and functions.
DIMENSIONS
Winix 5500-2 is around 2 feet tall and as such this is due to the large filters than it has to accommodate. There is a caveat and this pertains to the air purifier placement. You must leave 12 – 18 inches of gap between electronic appliances like TVs, radios and the air purifier. This is a word of caution specifically mentioned by Winix in their manual. Following this would prevent any issues due to interaction of different frequencies used in these devices.

Also, since the air intake is from the side slits, do leave atleast 4 inches space on the sides. As a rule of thumb, all your electrical devices must be rested on firm level surfaces. Even direct exposure to sunlight has been called out as something to avoid.
PORTABILITY
The Winix 5500-2 air purifier weighs 6.7 Kgs. There are no caster wheels and even there's no need for them. For moving or picking the air purifier, there is a handle at the top back portion. The handle is in the form of a niche into which you need to stick your fingers into.
CONVENIENCE OF REMOTE CONTROL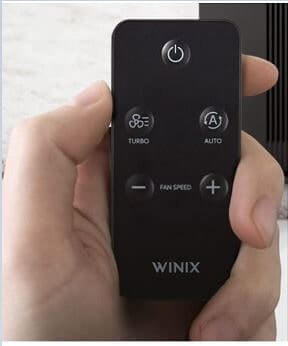 Having a remote for TVs and ACs is a normal thing. Same cannot be said in respect of air purifiers. Yes, nowadays mobile APP and WiFi connectivity give much more control and info on the air purifier operation. A remote still is a low maintenance and low care utility. Winix 5500-2 remote lets you-
Control the below settings from a distance of 20 feet.
Power On/Off the air purifier.
Enable the Auto mode.
Cancel Auto mode and operate fan speed manually.
Make the air purifier to run in Turbo mode.
However, Winix 5500 air purifier's remote doesn't let you control the PlasmaWave function.
WINIX

COVERAGE AREA

,

CADR

&

ACH
You must be aware that Winix 5500-2 is an air purifier meant for medium room sizes. The advertised coverage area for this model is 360 sq.ft. For this area, the Winix 5500 air purifier is able to deliver an ACH of 4. Meaning to having this ACH is that all of the room's air is cleaned 4 times hourly. Not bad and not extraordinary, as it is a norm for all air purifiers for a given coverage. So, not something to harp about when its already one of the most popular air purifiers of all times.
Winix 5500 air purifier has a good value of all the three CADR ratings. CADR is a rating which indicates the cleaning power of an air purifier. The more the CADR, faster the complete volume of air is cleaned. Most air purifiers in this range feature a lesser CADR than what Winix has.

WINIX 5500 FILTERS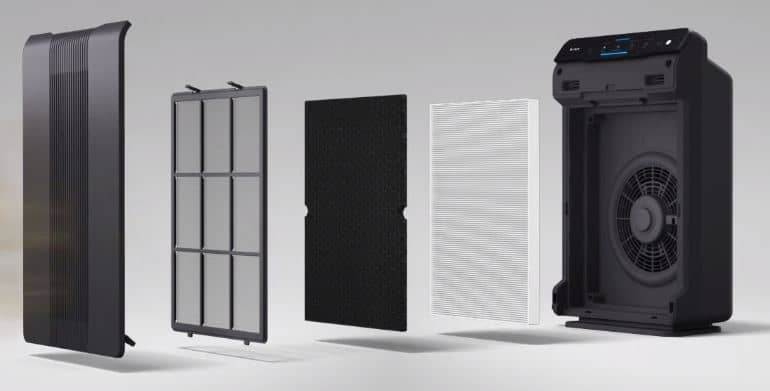 Winix 5500-2 have the same three layers of filtration as seen in all modern air purifiers. Below is a brief introduction to the Winix 5500 filters.
PRE-FILTER

– This is the quintessential first in line mesh filter. It servers to trap the larger airborne particles like that of lint, hair, dirt and similar. This is a permanent filter since it is washable and becomes as good as new after cleaning. The pre-filter should be cleaned every 2 weeks for best performance.

AOC FILTER

– The Advanced Odor Control (AOC) filter is a high quality carbon filter with real pellets of carbon. Carbon pellets are way better than normal carbon filter in removing odors from cooking, smoke and pets. The recommended timeframe of cleaning this filter is 3 months. Whats different with this carbon filter is that Winix says you can wash it. But, I would still not recommend treating with water. Instead, just show bright Sun to the filter. Performing these quarterly maintenance would allow it to be last for about a year.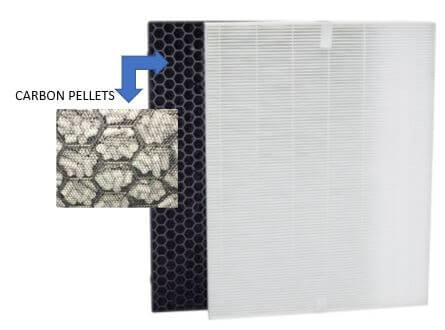 TRUE HEPA Filter

– Winix 5500 has a True HEPA filter that has a 99.97% efficiency in removal of particles sized 0.3 microns or above. The True HEPA filter is never washable in any air purifier. Washing spoils the dust trapping properties of the filter material. Good maintenance of the preceding filter layers and the HEPA filter could serve you for about a year.
REPLACEMENT FILTER
The average cost of replacing the HEPA as well as the AOC filter combined is about $46. This will be your recurring yearly maintenance costs in totality. Not bad for filters than size and especially a pellet carbon filter inclusive.


PLASMAWAVE
PlasmaWave is not an air filtration system but an anion generator. I've seen Panasonic air purifiers use the same technique in their Nanoe technology. In PlasmaWave, the already present water molecules in the air form (OH-) hydroxyl ions. However, the remote control doesn't have any button for controlling this feature. You'll need to turn ON/OFF PlasmaWave from the button on the console only. There's a blue LED transcribed inside the word 'PLASMAWAVE' which glows when this function is ON.
PlasmaWave may make some crackling or buzzing sound. This is normal and nothing to worry about. Although, if not for the blue LED, it is un-noticeable.
Is PlasmaWave Any Good?
PlasmaWave doesn't consume any extra wattage so no problems here. In Winix's own words, this technology breaks apart odors, allergens, chemical vapors, and other pollutants at the molecular level. In simpler words, the hydroxyl ions attach to the dust, pollen, allergens and VOCs. This brings about the complete annihilation of these pollutants. Basically the whole structure and chemical composition of the pollutants is distorted beyond comprehension. Such that they are rendered harmless.
Does PlasmaWave Emit Ozone?
NO, says Winix. Patients of asthma and allergies are sensitive to ozone and it is detrimental for their conditions. But, if you are apprehensive about it, keep it OFF for the most times or permanently. There are other air purifiers which use UV-C bulb like the TruSens Air Purifier, I reviewed recently.
POWER EXPENSE
Winix 5500-2 air purifier is very power efficient and you'd certainly save on power bills. Using an air purifier is not a one time affair. You would be using it day in and day out most likely. So, its good to seek out Energy Star rated air purifiers. Now, I'll let you know how much power does the Winix 5500 air purifier actually consume. The power expense is directly proportional to the fan speed. Greater the gallop of its fans, greater is the power consumption.

NOISE LEVEL
Winix 5500 air purifier doesn't earn any extra points for its noise levels. It makes noise usually what we expect from a mid-size air purifier. Sleep mode is universally quiet in all air purifiers that have it. In this mode, Winix 5500-2 makes just 28 dB sound, nearly silent. Its the Turbo mode where it may get noisy. Turbo mode sound levels are noted to be around 60 dB. Again nothing to crib about as this is the expected behavior. All air purifiers become noisy at the Turbo mode. I always soothe my readers by saying that this is a small price you pay for quickly getting the air cleaned.
Overall, satisfactory noise levels and nothing shrieking or disturbing out of the extraordinary. One thing I liked is the gradual and graceful transition of the fan noise when its speed is toggled. The noise at other speeds hovers between 40 dB to 45 dB roughly.
FUNCTIONS ON WINIX 5500 CONSOLE
MODE BUTTON
Winix air purifier 5500 has a mode button on its console. This is a dual selection button for choosing Auto or Sleep modes. By default, the air purifier starts in Auto mode and the PlasmaWave is also ON. To toggle between the modes, you need to press it again.
AUTO Mode – The air purifier works intelligently cranking up or down the fan in accordance with the air quality. As
the indoor air quality improves, the fan speed will automatically decrease. If the indoor air quality worsens, the fan speed will automatically increase. This is the most economical mode to run your machine in.
SLEEP Mode – This is the mode to select while you sleep or want pin-drop silence atleast from the air purifier. Even in AUTO mode, if the room lights are dim or off, the air purifier transitions into Sleep mode as well. In Sleep mode, the air quality indicator lights are turned Off. Also, the fan operates in its lowest speed so as to make the least noise.
PlasmaWave Button
As I mentioned earlier, the PlasmaWave function can be operated as per your wish. Start or stop the anion generator with the help of this button.
FAN SPEEDS
As is apparent from the name, you can cycle the air purifier to run in one of the 4 fan speeds. There are three speed levels and a TURBO mode to choose from.
TIMER
Winix 5500 air purifier also comes with a 1hr, 4hr, 8hr timer. Repeated pressing of the button is how you choose from these timers.
RESET BUTTON
After replacing the filters you'll have to reset the air purifier so that the warning or alert is cancelled. Use a thin pin or similar object to press this button. After 5 seconds of pressing, the job is done.

CONCLUSION – Winix Air Purifier 5500 Review
Its ability to trap and remove dust from the air is awesome. You'd be able to find how much dust and dirt its pre-filter took upon itself. Winix 5500 air purifier is a great option and has better filters than its earlier Winix 5300-2 model. Especial mention of the carbon pellet filter is warranted here. The device is well designed for air filtration and the presence of a remote control wins brownie points. I cannot think of any missing features in it apart from an APP. The light sensor put the Winix 5500-2 air purifier in Sleep mode automatically if light becomes dim. Good customer support and technology from Korea are great to have in this price. Moreover, a 2 years limited warranty is there to rescue if the issues qualifies the terms and conditions.
You May Like These Similar Posts From AirSwacch!