A dehumidifier helps remove excess moisture from the air. It is capable of keeping the humidity at a set level. Ideally, humidity should be kept around 40-50%. This post lists out the Best Dehumidifier in India. We list out the features as well as pros and cons of our top picks. Read our Dehumidifier Buying Guide if you like.
                                        We last discussed the Coway Air Purifier Review .
Top 10 Best Dehumidifier For Rooms
A dehumidifier draws in outside air through a set of filters. An Air Purifier and an air conditioner are very close in their functioning. Dehumidifiers are not a very common sight in homes. People living in high humidity regions with high rainfall should own one. Underground rooms, damp rooms, public lavatories and laundry rooms have high humidity. Pump rooms, store rooms and crawl spaces can find use of a dehumidifier.
The water removal rating is often measured in Pints or Ounce. 1 Pint ~ 560 ml and 1 ounce ~ 30 ml. Dehumidifiers usually come with a water tank which stores whatever water it removes from the air. Others just have a hose pipe to let the water trickle out.
Our Choice Best Dehumidifier For Small Rooms
Pure Enrichment Mini Best Room Dehumidifier

Pure Enrichment has a host of good products like humidifiers. This particular dehumidifier is most suited for small rooms. It can extract about 300 ML of moisture from the room's air per day. An auto-shutoff feature when the water tank fills to the brim is present. It has low noise and most importantly looks good in the room.
You can comfortably see how much water has been extracted from the air for your contentment. Emptying the water tank is super easy. The tank can be pulled out like a drawer. No fuss operation, just power it On and forget. Only a power switch means anyone can operate it even in their sleep.
Our Choice Best Dehumidifier For Big Rooms
Homelabs Dehumidifier For Medium To Large Rooms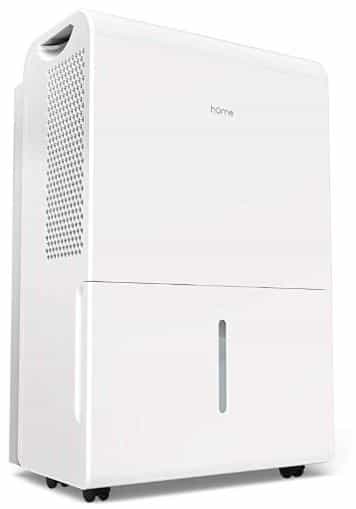 hOmeLabs dehumidifiers are offered in three variants for different room sizes. Ranging from 1500 – 3000 – 4500 sq.ft. you can pick up the one suiting your requirements.
| Property | Variant-1 1500 SQ.FT | Variant-2 3000 SQ.FT | Variant-3 4500 SQ.FT |
| --- | --- | --- | --- |
| Price Check | Costs This | Costs This | Costs This |
| Water Removed (Pint) | 22 | 35 | 50 |
| Tank Capacity (Gallons) | 1 | 1.8 | 1.8 |
| Hose Pipe | Buy separately | Buy separately | Buy separately |
| Timer Present | Yes | Yes | Yes |
| Turbo Mode | Yes | Yes | Yes |
| Weight (Pound) | 30.5 | 40 | 40 |
| Dimension (Inches) | 15.2 x 10 x 19.7 | 15.4 x 11 x 24.3 | 15.4 x 11 x 24.3 |
| Castor Wheels | Yes | Yes | Yes |
| Warranty | 2 years extendable to 2.5 | 2 years extendable to 2.5 | 2 years extendable to 2.5 |
PROS
Plug in and forget as the default setting make the dehumidifier to run continuously.
Looks great and better than most horrible looking dehumidifiers.
Much quieter than most dehumidifiers.
Beeps when the water tank is full and shuts down.
CONS
No hose or pump for emptying the water tank. Ensure the surface is level and the hose is connected at an angle. The hose must be dangled at a lower height than the hose connector.
A little costly.
Choice Of Variants
Up to 1500 sq.ft variant is ideal for offices, small basements or store rooms.
1500 – 3000 sq.ft model can keep larger basements and garages moisture free.
The 3000 – 4500 sq.ft one as you can guess is for larger spaces.

DEHUMIDIFIERS FOR SMALL ROOMS
Ansio Mini Dehumidifier is the Best Dehumidifier in India for small rooms. Do not expect it to reduce the humidity in your entire room. An ideal place to use it would be your washrooms. This device is based on condensation just like an air conditioner has coils. Air is drawn in by a fan and then a cooling system condenses the moisture. The water tank collects the condensed water and can hold 500 ml. This device is electric and hence no recharge of any consumables like desiccants etc. Just keep the place you're using it in closed if not completely airtight.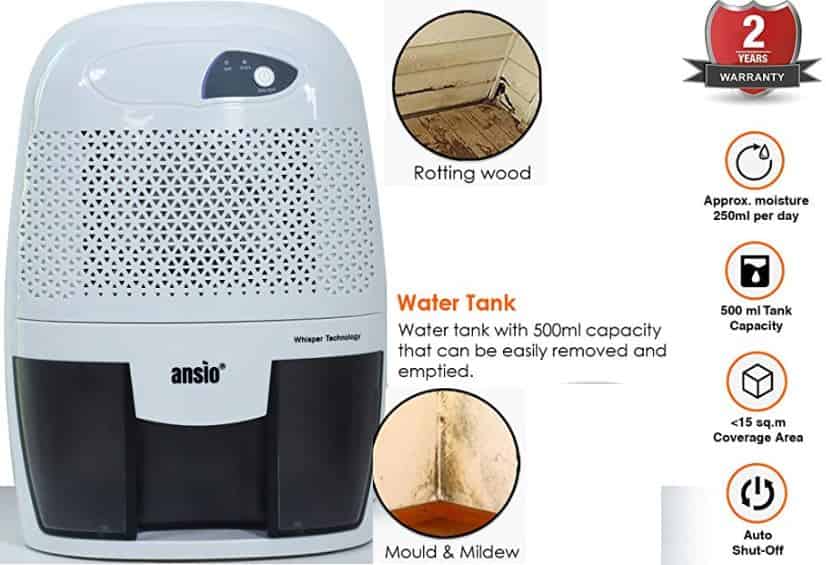 Portable and compact dehumidifier to remove mold, moisture and dampness.

Ideal for use near cupboards, closets, etc.

Quiet operation, you'd just hear the fan running.
It can remove 250ml per day at 30°C and Relative Humidity 80%.

When the tank gets full with collected water, it automatically shuts off.

A power cord of length 1.5 m comes along with the product.

A 2 Year warranty is given on the product.

You can use it anywhere provided a 220 V power supply is provided.

The Kedsum Dehumidifier works on Peltier technology. Air is forced over a cooled aluminium plate which causes the moisture to condense. The unit is extremely quiet. Chances of mildew, condensation and mold growth are high in high moisture areas. The Kedsum Thermo-Electric dehumidifier consumes little power and is efficient. Its compact and lightweight but performs good. There are cases when a bathroom opens in a bedroom. After a hot shower your living area may get high on moisture. High moisture invites allergies, mold and dust mites. Hence, use a dehumidifier in such places and prevent such situations. The water tank fills up in 3 days for most people.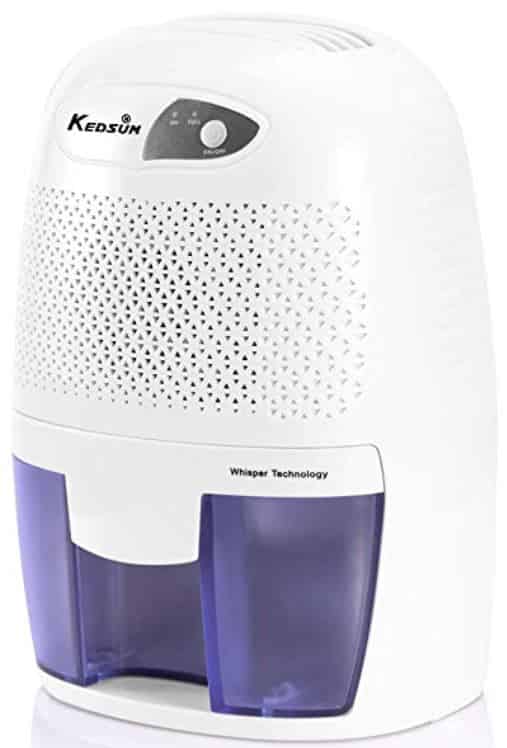 Compact and portable design, size:6 x 5 x 8.6 inches.

Works on Peltier technology of Thermo-Electric Cooling. Does not need any compressor.

Water Tank capacity is around 530 ml and removes up to 260 ml of moisture/day.
You can set the Relative Humidity percentage to control the moisture.

The device shuts off automatically when tank is full and a LED indicates this.

Kedsum dehumidifier can cater to an area of 108 sq ft.

Use it in bathrooms, bedrooms, kitchens, closets, small laundry rooms, basements or attics.

The Comforday compact dehumidifier is similar to the Kedsum model discussed above.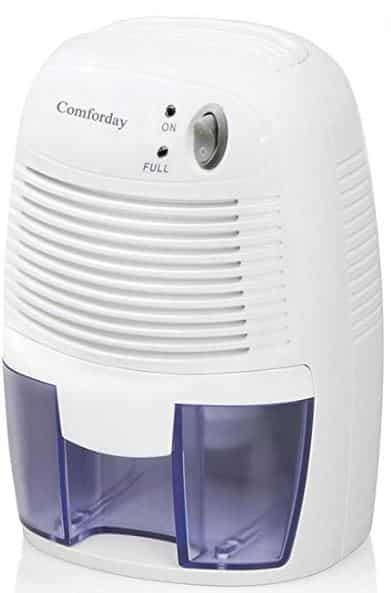 BEST DEHUMIDIFIERS FOR LARGER ROOMS
The Power Pye dehumidifiers are designed for homes and can cater to big rooms. People living near coastal areas or high rainfall areas find it useful. Its performance is good but some people complain that the unit emits hot air. The water tank is large and collects 20 L water. You can control the humidity of the room in the range 40-80%. The device can operate in temperatures ranging from 5°C – 35°C.
The Power Pye also works by employing host and cold coils. First outside air is passed through a cooled coil which causes condensation. After this stage, the air is reheated to bring it to the normal temperature. The refrigerant used is CFC free and environment friendly. It is the Best Dehumidifier in India for Rooms.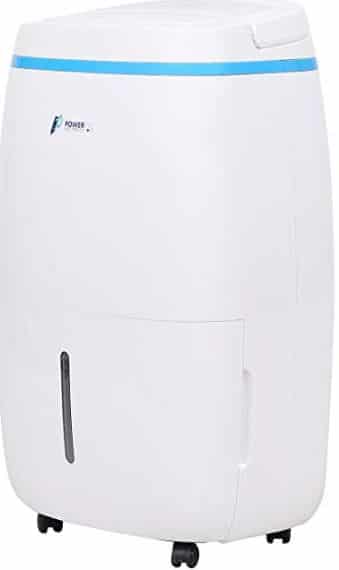 Net weight of 13.2 Kg
Room size of 280-380 sq.ft.
Power consumption 320 W
Frost removal mechanism for longer life.
Water removal capacity of 20 L/day at 80% RH and 12 L/day at 60% RH.
Device comes with an optional water pipe. This is useful if you want to avoid emptying tank.
Resumes operation after power resumes after a power cut.
A timer can be set to shut it off after a set time.
An alarm is sounded after water tank fills up.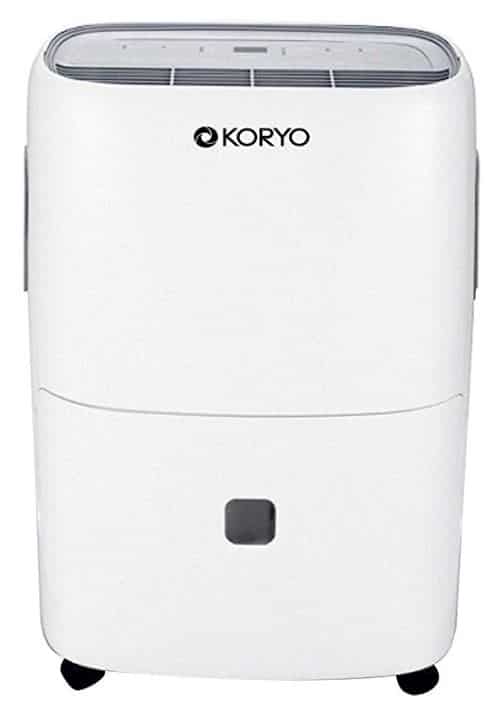 The Koryo KDE25SI dehumidifier is a perfect choice. This device has a compressor like an AC or refrigerator. The presence of a compressor makes the unit heavy. Castor wheels are provided for ease of mobility. A warranty of 1.5 years on compressor is provided. Koryo appliances are a common sight in Big Bazaar. The device has a higher capacity and consumes 400 W power. Some of its features are enlisted below-
An air filter is provided to clean the air.
The unit is capable of controlling the humidity from 30-90% RH.
The device can remove 25L/day of water from air.
The current humidity level is displayed.
Fan speed can be controlled to High, Medium or Low
Three modes of operation are available. Based on your needs modes for continuous, basement and bedroom use.
Filter change and bucket Full indicators are present too.
You can even Lock the device when kids are around.

An imported product with good features and performance. This model can remove 22 L/day. See other models of varying capacity from Westinghouse here.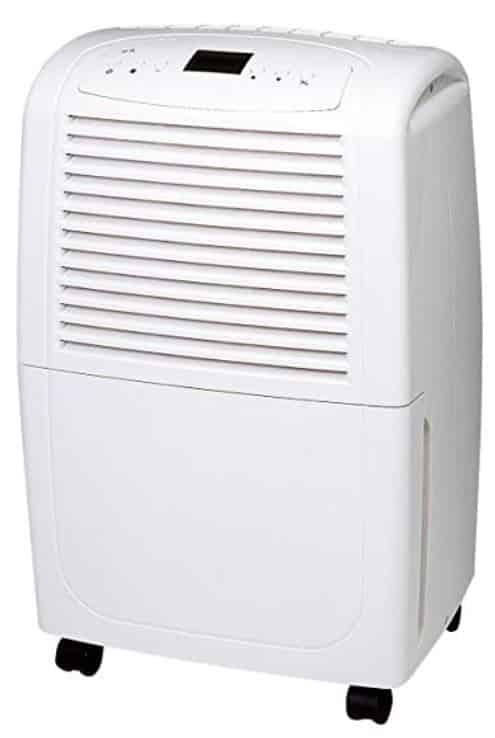 Relative humidity percentage can be preset.
Water tank capacity is 6.5 L and a pipe can be attached separately.
It can effectively cover an area of 220 sq.ft.
Auto defrost function to prevent coils from freezing.
Castor Wheels are provided to conveniently move the unit.
Automatic reset and Timer is available
Tank full signal.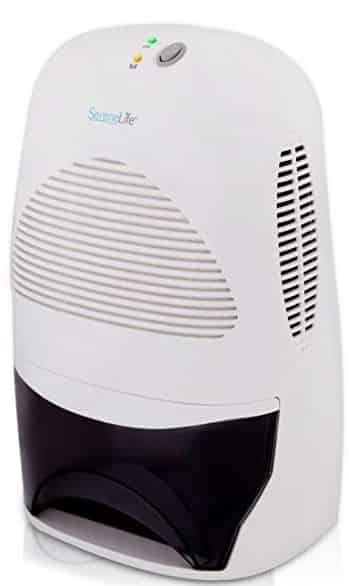 SereneLife is another dehumidifier maker for specialized humidity control. There are three models for different coverage areas. Separate models are available for 1100, 1600 and 2200 sq ft. areas. A washable and reusable air filter has been provided in the device. The ubiquitous feature of auto shut-off on water tank full is present.
Very simple one-touch On/Off button operation
A water tank capacity ranging from 500 ml to 2 L depending on model. We really liked the ease with which it can be emptied.
Controls odor due to dampness and prevents fungal growth.

Honeywell appliances are much loved and popular around the world. The Honeywell DH50W and DH70W are two models. The former can collect 50 Pint water and the latter 70 Pint/day.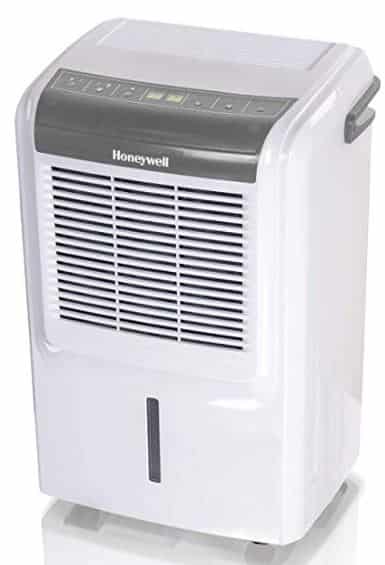 A digital Humidistat maintains the room's humidity to the level you want.
Two fan speed controls are present.
You can control Relative Humidity %. Temperature is also displayed.
A Timer is available for flexibility of use.
Castor wheels are available for mobility.
A pipe can be attached for water outlet. Water Tank capacity of 8 L.
Rated by ENERGY STAR for efficiency of power usage.
An LED glows when tank is full and an alarm is sounded. Plus the device shuts off.
If the device DH70W is available on Amazon then simply choose it. But, we are not sure when or if at all it will become available again.

Another device for effective moisture control.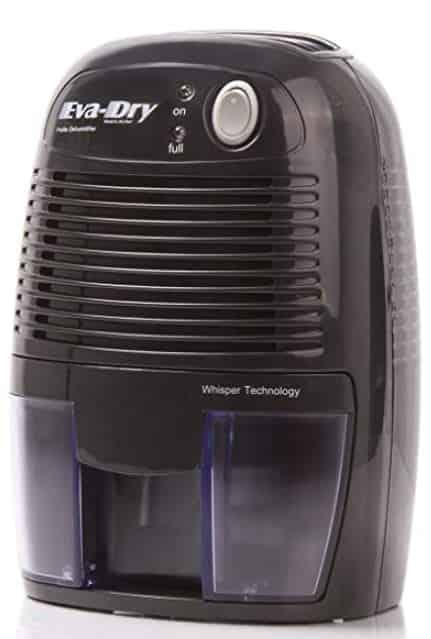 Pros
Barely makes any noise and is super silent.
Does not generate any heat.
Auto shut-off when water tank is full. Green light turns yellow when full
Simple on/off switch.
Cons
No Cons as such for the price.

DEHUMIDIFIERS FOR CLOSETS ALMIRAHS AND CLOSED SPACES
1. Absorbia Moisture Absorber
We have listed this simple humidity control solution first in our list. Absorbia is effective in reducing moisture and protects your stuff. You can place Absorbia in cloth almirahs, closets, bathroom drawers, or kitchen shelves where grains or flour is stored. There is nothing breakable and these sachets are quite affordable. A single pouch can last 30 days.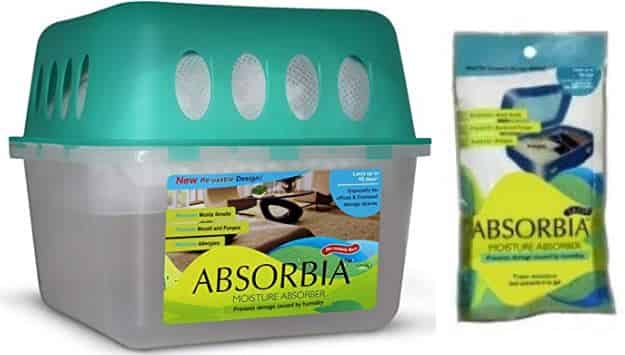 How It Works
The contents of Absorbia sachets turn to gel on absorbing moisture. The sachet swells up two-three times its original size as a result. You need to replace it when all is left is gel in the sachet. Obviously you need to keep it in a closed place. Otherwise, it will swell up in vain. The sachets are not reusable.
For larger spaces like store rooms a reusable box is also available. The lower part of the box stores the collected water. The contents of the pouch generally last over 30 days. Once exhausted, drain the water collected in the lower compartment of the box. To replace the refill pouch you know how to get the refills.

The Eva-Dry dehumidifier is a desiccant based device. It uses silica gel orange beads to absorb moisture. The beads are visible and turn green on absorbing moisture. When its time to recharge the device, all the beads turn green. There's an inbuilt mechanism to dry out the beads. Just plug in the two-pin to a power source and let the beads dry. When the beads are dried, they return to their yellow color and are ready for reuse. A recharge takes around 12-20 hours.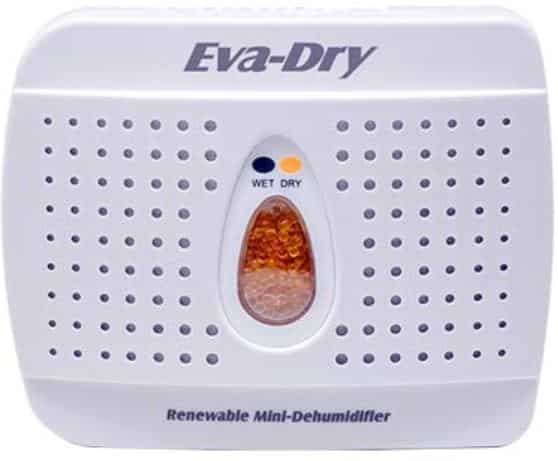 Eva-Dry dehumidifier is really an eco-friendly device. No power is needed for this device to function. Just place it wherever you want to remove moisture from. Its safe to use as you do not have an electrical device running full day.
These are imported from USA which is a factor which increases the price.

3. Freshcant Moisture Absorber
This is a good dehumidifier for Wardrobe/Closets, Storage Compartment, Kitchen Cabinets, Cupboard, Almirah, Shoe Rack and Bathroom Uses. It works on the same principle where beads of a chemical have moisture absorbing properties. The Freshcant moisture absorber comes in 3 fragrances which may not last as long as the white beads in it. When the white beads completely liquify then its time to replace your Freshcant container.

Need For a Dehumidifier
This post discusses the Need for a Dehumidifier in India. India witnesses all types of seasons and weather. A Humidifier for Home if used in the right way improves the air quality in your home. Good air quality is not just the absence of dust or particulate matter. Air quality also depends on the moisture content in the air. Relative Humidity (RH), often called just humidity, is a measure of this. Relative Humidity in air is measured as a percentage. Moreover, our homes must have an optimum humidity level.
When we say 'optimum', we mean a 30-50% RH. Anything more or less than this range is not ideal and needs correction. A Humidifier can bring about this correction in increasing the moisture level. A humidifier with a hygrostatic mechanism is best to you. A Hygrostat maintains a constant humidity level in your surroundings. Similarly, a dehumidifier removes excess moisture and brings the humidity to the optimum range.
What is a Dehumidifier?
A dehumidifier as stated above helps maintain the humidity after reducing it. It removes water from the air just like an air conditioner (AC) does. A dehumidifier differs from an AC in that it does not remove the room's heat from the system. Instead, a room with a running humidifier has an increased temperature. Managing the humidity promotes health benefits. Too much humidity can lead to foul smells emanating from your room. Use ROOM FRESHENERS to remove foul odour. Your wood work, flooring, beams do not like high humidity.
Where To Use A Dehumidifier?
A Dehumidifier is perhaps the most uncommon appliance. You must know about its benefits to weigh in the utility. We are sure you'll feel that you were missing a very useful device.
Use a dehumidifier in your Laundry room.
You can use a dehumidifier to reduce in your basement parking.
A dehumidifier in room can be helpful on warm days of high humidity like in rainy days.
Reduce spread of allergies, dust mites, mildew due to high moisture in the air.
You can use it in libraries, store-rooms or frequently used washrooms.
How To Identify Level Of Humidity?
For the sake of the perfect choice keep an eye on the problem area's humidity level. In winters the inside of glass panes can get misty. This is a clear indication of high humidity levels. In summers high humidity is simply unbearable. The air becomes heavy and there is too much sweating which does not evaporate.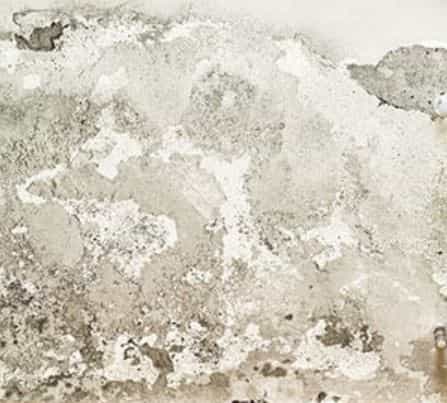 Damp: You feel moist on touching the walls. A heavy unpleasant odor fills the space.
Very Damp: All signs of dampness plus wall paint crumbles at spots.
Wet: Visible droplets on the walls. Fungus and white cotton-like things develop.
Too Wet: This is the worst case where there is continuous source of high moisture. Take the case of a bottling plant, laundry or a car wash.
Effect Of Temperature On Relative Humidity
The Relative Humidity decreases with a rise in temperature. Depending on the way a dehumidifier functions, we can broadly be divided into two types.
DESICCANT DEHUMIDIFIER
Desiccants are substances which absorb the surrounding moisture into themselves. Water bottles or medicines contain small paper pouches with small mustard sized black balls. These are nothing but desiccating agents like Silica Gel. Buy Here. Desiccant Dehumidifiers are cheap and use desiccants. Humidity is kept in check by the desiccant material exposed to air. Heating is a simple way of recharging the desiccant.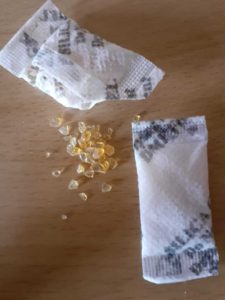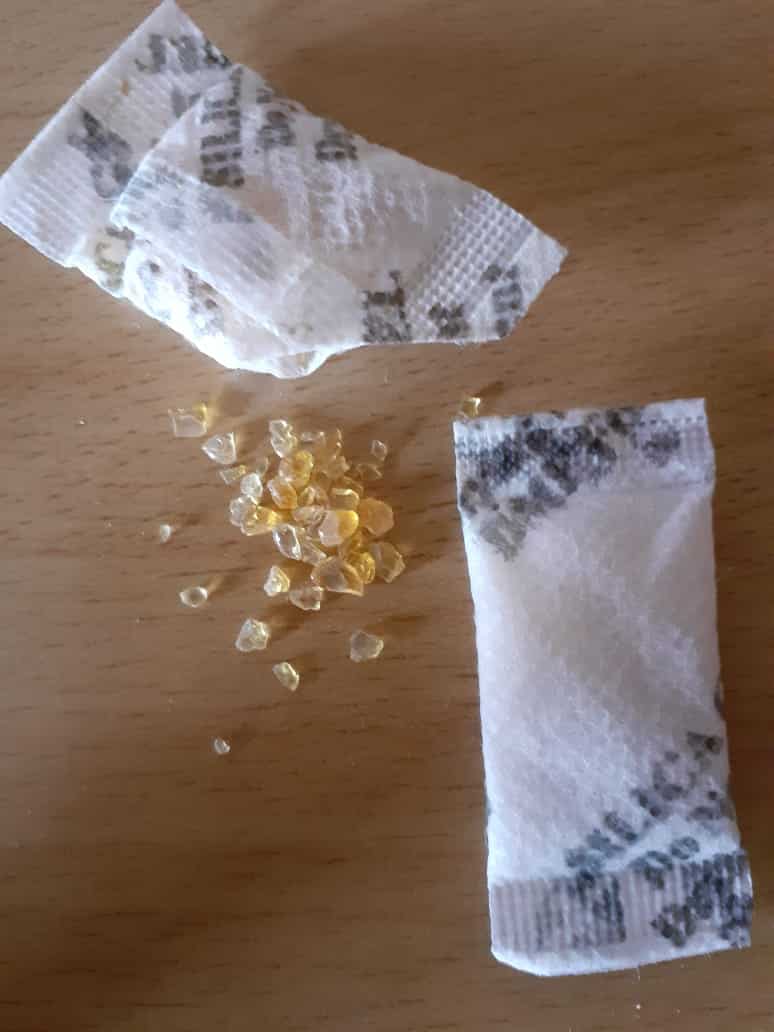 MORE ON SILICA GEL
The average age of the sachets is around a month.
Prefer recharging the silica gel pouches by keeping them in direct sunlight for sometime. Avoid using Microwave as it may char the cover which is paper-like. If still you wish to use microwave, do not exceed the timer by 5 minutes.
Prevent direct contact of silica gel crystals with food items and do not mix them with grains.
The cover is made of non-woven fabric which is not very strong. Always make it a point to keep the sachets out of reach of children.
CONDENSATE DEHUMIDIFIER
Condensation is the settling down of moisture on a surface in liquid form. It happens when there is a temperature difference between the surface and ambient air. In rainy season this phenomenon is especially visible. Recall the water droplets on the outside of a glass of cold water. A condensate humidifier uses a refrigerator of sorts. Once condensation occurs, the collected water is nothing but air's excess moisture. Such dehumidifiers work by passing moist air over a cooled evaporator with a fan. This process of snatching air's moisture is most effective in warm conditions. Air temperatures higher than Dew point temperature is most suited.
How To Choose The Best Dehumidifier
Choosing the right appliance for your home can be tough. You must first analyze your exact requirements. Once you know your needs then you can proceed to choose from the options.
First what is the size of the place you want to deploy a dehumidifier? A large dehumidifier for a small space will dry it out much faster. Why waste money if a smaller device can do the trick? 
Our space can be very damp or literally wet. A powerful device is a must for effective resolution.
You must inquire or read reviews on how fast a device dehumidifiers.
Are your external walls perennially wet due to leakages in the shaft etc? If it is so, then no dehumidifier can help.
An important consideration is the noise level of the fan. An excellent dehumidifier can be noisy and tolerable in basement. But, it cannot be a viable option for a bedroom.
The list above guides you in a broad perspective only. Now, let us highlight the finer things to consider.
Convenience Features
User friendly features are the first things you note while buying. Touch buttons and LED lights let you control various settings easily. You can select the % of humidity you want to maintain. Choose whether you want the humidity level—normal, dry, very dry. The flexibility brought about by Timers saves power. LEDs display temperature and humidity percentages which is helpful. Some models display the current and target humidity percentages.

Defrost
Condenser based dehumidifiers have coils which sometimes get covered in frost. Look for a model which has auto-defrost function. This feature if present can save you money in coil replacements.
Water Tank or Tray Size
The greater the capacity of the water bucket, the costlier the dehumidifier would be. But, a larger tray would mean more comfort. You do not have to empty it frequently. Some dehumidifiers shut-off when the water bucket gets full. A good feature to look out for. Obviously size, weight and cost increase proportionally.
Ease Of Tank Cleaning
Most dehumidifiers have a hose pipe at their backs to let out condensed water. Look for the strength of material and length of the pipe. Sometimes, cleaning of the water tray or tank is also required. See how easy or difficult it is to clean it. Some dehumidifiers come with evaporation technique and you do not need any pipe etc.
Auto-Start On Power Resume
Power cuts are common in Indian cities but much better since few years. After a power-cut you would not want to get up and restart your dehumidifier again and again. Choose a device which starts itself in the same settings and mode on power resume. A long power cable is always a plus. Most of the best dehumidifier in India have this feature.
Filter Health Indicator
A dehumidifier holds a similarity to an air conditioner or an air purifier.  A dehumidifier sucks in outside air and passes it through its filters. So, with time it is imperative to clean the filters. Also, your device should have some indicator LED for it.
Portability
Your device can at times get heavy especially if the water tray has water. There's a simple remedy to the problem of moving around your appliance. Look for trolleys or casters for ease in mobility. Some heavier devices come with inbuilt castor wheels.
MAKE GOOD USE OF COLLECTED WATER
Yes, why not! There can be enough water that gets collected everyday. Do not even think of using the refuse water for drinking purposes. 
1. Watering Plants
You can freely use it for cleaning purposes or watering plants. Small traces of lead or heavy metals can be present in the collected water. Basically, avoid ingesting this water directly or indirectly (do not use for kitchen garden).
2. Cleaning Floor or Flushing
The accumulated water is fit enough for mopping and cleaning. You can mix cleaning agents in the water for this purpose. You can use the collected water in flush tanks for toilets.
Maintenance
Operate every appliance with care and as prescribed in the user manual. Still, let us list out some guidelines you must bear in mind.
PRECAUTIONS
Unplug the power cord if putting aside the device for long duration.
Do not keep the unit close to areas where water may seep into it.
The drain pipe must be suspended vertically to ensure water is drained continuously.
Do not sit or keep objects on the running unit.
Do not operate the device in closed cupboards or near sources of heat.
Discard water that has collected in the tank timely.
Replace the power supply cord if its damaged. Ask the manufacturer or service agent for help.
FINAL WORDS – BEST DEHUMIDIFIER
Owning a dehumidifier is a great help if you suffer from the ill-effects of high moisture. Controlling the air humidity is favorable for our health. Be it due to nature as in rainy season or seepage, dampness in air can pose risks to one's health. Why must we forget the damage to property! We all know that its a matter of kicking off a repair work. Money, time and effort knows no definite bounds. So let a stitch in time save nine. The Best Dehumidifier In India is just a read away.
You May Like These Similar Posts From AirSwacch!