Air purifier brands are focusing more than ever to be different from their competitors. Innovation is the key! Its the most important factor that helps a company stay in the race. Moreover, the market is fierce and customers are extremely demanding and cognizant. Usually big brand names sell easily and newcomers struggle. TruSens filters are specially crafted and this air purifier brand is trying to get a foothold in the market. Already their air purifier models like the TruSens Z-2000 are attractive enough that anyone would surely stop to check it out.
In their endeavor to bring out the best, TruSens has introduced a string of TruSens filters. These specialty filters cater to our own specific air pollution woes. You can choose between anyone of these filters. These are all built to remove dust and particulate matter. Take for example the likes of the Pet filter which targets pet odors and removes them from the air. Or, the Odor and VOC filter with tremendous ability to neutralize odors and organic gases. TruSens filters work well for removing pets odors, VOCs and for combating allergies and flu.
TRUSENS FILTERS
In this post, I intend to discuss the various TruSens filter types available for use. The standard Dupont 3-in-1 HEPA drum filter is the default which is shipped with your TruSens air purifiers. Apart from this the company has recently rolled out two more varieties of filters. One is the Pet filter which I haven't used as I don't have any pets. I have used the standard one, the Allergy and Flu Filter and also the Odor and VOC composite filter. I must say that I am mighty impressed by the performance and this post is just to share more on the same. The TruSens company even has a Allergy & Flu filter in the offing. The sheer variety of filters means you have an option to buy any of them separately. Purchase the one which promises to counter your problem area concerning the room's air quality. Not all homes and their inner ecosystems are the same. Hence there is no one filter type which is a one stop solution.

---
1. TruSens Odor & VOC Filter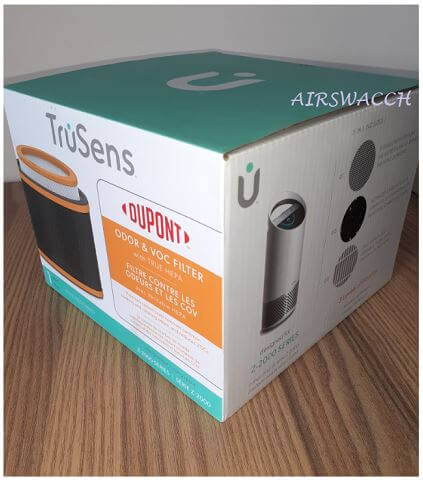 The standard HEPA drum (read point no. 4 below) is light weight and is a jack of all trades and master of none. It does remove dust as good as any other of these new specialty filters though. While the standard carbon filter can get rid of certain VOCs and smells, the TruSens Odor & VOC filter addresses just that deficiency and that too like a boss! I used this new TruSens filter and was mighty impressed by its air purification prowess. It can be thought of as a super hero, heavy-duty avatar of the standard carbon filter. It is heavier than the standard HEPA filter. To be honest it exudes great quality from the moment you get to it closely. For once the users may feel itchy not to spend on it as the price may seem a hindrance. But, trust me its so well made that it can be called an engineering craft if I choose the words correctly.
CHECK ITS PRICE
What Makes It Work?
I always recommend my readers such carbon filters which have actual carbon pellets in them. They are way too effective in removing odors and VOCs than cheap carbon fibers woven in fabric. Such granules of activated carbon if present in a carbon filter catapult the performance and the goodwill of an air purifier manifold.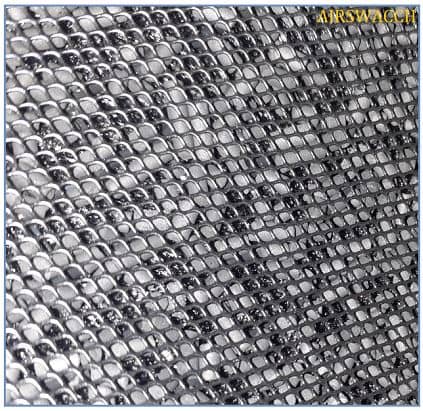 My mom loves cooking and each of her preparations means a new plume of odor filling the rooms. Using the TruSens Odor & VOC filter in my TruSens Z-2000 air purifier gave the much needed break from this cycle. Now, the odors all get mitigated when I run my air purifier near the kitchen at the highest fan speed.
FEATURES
The TruSens Odor & VOC filter has 3 layers of filtration. While this is not something which could make it stand out as there -stage filtration/treatment available. The good quality HEPA and the pellet carbon filter makes it rise among its competitors.
The activated carbon filter helps remove cooking and cleaning smells. Most households with open kitchen layout get all smelly from food and cooking odors multiple times daily.
The TruSens Odor & VOC filter reduces airborne VOCs such as NH3 (ammonia), HCHO (formaldehyde) and C3H6O (acetone).
The cylindrical filter allows a 360 degrees of air filtration from all directions.
FILTER REPLACEMENT

If you look closely at each of the TruSens filters, you'd see that each filter media like the HEPA or carbon filter is individually separable and replaceable. There cannot be a fixed deadline or schedule as to when your filters would need a replacement. But, the good thing about the Specialty filters is that they have a longer life. The reason? Its because they have actual carbon pellets which make them denser. In most cases, the filters may last from 12-15 months.
---
2. TruSens Allergy & Flu Filter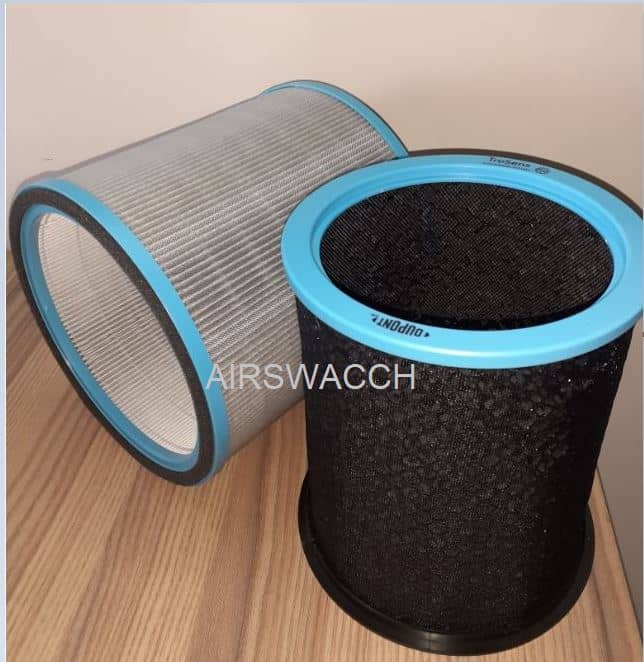 This filter seems to be cut out for my family. My mother and even I to some extent feel the impact of seasonal allergies. When I observed that TruSens has rolled out a Specialty filter for allergy and Flu, I quickly brought it home. And it proved to be very helpful in relieving us from our allergic rhinitis. You see there is no 100% escape if you are a patient of allergy. You need to step out of your home, go to the balconies etc. And yeah, continue keeping your cetrizine tablets handy. But, as long as this new filter is channeling your indoor air, you are doing the most you can do and in the Best possible way.
TruSens Filter Allergy & Flu

PRICE
WHAT MAKES IT WORK?
The TruSens Allergy & Flu filter helps protect your family from 99% of airborne allergens and viruses. It inactivates the H1N1 strain of virus with its Anti-viral True HEPA silver coating.
FEATURES
As is visibly clear, this cylindrical filter allows 360º filtration of air. Air is drawn from all directions to collect pollutants from around the room.
The True HEPA filter and the Carbon filter are two separable units bundled together. The two are merged together in a concentric drum. When the filter replacement indicator flashes, you can replace the corresponding filter individually.
Just like other Specialty filters, this filter too is rich in carbon pellets. The below image clearly captures these carbon pellets which remove odor and VOCs excellently.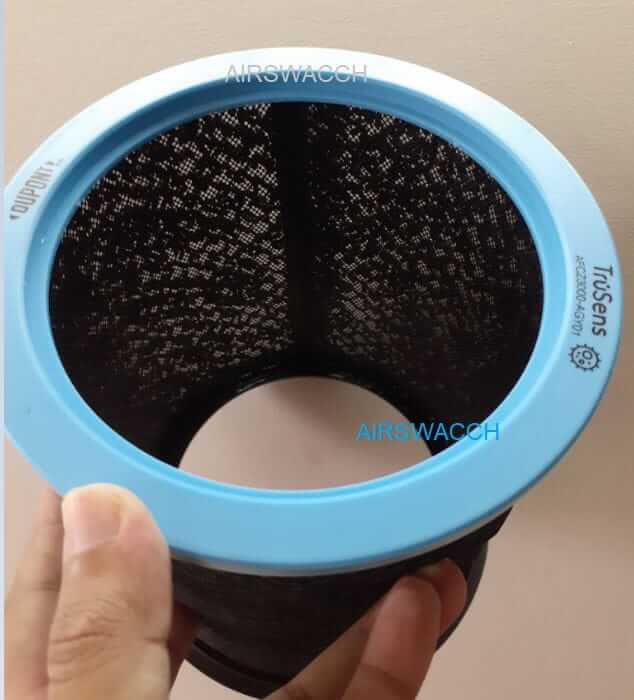 Really,  DuPont as big a name it is; has manufactured remarkably high-grade filters!
---
3. TruSens Filter For Pets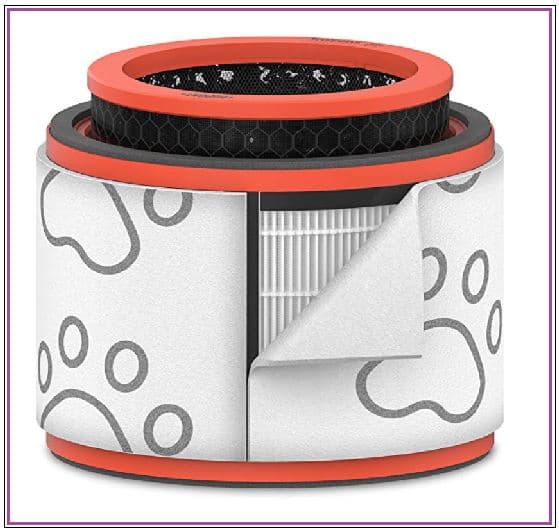 This filter is carved out for pet lovers and owners. Pet dander is something all homes with pets abound in. Not just dander and mites, such homes have a peculiar smell which an outsider can immediately feel. It all depends on the hygiene of the pets and their owners! Still, this filter would help reduce the lingering odors of pets like the quintessential wet fur smell in rainy seasons and so on.
CHECK ITS PRICE
How Is It Different Than The Odor & VOC Filter?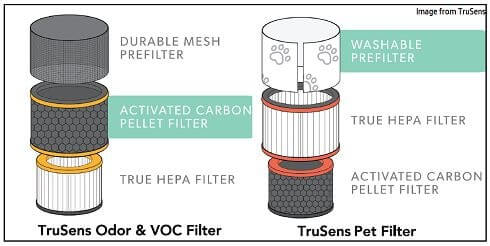 You may think that why is this filter dedicated for pet odors while even the TruSens Odor & VOC filter has the same constituent filters. Well, you are correct in thinking so except that there is a minor difference. The TruSens Pet filter has a cotton pre-filter while the Odor & VOC filter has a mesh filter of nylon.
The cotton pre-filter is detachable and is washable. Not so with the TruSens Odor & VOC filter's pre-filter which is all fused with the main filter.
There is a difference in the which is the second or middle layer in the composite filter. The pet filter has the True HEPA layer between the pre-filter and the activated carbon filter. Correspondingly, the Odor & VOC filter has the activated carbon filter flanking the True HEPA filter.
Hence, you can think of the pet filter as prioritized for removing pet dander and then counter the odors.
The dimensions of the Odor & VOC filter are marginally greater.
---
4. TruSens Standard HEPA Filter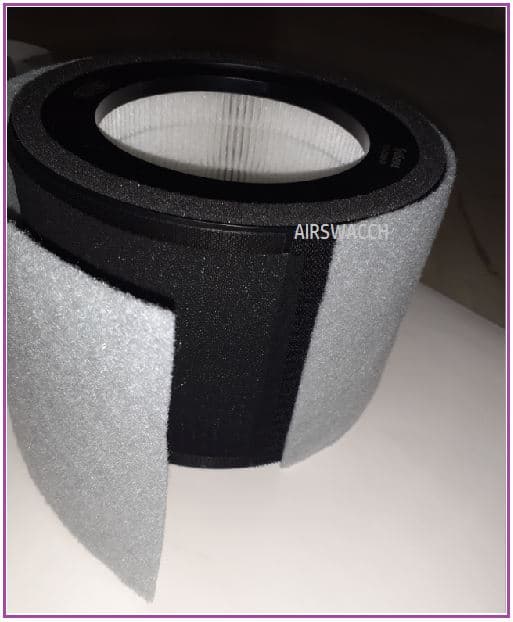 This TruSens Filter is the one which comes with your air purifier by default. As this is not a specialty filter, its price is the cheapest of them all. TruSens air purifier filters may not appear to be very pocket friendly to some. But, what if I tell you that their superior quality offsets the need for buying replacement filters frequently? Quality comes with a price and when you are getting a product manufactured by a company none other than DuPont, you would understand.
My experience in talking to actual and potential air purifier users concludes that no one likes the replacement filters to be too costly. They tend to look for 3rd party compatible and cheaper replacement filters which may be a compromise in quality. My advice to such people is not to fall in this vicious mindset. Whats an air purifier without its filters. Its the filters' quality and design which DEFINE an air purifier. Minus the filter and an air purifier is just a fan. A classy air purifier as the TruSens deserves nothing less than original DuPont-made Filters!
CHECK ITS PRICE

Its carbon filter is not of much superior quality. If you want TruSens filters with top class activated carbon, you now already know which ones to buy separately, right! In terms of HEPA filter quality and performance, the standard and the specialty filters are at par. All of these filter out 99.97% of particles from the air which are sized 0.3 microns or larger.
IMPORTANT NOTE
Please note that for filters that have been covered above, you cannot use their components interchangeably The filters can only work with its own set i.e. the Pet carbon filter with the Pet HEPA filter and the Allergy & Flu carbon filter with the Allergy & Flu HEPA filter. The specialty filters cannot be used with the standard filters too i.e. the standard HEPA filter will not work if paired with a Pet/Odor & VOC/Allergy & Flu carbon filter.
CONCLUSION – TRUSENS FILTERS
TruSens has all the use cases covered with their filter types. The company frequently rolls out newer air purifier models and filters as well. Its upto the user to decide which pollutant is their greatest headache. As an advice, after the standard filter which comes inside your air purifier is exhausted, get a specialty replacement filter. They may cost more than standard filter but are totally worth it.


You May Like These Similar Posts From AirSwacch!