Air purifiers for medium size rooms are practically the most reasonable to buy. They can cater to such medium rooms and also be used for small or large rooms. TruSens air purifiers from ACCO Brands come with a couple features found nowhere else. This TruSens air purifier review serves to introduce it to you in detail. There are three models from the company currently with varying coverage areas. For upto 375 sq.ft. spaces, they have TruSens Z-2000 air purifier. An extremely popular air purifier with comparable coverage area is the Coway Airmega 150 air purifier. Come, lets see what TruSens Z-2000 review has to offer. Whether its something you should invest your money in or not, lets find out! This post is a true sense air purifier review as some people vaguely call it.
TRUSENS AIR PURIFIER REVIEW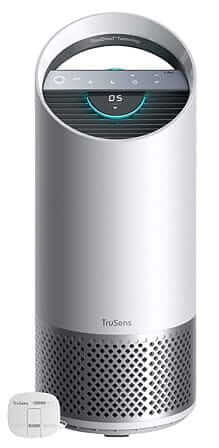 TruSens Z-2000 is a tall and compact air purifier not taking much floor space. This is anyways the good thing about cylindrical air purifiers. They are visible enough to show off their looks. Another common feature found in such shaped air purifiers, is the 360° air intake design. Here the air purifier pulls in air from all directions into its filter. The airflow is still bottom-to-top. TruSens has tried to make itself stand out of the crowd is many ways. This is true for the looks, console design, airflow and air filtration stages. However, it evades any logic why the company has chosen to compromise on a very crucial part of any air purifier, the HEPA filter.
Coway Air Purifier India model AP-1018F (Airmega 200) is the Bestselling air purifier for a comparable price range.
TRUSENS Z-2000 PRICE
The price of TruSens air purifier's model Z-2000 is bordering the line separating reasonable with overpriced. On one hand you get innovation in it coming in the form of a SensorPod and UV lamp. In the same breath it doesn't have a true HEPA filter. The company stresses over Dupont being the manufacturer of their HEPA filters. Its a different story that you can purchase the more efficient true HEPA filters separately. Why in the world can they not give a true HEPA filter in the medium and small models? Their TruSens Z-3000 is the only one equipped with a true HEPA.
TruSens Z2000 air purifier can cover up to 35 square meter area or roughly 375 ft². If you finally decide to bring this home, it would look a great addition aesthetically. No marks cut in the looks department. A device which occupies your drawing rooms or halls must look great too right! There are models out there which look like a blot even though they may work fantastically. Overall, Z-2000 is a decent air purifier with no real shortcomings except a few.




DESIGN AND LOOKS
You can get a detailed feel of the looks and design in our  Unboxing TruSens Z2000 Air Purifier post! Air purifiers with color LEDs depicting the air quality are quite common these days. Fewer models from brands choose to show you the real-time PM2.5 reading in numerical format. All this works through LASER or infrared sensors. The more the number of sensors, the greater the overall price of the air purifier. In 2019, TruSens was awarded the 'Red Dot Award for Product Design'. So, there must be something unique in the design which won it this accolade. First thing which is clearly novel is the way TruSens Z-2000 air purifier monitors the air quality.

TruSens Z2000 air purifier has both color-coded and numeric response to air quality. The difference lies in the location of the sensor which is a separate module here. The SensorPod as it is called is to be placed away from the air purifier machine. The idea is to let it measure the air quality in remote corners of the room. Whatever feedback the air purifier receives from the SensorPod makes it to adjust its fan speed accordingly. The filter is to be placed from the bottom portion which comes out easily. Air from the room reaches the filter through the bottom with a perforated grill. In such air purifiers, you should try to save the device from direct dust or dirt. Purified air exits the air purifier from the top and splits into two air streams. This is possible through the proprietary PureDirect™ technology.
---
You have a handle to lift the TruSens Z-2000 weighing just 4.1 Kilos. A strip with mildly contrasting colors hosts the buttons atop with background light. The air quality indicator LED beneath this strip lends the much needed colorfulness. As the air purifier runs the air quality improvement is visible qualitatively through the color changing LED. Quantitatively, the numerical readings (which I personally like analyzing) are also shown. Design-wise, it is similar to the TruSens Z-3000 series without any changes expect for the size and coverage area.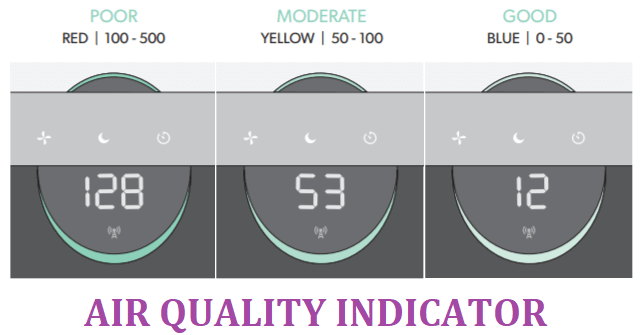 TRUSENS Z-2000 SENSORPOD
The Sensor Pod is one of the two hallmarks of TruSens air purifiers, the other being the Ultraviolet lamp. Both Z-2000 and Z-3000 models feature this sensor device. This SensorPod is a remote air quality monitor. It senses the pollution level where you keep it and makes the air purifier to adjust its working. In any given air purifier, the sensor is situated anywhere on the air purifier's body itself. Not just regular information, this TruSens Air Purifier review would tell you how to setup the SensorPod as well.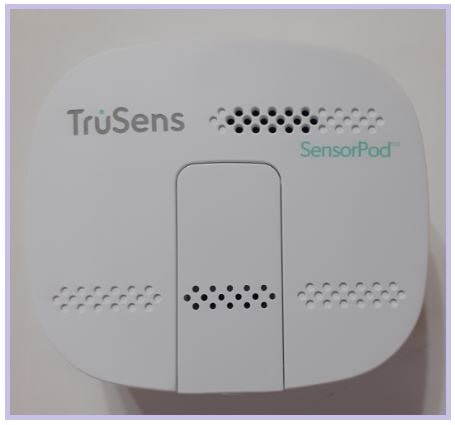 SensorPod Setup
Place the SensorPod™ upright on tabletop or counter across the room and power it up with the adapter.
The SensorPod can only be placed upto

15 meter

away from the air purifier. You may need to adjust its distance from the air purifier incase the two devices cannot exchange signals. As a rule of thumb, place the SensorPod within line of sight of the purifier.
Plug-in your air purifier unit and power on. Place the purifier on a flat surface, free from obstructions.
When the SensorPod is connected to the air purifier, the signal symbol shows solid light otherwise it keeps blinking.
When properly paired the air quality indicators also turn on.
For accurate pollution sensing, you'll have to clean the surface of the dust sensor within the SensorPod every 1-2 months.
DIMENSIONS
The TruSens Z-2000 air purifier weighs just 4.1 Kgs which is light for a medium room air purifier. The air purifier is quite tall and cannot just be placed anywhere. It does have a 360 degree air intake but still you should place it away from congested spots in the room. Allow it some breathing space in all directions so that you can breathe better! TruSens Z-2000 air purifier has cylindrical dimension as follows-
223 x 223 x 567 mm
Being cylindrical in shape, it takes a circular footprint on the floor. If you ask me it is very compact and you need not create 'space' for placing it.
TRUSENS PUREDIRECT™ TECHNOLOGY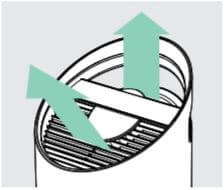 TruSens Air purifiers all use a different mechanism to spew out purified air. PureDirect™ technology as they call it splits the air into two streams. One stream goes vertically upwards and the other is released at an angle. The reason the company explains for this is to ensure that the airflow stirs up every place in the room. This is yet another innovative feature adoring the TruSens air purifiers. Conventional air purifiers just throw the air vertically up. An unequal volume of these streams creates a looping airflow bringing in air towards the air purifier and back.
COVERAGE AREA & ACH
TruSens Z-2000 has been called an air purifier for medium size rooms. But, is it really so? I would call it an air purifier for smaller than medium size rooms i.e. upto 200 sq.ft only. The reason to this deviation from what is advertised (375 sq.ft.) lies in the ACH value. TruSens Z-2000 can only produce 2 Air Changes per Hour for 375 sq.ft area. This is not what the definition of healthy and clean air is. An air purifier must have an ACH of atleast 4 if not more for a given coverage area. Anything less than that is less than the ideal.
Hence, Yes! for an area of around 200 sq.ft. this air purifier does full justice. Nowhere in this TruSens air purifier review would you see the CADR of Z-2000 model. The company has not obtained any CADR rating from AHAM. In a way it is downright annoying. I feel users nowadays are aware of industry standards and do look for them in product descriptions.
TRUSENS Z-2000 FILTERS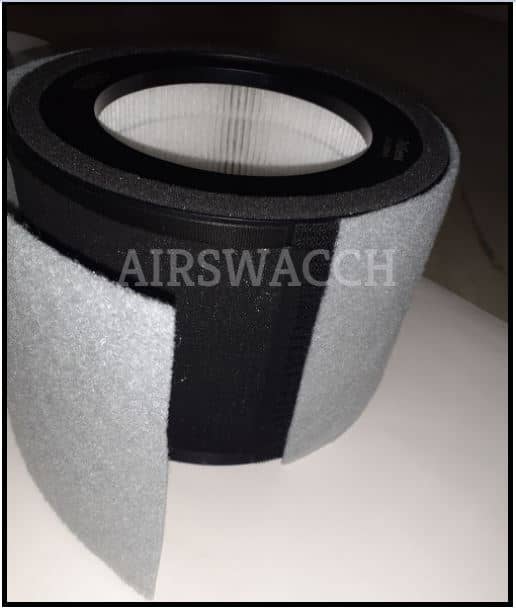 The picture above is that of the Standard filter which combats particulate matter as well as odors. Its a jack of all trades and master of none. TruSens air purifiers use cylindrical multi-layer filters comprising of 4 stages. The first layer is the washable pre-filter which you should wash monthly if not sooner. The second layer of the carbon filter is non-washable. Lastly, the HEPA-type filter drum forms the innermost layer of air filtration. There is an ultraviolet lamp placed on the axis of the filter drum. It is not a filtration stage per se but a sterilization stage. It serves to kill germs which may have grown over the filter surface. The company has brought out special TruSens Filters to combat Flu/Allergies, Pet odors, Dust and so on.
Take for instance their new Allergy & Flu Anti-Viral HEPA filter. Silver has innate anti-microbial properties as it is the best conductor. This filter uses this nature of Silver in this filter which has a coating of it.
Also, TruSens has an Odor & VOC filter with True HEPA if foul odors is what you are wary with. It helps remove odors from cooking, pets, or other volatile organic compounds. Freshly painted houses, furniture, or cleaning from chemicals can make the home smelly continuously.
TruSens has also introduced specialized Pet filter to combat pet fur, dander and odors. Remember how smelly the pets can get in rainy season? This filter has a better carbon filter and contains pellets of carbon inside. Plus, the pre-filter is made of cotton which due to its nature attracts pet dander onto itself.
---
1.) Pre-Filter
A pre-filter is normally washable multiple times in all air purifiers, same here. When the condition demands replacing the pre-filter, it just can be peeled off. There are fastener strips which keep it in place on the filter drum. The pre-filter traps things like hairs, pet dander, cloth lint, and other larger particles. To keep the filters in a healthy state and not getting choked, you must inspect the condition of the pre-filter. As there is no separate replacement indicator for the pre-filter, check it every month. A clean pre-filter goes a long way in keeping the air purifier's efficiency from deteriorating.
2.) HEPA-type Filter
Our only rue for this air purifier is the filter it uses is not a True HEPA filter. Dupont, a giant company builds these filters but what's the use?  For a true HEPA filter, it is well-known that it has a 99.97% efficiency in removing airborne particles of sizes 0.3 microns or more. As TruSens Z-2000 only uses a HEPA-type filter, the company is silent on the efficiency (90% ? or 95% ? or what).
Do you want to experience what the highest H14 Grade True HEPA filter can do? The only company I've seen which uses H14 grade filters in their air purifiers is Sharp. Sharp FP-FM40E-B air purifier doubles as a 200 sq.ft. air purifier (ACH=4) and as a Mosquito catcher among a host of other features. It is one air purifier I strongly recommend buying.
3.) Activated Carbon Filter
The DuPont activated carbon filter also comes out if you peel it at the time of replacement. A separate indicator warns you to check or replace it periodically. It removes household odors, Volatile Organic Compounds (VOCs), HCHO and ammonia from the air.
4.) UV-C Sterilization
Here, a UV-C bulb irradiates ultraviolet light which is well-known for its germicidal action. To use this lamp is totally optional and is independently operable from the air purifier. Ultraviolet light is dangerous for the eyes and skin. In no case should you try to view the UV bulb with a naked eye. Although the bulb is hidden from your view completely but still it is important to mention. No matter what, never be nearer than 20 cm from the lighted bulb. The UV bulb price is not very costly if you are curious but yeah costlier than a normal tube-light. It has an average life of 2 to 3 years.
The Ultraviolet light can be of varying wavelengths and typically UV-A, UV-B and UV-C are the known types. Out of these the UV-C is the one with the shortest wavelength. UV-B is beneficial for creatures as it promotes production of vitamin-D. On the other hand, UV-C light is what is used for disinfection of surfaces and articles. This light damages the DNA of bacteria and viruses. Thankfully, life on Earth is thriving because of the Ozone layer above our atmosphere which stops the UV-C radiations only. You need not worry from the UV-C bulb inside the TruSens Z-2000 filter. It is sufficiently concealed from our view.
FILTER REPLACEMENT
Periodic replacement of filters is a necessity and cannot be avoided. It does pinch all of us to shell out more money. And in TruSens Z-2000 there are 3 replacement indicators which glow when any of the HEPA, carbon or the UV bulb nears or reaches end-of-life. The price of the HEPA filter drum is definitely more considering its not even true HEPA. The carbon filter strip can also be bought separately.
In course of a single replacement of the HEPA filter, you would have changed the carbon filter thrice. The HEPA filter lasts anywhere between 12-15 months depending on the air quality and your upkeep. In every case after replacing the filter or UV bulb you'll need to press the Reset button.




---
CONTROL PANEL – TRUSENS Z-2000 REVIEW
The control panel has light touch buttons and are backlit. Any indicator when goes off is clearly noticeable in a discreet red font. Various LED lights show whatever settings you may have selected for example the 8 hour timer or the Auto mode. Below is a brief description of the various buttons on the console. Hope this TruSens air purifier review is successful in en-lighting you thus far?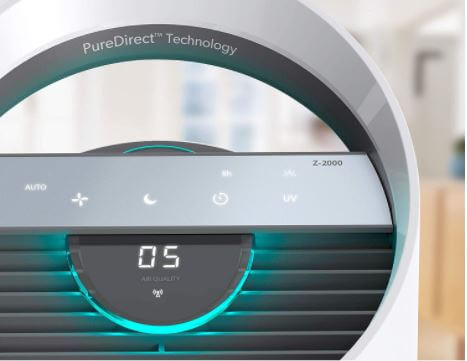 BUTTONS:
The ON/OFF button on the extreme left needs no introduction.
FAN SPEED –  You can set the air purifier's fan speed through this control. Should you want to make it run on top fan speed, low, medium or AUTO. The AUTO mode is dependent on knowing how exactly is the ambient air quality. Hence, it only works when the air purifier is paired with the SensorPod and the antenna symbol light is constant.

DIMMER

–  A dimmer is similar to the Sleep mode seen in most air purifiers. What it does for TruSens Z-2000 is to put off all the LED lights and AQI ring. This is useful when you are using the air purifier in your bedroom while sleeping. To turn things back to normal just press this button again.
TIMER – A choice between 2, 4, 8 and 12-hour timer options is available. Setting the timer for a particular duration helps save power. To cancel the timer simply keep pressing the button until none is shown.
UV – In between days of running the air purifier, you can turn the UV bulb ON. This bulb does its job within minutes so no need to keep it glowing continuously.
RESET – After replacing the HEPA, carbon or the UV bulb, this RESET button is pressed. This resets the air purifier counters and the replacement warning go away.
NOISE LEVEL
An air purifier's noise level while running is an important consideration. With what you hear from existing users, you can make up how silent or noisy a given air purifier is. The stated information of TruSens Z-2000 is between 33 – 64 dB. Indeed, 33 dB is quiet but we've seen noise levels as low as 22 dB in other air purifiers. This noise level can be described as close to Whisper.
Things get derailed at the highest fan speed for TruSens Air purifiers. A 64 dB noise is way too much for comfort during bedtime. I'd say it would not be easy to go to sleep with the TruSens Z2000 or Z3000 model running in top gear. This may be the result of using a DC motor instead of an AC motor. A DC motor makes more vibrations and is less efficient and powerful than an AC motor.
ADDITIONAL INFO
The Z-3000 consumes 68 W of power while Z-2000 consumes 28 Watts. I am not sure how this much difference is possible. The Sensor Pod can be placed at a maximum distance of up to 49 feet. This is enough to cover the diagonal width of most rooms. The idea is to have a clear line of sight devoid of any obstructions like walls in between the air purifier and the SensorPod.
CONCLUSION – TruSens Air Purifier Review
The TruSens Z-2000 air purifier impresses with its looks and features. The SensorPod and PureDirect™ technologies are truly path-breaking. Throughout the length and breadth of this TruSens air purifier review, I've shed light on every aspect of it. Without a shred of prejudice or bias, you have been shown the true picture. Had there been a True HEPA filter in there, I would have recommended them wholeheartedly. This being said, there are hundreds of reviews and ratings online which attest to their working well overall. Their flagship model the TruSens Z-3000 air purifier is the most cost effective and optimum model.
If living in India and looking for a "great air purifier you won't regret", go for Coway Airmega 150. Replete with advanced features seen nowhere else and these innovative features make TruSens air purifiers second to none. If looks, or showy features do not matter much for you then I can make likewise recommendations. For getting the best quality air out of the air purifier, go for Sharp air purifiers which are not only advanced but use the highest quality True HEPA filters. Sharp air purifiers are Japanese just so you know.
That's pretty much it in this TruSens Z-2000 review post. Hope you found it informative and I'd like to thank you for visiting AirSwacch!
NEW ARRIVAL MODELS IN US
Trusens Z-2500 is the company's newest Smart WiFi Air purifier which works with Alexa. With the App, you know your indoor and outdoor air quality in real-time. You can keep a track of the Air Quality Index (AQI) history, set up schedules and to get reminders for replacement of the filters and UV bulb.
You May Like These Similar Posts From AirSwacch!