When it comes to air purifiers, you cannot be too sure of your choice. There are newer models arriving at the scene almost everyday. Models popular in other countries are continually making their way into India. India is the world's biggest market (and fast growing) for reasons everyone is aware of. This Coway vs TruSens Air Purifier post tries to capture the difference between these two air purifiers. Coway needs no introduction and is the Best Air Purifier in India. If you have invested even a small bit of time in researching air purifiers, it must have appeared prominently in search results. Why I chose to compare Coway Sleek Pro and TruSens Z2000 is because of their newness in the Indian market. Coway AP-1009 completed two years of its arrival on Amazon in October 2020. This model is no longer available as it has given way to the Airmega 200. TruSens Z2000 completed a year in August '20.
In this Coway Sleek Pro vs TruSens Z2000 post, I'll highlight their differences very minutely. I am sure it'd help you in making an intelligent buying decision.
COMPARE COWAY vs TRUSENS AIR PURIFIER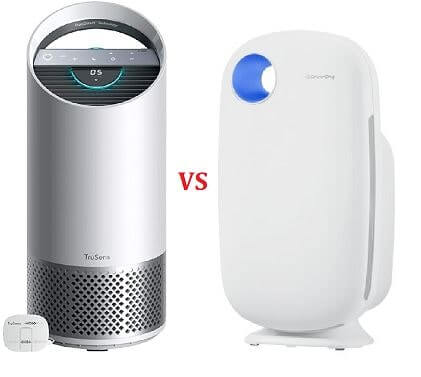 Both Coway Sleek Pro and TruSens Air purifiers are very different and yet so similar. Confused, how it can be so? Take an example, TruSens Z-2000 has a fancy touch screen control panel. Coway Sleek Pro only has push buttons which you can call old school. However, look at their performance! No one can belittle anyone of these models.
Indian market is so complex that no single formula of pricing, models in catalog, or strategy can be considered a surety. TruSens has kept their brood short and unambiguous with three models. The TruSens Z-3000 is the flagship model followed by Z-2000 and Z-1000. Obviously it covers a greater area and have more features compared to the other two models. Even Coway company maintains an array of air purifier models, but not many in India. Coway Sleek Pro AP-1009 is the most popular air purifier in India selling like hot cakes on days of sales or discounts.
PRICE COMPARISON
The initial price gap of around ₹1,500 or so is totally justified. I would call the Coway Sleek Pro over-priced. This makes both of these air purifiers a rather costly affair to own and maintain. In terms of return over investment TruSens Z-2000 leads Coway. This is so because TruSens Z-2000 is contemporary while Coway AP1009 is like a dinosaur when it comes to its features. TruSens Z-2000 has a real-time digital pollution display which shows the particulate reading very discreetly. Both have a color coded air quality feedback. Z-2000 intakes impure air from all sides courtesy its 360º design, not so in Coway. Z-2000's touch screen control panel looks suave and elite. Looks and feature-wise TruSens Z-2000 definitely wins hands down. Who can fail to notice the SensorPod for remotely managing the TruSens air purifier!
This has nothing to take away from the magnificence of Coway Sleek Pro. No one can deny its superb air cleaning and cute looks especially when it is showing the AQI LEDs. Coway's customer and after sales service is highly rated. Hence, from the standpoint of service quality and air filtration, Coway is a clear winner.
---
PRICE ON AMAZON
---
COUNTRY OF ORIGIN
TruSens is an American subsidiary of a large conglomerate. Its air purifiers are Made in China. On the other hand, Coway air purifiers are all Made in Korea. Anyone having a shred of nationalism would shun all Made in China products, but that's my personal opinion. I can't help but I am very sensitive for my country.
---
CONTROL TYPE
TruSens Z-2000 has a slanted control panel with a touch panel aboard. The buttons are back-lit and very sensitive to touch. The semi-circular color LED shows the air quality changing colors. The real-time PM2.5 display is something I miss so much in Coway Sleek Pro. TruSens Z-2000 is definitely technology rich. An air purifier's features can easily be judged from its console. Apart from the PM2.5 meter, TruSens also has a UV sterilization lamp inside its filter cavity. You can choose to turn it ON/OFF at your free will if you are concerned about Ozone. UV-C light can produce trace amounts of ozone gas but its given to decontaminate the filters. Coway Sleek Pro lacks a Timer.
In terms of functions, not much difference here. Coway Sleek Pro doesn't have a Timer, Philips has a 1 -12 hour timer.
DIMENSIONS
| | | |
| --- | --- | --- |
| Coway Sleek Pro vs TruSens Z-2000 Dimensions | 666 x 335 x 205 mm | 567 x 223 x 223 mm |
TruSens Z-2000 air purifier is a feather weight air purifier with pure convenience in lifting it up with its handle. Coway too has a provision to lift it at the back but is heavier. Contrast TruSens' 4.1 Kilograms with 5.9 Kgs of Coway Sleek Pro. Note that I am writing the device weights here without packaging. Coway too cannot be called heavy as such and is compact alright. But, TruSens Z-2000 takes a minuscule floor space owing to its cylindrical design. The filter too is cylindrical.
COVERAGE AREA
An air purifier must be able to clean the air purifier of its rated coverage area efficiently. Any not just clean the air, but clean it many times over in an hour. This is called the ACH (Air Changes per Hour) and must be above 4 times for good air cleaning. The coverage area of Coway Sleek Pro vs TruSens Z2000 varies greatly in this regard. The Coway Sleek Pro is capable of effecting 4 air changes per hour. While TruSens Z-2000 does this only 2 times (ACH=2 for 375 sq.ft area).
Coway Sleek Pro ->
355 sq.ft. (ACH= 4)
TruSens Z-2000 Air Purifier ->
190 sq.ft. (ACH= 4)
TruSens has a lower fan power compared to Coway. You can see my experience of using the TruSens air purifier . It can clean air 4 times per hour only when used in a smaller 190 sq.ft. room only. A huge difference between Coway and TruSens this is. Coway is definitely better.
CADR (Clean Air Delivery Rate)
CADR is the volume of purified air circulated by the air purifier in an hour's time. On this parameter Coway AP-1009 has a CADR of 303 m³/h. The CADR rating of TruSens air purifiers is nowhere mentioned even on their company website. This raises doubts as getting a CADR rating is an air purifier's identity if nothing more. Originating from an American company and being manufactured in China, it a surprise.
REAL-TIME PM2.5 DISPLAY
TruSens Z-2000 gives an accurate reading of PM2.5 concentration. This means its sensors are high quality and even its color LEDs show the correct air quality level. TruSens Z-2000 wins over Coway in having an advanced air quality monitoring system via a SensorPod device. This device is kept distant (maximum 45 ft) from the air purifier but is still connected to it. It senses the air quality away from the air purifier at far corners of the room. With the feedback it gives back to the air purifier, the fan speed is modulated. A very innovative and cool feature found in no other air purifier I've known.
Coway Sleek Pro just has a cavity where an LED depicts the color coded air quality feedback.
AIR FILTRATION- TruSens vs Coway
One may think that the filter is smaller in TruSens. It definitely is smaller compared to Coway and I've calculated the exact figures for you. TruSens Z-2000 filter has a 784 cm² surface area. For Coway Sleek Pro this value is 1003 sq.cm area. Hence, even though TruSens has a 360° air intake, its filter surface is much smaller.
TruSens Z2000 sucks in air from all around it which is a good thing. Infact, this is growing trend in latest air purifiers to have a cylindrical shape and likewise filters. The PureDirect technology splits the purified air into two streams for better airflow. It works to divide the air in 70:30 ratio in the two directions.
Coway Sleek Pro ingests air from the front side slits and coughs out purified air from the top backside.
---
FILTER QUALITY
This is where things start to tilt heavily towards Coway Sleek Pro. I've already updated above how its filter surface area is larger compared to TruSens Z-2000. Here, you need to know of the most important thing. TruSens Z-2000 does not have a True HEPA filter. It only ha a HEPA-type filter. This is something unexpected for a costly air purifier that it is. Even cheaper air purifiers from MI like MI Air Purifier 2C, or the Sharp have True HEPA filters of superior grade.
Coway thankfully uses a True HEPA filter which also has anti-flu coating over it. Even Coway's carbon filter is way better in quality. TruSens projects its HEPA filter manufactured by Dupont along with the SensorPod works very well. Dupont is the world leader in chemicals and the founding company of nylon. Even TruSens has a range of specialized filters for pets, odors etc. Coway's HEPA filter has a special green coating extracted from Gingko and Japanese Sumac plants. What can be more useful than having filters which combat viruses. This Coway vs TruSens air purifier battle is going neck to neck right?

TruSens also has an answer to the Green Catechin coating over Coway's HEPA filter. An Ultraviolet lamp on the inside of the HEPA filter eliminates any germs which may develop on the filter surface. Apart from the risk of production of harmful Ozone gas, in totality it is a useful feature.
NOISE – COWAY vs TRUSENS AIR PURIFIER
Coway Sleek Pro AP1009 wins over TruSens Z2000 in being a lot quieter. In its lowest fan speed, Coway makes just 22 dB noise as compared to 33 dB Z-2000 makes. The real difference comes to the forefront at the Turbo mode fan speed. At the highest fan speed TruSens can get really noisy. No one can sleep while having TruSens 2000 knocking at 64 dB. On the other hand Coway Sleek Pro makes just 45 dB noise. Difference is crystal clear once again.
---
FAN SPEEDS
TruSens has 4 different fan speed levels. You can adjust the fan speed to choose between Level 1, 2 or Turbo mode. If the device is connected properly to the SensorPod then only the AUTO mode is functional. In this mode, the air purifier changes its fan speed on its own with varying levels of air pollution.
Coway Sleek Pro has 4 speed levels to choose from. Speed level 1, 2 , 3 and a Turbo mode. An AUTO mode can also be turned ON with a button on the console.
TIMER
Coway Sleek Pro air purifier does not have a Timer.
TruSens Z-2000 have a choice of 2/4/8/12 hour timers.
WiFi And APP Connectivity
Neither Coway nor TruSens Z-2000 has any mobile APP support. Coway as I said before is very simplistic with nothing showy except for its looks and performance. You can think of TruSens having Bluetooth capability but for internal use only. This is how it connects to the SensorPod.
CONSOLE/AQI LIGHTS OFF/DIMMING
Coway Sleek Pro has a MOOD lamp button for turning off the LED lights during night or sleep time. Without compromising on the functionality, the air purifier continues to work normally with the lights OFF.
Similarly, TruSens Z-2000 has a DIMMER button on the console to as well.
POWER CONSUMPTION
TruSens is more power efficient that Coway. Coway Sleek Pro consumes 49 W as compared to 28 W power of TruSens Z-2000. This is one each of them is running at top fan speed.
WARRANTY
Coway offers a 5 years warranty on the fan motor and 1 year warranty on electrical parts. Any physical damage to the air purifier body is not covered in warranty. TruSens offers 2 years International warranty.
Coway as you've seen throughout this article is minimalist in design. More sophistication adds to scope of malfunction and headaches. Coway is tried and tested in the way they provide their after sales support. Users have appreciated the way their issues have been resolved by Coway. Not very much is known about TruSens in this regard.
VERDICT – Compare Coway Sleek Pro And TruSens Air Purifier
Coway Sleek Pro air purifier has superior quality filters which clean better and come cheaper. It is the most loved air purifier in India right now and anyone with the requisite budget is choosing to buy it. TruSens would take time to catch up to the Indian market. From the looks of it and also due to the price, it isn't a fraction as popular as Coway.
TruSens Air purifier covers larger area for a lower number of air changes per hour. But, it is more stylish and feature rich than Coway. Special TruSens Filter arrivals can be procured for removing pet odors or VOCs better. A remote SensorPod adds to its charm and is indeed a helpful feature which improves the working. An additional Timer and UV lamp give it a functional edge over Coway Sleek Pro. But, If I were to give an opinion, I'd still say to go for Coway. I hope you found this Coway vs TruSens Air purifier comparison interesting. I also hope that your questions and doubts related to these two air purifiers are cleared up now? Thanks for stopping by.
You May Like These Similar Posts From AirSwacch!