Our last post was dedicated to the Levoit LV-H132 Review. Levoit has a number of air purifier models, right from LV-H132 to LV-H135. One expects a gradual increment in features and value as one progresses from H132 to H135. But, the Levoit LV-H133 is hugely better and advanced than the meek air purifier, the LV-H132 is. This post is devoted to the Levoit LV-H133 Review. You may conclude at the end of this post that Levoit air purifiers are a serious buying option. Atleast I feel the same. Look at their large catalog of air purifiers. I was pleased to see noticeable differences and improvements in design from model to model. This is unlike the Alen BreatheSmart range of air purifiers, which look so similar. Alen, their company has to write down the model name on their air purifiers to differentiate various models clearly.
LEVOIT LV-H133 AIR PURIFIER REVIEW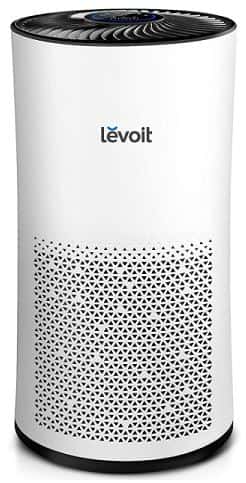 The Levoit LV-H133 model is meant for medium sized rooms. This air purifier also carries forward the cylindrical design that most other Levoit models sport. I personally like such round shape for two good reasons. One is the minimal floor space such air purifiers occupy. Secondly, this shape means that the air purifier is high. A tall air purifier, preferably having a tower design is the best design. This for the reason that being tall helps maintain good air circulation bypassing household clutter.
The Levoit LV-H135 is the newest entrant in the Levoit family. Its shape is different than the rest with its cuboid body. Even so, its filters are still cylindrical promoting a 360° air intake. This Levoit model reminds me of the hugely popular Medify MA-40. See for yourself how similar in specifications and cost these two models are.
The Levoit LV-H133 is a tad older model been introduced in 2018. Since then it has been superseded by newer and more advanced models. Still it holds its fort as a very good air purifier for medium room sizes. How users perceive this model can be deduced from its ratings on amazon. Its price has seen a huge slide since its debut. Its a matter of time when you see even more reduction.




The Winix HR900 air purifier has the exact price tag but a fraction of the coverage area. It has an ionizer feature though which some users look for.
DESIGN AND LOOKS
Levoit LV-H133 has an all plastic body. I suppose that would be ABS plastic which is durable and tough. The top of the air purifier is where its beauty and charm lies. The middle of the top face is where the LED panel is situated. You get the air quality feedback with the sensors accurately rendering the particulate density in the form of numbers. The digital air quality indicator is a welcome feature. Many air purifiers feature only a color LED based air quality feedback. Here you get the best of both worlds.
The Levoit LV-H133 has the shape of a minaret and an uncanny resemblance to the LV-H132 model. Given the fact that LV-H133 is the Bestselling HEPA air purifier, how can the shape of LV-H133 be something to complain about? I had a complaint about how the filter and input vents in LV-H132 were very near to the air purifier's base. That flaw of sorts has been corrected in the LV-H133. Here the input vents are numerous and in the shape of a square mesh.

The filter however is a cylindrical shaped one which gives an impression as if the air purifier would have a 360° air intake. This is not to be, as is clearly visible from the images. I fail to understand how would the lateral sides of the filter contribute in cleaning the air. Unless the filter is on a turntable which rotates while the air purifier is ON, how will air pass through all of the filter? So, I can say that this air purifier does not fit the bill to be called a 360° air intake air purifier. The posterior side of the air purifier also has a mesh, for your information.
DIMENSIONS
Owing to its cylindrical shape, the Levoit LV-H133 has a small footprint. It occupies just 12 inches across the floor. With a weight of 9.5 Kilos, I would have liked to see some sort of handle. I hope you are finding this Levoit LV-H133 Review worth your time?
COLOR OPTIONS
Like other Levoit air purifier models, Levoit LV-H133 is available in White or Black body.
CONTROL PANEL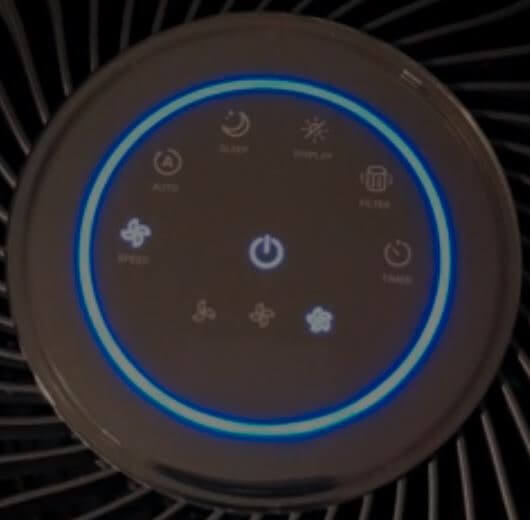 Levoit LV-H133 has an attractive control panel with a host of buttons along the circumference. These buttons are touch type and not press-type. The function of each of these buttons is as below –
Power Button

– Just in the middle of the control panel lies the Power button.

Fan Speed

– This control lets you make a selection of the fan speed. You can make the fan to run in one of the three fan speeds. All air purifiers having a tower design employ fans design similar to jet engines.

Auto Mode

– Turn on this mode and you air purifier operates with its own free will. Free will in the sense that it adjusts the fan speed in accordance to what the air quality.

Sleep Mode

– When you choose to run the air purifier in sleep mode, it dims the display LEDs. The fan runs in its lowest speed so as not to make any noise. As indicative from the name, this mode is suitable while going to bed.

Display Off

– Choosing this button turns off all the display LEDs thereof creating a conducive environment as far as sleep time is concerned.

Filter Change Indicator

– The Filter Change Indicator also lights up to let you know it's about time to put in fresh filters. The circular LED ring which normally is blue turns red when the filters need change.

TIMER

 – A time interval of 1 – 12 hours can be set through this timer function.
---
COVERAGE AREA
Simply believing the advertised coverage area of an air purifier is Harakiri. You should look for what coverage area an air purifier is rated for ACH x 4. Meaning, look for or ask for the room size that the air purifier is capable of cleaning its air atleast 4 times in an hour. If we take its ACH x 4 rating into account, Levoit LV-H133's coverage area is 538 ft². The corresponding rating for ACH x 2 is 881 ft².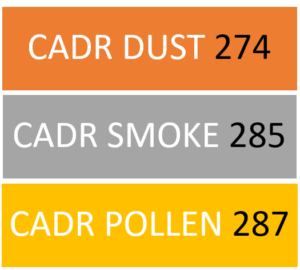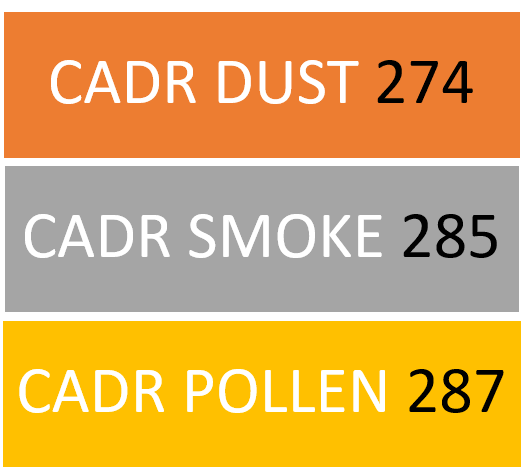 Compare this to the Blue Pure 121 Air Purifier with a strikingly similar coverage. Blue Pure 121 has close to 75% grater price and far less convenience features. Still, my motive to mention it here is just to apprise you that it is another hugely popular air purifier. Blue Pure 121 has a more powerful fan and hence far better CADR rating of 400 cubic ft/min. Also, it has an ACH x 5 for a greater 620 sq.ft. area.
LEVOIT LV-H133 FILTERS
All of Levoit air purifiers use high grade HEPA filters. There are various Grades of HEPA filters which denote their varying efficiencies for trapping particles present in the air. You must note that the HEPA filter is not just TRUE HEPA, its grade is H13. H13 grade filters remove all types of bacteria, tobacco smoke and viruses from the air. An inferior grade HEPA would remove pollen, dust, mold, mites, pet dander etc.
The composite filter is cylindrical and hosts three layers.
Preliminary Filter

– This is a new name given to the quintessential pre-filters. As most of you already know, a pre-filter captures large particles of lint, fibers, hair and fur. This filter should be frequently cleaned with a vacuum cleaner.

True HEPA Filter

– The primary filter upon which the air cleaning efficiency of an air purifier rests. I've already alluded to the fact that Levoit air purifiers use high H13 grade filter.

Activated Carbon Filter

– This layer behind the HEPA filter removes unwanted odors. Whatever be the type or source of the odors, this filter is capable of removing them. Paints, varnishes and even disinfecting, cleaning agents all contain solvents which release fumes of VOCs. Kitchen smells, smoke and VOCs are some of the pollutants carbon filter eliminates.
REPLACEMENT FILTERS
As for the replacement filters, I do see that a new filter is quite costly. Infact many users leave the idea of buying this air purifier just because of the high cost of the filter. I am sure you are an intelligent reader who would understand that quality comes at a price. Spare filters in the price range of $40 – $50 are common and do not give anyone jitters. A price topping $65 is only a slight deviation from the norm.

CONCLUSION
There are numerous air purifiers out there. Its a matter of luck I'd say to which brand and model you stumble upon. A user's impression of a device is so much dependent on how his experience goes with the first buy. I can confidently say users whose first air purifiers hailed from Levoit's factories, would mostly be happy and content with their purchases. I am sure you'd be one of them if you buy the Levoit LV-H133 air purifier, or any other model so to speak.
That's all in this Levoit LV-H133 Review. Hope you found it informative!

You May Like These Similar Posts From AirSwacch!