There are some air purifier brands which make a niche for themselves. People trust those brands and their products exemplify innovation and performance. Alen is one of the better known air purifier brands. Its air purifiers are much liked across America. This post, the Alen BreatheSmart Classic Review discusses this air purifier in depth. Worthy to mention here is that these air purifier units are meant to be used only in USA and Mexico. This is because of the voltage these air purifiers are cut out to work best for. Alen air purifiers are Made in China. No surprise here, China leads manufacturing everything (even viruses).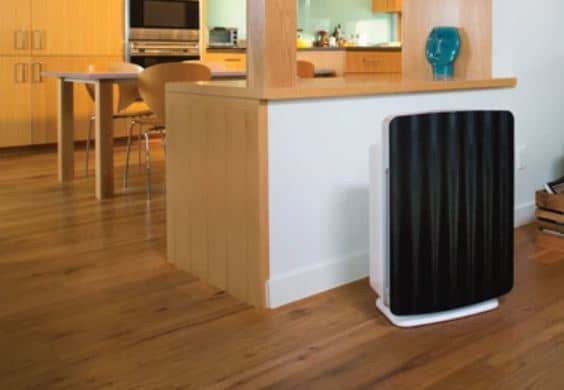 The Alen BreatheSmart Classic is meant for large and extra-large rooms. It is capable to clean the air of a room sized 1100 sq.ft a minimum twice in an hour.
Alen BreatheSmart Classic Review
COVERAGE AREA
The BreatheSmart Classic can cater to a room big enough to measure 1100 sq.ft. But, this is not for the usual 4 ACH ( Air Changes per Hour). This model cleans the room's air twice in an hour's time. By this calculation, it would clean air in a room sized 650 sq.ft 4 times in an hour. You can consider it if you have open concept indoors where rooms open into a large drawing room. Big bedrooms, living rooms, open office spaces, basements or similar setups are good candidates.
There are some very good air purifiers like the Coway Airmega 300S you may consider. This model from Coway is smart in the true sense of the term. Replete with an APP, WiFi, voice-control and much more. Within Alen's own catalog of models, only the BreatheSmart 75i has a larger footprint at 1,300 sq.ft.
BreatheSmart Classic Price
Personally speaking, I am not a big fan of big air purifiers. I prefer multiple smaller units which in my experience clean better. Having a single large air purifier is akin o putting all your eggs in the same basket. Price-wise there's nothing peculiar about the BreatheSmart Classic. It costs nearly the same as other air purifiers with this coverage area. Anyways, this model has been succeeded by the BreatheSmart 75i




What still compels me to speak favorably of any Alen BreathSmart variants is their FOREVER warranty. Here is what Alen says in a bullet summary.
If your home-use Alen air purifier stops working under normal conditions, then Alen guarantees to provide you the same or comparable refurbished purifier with free shipping. You have to call them at 800-630-2396.
Incase your air purifier is damaged due to any non-standard operating conditions, they would still help you. The company would replace it for half the current retail price plus applicable sales tax and shipping.
The company would ask you to click and send pics of the product label. Keep in mind that you should not let the label be damaged anytime. This is important to keep the guarantee intact. At a later stage, Alen representatives may ask to remove the label and again share a photo with them. This would remove the air purifier as a candidate for future guarantee claims.
Design And Looks
The Alen air purifier takes in polluted air from the bottom and front sides. It expels purified air from the top-back portion. The same classic design which most air purifiers you still in the market have. Although, since sometime 360° air intake air purifiers are replacing the conventional air purifier designs. The air purifier is just over 2 feet tall and less than 1 foot deep.
Alen BreatheSmart Classic air purifiers are not available in many colors. But, you can choose from 14 changeable color panels to change the look and feel of the air purifiers. This is a cool feature as you can adjust the front panel according to your indoors. The standalone air purifier does not look very great. You may want to own more such panels.

BreatheSmart Classic can be placed very close to the wall as it does not pull air from behind. But, for the sake of free-flow of air, try to leave atleast a foot around the air purifier.
BreatheSmart Classic Filters
The number of stages of filtration and the filter quality is what matters the most. What use is left of flashy consoles or great looks, if not for good air filtration efficiency? All the money you invest in an air purifier; the intent is to get pure air isn't it? For Alen BreatheSmart Classic, the number of filtration stages is 3. We have seen this count go up to 7 in some air purifiers. If we consider the ionizer as a filter stage, then Alen BreatheSmart air purifiers have 4 stages.
HEPA FILTER
Alen gives you a choice of 4 types of HEPA filters in BreatheSmart. The most important thing to note here is the grade of the HEPA filter. Alen BreatheSmart uses TRUE HEPA filters now. Earlier they used inferior HEPA-type. The company used to give its own good reason for this choice as if its a deliberate decision. But, I didn't agree with it wholeheartedly. Surely the air purification efficiency was compromised. The reason Alen stated for this choice of HEPA-type filter grade was to ensure better air flow. True HEPA is denser and restricts free flow of air Alen said.  Now that they have made amendments, I wonder why this change of heart now?
CHOOSE THE BEST HEPA FILTER FOR YOU
HEPA PURE
You should make a choice for this filter type if dust and other airborne allergens are your worst problems. What you get is a HEPA filter with extra layers to trap pollen, dust, pet dander etc.
Patients of allergies should prefer this type of filter. The allergies may be due to pollen, pets, dust or mites.

HEPA PURE filter is the default filter and unless you explicitly choose other types, this is the one you get. A pre-filter layer is also present in this filter frame.

The HEPA PURE filter is a HEPA-type filter and not a TRUE HEPA filter, mind you. It will filter dust and allergens to ease allergies and seasonal respiratory problems.
HEPA SILVER
This filter type is for those who are extra prone and hypersensitive to the ill-effects of pollutants in the air. The HEPA SILVER filter literally has a layer of silver metal. Silver, if you do not know is the best conductor of electricity. Pathogens like bacteria cannot survive on silver surface.
FIRST LAYER - A pre-filter to act like the first barrier to stop larger dust, hair and fibers. A pre-filter saves the inner filters from getting clogged with particles which mopping, and vacuum cleaning would have removed.
SECOND LAYER - The layer which makes this HEPA filter separate from the others. Here

bacteria and mold spores lose their lives

.
THIRD LAYER - This layer comprises of the HEPA Pure filter. Arrestance of  dust, mites, pollen and other airborne allergens happens here.
FOURTH LAYER - To remove odors and smells from the room's air, a carbon layer is present in the HEPA Silver filter.
HEPA FRESH PLUS
Households which are freshly painted abound in VOC's (volatile organic compounds). So do air in homes which have new furniture or old furniture varnished. People who find smells of paint, or air fresheners as irritants should prefer this filter type. Even areas which see smoke due to wildfires or fumes from a smoker find good use-case.
FIRST LAYER - A pre-filter to act like the first barrier to stop larger dust, hair and fibers. A pre-filter saves the inner filters from getting clogged with particles which mopping, and vacuum cleaning would have removed.
SECOND LAYER - This layer comprises of the HEPA Pure filter. Arrestance of  dust, mites, pollen and other airborne allergens happens here.
THIRD LAYER - The most important layer which makes this filter what it is. It comprises of activated carbon- the well-known and potent natural odor adsorber.

The HEPA FRESH PLUS filter layer is your go-to filter for areas affected by wildfire or rooms where heavy cleaning smells linger such as kitchens, utility rooms, and playrooms or for people who are sensitive to VOC's.
HEPA ODORCELL
This filter is ideal for homes with problem of lingering odors. Homes with pets often have a nauseating smell from their urine or fur. Baby's nursery is another candidate for HEPA ODORCELL filter. This filter has a special layer that allegedly destroys molecules of odor causing agents. The proprietary Alen Molecular Conversion Powder achieves complete deodorization and not just any masking. A pre-filter, HEPA PURE layer is followed by the ODORCELL layer.
ALEN AIR PURIFIER – CONTROL PANEL
The control panel is where you get to see some technology! An air purifier is all but a black-box if not for the control panel. Thankfully, there are LED lights against each button except the last one. The blue and green LEDs indicate the settings selections you make. The middle button has a round multi-color LED around it. This LED works as the Air quality indicator.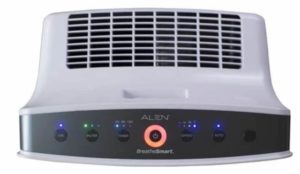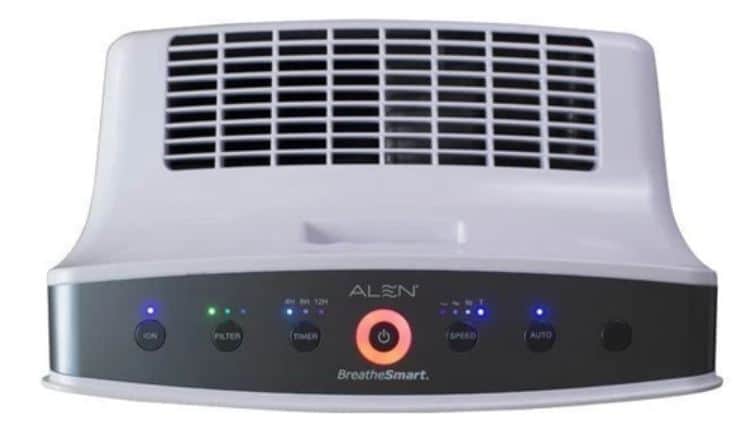 Ionizer
An Ionizer releases charged negative particles in the room's air. Negative ions (anions) are known to have a positive effect on the psychology. Anions are mood enhancers and neutralize air impurities especially gaseous pollutants. What this means is that and
Ionizer function in an air purifier invokes apprehensions of ozone. Ozone is a byproduct of ionizers which is harmful for humans. Trace amounts in the room air can be fine but not so if someone takes prolonged exposure. Air purifiers who still employ ionizers have to fine tune them so that zero ozone is released. Alen BreatheSmart Classic too produces no ozone.
For Alen BreatheSmart Classic, whats good to know is that the Ionizer can independently turned ON/OFF. So, when you are not in the room for lets say an hour or two, you can use it.
Filter Life Indicator
An air purifier meant for large spaces like the Alen BreatheSmart Classic should have long lasting filters. Otherwise, the owner would just get lost in filter replacements throughout the year. Filters come at an additional cost which no one likes to pay for. For this particular model, Alen says your filters can last from 10-12 months. This is a a reasonable time and seldom do air purifier manufactures inflate this time period, even artificially.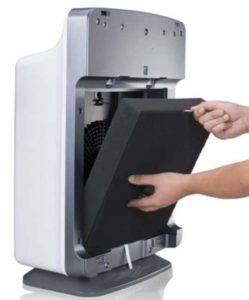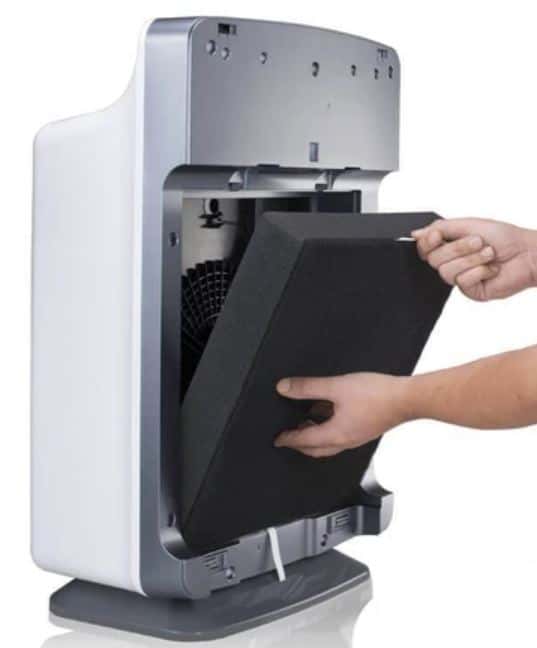 The filter life is just an approximation and it is so always. The actual life your filters last for is totally subjective. The number of daily hours you run your device at, the speed you run it on, are contributing factors. Obviously, the air quality you run it in is the strongest factor determining the filter's actual lifespan. So, do occasional vacuum cleanings and maintenance to eek out some more life from those filters. When the time comes, the filter replacement indicator warns you of the impending expenditure.
Timer
A timer function is a helpful feature to have. You can set the air purifier in any of the 3 available presets. After that amount of time, the air purifier shuts itself off. A timer can help you save on electricity bills. Especially for bigger air purifiers which consume a fair amount of power.
Power/Sleep Mode Button
The biggest button on the control panel of Alen BreatheSmart Classic is that of Power. It doubles up to be used to  run the air purifier in Sleep mode. Once you choose Sleep mode, the lights on the control panel shut down.
Air Quality Indicator Light
All newer air purifiers give some indication of the ambient air quality. Smart air purifiers even give second by second status of the room's PM2.5 concentration. No one's watching the count all the time, so its a bit too much information. No doubt users feel more assured of the air quality if they see it digitally in live numbers. Alen BreatheSmart Classic has Air Quality Indicator lights. In a way, LED lights are a middle path, less informative than numerical displays though.
RED

– A red light denotes the presence of high pollution levels.

ORANGE

– Orange LED is an indicator of moderate pollutants

BLUE

– The most pleasing and assuring color hue indicating clean air.
Its better to have some air quality feedback mechanism than none at all. A set of 3 colors indicate heavy, moderate and least polluted air. Some users complain about how the red light of their air purifier never changes. There can be a possibility of some malfunction really if it never for once changes color. The other reason may be the persistent bad air making its way inside the room's ecosystem. There may be open doors or windows or their too frequent opening or closing.
Fan Speed
Changing the fan speed of an air purifier is analogous to shifting gears in a manual transmission car. Varying levels of air quality is what drives forth this change. Or, you may want to quickly purify the room's air. The Alen BreatheSmart Classic has 4 speed levels. When there are more pollutants you would have to run the fans faster. The fourth fan speed is called Turbo and is the fastest to run the fans at. Hope you are following this BreatheSmart Review well!
Automatic Mode
Automatic mode is for times when you do not want to waste time and energy in manually changing the fan speed. The air purifier takes care of modulating the fan speed for the changing air quality triggers. Alen Air purifiers have Auto mode almost invariably.
Ease Of Moving Around
The air purifier is not as heavy at 9 Kgs as most other big room air purifiers are. Take for instance the Blueair Classic weighing 15 Kilograms. Or the Coway Airmega 400 which covers 1560 sq.ft and still weighs a little extra at 11.2 Kgs. BreatheSmart Classic has a handle or more of a niche. It makes it easy for portability and lifting it to shift from room to room.
SmartSensor
These are the times when people want to hear the word 'smart'. There are even smart bidets you must have seen or used. In the case of BreatheSmart Classic, it looks more of a compulsion to call it smart. Other than because these words appear in its model name, not much smartness to it. The air purifier is not voice-controllable or WiFi enabled. There is no APP to see various statistics or control the air purifier with.
The SmartSensor detects the air quality by sensing the number of particles present. The sensor controls the fan speed automatically if you let it to. When the air purifier detects that air quality changes warrant fan speed modifications, it does so. But then this is the quintessential Auto mode we have all known and seen in air purifiers since ages.
POWER CONSUMPTION
Very unusual to see a high power consuming air purifier these days. Personally, I have not seen or read any model eating more than 70W. BreatheSmart Classic consumes 120W of power which is high by any standard. This is its consumption at the highest fan speed. So, if you run it at lower speeds then it would consume somewhat lesser power. This is why you should use the Automatic mode more often. When the room's air becomes clean, the fan speed is decreased thus also putting the air purifier on a low calorie diet.
CONCLUSION – ALEN BREATHESMART REVIEW
A good option for big area air purification needs. We have dotted our review with mentions of other better air purifiers. If you are looking for a really smart air purifier, Coway Airmega 400S is quite popular. BlueAir Classic 450i is another competitor with an edge of this one. I would personally prefer to bring home 2 Blueair BluePure 211+ instead of buying one giant.
Hope you found this Alen Breathesmart Review informative! Alen air purifiers look their worth and are an investment for a lifetime.
You May Like These Similar Posts From AirSwacch!