The BreatheSmart FIT50 is a mid-size room air purifier. It carries forward all the DNA of the BreatheSmart family. If you are looking for a model from Alen catering to around 900 sq.ft, BreatheSmart FIT50 fits well. You may have your own sweet or bitter experiences with them, if you already own one of the Alen air purifiers. If you have made up your mind for FIT50, I have a suggestion for you in upcoming lines. Earlier, I reviewed the BreatheSmart 45i air purifier.

BreatheSmart air purifiers are designed in Austin, Texas and manufactured in China. I personally believe buying the Medify MA-40 air purifier is a way cheaper alternative. This air purifier has excellent reviews and has the same capability as this BreatheSmart FIT50. Top it up with the fact the Medify air purifier used a very high grade H13 HEPA filters. I see no comparison between the two. The Medify MA-40 wins by a mile. A single Medify MA-40 competes and wins against BreatheSmart FIT50. Did you note that you can buy two Medify MA-40 in the cost of a single FIT50? I hope you've got a clear indication as to where the wisdom and profit rests.
ALEN BREATHESMART FIT50 REVIEW
If you have sieved through its product description on multiple blogs, quite likely that you came across a mismatch in its coverage area. At some places you see its coverage areas as 800 sq.ft. while 900 sq.ft. at others. Well, you should not worry too much about it, its 900 sq.ft itself. If you operate it in the recommended way, you would not feel any difference. Moreover, there's always some scope of scaling up. Your FIT50 air purifier would not simply refuse to cater to an area of 1000 sq.ft!
There is one most important decision one has to take while buying an Alen BreatheSmart air purifier. This is choosing the appropriate filter type which could do full justice to the air quality. A right filter can rid you of the problems you see in the air. Be it pet odor or kitchen smells, dust, bacteria or mold, each of the 4 filters has its specialization to combat one of these. Another factor which can even void your guarantee is the power input. Do not use a voltage converter and plug your BreatheSmart air purifiers to 110V power input only.
Your BreatheSmart FIT50 resumes its running after a power outage. You do not need to switch it back ON. A new air purifier may seem to produce some unfamiliar odor. Well, this is normal and if you find it disturbing, just run the device in full fan speed for a day or two. I am sure the odor from the filters would just vanish.
DESIGN & LOOKS – BREATHESMART FIT50
The BreatheSmart FIT50 is not much different than other models in its family. The shape and features are exactly the same too. Since it covers a smaller area than the BreatheSmart 75i and Classic, its size is smaller. The height is not even 1.5 feet. The exact dimensions are as follows-

This size makes it compact to be used indoors without creating any space issues. The BreatheSmart specialty where you get a wide choice of front panels is available here as well. All the BreatheSmart air purifiers have a bottom-top air circulation, so same with FIT50. I would not call the looks 'special' as the body shape is very conventional. BreatheSmart air purifiers do lack variety in looks. There is a mention of the model name on the control panel.
I would say BreatheSmart FIT50 has a simple yet fairly modern design. As its a smaller air purifier it weighs less at 7.3 Kgs. This weight is nothing in front of how heavier the larger air purifiers are. There's no handle as such to move or lift the air purifier. Instead, there's this niche to put your fingers in for lifting or moving it. The build quality is good with no visible cheapness even to the most nagging eyes.
CONTROL PANEL
There's no major difference in how the control panel looks here. There are separate buttons for each major function. The central power button doubles as a Lights-Out button. Pressing this button once turns the air purifier ON and the color air quality LED glows. If its night time or otherwise, should you want to turn the lights off, you need to press the button once more. So, you need to press this button twice when the device is ON, to power it OFF.
BUTTONS
IONIZER – Turns On the Ionizer functionality. You can stop using the ionizer at any time. The LED atop the button shows the ionizer status.
FILTER – It is not very apparent why there are 3 LEDs above the filter button. Let me clearly tell you why there are 3 of them. The LEDs are an indicator of the remaining life of the filter. So, for the most part of it, only the first Green light would stay ON. As time progresses and the filter gets dirtier, a time comes when the second yellow light would light up. This prompts you to start looking for the replacement filters. Often the replacements may not be immediately available online. So, without wasting any time you should start looking for them and order. The Red light will be illuminated when it is time to replace the filter.

After changing the filter, press and hold this filter button for 5 seconds. This is how to reset the RED filter replacement light to Green.
TIMER – The Timer button lets you set 2, 4 or 12 hour timers.
SPEED – Press SPEED and watch the indicator lights until desired fan speed is achieved. Most users prefer to use the air purifier on speed 2 or 3 to balance cleaning speed and noise. If the indoor air quality is very poor or when you want to clean the air quickly, press the Speed button till the T (Turbo) LED lights up.
AUTO – The most popular mode to run your air purifier in. This mode varies the fan speed automatically to give best results without manual interference.
ALEN BREATHESMART FIT50 PRICE
BreatheSmart air purifiers do not come cheap. Being affordable has never been their USP. So how can the BreatheAmart FIT50 be an exception. But, it does look worthy to be spent upwards of $500 for. There are many other air purifiers which outplay FIT50 either in cost or performance. One air purifier than comes to my mind is the Coway AirMega 300. There is just no comparison. Anyone with even a trace of intelligence would prefer the Coway Airmega 300 Smart air purifier.
The power consumption of the air purifier on highest fan speed is 60 Watts. BreatheSmart FIT50 is an older model. Recently BreatheSmart 45i and 75i have been introduced. There's not much difference in the specifications of 45i and FIT50. I won't be surprised if the FIT50 model is discontinued in future.
One air purifier, in RabbitAir MinusA2 competes in its cost and coverage area. It is wall-mountable, a very rare feature in air purifiers. However, its CADR rating is lower than FIT50.
FILTERS
You get the liberty of choosing from among 4 filter types at the time of ordering. Ofcourse you can choose to change your filter type at a later time if your problem area changes.
HEPA-Pure
HEPA-Silver
HEPA-FreshPlus
HEPA-OdorCell
IONIZER
Any air purifier with an ionizer stage is bound to undergo scrutiny. Its not a hidden fact that ionizers produce ozone gas as a by-product. Ozone if generated is harmful for the health. If you feel chest pain, coughing, shortness of breath and throat irritation, it may be due to the ionizer.
BreatheSmart air purifiers vehemently deny that any ozone gas is produced from their ionizers.
BREATHESMART FIT50 COVERAGE AREA
This BreatheSmart has a lower coverage area than what BreatheSmart 75i, the flagship model offers. The company has tried to serve with yet another option which falls in the middle of its lineup. The purported 'varieties' do not offer any drastic changes in add-on features and capabilities. Except for the coverage area, so to speak, nothing appears to change among BreatheSmart models.
BreatheSmart FIT50 can serve big room sizes falling under 900 sq.ft area. An air purifier if used in a smaller room, would clean the room's air better and faster. This thing is called as Air Changes per Hour (ACH). ACH is an indicator to you and should factor in heavily in your air purifier's buying decision. For room sized 800 – 900 sq.ft, BreatheSmart FIT50 would clean its complete air volume atleast twice.
CADR
CADR ratings are 3 numeric indicators which show how it fares against dust, pollen and smoke particles. The CADR of Alen BreatheSmart FIT50 in Cubic Feet per Minute is as follows-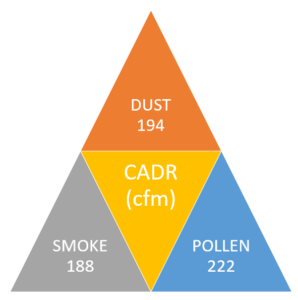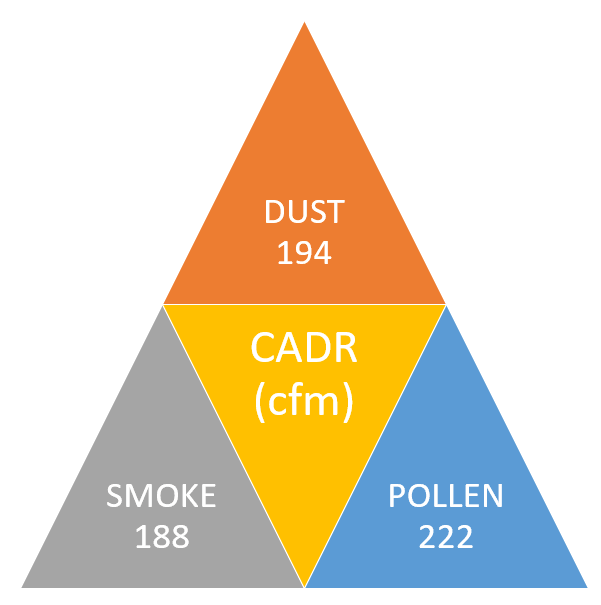 With the cost you have to bear and with the advertised coverage area, I am not impressed with its CADR ratings.
SAFETY FEATURES
If you have kids at home, then you can buy a vent guard. It is an optional attachment which fits over the air outlet grille. The vent guard makes the grille openings smaller to keep out any objects or your little ones' fingers.
The air purifier won't run until the front panel is closed. Try running the BreatheSmart without the air filters, and the device won't start. In the event when the filters or the front panel are not seated well, again it won't function.
How To Clean The SmartSensor
SmartSensor is the name BreatheSmart gave to its sensors. Infrared light sensors continually monitor the ambient air quality. The sensor itself may get covered with dust which impacts its performance and sensitivity. Not cleaning the glass lens of the sensor may lead to device malfunction. Imagine your air purifier has already cleaned the air of your room. But being dirty it fails to sense to stop when set in AUTO mode!
To clean the sensor lens, first turn your unit off. Wet the end of a cotton swab with water and wipe the lens with it. Dry the lens with the other end of the cotton swab. For best performance, clean the SmartSensor lens each time you replace your filter.
POWER EFFICIENCY & NOISE
Your BreatheSmart FIT50 consumes 60 W power at high fan speed. It is Energy Star rated too. Running the device on auto mode is often the most economical setting with best air cleansing performance. Its easy to guess that an air purifier's power consumption goes up with the increase in fan speed. The noise that it makes is also directly proportional to the fan speed.

CONCLUSION
Alen BreatheSmart FIT50 has a sturdy body and good build quality. This air purifier has all what it takes to be a good air purifier. I would say BreatheSmart FIT50 is a good blend of automation, sensor accuracy and the Forever Guarantee is a cherry topping. The unit comes boxed with bands keeping the box closed. Once the bands are removed, the entire contents of the packaging are on display. So, unboxing is very easy and hence within no time, the device can be up and running.


You May Like These Similar Posts From AirSwacch!