Alen has 5 air purifier models in its BreatheSmart range of air purifiers. These models have been rolled out with a difference in coverage area or presence of an ionizer. If someone who is not an expert looks at these models, he won't be able to tell any difference from a distance. Each of these models has its model name mentioned on the console. Ofcourse, someone who has bought a specific model would know which one is it, but I am just stating this fact. With a coverage area of 800 sq.ft, BreatheSmart 45i is going to my discussion point in this post. Last, I wrote about its bigger sibling, Alen BreatheSmart 75i.
Alen has introduced this BreatheSmart 45i only recently. There are some major improvements over its older BreatheSmart FLEX model. A greater coverage area, price, better performance and an ionizer is what is broadly different in 45i. Alen introduced its flagship BreatheSmart  75i and 45i in quick succession. While BreatheSmart 45i caters to the mid-level price segment, the 75i is the costliest one for bigger rooms. (over 1300 sq.ft.) Let's explore more in this Alen BreatheSmart 45i Review.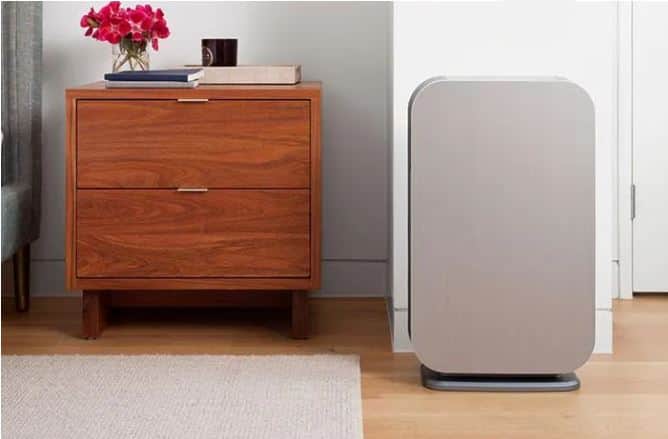 ALEN BREATHESMART 45I REVIEW
All BreatheSmart air purifiers have more or less the same features. This is expected as this is what their being under the BreatheSmart umbrella means. So, you can assume that across the BreatheSmart models, there would not be any drastic change in feature sets. Yes, price varies greatly with the coverage area. The BreatheSmart FLEX can be yours in under $300 if base specification or filters is chosen.
All BreatheSmart air purifiers give you the choice of custom color panels. There is a string of choices in color of these panels and a marble design is considered the elite one. I personally am a scrooge in such times and would want to save my money. I can very well purchase a new BreatheSmart 45i replacement filter in the same amount. In times when recession is looming and future uncertain; joblessness is at its peak, saving is the key! But, then someone can argue and say "why to spend on an air purifier then? Why not just defer its purchase to a later time! ". My answer would be " You need an air purifier because you felt the need for it, isn't it? Its better to stay healthy and save on insurance and medicine bills. Coronavirus is harsh on people with secondary ailments". Again, I am suggesting a saving of sorts, so understand this.
The BreatheSmart air purifiers all have that bottom-top air circulation. Impure air is pulled in from the bottom and sides while the purified air is blown out from the top. The grille where the pure air comes out from is just behind the control panel. The quintessential color panels are at your behest to choose from. The default panel is of white color but there are 14 different options too. Marble, red, gold, silver, espresso, oak, rosewood, maple, bronze, steel, black, gray and graphite.
No apparent difference in looks from the FLEX model which the BreatheSmart 45i has succeeded. I would say that 45i is an upgraded version of the BreatheSmart FLEX model. The feature set has a few differences which I'll mention in just a bit. Both would look all the same to a new customer, exact replicas. The height, width and depth are similar. BreatheSmart 45i stands at 25 inches tall, 15 inches wide and 8.5 inches in depth. Even the weight of the two models is the same at 15 lbs.
CONTROL PANEL
The control panel of the 45i has additional buttons for the Ionizer (which is absent in FLEX). Apart from this the FLEX model is also devoid of the air quality indicator LED. Whatever the price difference you observe between these two models can be attributed to these two additional features. The buttons are touch-screen and well responsive to the slightest touch. A chime is heard at every button press.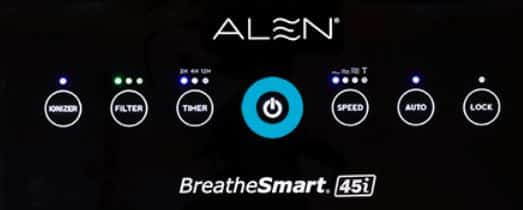 ALEN BREATHESMART 45I PRICE
Price-wise I would say all BreatheSmart models are on the higher side. I mean you can easily find air purifiers with comparable features cheaper. Compare the BreatheSmart Classic with Levoit LV-H134. The Levoit model has comparable coverage area at a fraction of the price. You have to sacrifice on the air quality indicator and have to settle for a noisier air purifier in the Levoit LV-H134. What i mean to say is there's mostly a trade-off in features or performance when the price varies among different manufacturers. Its for you to decide which shortcomings you can ignore or put up with to save some money.





The power consumption of the air purifier on highest fan speed is 50 Watts.
FILTERS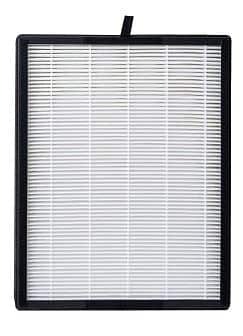 A pre-filter is there, no problem! Replacement pre-filter set of 4 is available for $19.99. The pre-filter is the black foam layer that covers the exterior of your filter. It's designed to capture larger particles such as dust and cat or dog hair. Keeping your pre-filter clean will extend the life of your filter and keep your purifier working at peak efficiency.
Alen BreatheSmart 45i gives you 4 choices of main filters. This is the same as available with 75i. I always feel that the 4 choices are superfluous because a buyer often gets confused in making a clear-cut decision. There are 3 filter types which deal with odor alone! Who can visualize foul odor to have types too! So, here those 4 well-defined filter types.
FILTER TYPES
HEPA PURE

– This filter type is the default one to trap Dust, dander, pollen, fur and other airborne allergens.

HEPA FRESH

– The first among the 3 type of odor combating filters. It is ideal for light smells like those from cooking. It has an activated carbon layer which removes gas-based pollutants from the air including VOCs.

HEPA SILVER

– This type has all the goodness of the HEPA FRESH plus some extras. Order it over others if you are concerned about pathogens and mold in the air. Homes with patients or hospital rooms are ideal use-cases.

HEPA ODORCELL

– Homes with pets, smokers or strong lingering smells can make use of this filter type.
BreatheSmart 45i can attribute its air cleaning prowess to the TRUE-HEPA filter it has. An air purifier having such a filter has become cliché. But still its good to have than some cheap HEPA-like or HEPA-type filters.
IONIZER
The ionizer is also a filtration stage in a way. Ionizers are known to be able to 'destroy' some pollutants rather than trapping them. Destroying in the sense that the chemical composition of the pollutants is altered or broken down into harmless byproducts. A side-effect to using ionizers is the production of ozone gas. The ions generated react with the room's oxygen to form traces of ozone gas. No matter how much the manufacturers refute ozone production, an ionizer will always produce some ozone. Yes if the concentration is well below danger levels, ionizers are safe to use. In BreatheSmart air purifiers, ozone concentration is over 50 times below the danger mark.
BREATHESMART 45I COVERAGE AREA
As already mentioned, this model is suitable for room size upto 800 sq.ft. As stated by Alen, the 45i cleans similar sized room twice in an hour. This makes its ACH rating 2. ACH of 2 is just OK, not good enough and you should strive to find an air purifier which could deliver a ACH of 4 for your desired room size. The more the ACH, the better it is. Alen BreatheSmart 45i can deliver an ACH of 5 for 250 sq.ft. rooms.
The CADR of Alen BreatheSmart 45i is 245. Individual CADR ratings are as below-
Dust – 208
Smoke – 194
Pollen – 230
SMART SENSORS
Every BreatheSmart air purifier has the ability to sense whats going on with the surrounding air. Courtesy its Smart Sensors, the air purifier self-adjusts the fan speed to a level most suitable to clear out the pollutants quickly and effectively. The sensors also give you a visual feedback of the air quality via color LEDs (discussed in next heading). But, you'll have to turn on the AUTO mode to lend this privilege to run the fans at its own commands.
AIR QUALITY INDICATOR
The LED glowing around the power button indicates the ambient air quality. Different LEDs transition into 4 different colors to indicate as the air quality changes for better.
RED

–  The color of danger as it indicates a poor indoor air quality, high pollutants in the air.

ORANGE

– indicates the air quality is just OK and moderately polluted.

GREEN

– Good indoor air quality, minimal pollutants detected.

BLUE

– Excellent indoor air quality, no pollutants detected.
Press the power button lightly, to activate the lights-off mode. All the glowing LEDs and background lights are turned off so they do not pinch when your family gets down to sleep.
SLEEP & NOISE
The noise levels of BreatheSmart 45i are not extraordinary. The decibel levels vary from 39 dB to 59 dB from lowest to highest fan speeds. Really, nothing much to elaborate more here. Its should be enough for you to know that the noise levels are within the expected limits of an air purifier.
You would not want to run any air purifier in Turbo mode while sleeping. Its a universal truth (air purifier realm) that at maximum fan speed the fan does make an appreciable noise. So, its advisable to seal the perimeters hours before going to bed and run your air purifier at max speed to clear off pollution. Doing this would enable your air purifier to still keep the pollution down at sleep time when you have to keep the noise low.

The BreatheSmart 45i just like 75i produces pink noise. Sleep scientists have found it equally helpful as white noise to induce slumber. As against white noise, pink noise sounds continuous without any audible changes in loudness or shrillness. This is in contrast to white noise which does have ups and lows in loudness. Pink or white, both artificially created noises help maintain continuity in sleep and also reduces the time to fall asleep (though in some people results may be contrasting).
TIMER
There can nothing be 'advanced' about a timer, someone said. If you also think so, the Coway Airmega 400S has a scheduler (you can schedule your timer!). Anyways, things are simple with BreatheSmart 45i wherein you get 2/4/12 hours timers. Running a timed session of air purifier helps cut electricity wastage.
CONCLUSION – BreatheSmart 45i Review
All BreatheSmart air purifiers now have True HEPA filters. So, even if you see some old documentation or blog posts saying otherwise, ignore them. Another positive is the low power consumption. If you run your BreatheSmart 45i for 8 hours/day at lowest fan speed, your monthly power bill would be just 50 cents! I am not very impressed by its feature set especially with the lack of any WiFi connectivity, bluetooth or any APP support. However, the reviews on amazon are encouraging. Users have noted a marked respite from allergies and dust. The choice of front panels is wide and a good innovative offer. The 4 available filter types to suit your needs is a big plus point.
Do not forget the FOREVER guarantee. If your Alen air purifier ever fails to function like new, the company will replace it for free. Not with a brand new air purifier but with a refurbished, perfectly working one. This feature here is the strongest magnet of new customers, what about you?


You May Like These Similar Posts From AirSwacch!