Every air purifier company introduces a flagship model. A model which is the greatest in terms of features and probably the price too. Alen has given this distinction to Alen BreatheSmart 75i. The other models in Alen BreatheSmart range of air purifiers look very similar to each other. All the models from Alen BreatheSmart have this changeable color panel option which renders a new look to your air purifier. One thing you'd notice about Alen BreatheSmart air purifiers is that their coverage area is huge. If your drawing rooms, office space or hall is what you are searching an air purifier for, Alen BreatheSmart range of air purifiers give you 4 options. Right from 500 sq.ft to as big as 1300 sq.ft sized rooms, you'll be able to find one which fits your need. This post is specifically dedicated to the Alen BreatheSmart 75i Review.
Last, we discussed the BreatheSmart Classic Air Purifier in detail.
Alen BreatheSmart 75i Review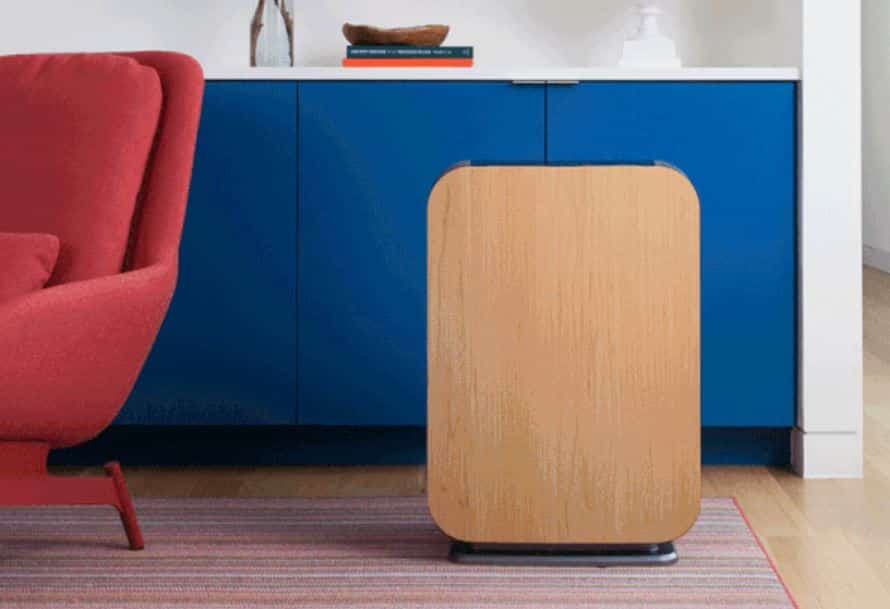 First thing's first. The most important thing to know when it comes to air purifiers is the quality of their filters. At the end of the day its them which clean the air. The looks, size, shape or LED lights take a back-seat. What would hold more importance for you – cleaner air or flashy and attractive looks? I would go for the former. Now, all Alen BreatheSmart air purifiers have a TRUE HEPA filter, so does BreatheSmart 75i. HEPA technology is what the air purifier world relies heavily on. Until sometime ago, Alen used HEPA-type air filters in their air purifiers. So, this is good news for all prospective buyers.
COVERAGE AREA
The BreatheSmart 75i can easily cleanse the air of spaces as large as 1300 sq.ft. Infact, the 75i has the largest coverage area of all Alen BreatheSmart models. Its always worthwhile to check how many times an air purifier is able to clean the complete indoor air volume per hour. This parameter is called ACH in technical terms, a short for Air Changes per Hour. To achieve pollutant free air, multiple cycles of making the room's air to pass through the filter stages in required. For Alen BreatheSmart 75i, the ACH is 2. This means that the air purifier cleans the room's air twice in an hour.
As is easy to imagine, if your room is not as large as 1300 sq.ft, this air purifier would make a killing of ACH count! If used for small rooms, BreatheSmart 75i would be a waste of money. Hence, do not use an air purifier meant for big rooms for small rooms. Its unnecessary and a waste of money. Aim for an air purifier which could clean your room's air 4-5 times in an hour, that's it! My personal advice would be to go for Coway Airmega 400.
BreatheSmart 75i Price
Be ready to shell out a considerable sum to own this. How can the best air purifier from Alen which is capable of catering to a large area come cheap? For once spending a good sum on an air purifier may pinch many. But, its a matter of bringing it home, unboxing it and starting it. If you go on to buy it (maybe after reading this review), it cannot be without being fully satisfied with it. Afterall, its price is no joke. With the impending recession that the world is heading to courtesy of Chinese virus plot, saving money holds key.
The Foreover warranty is something you should check more about as it can mould your decision. How? Well, if your handling is good and careful then this offer from Alen is very lucrative indeed. The Airmega 400 is a cheaper, better, smarter and compact air purifier. With an even greater coverage area, I would suggest to go for it without second thought.


Price of Alen BreatheSmart 75i can go up by around $69 depending on your choice of filters or panel color. Budgetary constraints or the need for a smaller coverage area may see you going for Alen BreatheSmart FIT50. A maximum coverage area of 900 sq.ft. and a lower price by upto $200 may be better suited for your needs.
The power consumption is also a contributing factor towards running costs. Alen BreatheSmart 75i draws 45 W power running in Turbo mode which is the highest fan speed. Not bad, infact its power consumption is on the lower side of comparable air purifiers.
Design And Looks
The size of the air purifier itself has to be large to be able to achieve this. Indeed, if not apparently for the size, Alen BreatheSmart 75i is quite heavy at 15 Kilos. What I didn't like is the absence of any sort of castor wheels or trolley. Although a handle is present to move it around.
The air purifier pulls impure air from the Like other models and as is the norm with BreatheSmart air purifiers, the air is input from the front sides. The fan is behind the rectangular air filters, pulling room's air through them.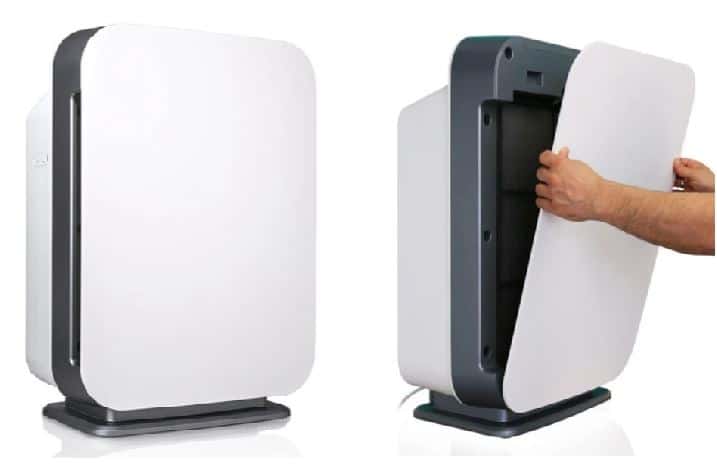 The ability to change panels easily comes at a price. You have to shell out approx $59 to get an extra panel of your choice.
BreatheSmart 75i Filters
Just with other BreatheSmart models, you get a choice of what filters to come bundled with your air purifier. There's no 'many problems one solution' in terms of air filters. Some users may be wary of bad odors, others overwhelmed with allergies. The point to note here is that each filter type compulsorily is a True-HEPA. Its all about the other layers that make the filter act against your specific problem areas.
Filter Types
PURE

– Do you have allergy issues? If allergens, dust, mold, germs, and bacteria are what make you sick, then go for the PURE filter type. This is the default type if you do not make any explicit selection at the time of buying. This is also the cheapest of the 4 type of filters with 2 layers. In other words, if you make a different choice of filter, the air purifier cost will go up.

FRESH

– This filter type has enhanced capability to remove poisonous indoor gases like VOCs. Cooking, polished furniture, freshly painted walls or varnish are major sources of gaseous pollutants. A True HEPA and Antimicrobial layer removes allergens, dust, mold, germs, bacteria. Its a 3 layer filter.

PET

– As the name makes it apparent this filter is suited for pet owners. Pets give out strong odors from their coat in rainy days. Pet dander is a major problem pet owners have to cope up with. This filter has all the goodness of the PURE type plus enhanced carbon filter. Like the FRESH filter, this one is also consists of 3 layers.

HEAVY ODOR

– True HEPA, Antimicrobial; Removes allergens, dust, mold, germs, bacteria, diaper smells and other heavy odors.
Despite catering to a large space one may think that the filters would need frequent change. On an average, a filter can last approximately an year and even more.
THE CONTROL PANEL
The control panel is where all the buttons are present. There are buttons for setting the fan speed to any of the 4 levels. An Auto mode button for running the air purifier at its own discretion relying on its sensors. A filter change indicator and reset button besides an Ionizer control. A timer and lock button are present for respective functionalities.
There is not much discernible difference in looks of BreatheSmart models. The control panel helps take away this confusion with the model name marking.
Air Quality Indicator
Alen BreatheSmart 75i doesn't have any digital air quality indicator. I do not like it not to have a digital PM2.5 display. Given its cost, this feature is the least to expect. Anyways, a circular LED on the console does indicate air quality through 5 colors. Purple is an indicator of very poor air. Blue means the air is pure and safe to breathe in.

A lights-off mode is enabled when the intelligent sensors sense darkness in the room.
BreatheSmart 75i Pink Noise
Here I will explain an interesting concept to you. You must have heard of white noise quite often. Air purifier description liberally mentions about how they produce white noise which helps you sleep better. Well, BreatheSmart 75i employs noise of pink color. You must be wondering how come noise be pink or white? Let me tell you, noise can even be red and grey. A little bit of science know-how and you can understand what i would say next.
You must have seen those old television sets of the 80's or 90's. Whenever a channel was missing or unavailable, a screen of a zillion mosquitoes used to come with a noise. That's pink noise for you. That noise was a continuous one with no peaks or troughs in the audible sound. As for the color pink – noise is a sound signal right. Every signal has an associated energy to it, that's why it can travel. Energy is distributed throughout the range of frequencies a signal is composed of. When the power spectrum of this noise signal is analyzed, pink is how it appears. The flicker noise in electronic devices is a source of pink noise.
Benefits Of Pink Noise
Pink noise can be really helpful in falling asleep quickly. A study concluded that pink noise induced a deeper sleep in adults. Both, pink and white noise help in sleeping. There's a continuous sound which subconsciously activates brain's sleep receptors. Please note that Pink noise is not some magical lullaby. It would not put you to sleep effortlessly if you have some sleep disorder.
Pink noise is generally good for all age groups.
People who experience disturbance with it, would come to know of it only once they use it.
Noise Levels At Different Speeds

As you can see, there's nothing good or bad to discuss over here. Some users do mention the extra noise the fans make in Turbo mode. But then its the same with all air purifiers, no exception. A fan is bound to create more noise as it churns the air at its fastest speed.
IONIZER
All BreatheSmart air purifiers have an ionizer. You can choose to operate it at your will. This is a good thing to have. An ionizer is capable of transforming the pollutants into such compounds which are harmless. I would ask to turn the ionizer ON while no one is in the room. The BreatheSmart Flex model does not have an ionizer function.
CHILD LOCK
You would not your costly air purifier to malfunction due to manhandling. A 'LOCK' button renders all other buttons atop the console. Unless the Lock button is re-pressed, all buttons remain non-functional.
TIMER
A timer lets you choose among 4, 8 and 12 hours settings.
PROS
The first and foremost is the True HEPA filter and a choice of 3 more filters to suit ones needs.
A very good air purifier for allergies and asthma.
A large coverage area to which the air purifier does full justice to by cleaning the air efficiently.
A Forever guarantee, of which Alen heavily relies on for attracting customers.
Long lasting filters means you do not have to spend more atleast in the same year of your purchase.
Option to choose from attractively colored panels to suit the interior color scheme. However, this comes with an added cost and not cheap.
An ozone-free ionizer disperses anions to uplift the moods and clean air pollutants.
Not very noisy, infact very quiet at low fan speeds.
CONS
Costly for its capabilities and features. Not very smart as it lacks WiFi or Alexa support. Not even a mobile APP which is expected at this price tag. Coway Airmega 300S is a way lot better!
You May Like These Similar Posts From AirSwacch!