When its hot and you enter into your car, how do you feel? Don't you feel the smell of chemicals which makes breathing difficult? As if the plastic in your dashboard has evaporated? I am sure at some point in time you would have felt it. Driving your way through a dusty road and imagine you have to roll down your windows to ask for the way. You can't help but have to cope with the dust that enters inside.
In rainy seasons, the lingering smell of dampness from seat covers and mats is prominent. If you carry your pets along then you may not feel any difference but others will! Car air fresheners mask the stinks, but the car air is polluted and unhealthy. Have you considered using a car air purifier yet? You may ask- Do car air purifiers work? Yes they do! Keeping hygiene is indispensable yet you do not always have control over the air.
Do Car Air Purifiers Work And Do We Need Car Air Purifiers?
Did You Know?
An average person living in a metropolis spends nearly 120 minutes inside the car everyday. This comes out to be approx 6 years in a lifetime! It is a misconception that you are safe from a much higher exposure to pollution if you are inside a car than walking or on a bike. Researchers say that the level of air-pollution in car is 15 times than outside. Not necessarily the same in terms of dust though.
Know Whats In Your Car's Ecosystem
Your car is a mini home and you spend so much time in it. Day-in and Day-out, you use the same car and you don't even bother to clean it, do you? Definitely not as regularly as your home right! Vacuum cleaner help only to the extent to clean the seat covers etc. But it can't clean the car's air does it? You need an air purifier which can continually clean the air and remove odors. You can has-
Bacteria,Virus /Microbes
Each car houses all sort of bacteria and viruses. There are no exceptions to it. There are so many instances when we eat, drink and spill stuff. We leave it sometimes unattended and that's where microbes grow. The steering wheel, floor mats, keys, gear bar, door handles, all house lot of bacteria.
Your car's AC circulates the microbes in the air and into your breath. You drive your car through all kinds of places. Be it a nearby open bin or a traffic jam; such areas fill your car with pollutants. Keep a check on the car AC filters and cleanliness of the most touched objects.
VOCs and Organic Gaseous Pollutants
Car interiors are all made up of petroleum products in some form or the other. The surfaces of dashboard, panels and car seats( if covers are such) all emanate gases called VOCs. VOCs are volatile organic compounds which are harmful for your health. Prolonged exposure is cancerous. Closed cars when parked in direct sun is nothing less than a gas chamber.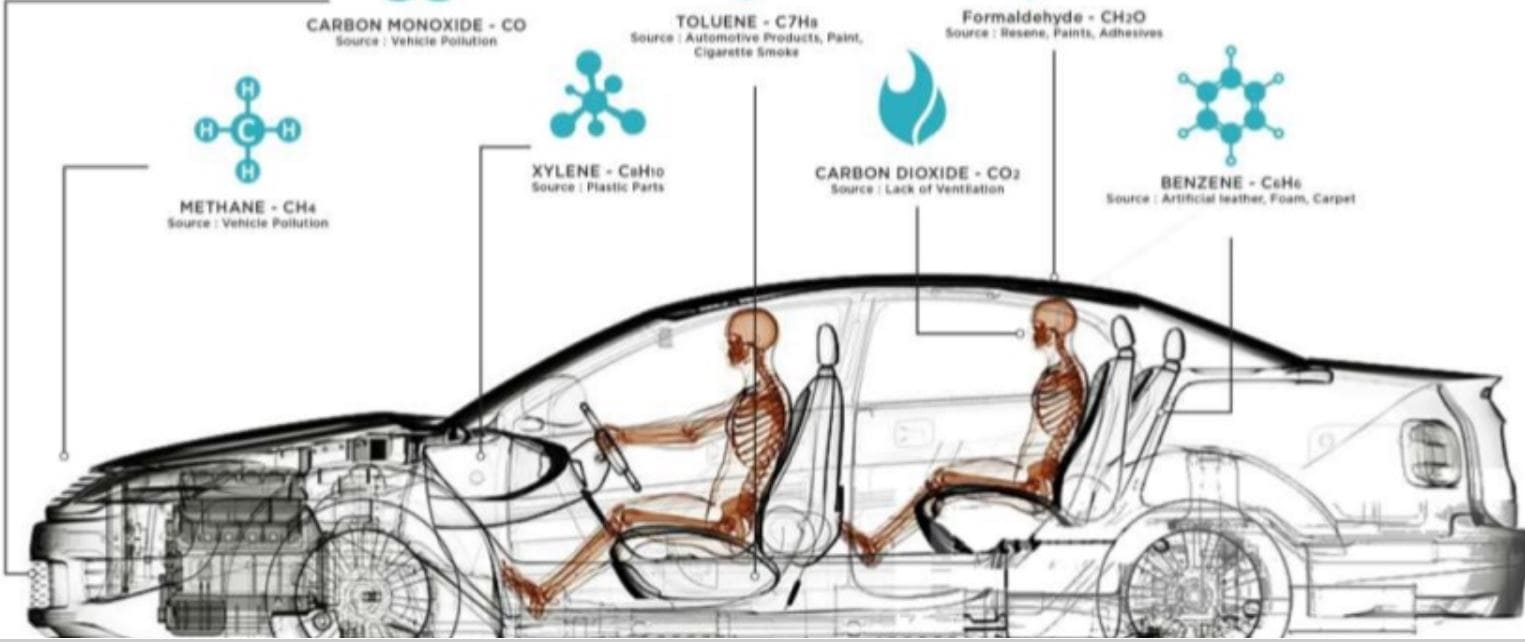 Odors
Your last beer party with chips may have been in your car. Or when your little child spills that drink and its smell lingers on. Not to mention that hush hush break-wind. Smokers who smoke inside contribute to the burnt tobacco smell. Different smells all pile up over time and give an unpleasant welcome at each entry.
How To Avoid Pollutant Buildup Inside Car
Do not occupy the car immediately after it has been parked in the Sun for long. Instead roll down the windows and allow air circulation for sometime.
Toggle the AC vents judiciously. In polluted areas close the vents and allow air to circulate internally. In cleaner environment, allow outside air to enter and circulate through the air vents.
Roll up the windows in traffic jams or dusty terrain; similarly allow fresh gusts of air to enter when on a highway.
Park your car in shade if possible.
Avoid unnecessary use of strong perfumes or air fresheners.
Use screen reflectors to keep the car interiors' temperature down.
Keep your engines maintained and clean. What you give to the world comes back manifold.
Car Air Purifier Can Lift Your Mood
No one is exempt from stress and tension filled days or moments. Negative-ion generators are known to have a positive effect on your mood. Ionizers which spew negative ions not only kills bacteria but also enhance your feel good factor.
Makes You Look A Class Apart
Well, this point is an interesting one. Not many people have seen leave apart used an air purifier in the car. If not for all the health benefits we have enlisted above, go for it as a show-off. Lol
CONCLUSION
So you now know the need for car air purifiers. Do Car Air Purifiers work? Yes they do, provided that you choose the right one. There is no fit-one-all air purifier. Your car type and size matters the most in making the right selection. Its important to keep a place where you spend so much time of your day, pollution free. Prefer to accommodate small changes in lifestyle.
You May Like These Similar Posts From AirSwacch!