India is a land of contrasts. Here one can witness all seasons there are. Most parts of the country experience cold waves in December and January. As the temperature dips, the Sun's heat is hardly of any respite. But, you don't have to worry if you have power running in your home! Room heaters can come to your rescue and provide instant gratification and comfort. Room heaters can be of multiple types, each employing some particular aspect of science. In this particular post, we discuss only some of the Best Fan Room Heater in India. Fan room heaters are also commonly called as Room Blowers.
I have an old Bajaj Rod Type Room Heater to warm up my quilt before sliding into it for sleep. Of course, the heater is Off but still warm enough to solve my purpose. It has a grille for protection against accidental contact or burning. What I do is not without risks and not a recommended thing to do. But, I am a grown up man and can handle this with caution. Just 1-2 minutes and I have a comfy quilt ready to welcome me! For room heating, I have a Quartz Heater at home.
Best Fan Room Heater Blower In India
The countdown below features a few of the Best Fan Heaters in India. Users have expressed satisfaction after using them.
Note– All fan heaters can give out smell of burnt out plastic at the starting stage.
---
The below model OEH-1220 from Orpat is the best-seller fan heater in India. The heater body is made up of sturdy thermosetting plastic. As any other fan heater, this one too is good for only spot-heating. Spot-heating means when you want to direct the heating to a particular region in room. Try to keep this blower from throwing air directly over the body. Its warm air can otherwise quickly make your skin very dry. Overall, the Orpat Fan heater has good reviews and such its the Best Fan Room Heater in India. Its a small room heater so expecting it to warm up entire room in harsh winters would be too much.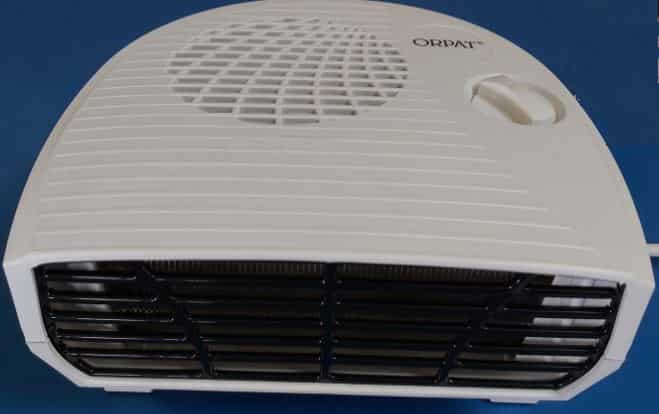 Features
No problem operating this heater non-stop for many hours.
In case of overheating an automatic safety mechanism studs down the heater. After 10 minutes, it again resumes work.
Orpat OEH-1220 can even be used as just a fan in off-season. In winters it allows you to choose from warm and hot air modes. The warm mode expenses 1000 Watts while the hot air mode consumes 2000 W.
Most suited for small rooms or for bachelor accommodations. Place it close by the person who needs quick warmth.
When in use the heater's outer surface does not get hot. So, kids are relatively safe but adult supervision is still prime.
A thermostatic equipment maintains the inner temperature of the heater. Don't get confused by this statement though. You cannot set the room temperature as there is no such setting.
CHECK PRICE

Caution:    Always use proper plugs and designated sockets for running high-wattage appliance like heaters. Failing to exercise caution can result in fires or equipment failures. Do reach out to electricians when in doubt. An extension cord is not suitable for a heater in any case. Keep blowers away from dusty places when not in use.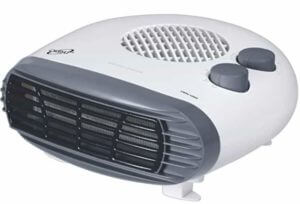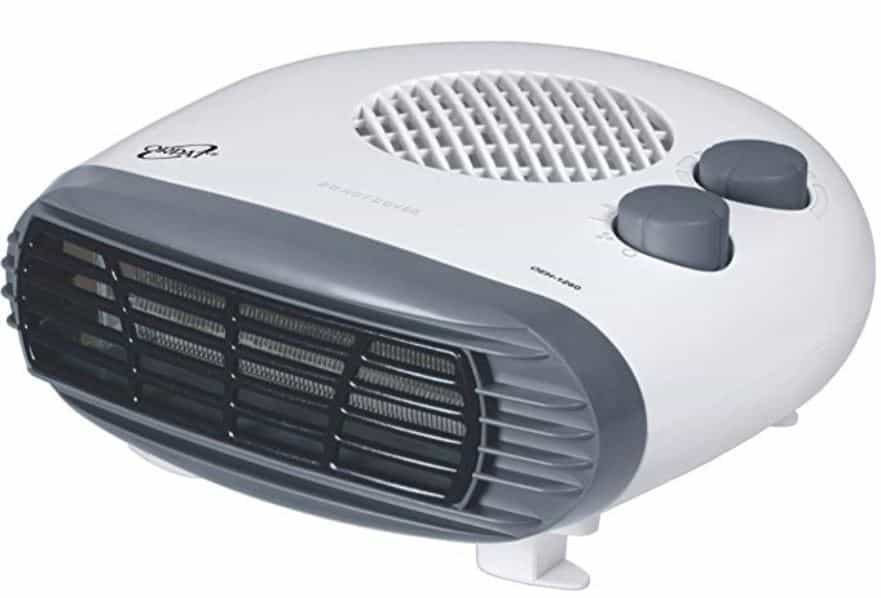 Often the long wire of a heater is a cumbersome thing to manage when out of use. The Orpat OEH-1260 has a cord-winder facility on its legs. Although it is slightly costlier than Orpat 1220, please note it has 2 years warranty. Do check if warranty is applicable on online purchases, else buy it offline. Rest all things are the same.The Orpat OEH-1260 lets you control the temperature of cut-off. If you wish the heater to shutdown at low/high temperatures; its easy. Just turn the variable thermostat knob to set the desired temperature of cutoff.
PROS
The Best Fan Room Heater available in market.
Weighs just 1 kg so its very convenient to use or carry.
Genuinely good heater from the cost point-of-view.
CONS
No feature to raise or lower its height to direct heat at target.
Plastic body not very sturdy.
Smell of burnt plastic may emanate sometimes, so avoid using it for more than 30 minutes at a stretch.
A heater with a metal body induces more trust. The Bajaj Blow Hot Room Heater is one such heater. Naturally, it amounts to increasing the weight of the heater to 4 Kgs. The outer frame of the air heater is tin sheet. This blower can be made to throw air horizontally or at an angle. Its legs allow this feature. A blower does make a lot of noise especially at high fan speed. This is the cost you have to pay for getting instant relief from cold. A person in proximity of a fan heater feels quick relief. This model is the Best Blower in India.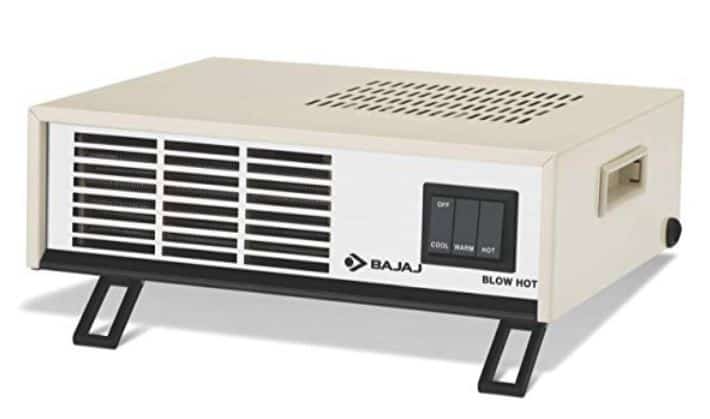 Features
Like the Orpat fan heater, this one too can be used as a standalone fan if you want to. Similarly it has 2 other modes- Warm and Hot.
Warm air can be directed straight or at an angle.
Very compact as its just 10 cm high and a rectangular body makes it easier to store it.

PROS
Quickly starts giving warm air although its not instantaneous. For the very few minutes, it only throws cold air.
Low noise at warm mode.
Already has a 16 A plug so no need to purchase it separately.
CONS
Switch spacing can be a problem for some. Its sometimes difficult to cleanly select one of the three switches for fan, warm and hot air.
This heater reduces the moisture in the air. Stay hydrated and avoid using it overnight in closed rooms.
Smell as if something burnt may emanate from the heater. This usually happens in hot mode and goes away in sometime. If it persists, do get the heater checked.
The heater legs are not very strong.
The Solimo room heater is branded by amazon itself. This model is the most reliable to be bought since its non-branded copies are also available on Amazon. The front grille is made of metal. Initially you may get smell of burning plastic which is normal. It consumes 2000 W power. A thermal cut out automatically shuts it down when the desired temperature is reached. The desired heat level can roughly be set via the thermostat knob. This model has all the features one can expect from a blower. Plus, its design where it can deliver warm air horizontally and vertically makes it the Best Room Blower in India.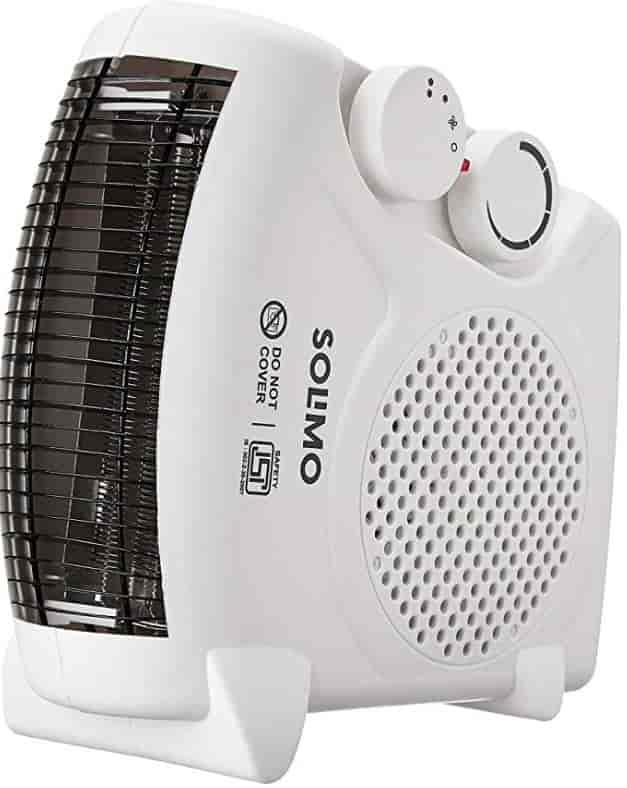 Features
The body material suppresses fire as it is made of fire retardant material.
Allows use in standing or width-wise positions. Hardly occupies any floor space in standing position.
A handle is provided for portability. There is a light indicator as well.
Variable thermostat knob is calibrated for changing cut-off temperature.
Another knob is provided to select from fan, warm or hot air modes.
The heater is Auto-cutoff when temperature reaches 130° C
CHECK PRICE

How Do Room Fan Heaters Work?
Room fan heaters or blowers use a simple fundamental of delivering warm air. If you open up a fan heater, you'll see a metal coil and a fan primarily. This metal coil has a high resistance to current, so it gets heated up when you power the heater On. The fan draws in outside air which is at room temperature (cold) and lets it pass over this heated coil. In this process, the air is warmed up and this is what you wanted!
Are Fan Heaters Energy Efficient?
Well, the answer to this question is- No, they are not very efficient! Yes, you read it right. Fan heaters are not smart devices which could save electricity. They maintain their temperature only through a thermostat. The thermostat cuts-off depending on what temperature setting (warm or hot) is selected via the knob. Be ready to spend more on power bills, but, anyways fan heaters are ideal for limited use. As a result, these heaters are available at low prices compared to other heater types like PTC or OFB heaters.
In this cold weather, inhaling steam would do only good, nothing bad to health.
What Are Fan Room Heaters Bad At?
Room blowers are bad at saving electricity which we already highlighted above. Apart from this-
Fan heaters are very noisy. The sound of the fan can drive you crazy if used for long duration.
Blowers greatly reduce the humidity of the room. Skin dryness, irritation in eyes and sleepiness may arise if it runs non-stop.
Fan heaters may blow out a waft of dust if used after extended time gaps. Needless to say, allergies or respiratory problems may arise due to this dust.
Also, since blowers make the air dry, coughing may arise due to dip in humidity. We have written extensively on the importance of humidity and how to maintain it optimally.
Many fan heaters are bad at temperature control. They would continue to run the fan even after the thermostat has cut-off. This results in short periods when a heater turns into a fan throwing cool air. This is until the thermostat re-establishes the current in the heating coil.
Then In What Way Are Room Blowers Useful?
First and foremost would be the cost. They are available within the reach of any common man. Secondly, these are good for spot heating. Spot heating means that you intend to heat up a targeted area and not the entire room. Say, you just washed your feet and want to dry and warm them. Or you can warm your cold and numb hands. It is ideal to place fan heaters on the floor for achieving a better and even room heating. Convection also plays a part and the warm air rises up to the ceiling. The percentage of air that rises up is very less compared to convection heaters. Hence, fan heaters waste lesser heat than convection heaters. But, fan heaters are good only for small or study/servant rooms. So, for limited need usage, fan heaters are not a bad deal.
Zanibo Fan heater is also a good room heater you can consider purchasing. All the features like variable thermostat and warm/hot air modes are present. Height adjustable legs are missing.
PROS
Good build quality with respect to the low cost.
Customers reviews are positive.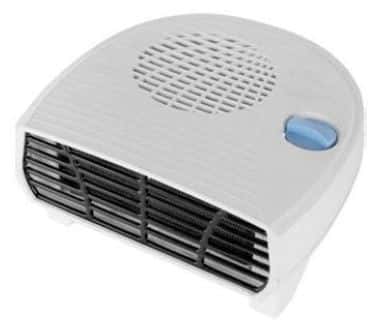 Oreva Blower heater is very small and compact. It cannot be regarded as a very goof heater as the plastic and build quality are not too good. Consider it if you are looking for a room heater which can fit in small spaces. There is no variable thermostat in this product.
Avoid buying Starvin Fan Heater or Amikan Fan Heater Blower
CONCLUSION
Fan room heaters cannot be termed as the ultimate or ideal heaters. They have some inherent deficiencies which PTC or OFR (Oil Filled Radiators) heaters overcome at a greater price. We have separate post which highlight the best models from each of these. Even the best fan room heaters give out smell of burning plastic. Such heaters are not very energy efficient which neutralizes their low cost. Fan heaters are not the ideal choice for room-wide heating. For limited duration usage or for spot heating, we hope this post helped you to identify the Best Fan Room Heater in India out of scores of crappy products. 
You May Like These Similar Posts From AirSwacch!