MI Air purifier 3 is stuffed with features and performance. It is loaded with features which only double cost air purifier hand over to you. Xiaomi launched yet another improved version of its popular Mi Air Purifier 2S in November 2019. Its year 2022 now and still the MI Air purifier 3 is going strong in sales and relevance. Compare the looks of the 2nd Generation MI 2S with that of the newer 3rd Gen MI 3. It may be hard to notice any difference in looks at first. To someone who hasn't used the Mi 2S Vertical Air purifier, MI 3 would look the same. However, the Mi Air Purifier 3 is smarter than its predecessor in many ways. This Mi Air Purifier Review explains you of its better performance and improved efficiency. I find the air purifier light in weight. It can easily be moved around to different rooms. The size is compact and it occupies little floor space.
Xiaomi Mi Air Purifier 3 Review
The success and completeness of the MI air purifier 3 is simple to guess. There has not been any newer model from MI ever since this model made its way out.
Country Of Origin –

CHINA
You may think that the only thing still missing is a remote control. This is not the case. A mobile application lets you control it through WiFi. Even voice control through Alexa is possible! So a remote control is not really needed. Come let us see what new enhancements it has in this Mi Air Purifier Review.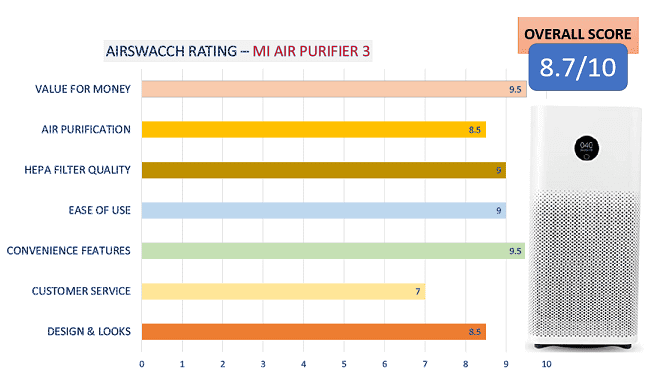 Mi Air Purifier Review – FEATURES
The price of the MI Air Purifier is very competitive. Other air purifiers with similar specifications cost almost double. Rich features and affordability is what makes MI air purifiers so popular.
The good thing about the MI air purifier I'd like to appreciate is that its price hasn't changed much over the years. Its price would mostly remain lower than ₹10,000. Nowadays its gained some price on it. On special days of Sale like the Amazon Great Indian Festival, you can get it for a little lower. But, its not much as already the price is extremely genuine and competitive. However, on days of high demands when the AQI worsens and shoots up, I have seen it priced ₹500 – 1.5K higher. Take the example of Coway or Philips air purifiers which increase the prices at a whim. 



---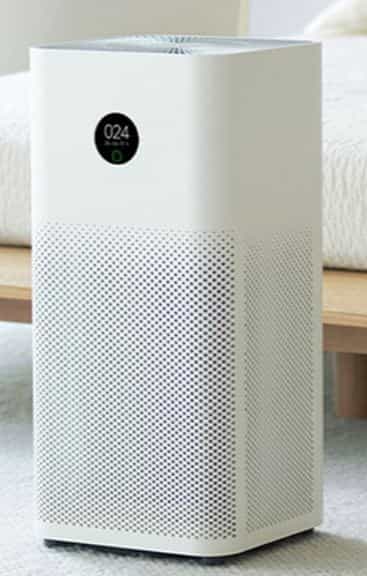 The MI Air Purifier 3 is unique in a way no other air purifier that I've seen comes close to. The sheer number of features, sensors and smartness this air purifier brings forth is unmatched. And by this I mean at this low cost obviously. I mean there are air purifiers like Honeywell Air Touch i11 which compare well to MI, but at double the price. MI 2S Vertical Air Purifier is still relevant although MI 3 has arrived.
Mi Air Purifier 2C is a lower model and thus cheaper but comes with a TRUE HEPA filter. The MI 2C does not have the OLED screen or mobile APP functionality. Hence, you do not get to see the real-time pollution reading. Just plain and simple air purification without any fuss!
PERFORMANCE AGAINST POLLUTION
As far as my own appraisal of the MI Air Purifier stands, it acts well to reduce indoor pollution. What time it actually takes to reduce the PM2.5 reading to below 50 is purely subjective. The time varies with a number of factors. These are room size, pollution level, air-tightness of room and the mode of operation. All these things govern how fast the pollutants are arrested. If there are frequent door or windows closings, it becomes hard to maintain air quality. Its akin to undoing all the hard-work of the air purifier. So, understand this and don't fret if the pollution display LED doesn't show green.
The performance can be rated good if not extraordinary. If compared with other costlier air purifiers, you'll see in this MI Air Purifier review  how its cost is justified. However, it takes a little time in bringing things under control and naturally so.
COMPOSITE FILTER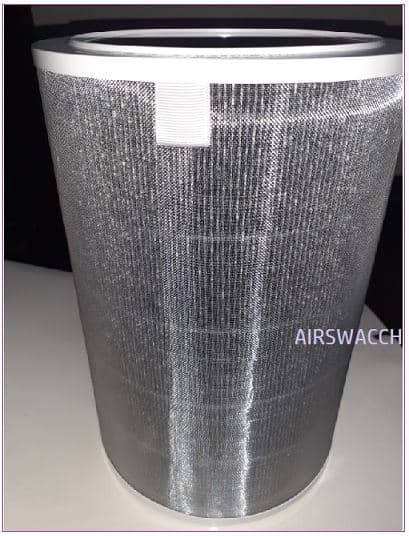 A composite filter which is easy to replace or clean is the soul of this air purifier. It consists of a pre-filter which traps hair, lint, larger particles and pet dander. The second layer is the H13 class TRUE HEPA filter. It eliminates 99.97% of PM2.5 and PM0.3 particles. It also removes pollen, spores of mold, ultra-fine dust and smoke. This is an improved quality filter as compared to the EPA class filter in MI Air Purifier 2S. The innermost layer of activated carbon removes harmful gases like formaldehyde and foul odors.
---
SHARP AIR PURIFIER has H14 Grade TRUE HEPA filter which is even better! It has even more efficiency is trapping ultra-small particles. Why not, after all Sharp is a Japanese giant.
---
RFID Tag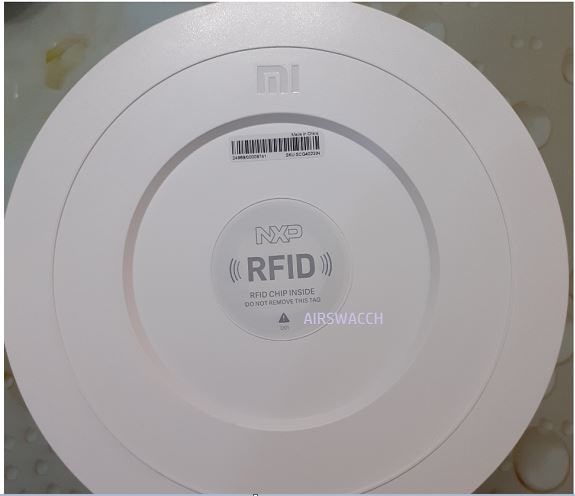 Each original MI HEPA filter comes with a RFID (Radio Identification) tag pasted at the base of it. When you power on the air purifier, it shoes you the filter life remaining in %. Removing this sticker would result in your air purifier display a warning to "Install an official filter".
MI AIR PURIFIER – REPLACEMENT FILTER COST
After a certain period of time, depending on your usage and air quality metric in your area, you'd need to replace the filter. The 'filter life remaining' indication comes handy here and you know its time for installing a new filter. This is when we try to seek cheaper alternatives other than MI's original filter. There are a number of such 3rd party replacement filters available at 2/3rd the cost of the MI original filter.


The thing to note about MI-compatible filters like the one from FINEHEPA is that they do not disclose their grade. In all probability they are just H12 grade.
SMART APP CONTROL
Smart appliances are the need of the hour in times of Artificial Intelligence. The MI Air Purifier has an inbuilt WiFi module. It enables you to connect it to your home WiFi or Mobile Hotspot. Once this is done, your MI Home APP gets connected to the air purifier. The MI Air Purifier's ON/OFF functions can be controlled through the APP. The APP shows the temperature, humidity levels, air quality etc. You can set the fan speed or change the mode of the air purifier like to night, favorite or auto. The OLED display indicates at each power ON, the % of filter life remaining. The remaining life of the filter too can be seen in the APP.
There's an added feature which offsets the need for a remote control. Your MI Air Purifier can be voice-controlled as well. Amazon Alexa can assist you here. You can also schedule the air purifier to turn on or off at a set time via the APP. This is an APP only function and your phone and air purifier must be connected.
CAUTION!
This MI air purifier review is not a sugar-coated or paid review. Smart App is a helpful feature. But, I would personally not advice to install any such App in your mobile. Chinese Apps are notorious for stealing user's personal information. You never know! Just enjoy the features of the air purifier the old fashioned way. You would be able to perform all functions via the OLED screen anyhow.
TOUCH OLED SCREEN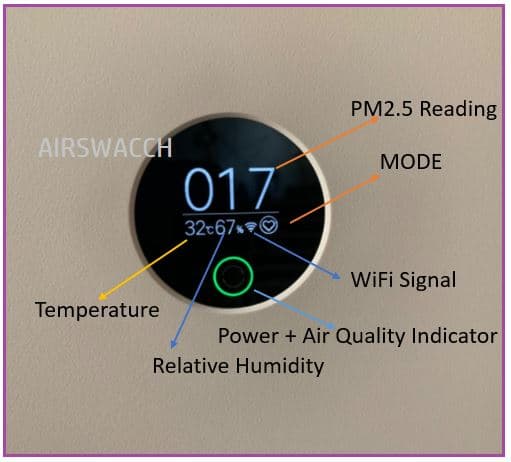 Like its predecessor, MI 3 also has an OLED screen. OLED screen have the ability of lighting up characters without any back-light. So, the non-illuminated part can be darkest of dark. The new MI 3 has an improved touch-enabled screen. The press-type power button in MI 2S has been removed in MI 3. Now, the air purifier needs to be powered ON via the touch screen. Keep your finger against the green circular LED for a few seconds to power on the air purifier. The OLED screen displays the real-time air quality index, temperature, relative humidity and the current mode.
A press button at the back enables you to shut the OLED display off. This is a good practice to adopt to conserve the battery. Why would anyone want the display to work when no one is seeing or monitoring it? So, just turn it off when you don't need it. I know you are finding this MI Air Purifier Review overwhelming! Which other blog gives so much info, right!
REAL TIME POLLUTION DISPLAY
MI Air Purifier was probably the first air purifier in India which introduced this feature. Keeping the prices still affordable triggered other brands to follow suit. Competition is always good you know. The MI Air Purifiers have a very sensitive LASER based particle sensor. You can think of it as the eyes of the air purifier. Its this particle sensor which through its LASER counts the particulate density in the air. This is reflected in the form of the pollution reading on the OLED screen.

I have myself felt that the accuracy and sensitivity of the particle sensor is excellent. I find no reason of suspecting its reading , unless the sensor is broken or dirty. Refer to the user manual to know how to clean the dust sensor. Just speedily walk past the air purifier while it is running. You'll see how the PM2.5 reading tends to go up slightly. This is because of the air you carried with you towards the air purifier.
IMPROVED FILTER QUALITY
If you can spend more money, the TruSens Z-3000 air purifier is the ultimate! The filter used in MI Air Purifier 2S was EPA Grade 12 filter. It is inferior to what MI Air Purifier 3 now has. MI Air Purifier 3 has a True HEPA filter of Grade H13. This broadly means that the air purifier is now able to trap the particles even better. The air purifier removes as much as 99.97% of particles from an air-tight room. 
GREATER COVERAGE AREA
The newer version 3 boasts of a greater coverage area than before. Now the air of a room as large as 484 sq.ft. can be cleaned in 10 minutes. For this put the air purifier in maximum fan speed. MI Air Purifier 2S could cater to rooms sized 400 sq.ft. This much coverage area does not mean you begin to think that the air will be cleaned quickly. The air purifier will take its own sweet time.
BETTER CADR (CLEAN AIR DELIVERY RATE)
CADR is a measure of volume of clean air which an air purifier generates in an hour. The more this value is, the better it is. CADR is measured for dust, smoke and pollen separately. Each air purifier has different ratings for all three of them. The CADR for particle/dust is generally referred to as CADR as we know it. MI Air Purifier 3 has a CADR of 380 m³/h. The corresponding value for MI Air Purifier 2S was 310 m³/h. An improvement of 22%.
ENHANCED AIR FLOW
The MI Air Purifier 3 has a square top from where the pure air is released. Earlier, the opening for fan was narrower and circular in shape. The power button was at one side at the top face of the air purifier. Now a full rectangular mesh covers the fan from top. This means that there is no obstruction to airflow however less it was in MI Air Purifier 2S. Hope you are liking this MI Air purifier review? The below picture depicts what I mean clearly.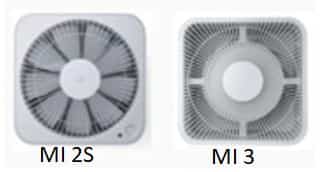 MORE REFINED FAN DESIGN
A better fan design creates a powerful centrifuge in the air like a torrent of sorts. A cylindrical design ensures that a 360° check on pollutants is possible. The fan sucks in air from all directions for cleaning it. The inner walls of the air purifier are very smooth to provide no air resistance.
MORE FAN SPEED LEVELS
You can now adjust the fan speed or the mode of operation from the touch panel of the OLED screen. Apart from the modes, you can set the fan speed to Low, Medium or High. In MI Air Purifier 2S one can only change the mode like sleep, auto or power from the power button. Although, the fan speed was changeable via the MI home App earlier also.
LESSER NOISE
MI Air Purifier 3 has a slight improvement in the noise levels at highest fan speed. Down from 66 db(A) to 64 db(A). This noise level is not something which MI would be proud of. Its definitely on the higher end. Anything more than 54 dB at top fan speed is below the norm.
Effectiveness Against Smoke From Bush Fires
The performance against smoke from crop stubble burning is better than MI 2S. Frankly speaking, the pollution level which citizens of Delhi NCR face so often is a grave situation. Similarly, when forest fires in California or the bust fires in Australia rage things get out of hand. No room air purifier can cater to so much pollution day after day. After all a filter is just a filter and has limits. Smoke in such times seems to never get out of stock. Hence, not just with Mi Air Purifier 3 but with any other air purifier, the smoky smell sets in permanently.
COMPARE – MI Air Purifier 3 Vs 2S Vs 2C
Because of the minute differences, a comparison of Mi Air Purifier 3 Vs 2S Vs 2C becomes necessary. A comparison chart below should help you make a clear understanding.
| Feature | MI Air Purifier 3 | MI Air Purifier 2S | Mi Air Purifier 2C |
| --- | --- | --- | --- |
| | | | |
| Coverage Area | 480 sq.ft. | 400 sq.ft. | 452 sq.ft. |
| CADR | 380 m³/h | 310 m³/h | 350 m³/h |
| Filter Type | True HEPA H13 Class | EPA E12 Class | True HEPA H13 Class |
| Smart APP | Yes | Yes | No |
| OLED Display | Present-Touch Enabled | Present-Touch Absent | Absent |
| Air Quality Indicator | Numerical Reading + Color LED | Numerical Reading + Color LED | Small Color LED |
| Particle Sensor | Laser Based, High Precision | Laser Based, High Precision | Infrared Based |
| Filter Stages | Composite Filter With 3 Layers | Composite Filter With 3 Layers | Composite Filter With 2 Layers |
| Works With Alexa | Yes | Yes | No |
| Cost | | | |
| Noise Level | 32 - 64 db(A) | 32 - 66 db(A) | 32 - 63 db(A) |
| Power Consumption | 38 W | 29 W | 33 W |
| Weight | 4.8 Kg | ~4.6 Kg | 4.1 Kg |
COMPARE MI 2S vs MI 2C (Click Each Tab)
COST - Mi 2S vs Mi 2C
The MI Air Purifier 2S has quite a handful of features which 2C lacks. Obviously, missing features is what makes the 2C cheaper. There is approximately 2.5 Thousand Rupees difference in cost. But, with this little difference you lose on some cool convenience features in MI 2C.
MI 2C LOSES     MI 2S WINS
OLED DISPLAY- MI 2C vs MI 2S
The MI Air Purifier 2S has a digital OLED display. The particulate concentration in the air is shown in real-time. This is a really important feature which helps to develop users' trust in the air purifier. A user can observe the gradual decrease in pollution levels which boosts the satisfaction. One gets confident that the air that is being breathed in is pure and safe.
Contrast this with the Air Quality Indicator in MI 2C. This model displays air quality but just in the form of a small LED. The LED changes color from Red to Orange to green. This is not a very catchy indicator as the lights change in much larger time frames than numbers change in MI air Purifier 2S. Also, the LEDs are quite small which makes it difficult to notice the changes in air quality easily.
MI 2C LOSES     MI 2S WINS
HEPA Filter Quality - MI 2S Vertical Air Purifier vs MI 2C
It may look strange but MI 2C has a better quality HEPA filter than the MI 2S. Yes, you heard it right! MI 2C uses a TRUE HEPA filter which is H13 grade. While the HEPA filter in MI 2S is probably H11 grade. The higher the grade the better quality filter it is. A True HEPA filter has a higher efficiency of removing particles from the air. A TRUE HEPA filter can remove up to 99.97% of the air-borne particles as small as 0.3 microns.
MI 2C WINS   MI 2S LOSES
LASER - MI Air Purifier 2S vs MI Air Purifier 2C
The sensor in MI 2S is a high precision Laser based one. You can personally see how sensitive and accurate the sensor in MI 2S is. Even if a person gushes towards the air purifier, the reading increases. This is because when someone abruptly moves towards the air purifier, invisible dust particles are drawn towards it. This causes a spike in the OLED display reading.
Now, coming onto MI 2C. It employs an infrared light based sensor which is considered less sensitive.
MI 2C Loses    MI 2S WINS
Filtration Stages
Although the HEPA filter quality of MI 2C is better than MI 2S; there is a tradeoff. Since the costs were to be kept lower in MI 2C, they have reduced one filtration layer from it. Hence, MI 2C has only 2 stages of filters compared to 3 with MI 2S. The quintessential carbon filter is missing from MI 2C. This means that adsorption of harmful gases and odors from the room air is no longer possible. In simpler words, with an increase of 4.97% particle removal capacity in 2C, you are losing out on protection from harmful fumes and odors. I would say this would be an unnecessary sacrifice.
MI 2C LOSES      MI 2S WINS
CADR - MI 2C vs MI 2S
Due to a better quality filter in MI 2C it has a higher CADR. CADR is the Clean Air Delivery Rate of an air purifier. It measures how much air volume the device can clean in an hour's time. The higher the CADR, the better it is.
CADR MI 2C= 350 m³/h
CADR MI 2S=310 m³/h
MI 2C WINS            MI 2S LOSES
Convenience - MI Air Purifier 2S vs MI 2C
The OLED display in MI 2S displays the PM2.5 level, the temperature and humidity. It also displays the filter life remaining. All these are missing from MI 2C as there is no such screen in it. Plus, MI 2S allowed you to control it via your phone over WiFi using an Application. The air purifier could be conveniently controlled through the APP. Turning it on/off, setting the fan speed or the mode is so much easier. You do not get this comfort in MI 2C just because you chose to save some money! 🙂
MI 2C LOSES           MI 2S WINS
CONCLUSION – MI AIR PURIFIER REVIEW
Hope you found this MI Air Purifier Review informative. So, now you see how feature rich the XIAOMI Air Purifier 3 is. A host of functions, excellent filter quality, good coverage area and CADR are its highlights. To reiterate, the cost is very affordable and reasonable. You can ADD IT TO CART. In terms of volume of air purifies sold and the ratings on Amazon, no one beats COWAY AIRMEGA 150. As a word of advice, buy multiple air purifier units rather than one common mammoth air purifier if you want to clean air of separate rooms. Large air purifiers are meant for halls, drawing rooms or big rooms. Be social and share this post if you found it worthy.
AN IMPORTANT COUNTER-VIEW
Some people reject air purifiers as if they are a waste. They advocate to use indoor plants instead for combating pollutants. The more greenery there is; the better. We too endorse this, but partially.
Let us give a scientific argument against their conjecture. Indoor plants will definitely boost oxygen levels in the rooms. Some of them will absorb harmful gases too like the snake plant. But, will the plants have any effect on the PM10, PM2.5 or PM0.3 particles in the rooms? NO! So instead of being critical of the use of air purifiers, such people should think reasonably. Why do we have to do "EITHER THIS OR THAT"? Why can we not place indoor plants as well as deploy an air purifier? This way we'll get the best of both worlds. We would be protecting ourselves from particulate matter, as well as doing a small bit for the environment! SEE HOW I HAVE IT AT MY HOME. How was it? Do Share this post if you liked any bit of it!
You May Like These Similar Posts From AirSwacch!