One of the Best selling Air Purifiers in India is the Honeywell Air Touch A5. Consumers like you have made a smart choice of zeroing in on Honeywell air purifiers. A still smarter decision would be to choose the Honeywell Air Touch i8 air purifier. Read this full review for a complete understanding of the features which it has to offer. Affordable price, excellent performance, neat looks and inbuilt air quality indicator are reasons enough why the Honeywell Air Touch i8 has emerged as the preferred choice of clean air seekers.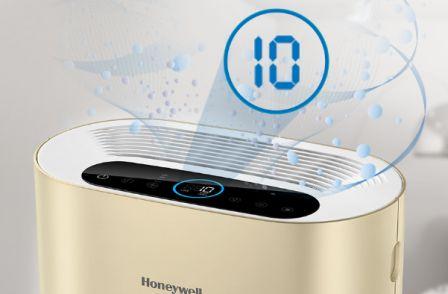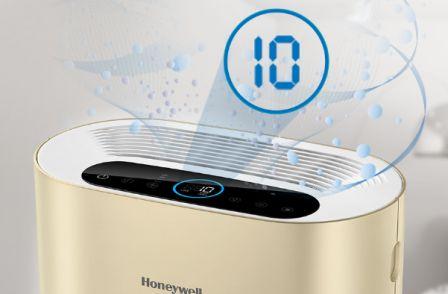 LATEST PRICE CHECK
FEATURES – HONEYWELL AIR TOUCH I8
Model Name – HAC30M1301W
NEWER MODEL ALERT!
COMPETITOR
Philips AC2887.                     Philips AC2887 Review
DESIGN
All the Honeywell air purifier models have more or less the same body design and shape. Without any noticeable variation in looks , the Honeywell i8 can only be differentiated by looking at its control panel. I would not call these units as sleek or compact. The body dimensions need you to provide these air purifiers their deal of space.
Honeywell air purifiers draw the polluted air from the side mesh. The air is passed through the filters when its purified form is blown out from the top. This bottom to top airflow needs you to place the air purifier thoughtfully. You should place it where there is no obstructions like walls or furniture in immediate closeness. Its not hard to imagine that air flow would be better if you put the air purifier in a clutter-free position.
Colors available – Champagne Gold and Classic White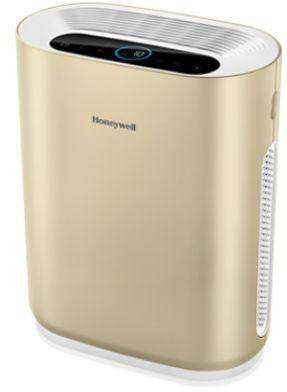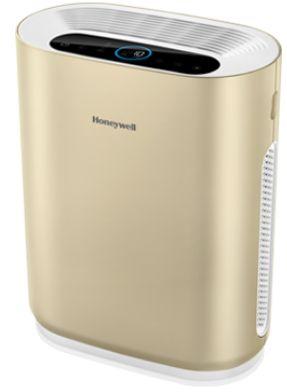 COVERAGE AREA & CADR
I would have been disappointed if  Honeywell Air Touch i8 had a smaller coverage area. With the amount of size it occupies, it ought to do the work of cleaning the air of a middle sized room. It is capable of  catering to an area of 387 sq.ft. Most homes have rooms around this size only. You can safely use this unit for larger rooms too.
Coverage Area of about 387  sq.ft
An air purifier when run in a closed room cleans its air multiple times. This is known as its ACH (Air Changes per Hour) value. An air purifier which promises to have a coverage area of X sq.ft room must have an ACH of 4 atleast. The more the value of ACH, the better. But, mostly 5 is the upper limit wherein the air purifier cleans whole room's air in 12 minutes.
So, if you intend to use the Honeywell Air Touch i8 for a larger space, you can. The only difference it would make is to take longer to bring down the pollution level. If you keep your doors and windows open or semi-opened then you are missing the point. You must create a closed environment to use an air purifier the right way. The outside air whether its clean or polluted needs to be restricted from entering the room. You can always fill fresh air whatever time it is flows on a day to day basis.
CADR (Clean Air Delivery Rate)
Honeywell Air Touch i8 has a CADR value of 300 Cubic m/h. A CADR value which is as close to an air purifier's coverage area rating is the best. In this case, you can safely bet that the unit would be able to clean an area of 387 sq.ft. or smaller very efficinently.


Air Quality Indicator
Honeywell Air Touch i8 air purifier has inbuilt dust sensors. These sensors monitor the density of particles floating around in the room's air. The particles number in ppm is sensed by the laser and displayed. This digital display helps you determine whether you should feel relaxed or worried about your indoor air quality.
Not just the digital reading of PM2.5, there is also a Tri-LED system. Depending on the pollutant levels in the room, the LED changes its color. The circular blue light shown in the image below is where the color change is visible.
Advanced Filtration
Three stage advanced filtration system removes more than 99% pollutants, PM2.5, pollen, bacteria, virus, formaldehyde, toxic gases & odour. It consists of combined patented HiSiv and HEPA filter that removes pollutants with more than 99% efficiency.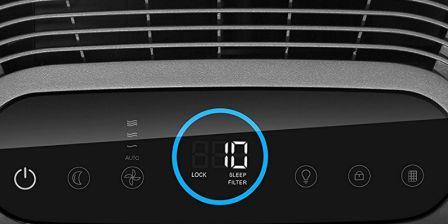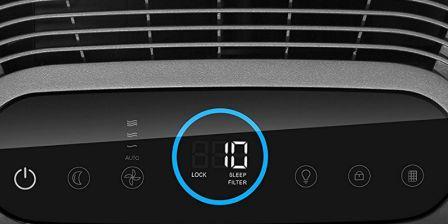 Washable pre-filter that removes larger dust particles, pet hair/dander, soil etc. Approximately 3000 hours of filter life, basis the ambient pollution can work for a year if used for 8 hours daily.
Filter Specifications
Do Remember to remove the plastic off the filters before using the air purifier.
Pre Filter
The Honeywell Air Touch i8 has a pre-filter stage. Helpful as it stops most of the dust and larger particles from choking the inner filters.
Filters can be replaced easily without the need to call a field technician for a visit.
Filter is washable which prolongs the life of the inner compound filter. Bear in mind not to use harsh chemicals. Instead use plain water.
Removes larger dust particles including PM10, hair and cloth fibers.
Compatible with Honeywell Air Touch I8 models – HAC30M1301G (Champagne Gold), HAC30M1301W (Classic White)
Compound (HEPA + HiSiv) filter
Honeywell Air Touch i8 Compound Filter, combines high grade HEPA and patented HiSiv technology into one filter
Removes PM2.5 and microscopic allergens
Purifies up to 0.3 um particulate matter
Removes formaldehyde, Volatile Organic Compounds and odor.
Improved life of up to 3000 hours and high efficiency
Compatible with Honeywell Air Touch I8 models – HAC30M1301G (Champagne Gold), HAC30M1301W (Classic White)
Not washable, replace when alert blinks on touch panel
Filter Change Indicator
When the inner compound filter expires its utility and air cleaning capacity, this indicator glows a red light. Below is the link to purchase the replacement compound filter and pre-filter.

Ozone Free
Completely 'Ozone Free' Air Purifier. Does not emit any harmful gases as a byproduct of the filtration technology.
Low Noise
Low noise – 38 dB to 63 dB. This noise level is lower than most indoor air conditioners. The air purifier will become noisy when operated in full fan speed mode.
Child Lock
Child Lock lets you protect the air purifier from naughty kids changing its settings.
Auto Mode
Complete peace of mind is also called auto mode! Just set to this mode and the Honeywell i8 air purifier adjusts its fan speed and operation as per need.
Response to Air Quality Change
The air purifier responds quickly to changes in ambient air quality. For example take the instance when the indoor air quality is better than the outdoors. As the doors are opened and outside air is let in- the air purifier senses the bad air and increases its fan speed.
PROS
Elegant design and excellent performance. Reviews and customer feedback is largely very positive.
Good quality filters and the trust of Honeywell
Price not too high
Air Quality Indicator is a big plus
CONS
Price of replacement filters is high. A new filter set purchase will not be a thoughtless affair. Many people will want to delay the day when they have to spend approx 3600 for the compound filter.
You May Like These Similar Posts From AirSwacch!