Have you read the Levoit Air Purifier Review posts on Airswacch? If yes, then you must be familiar with their features and design to some extent. Most have a cylindrical body and a few models have cuboid shapes. But, if you're looking for something unique in terms of shape mostly or want to flaunt a costly air purifier, we have Dyson air purifiers today. The Dyson Pure Cool Air Purifiers are a whole new gen of voice-controlled products that come in a unique tower shape. In this Dyson Air Purifier review, you will find some commonalities. You will see every Dyson air purifier has an eye-catching yet similar design, high-quality filters and promises noise-free operation. But do the Dyson air purifiers satisfy the users in reality? This question becomes especially pertinent since they cost a lot! We've written down this Dyson Air Purifier review just so we break down each of its features. So, you will know for sure if this is the one for you or not.
For people with asthma or other respiratory problems, breathing clean air is paramount for their health. Since it a question of heath, people might be scared to try something so different. Well, don't be worried about the difference in style and design. We can assure you that despite taking half the floor space, Dyson air purifiers are good at what they do. If you're enticed by their range of tower-like, elegant designs and want an in-depth analysis, read on.
DYSON AIR PURIFIER REVIEW
INTRODUCTION TO DYSON AIR PURIFIERS
Dyson has set an industry standard when it comes to the design of their products. The company was founded in 1991 by famous industrial designer James Dyson. Their chic and elegant designs have gained them many followers around the world. Many of them are curious souls trust me! Not only that, Dyson claims that their products exceed expectations when it comes to performance. Known for their exorbitant price tag, we cannot help but wonder – does the product justify its tag? This is when decided to write this Dyson Air Purifier Review.
Dyson made their India debut in 2018, releasing their range of Pure Cool Link purifiers. Air purifiers encompass a lot of different factors, so it's hard to find the right one. Brand name could be the first thing you notice. But other factors should also be accounted for. Dyson has established itself as more than a brand. They have manufactured several home appliances. From vacuum cleaners to hair stylers – Dyson is a go-to brand for style, comfort and function. Dyson air purifier review proves that they have made an impact on this market as well.

The Dyson TP03 Air Purifier is a part of the Pure Cool series. It is also the largest product in the series. So, the product is sleek and elegant. Its body is made of sturdy ABS plastic. An LCD screen displays necessary info and a magnet-back, touch remote is provided. The original model can connect to Alexa and you can run it by giving voice commands. However, in the TP03 models being released in India, this feature is not present. Hence, this means that users having a penchant for such techs would need to buy Alexa separately. To see the performance, you can install the Dyson Link app and see detailed reports. The fan has a 360° filter running all around it which is usually not seen in other products. You can also rotate it up to 350° in the left-right directions.




DYSON AIR PURIFIER COOLS AIR!
The air velocity is quite strong and it can also be used as a fan. But it cannot fully replace one. To some extent, it cools the air as well when used in Auto Mode. Performance-wise, the product does not stand out especially. You can get good quality air purifiers with HEPA filters and dual-use modes for less cost as well. Some also felt that the product took a bit too long to filter the air. If you open the door or window, the AQI deteriorates and it takes some longer time for the purifier to bring it up again the green light stage. Hence, do keep all doors and windows closed to test the real air purifier throughput. While Dyson promises to be noise-free, at top speeds some noise is obviously present.
This Dyson Air Purifier Review is split into sections for you to compare its features succinctly. First, let us look at the build and design.
DESIGN & DIMENSIONS
No doubt Dyson has come out with a sleek design that has since been adopted by several others. The body is made up from ABS plastic which is a norm in most cases. Using Voice commands, App-linking and various airflow modes – it certainly shows that it has fully capitalized on current technologies in vogue. However, the method of air-purifying used is the same as before. It uses a bottom to top airflow. With this price tag, one might have expected for a non-plastic body or at least some metallic finishes. But the plastic itself is very good quality and has a matte finish that gives it a steel-like look. From afar, it does pass off as being metal-coated at least.
The Dyson Pure Cool TP03 and its sibling models have a cylindrical base with a mesh which may be difficult to clean. The mesh will attract dust and dirt – something very common in our air.
THE PRODUCT
The product has a cylindrical base that contains two filters inside. The base is covered with a mesh. The ON/OFF button is located here. The HEPA filter removes particulates and an additional carbon filter is present. True HEPA filters, as you would already know are the best filters available. They have the same filtration power as that of an  N100 rated respirator mask! So, you can rest assured about its filtering capacities. The mesh may make it difficult for you to clean the product. Our climate here causes dust to settle quickly and often.
The model weighs 6.65 Kg so you can easily move it around. It is 105.4 mm high so it will reach as high as door handles or window sills. The tower and the base can be separated. The base can even be rotated up to 350 degrees.
DISPLAY
An LCD screen displays WiFi connectivity and fan speed. In fact, the product is linked to the Dyson Link app. You can download it and connect it to the device. So, even if you're at work, you can monitor the air quality at home. In the earlier version, this screen was not present. So users had to open the app to check the details. This is a good improvement that Dyson has made. The remote control has a simple design. You will find it is magnetized so that the small item is not lost.
OTHER INFO
Overall, Dyson Pure Cool TP03 has a slim and compact design and takes very little space. It is taller than other filters but width-wise takes less than half the space. There is also a power adapter which is quite heavy and has a 3-pin plug. You will find that earlier versions have a lighter adapter model. But the new adapter can handle voltage fluctuations from 100 to 250 V. In the Indian context where power cuts and voltage surges might happen anytime, this is a benefit for us. Still, it is quite big and heavy and many users might not like this. But not everything can be obtained in all versions.
The cord length is 1.9 m which is more than the industry standard. Usually, companies provide 1.8 m long cords. The best part though is the addition of the app. Because using this, you can check real-time graphs. You can set timers not only for now but also for the coming days. Basically it allows you to schedule on what nights you want the purifier to stay on and the timing for it. The app also shows a detailed breakdown of the particles removed and more information regarding AQI. It displays the amount of battery left as well.  
TYPES OF FAN MODES
The long, tubular fan placed on top of Dyson Pure Cool TP03 has two types of slit modes. There is a 1.5 mm slit running all around the front face. If you want high speeds, this is the one used. In regular mode, it can throw 360 litres of air per second in a room. The velocity at which this air is projected is quite high so it works as a fan as well and helps cool the room. As the air leaves the fan zone a vacuum is created which then causes new air to rush in into the base. Thus it uses a constant air inflow which is in part – thanks to the design. The second slit is placed along the sides of the fan area. It is larger in size and does not throw air at high speeds. Rather, it diffuses air slowly into the room.
If the temperature is low enough, and you simply want filtered air then the diffused mode comes handy. The fan oscillates 350° on all sides. So large rooms can benefit from this. The product is certainly aimed at those who also want style in their homes. Since it provides similar performance overall as others and the stand-out feature is the design. If you want a functional and simple-looking air purifier, then this might be expensive for you. You can check out the reviews of other air purifiers here.  
HOW IT WORKS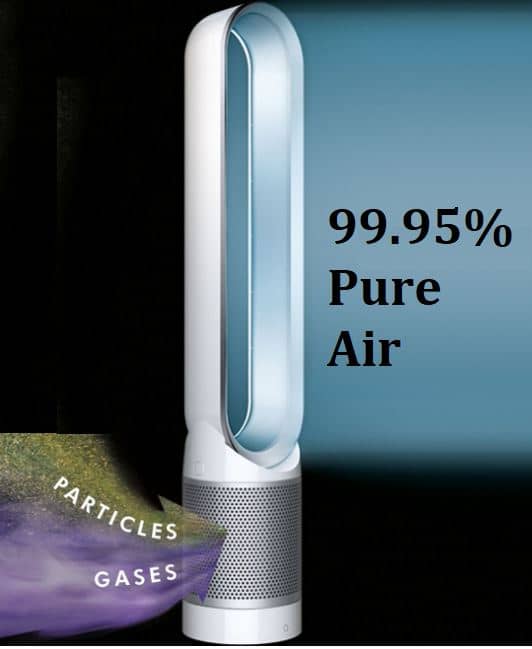 So, Dyson uses conventional airflow system. That is air enter from below and is projected from above. The cylindrical base takes in unfiltered air, where it passes through the fan. Here, it undergoes filtration and is then projected into the room. The filter is capable of removing dust particles up to 0.1 microns in dimension. In total, it filters out 99.5% of pollutants. To give you an idea of how small that is – our human hair has a thickness of 17 to 18 microns! Its unique design is not only for visual content. The design helps to create a "low pressure" zone which helps to circulate air by creating a beam. Which is then passed through the 1.5 mm slit into the room.
The Dyson air purifier throws air at a considerable speed. So, this serves as the dual function of cooling the air like a fan as well. However, if you're living in an exceptional hot Indian city, then remember that this cannot replace an AC. But the difference is that with its efficient technology, it uses less electricity to perform these functions. It has three sensors made to detect PM2.5 and PM10 particles and one for detecting VOC in the air. It also tracks the temperature of humidity of your room. The display icon shows a green button when the air quality is good. You can also use it to check the WiFi connectivity. Other than that, not much else is shown here. For details, you have to check the app.  
COVERAGE AREA AND ACH
Dyson states that their purifier can cover a range of 450 sq. ft. This is true in case of moderate to slightly high cases of bad air quality. But perhaps even they had not estimated how dusty certain places near the equator are. If you live in such a zone and your room are larger than 450 sq.ft., you might need to buy two of these to get a high AQI. Many users found that while it consumes less power, it also purifies a bit slowly.
Some time is required to feel the change in the air. Dyson's manual or any website does not offer specific details about the CADR (Clean Air Delivery Rate). This is because CADR calculation depends on a lot of factors including the size of the room so it is difficult to state with certainty how many air changes per hour will occur.
However, certain assumptions and calculations conducted by one of their competitors stated that it has a throw of 75 cubic metres per hour. This is not very impressive for the price range and one can do better with lower-priced models. Despite its less-than-impressive credentials, when monitored with the app, it is seen that whatever be the specifications, it at least does its job well.
With 360° air throw and the base rotating from 45° to 350°, the TP03 model doesn't have any problems in reaching the entire room.  The "beam" projected in the room helps keep a healthy flow so you never feel that the air has stagnated.
FILTERS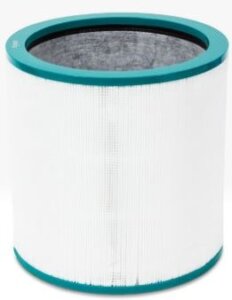 As we said before, the Dyson Air Purifier has two filters in it. Many take it as a given that Dyson will have great filtration. So some Dyson Air Purifier review do not elaborate on this point. However, we're giving you a proper analysis of its filters and how they work. First, we come across the outermost filter.
Preliminary Filter
This is not a proper purifying filter but just the first layer of mesh that prevent large particles from getting in. It is present all around the cylindrical base. This filter doesn't do much. It simply makes sure that no large pieces of lint, webs etc make it into the system.
H-13 Glass HEPA Filter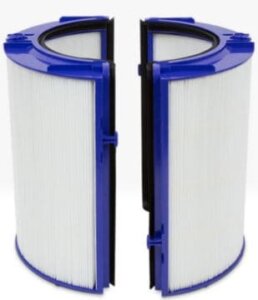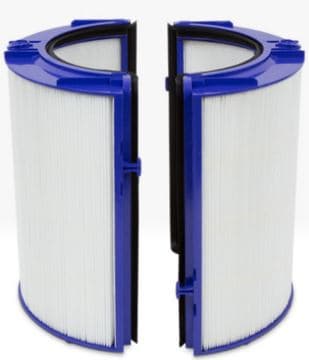 HEPA Filters removes 99.95% of particulate matter from the air that has 0.3 microns dimension. So what does the "H-13" signify? These filters have different specifications. The H-13 filter can filter up to 99.75% of particles in a spot and more than 99.95% from a room. This filter is fully vacuum-sealed. The best filter would be rated U17 but these are only used for industrial purposes.

For residential use, an H13 filter is perfectly good. For your comparison, this is the grade used in hospital clean zones as well.  The TP03 uses a 6.7 mm length filter. In the TP04 model, it has been upgraded to a 9 mm filter. The cylindrical base can be easily opened to access and clean the filter. However, Dyson's manual states that you don't need to do this regularly. If the purifier is used for 12+ hours in a day, then you can replace the filter once annually.
ACTIVATED CARBON FILTER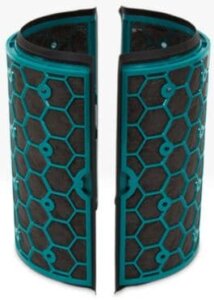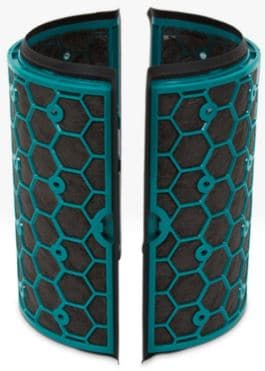 Carbon filters are used to remove toxic components from the air. So it basically clears the air of chlorine, sulfates, any sedimentary compound and most importantly VOCs. It can also filter out bad odour and fumes from the kitchen. The TP04 model uses a Tris Activated carbon filter which means it cleans the air three-fold and faster. However, in the TP03 model, a regular carbon filter is used so it takes time to filter. The filter is easily accessible. You can replace it within 10 minutes if you know the process. If you're living in a dust prone zone, then you might even need to change it twice a year.
CHECK PRICE
Unlike other models where regular cleaning is needed, Dyson states that you don't need to do so. Replacement filters can be easily ordered off as Amazon as well. Dyson has expanded and has 50 centres in India. In fact, they employ around 15,000 employees. So getting service is quite easy. If you're facing any issues even with installation, they will be there to help you and guide you through the process.  
NOISE LEVEL
Dyson state that the  Dyson Pure Cool TP03 model is completely noiseless. It even has a certification to prove the same. However, this is true only in some cases. The Sleep Mode uses diffused air released from the sides and is absolutely noiseless. Even in lower fan settings for the Auto Mode, it is fairly noiseless. But once you cross the 5 mark in the Auto Mode, a distinct noise can be heard. At the top fan speed of 7, this is quite distinct.
This cannot really be helped. Even if the machine is working noiselessly, throwing air will itself cause some amount of noise. At most times, you will not need to use it at its highest power. So this is not really a big issue. At night, the sleep mode is enough for slow diffusion. This product is not made to replace a fan or an AC. It is first an air purifier and then these things. So either way, you will be using an AC or fan, which will be noisier than the air purifier.  
CONTROL PANEL
As stated, the product has a remote control. It is silver in color and has flat buttons on top. It is very minimalist in design and has a magnet attached. We have at least at some point in our lives lost a remote. And had to waste a better part of an hour looking for it! With this magnet, you can easily place in on any metal surface in the house. You can even place it on top of the Dyson TP03.
REMOTE CONTROL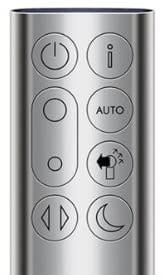 In a very interesting design, the lower portion of the remote is curved in the same way as the top part of the purifier. So it can be placed on top of it. Here, it will always be within view. The remote has 8 buttons on it. There is no text but images are present. It is very easy to understand what each represents. The sleep mode has a moon shape on it. There are buttons for ON/ OFF and changing the speed. You can switch on the Auto Mode and also move the fan's direction to the left or right using the remote. You can set a timer for the purifier to switch off automatically after some time.
ON-PRODUCT CONTROLS
Other than this, an LCD screen is present on the base. There is a huge ON/OFF switch located here as well. It is located separate from other switches and cannot be mistaken.
GREEN LIGHT – This turns green when the air quality index is good.
WIFI ICON – This turns on when the device is connected to your home WiFi network. The device can easily connect to WiFi. It is a simple and easy process.
FAN SPEED – This shows the current speed of the fan.
TEMPERATURE DISPLAY – This displays the temperature of the room in degree centigrade.
NIGHT MODE ICON – This is the only icon that remains active when night mode is activated. On activating night mode, first, the rest of the display dims. After some time,

they shut off altogether and only the small moon icon remains lightly on.

This is a good feature for light sleepers.
In higher versions, many other things are displayed here. A Dyson air purifier review of TP04 model shows that in higher models, even the AQI and also the exact amount of particles present in the air are displayed. However, for this version, only basic features are there. As said, the buttons are flat and lit with white light from within. They turn blue when activated. Dyson Air Purifier review of various models show that many users found this feature helpful.
FREQUENTLY ASKED QUESTIONS
1.) Can I Change The Filter Myself?
One thing this purifier has right is how easy it is to change the filter. First one needs to separate the base and the tower. It is detachable in this model. On removing it, the cylindrical base can be opened by removing the top lid. The filter can simply be slid out now. It's that easy! The filter is cylindrical and fits snugly inside the base. On slipping it out, you can replace it with a new filter and close the lid. Filters can be changed once a year or as needed depending on where you live. The TP04 model has a front open filter that can be cleaned. However, in this model, it is difficult to properly clean the filter. Dyson has advised users to not do so. The filter has a total shelf life of 4400 hours. New filters are available on Amazon.  
2.) Where Should I Place The Air Purifier?
Air Purifiers should be placed in a place where they have proper space around them to project air. Placing them in a niche or shelf can prevent them from effectively circulating air. it can also increase noise since the air comes out at high speed. On hitting any closed surface it can result in noise. Dyson states that their purifiers can be placed within any area on the floor when in auto mode. In this mode, air comes out from the front and can reach long distances. However, when using Sleep mode, the air comes out from the sides. So it should be placed where there is nothing else on the sides otherwise the air will not reach all corners of the room.
3.) Can I Open Doors And Windows When Using Dyson TP03?
Technically speaking, air purifiers are not like air conditioners. You don't need to keep your doors and windows closed to allow it to work. However, keeping your window closed can certainly make your purifier's work easier by not admitting in new pollen and dust. However, users noticed that with Dyson, any opening of window resulted in a quick drop of the AQI condition mentioned in the app. It took quite some time for the purifier to again recirculate and bring up the AQI to the desired level. While Dyson uses a strong and fast filter, this is the case in cities where AQI has taken a turn for the worse.  Most Dyson air purifier review agrees that the device takes time for filtration.
CONCLUSION – Dyson Air Purifier Review
So, it is clear that Dyson has spent a lot on its Research and Development team. The design throws air in all direction and has a completely silent sleep mode. The filter works well for places which have moderate to below-average AQI. For places with worse AQI, it takes some time to reach a good AQI index. However, some features are quite handy. Seeing the LCD display on the green will always put us to ease.
Being an international design, some attention to details is quite impressive. During night mode, the display screen dims down to prevent lighting up the room. If you hate seeing the AC display screen at night as I do, then you will surely appreciate this tiny detail. Similarly, the remote design as stated previously is also a small wonder. Despite all this, it feels as if the product is targeted towards a particular section of society. It is without a doubt a premier product. Dyson models for any device are still priced as above-average in India. Many people would like the design but shelling out so much cash would make them reconsider. 
If you are buying an air purifier, you should be paying for good quality air. Here, it feels as if you are being made to pay for the fancy design as well. If the cost doesn't make you bat an eyelid, then this can be a great addition to your home. However, if you do feel that you don't mind shelling out cash, then there is also the TP04 which is an upgraded version of the same. In it, a proper LCD screen displays all AQI variants. You also get a better three-layered filter. The difference in price is minor compared to what you are already paying.
FACTORS TO CONSIDER
One thing about the app is that it does not show the amount of battery left in hours. Rather it shows it as a percentage. Now, as a layman, this is slightly frustrating. It would be easier to understand something like "2 hours left", rather than seeing something like "60% charge left". This might be tactical move but feels a bit non-user-centric. Amazon allows a 10 days replacement period for the product. But many manuals and even the service team themselves tell users to use the product for at least 7 to 10 days. This is so that it can get used to the air index of your area and adjust accordingly. Looking at the Dyson air purifier review, you will see that every model has some improvement. So, consider if you want this model, or go for higher ones.
Now you can see the irony in these statements. Is this a marketing ploy? A product might require time to get used to a place. But if so, then certainly Dyson should provide a longer time for a replacement that just 10 days. Most Dyson air purifier review does not state this, but we found it to be an interesting loophole. Overall, the product has a 2 years warranty. 
Any replacement filters can be easily obtained. The design of the app and its interface could also be improved. It is a bit bulky and slow to use. However, this was probably not high on their priority list it seems. For places with bad AQI, filter replacement can become expensive. The replacement filters cost within ₹3000, but if you need to change them twice a year, the cost builds up.




You May Like These Similar Posts From AirSwacch!