This post condenses into the Levoit Air Purifier Reviews. Levoit is fast gaining foothold as a reliable air purifier brand across US. It has over the last few years since its inception in California gained distinction as a company having a knack in introducing new models quite frequently. In a way, it goes on to showcase their focus on bringing out new devices with some degree of improvement and innovation each time. Levoit makes air purifiers, humidifiers, Himalayan salt lamps and vacuum cleaners. From just the build quality of its products one can make out the difference in quality. For instance take example of their humidifier. Of all the Best Baby Humidifiers I reviewed, their humidifier stands out in looks and design.
With Levoit air purifiers, there are somethings you can take for granted. For instance, the quality of the HEPA filter. All Levoit air purifiers use high grade (H13 grade) TRUE HEPA filters. They all have three stages of air filtration with an Activated carbon filter and a pre-filter besides the HEPA filter. No model comes with any ionizer threat. The console look mostly the same in all models especially the LV-Hxxx ones.
Levoit air purifiers are silent in operation and consume less power. You can rest assured of the build quality.
Levoit Air Purifier Reviews
1. Levoit LV-H135 Air Purifier –

The Latest Model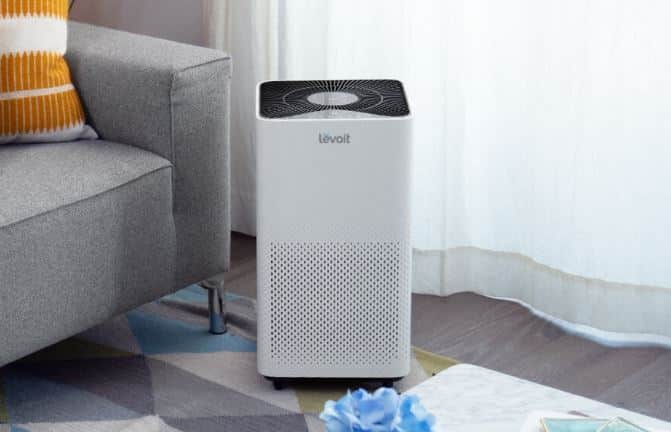 Levoit LV-H135 air purifier is designed for mid-size rooms. This air purifier can clean the air of a 463 square feet room 4 times in an hour. This means that the ACH value is 4. A slight deviation from the conventional shape of how most Levoit air purifiers are. You would mostly find cylindrical air purifiers with a similar shaped air filter. Levoit LV-H135 continues to have the composite cylindrical filter. However, the air purifier's body is not cylindrical but cuboid in shape.
A beautiful console greets you when you look at the air purifier. A visually attractive air quality indicator LED pattern changes color with the air quality changes. This indicates how well your air purifier is faring against indoor pollutants. You can even dim or turn off the LED lights at your will. This Levoit air purifier reviews post would touch upon almost all air purifiers from Levoit. Levoit LV-H135 is fairly silent in its operation. The noise levels at the lowest fan speed touch 32 dB, not bad!
What's noteworthy is the presence of an Auto mode in this model. Auto mode is such a common mode type in air purifiers, but somehow Levoit has made it a luxury in its models. When you switch to this mode, the air purifier runs its fans at its own discretion. This means the fans run fast when the air purifier detects higher pollutant levels and vice versa.
Nothing distinct in terms of the filtration stages. All Levoit air purifiers employ 3 stages of filters. A pre-filter, H13 grade HEPA filter and an Activated carbon filter form these three layers. Mostly you'll find a single composite filter in which all these layers are fused together into a single air filter.


2. Levoit LV-H134 Air Purifier –

For Large Rooms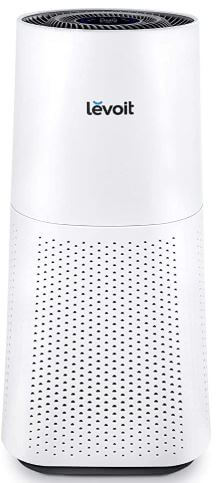 Next up in our Levoit Air Purifier Reviews is the flagship and the most expensive model. The Levoit LV-H134 is imposing in its dimensions measuring 32 x 16.5 x 15.5 inches. As the device is quite heavy at 12 Kilograms, caster wheels have been provided. This eases the movement and thus placement of the air purifier at the desired location. LV-H134 Levoit air purifier takes in air from all directions which passes through its round filter to be cleaned in the process. Levoit LV-H134 was unveiled at the start of 2020.
Typically as other Levoit air purifiers, LV-H134 uses 3 stages of filtration for cleaning the polluted air. As compared to LV-H135, this model has a higher coverage area. For starters, you can use this air purifier for rooms as large as 1170 sq.ft. This is the coverage area for an ACH of 2. In approximately 18 minutes, the air of a 710 sq.ft area is purified.
LV-H134 Levoit air purifier has an AUTO mode for you to sit back and forget about adjusting fan speed. The air purifier does it for you. It's smart laser sensors detect the changes in air quality and automatically change fan speeds to the optimum level. Available in just White color, it looks beautiful. Especially the air quality indicator which is in the form of a ring here. The price is the only minus point which may make you think many times before buying this air purifier.


3. Levoit LV-H132 Air Purifier –

For Very Small Rooms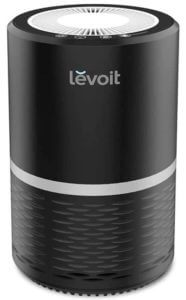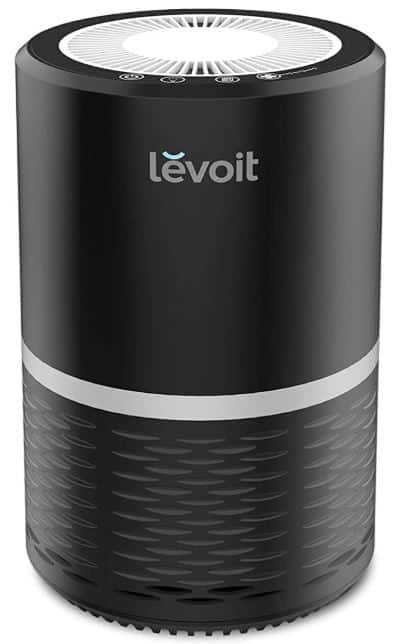 No Levoit air purifier review can be complete without the LV-H132 model. Small and popular, the Levoit LV-H132 is an extremely affordable air purifier. Infact, this model is the #1 Bestselling HEPA Air Purifier on Amazon.com. Its coverage area is too small to be usable across all households. Practically speaking, you need to keep it close to yourself for best results. Like place it on your bedroom side-table, a source of clean air in your immediate vicinity. Its compact size and small dimensions make for easy handling and moving around the house.
Levoit LV-H132 weighs just 3 Kgs and has a coverage area of 129 sq.ft. You shall need to ensure that the doors and windows are properly sealed with this small coverage area. The looks are elegant and you get option to buy the White or the All Black version of it. The cost is the same for both the color variants. Being the cheap air purifier that it is, don't expect to get the flashy control panels like other costlier models have. The touch buttons here are spread across the periphery of the top face.
The filter here is in the shape of a disc. A pre-filter precedes the HEPA and carbon filter in order of its interaction with the room's impure air. The functions like Sleep mode, Auto mode, Timer are all absent in this model. And yes, being a small air purifier it does not make much flutter in your home's peace. It consumes the least power which is only 28 watts, and the standby power is around 0.8 watts.


4. Levoit Core 300 Air Purifier –

For Small Rooms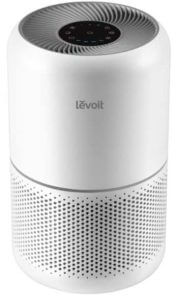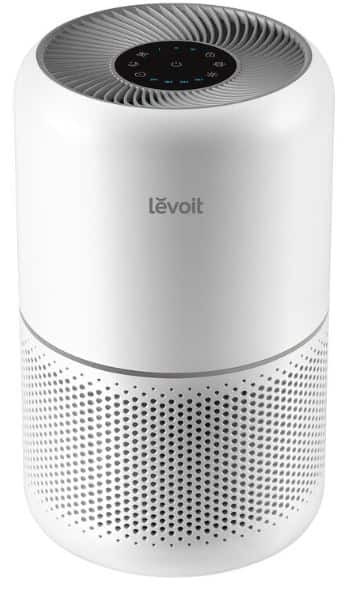 If there is one air purifier in this Levoit Air Purifier Review which I support wholeheartedly, its this one! The Levoit Core 300 makes the LV-H132 appear like a joke. No major difference in price, but the Core 300 outplays LV-H132. If you look at the capabilities of Core 300 you'd be amazed at how feature rich yet cheap it is. It has a considerably higher coverage area compared to LV-H132 without getting any larger in size. Standing at just 14.2 inches high, its exact dimensions are – 8.7 x 8.7 x 14.2 inches. Weighing just 3.4 Kgs is also an indicator of its small footprint.
Levoit Core 300 also performs well in filtering smoke, dust, and pollen. With a CADR (Clean Air Delivery Rate) of 135+ CFM, which is an indicator of how fast an air purifier cleans the surrounding air. It has a 360° air intake method and pulls air from all directions. When it comes to Air Changes per Hour (ACH), its ACH is 5. This is equivalent to the air purifier cleaning 215 sq.ft area five times in 12 mins.
CLONE MODEL FOR PETS

: CORE P350
As far as the noise that it creates goes, 24 dB isn't much. Infact, you hardly notice its ON at its lowest fan speed. At times when the fan takes off at maximum speed, it makes 50 dB noise. Again better than the norm, making it one of the quietest small air purifiers around. Levoit confers the credit to its quiet air purifiers to a Bionic Damping Technology. Damping is a term of physics where vibrational resonance is mitigated by introducing counter forces. Overall, a strong contender which is sure to leave LV-H132 behind in coming days.


5. SMART LV-PUR131 Air Purifier –

Best For Allergens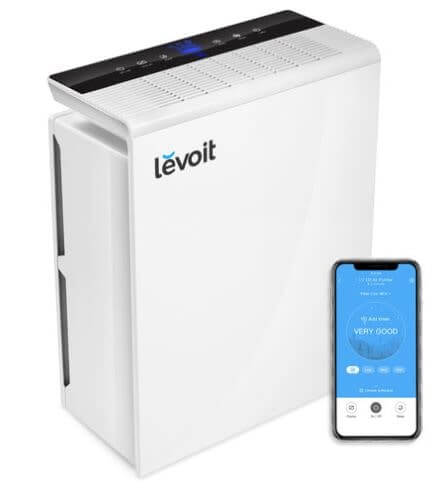 Another Levoit air purifier below $200 and having a non-cylindrical shape is the LV-PUR131. I am not very convinced with the air intake design of this model to be frank. Its as if the company is more concerned about the looks than performance and efficiency. Take a look up close at how the front face of the air purifier is fully covered by the front panel. Its from only the side slits that the room's air is sucked in. Even the slits for air inflow have been given at the back-side. Huff! What were they thinking? Needless to say this design greatly reduces the air flow and the performance is not what it could have been otherwise.


The control panel design is one of a kind here. It seems as the console is floating in the air supported by nothing. The front face of the air purifier is what is extended into the console. The air purifier consumes just 35 W power. The common features like AUTO mode and SLEEP mode have been retained. It makes 27 dB noise, again a good score.
A while back, a smarter version of this model, LV-PUR131S has been introduced. With only a price gap of $10, whosoever initially wanted to go for LV-PUR131, now prefers buying LV-PUR131S. There is no difference in the physical aspects or performance of the two models. You can control your LV-131S via a mobile APP (VeSync) through WiFi connectivity.
With the VeSync mobile APP, you can remotely change the fan speed, turn the air purifier on/off, and turn the LED display on/off. For setting the timer and creating schedules, the APP is quite convenient. A filter life indicator warns you of the impending filter change and even this is visible in the APP. Its reassuring to be able to gauge the level of purity of the air you are breathing in. The APP gives you real-time feedback on the air quality as well.


6. Levoit Vital 100 Air Purifier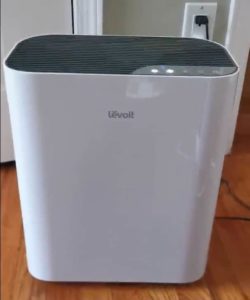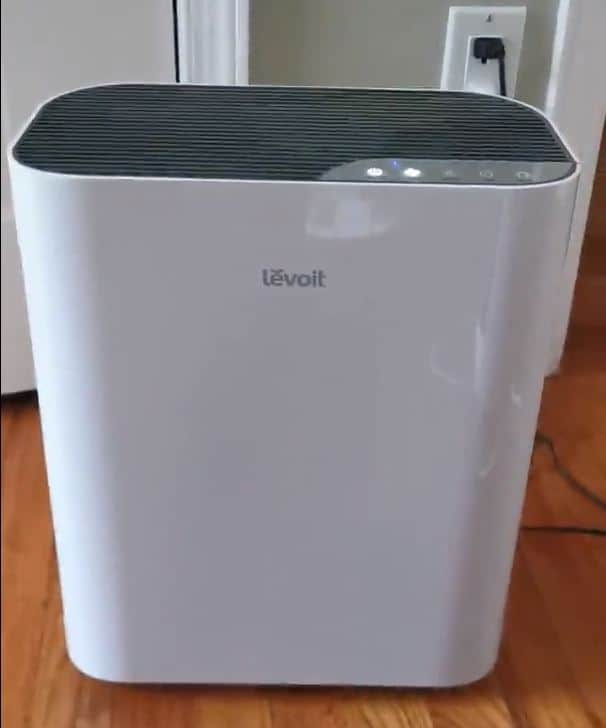 This Levoit model is internally the same as the above one. Other than the LV-PUR131 looking more eye catchy courtesy its pseudo-floating control panel, no major difference is there. No hassles in setting it up for the first time. Just ensure you remove the plastic cover from the filter before turning it ON. Vital 100 has a true coverage area of 185 sq.ft. for an ACH of 4. Although, its coverage can scale up to 300 sq.ft. for a lower Air Changes per Hour. Having a composite filter comprising of three layers viz the pre-filter, True HEPA and carbon filter, no issues in this aspect. The pre-filter is washable so not recurring costs for it. The cost of replacement composite filter is lower than $39 per filter set.
From the view of features, certainly Levoit Vital 100 has a lower feature set. The Auto and Sleep modes are absent with only a Timer the lone convenience feature there is. Still, if we overlook these things, Vital 100 is suitable for small rooms. The body is all white with a glossy finish and rounded edges. The body material is the customary ABS plastic. If you look at its weight, 4.6 Kgs is not much.
Levoit Vital 100 takes in the air through its side vents and the cleansed air is blown out from the top. This design warrants the user to keep a clearance around the air purifier. The air purifier should be placed where the air can flow about freely without barriers. The unit doesn't make much noise with 23 dB being its lowest. Even at its highest fan speed, 50 dB is akin to an air conditioner running.


Levoit Air Purifiers – Whats Common In All Of Them?
1. Levoit Air Purifiers Have 3-Stage Filtration
It cuts down on efforts in comparing when we know some commonalities. Each Levoit Air purifier employs 3 stages of air filtration. The True HEPA filter is the king of all filters and can remove very minute particles from the air. Quantitatively speaking, this filter is capable of removing dust and other particles sized 0.3 microns or more. Then the other layer comprising of activated carbon is what removes odors. Apart from odors, gaseous organic compounds are also removed from the air.
In all Levoit models, you cannot wash the filters. Infact, this is a universal rule that HEPA/carbon filters should not be washed. You can anytime clean the pre-filter with water though.
2. If Its Levoit, Its Gonna Be True HEPA!
You can rest assured of the HEPA filter quality. If you choose to buy Levoit air purifiers, the filter would be high-efficiency TRUE HEPA. There are many air purifiers around which use substandard HEPA-like or HEPA-type filters. Such filters, I am not rejecting them downright. These filters can only stop something like 3 micron sized particles. Only TRUE HEPA filters are capable of arresting particles up to 0.3 micron or larger.
3. Levoit Air Purifiers Are Compact
Did you notice how all the models you see in this Levoit air purifier review, are compact? Levoit takes care not to make their units unnecessarily large. Also, each Levoit air purifier model has distinctively attractive design. I've seen air purifiers which look more of a blot placed in your living room. Cute looks and good air purification are some for-granted takeaways. Care has been taken to not compromise on the performance for the sake of beautification.
4. Easy Filter Replacement
Whichever air purifier brand you choose, you would need to change the filter set someday. Now, it can either be tough or easy task to perform. For Levoit air purifiers, changing filters is quite easy. For the cylindrical models, the filter is replaced by unscrewing the lower part of the purifier. Its completely a DIY (Do-It-Yourself) work. It never hurts to still consult the user guide before doing it for the first time.


5. Quietness Is Implied
All Levoit air purifiers score good in their degree of quietness. Unless there is some defect or malfunction, their models are absolutely mum at low fan. All models that I have covered in my various Levoit air purifier reviews make around 23- 25 dB noise at low. The noise level goes to around 50 – 54 dB at fan speed high. Just to let you know, these noise levels are within the air purifier norms across companies.
6. No Ozone From Your Levoit Air Purifier
Air purifiers with Ionizers whether they state it or not, release some ozone. There are regulations to this end which air purifiers have to adhere to. Well, you need not worry with Levoit models. The reason is simple – No Levoit air purifier has any ionizer or UV-C bulb. TruSens Air Purifiers come with such a UV bulb to sterilize the filter itself.
Wrapping Up – LEVOIT AIR PURIFIER REVIEWS
I have tried to impart as much crucial information to you in this post as possible. Trying to keep the post concise is a big challenge. I would come back and keep updating this article so that if reflects the most current information and models as possible. If looking for showy yet low cost air purifiers, Partu Air Purifiers can be considered.
You May Like These Similar Posts From AirSwacch!