Did you get a chance to glance at the complete air purifier listing from Levoit? If yes, then you must have noticed how a cylindrical shape and design is dominant? Rectangular air purifiers as we are so used to seeing are promoted less on Levoit site. We wrote a simplified Levoit air purifier review, where we introduce some of their main models. The Levoit LV-PUR131 is the main rectangular model and the newer LV-PUR131S has additional smartness to it. Today, I am about to do a Levoit Vital 100 review.
So for you know in a flash, this Vital 100 is a toned down version of the LV-PUR131. Some of the features like Auto mode and the Sleep mode are absent here.
Levoit Vital 100 Review
As pointed out above, Levoit Vital 100 is for a select group of users. Users who don't want much sophistication, in the form of less modes and simple design. The inner design of LV-PUR131S has been preserved in the Vital 100. But, Vital 100 is a bit smaller in dimensions. From a performance viewpoint, Vital 100 is better than LV-PUR131. A slightly better CADR and coverage area are Vital 100's winning points over the latter. I feel the reason for this improvement is the design correction brought about in Vital 100 as against LV-PUR131.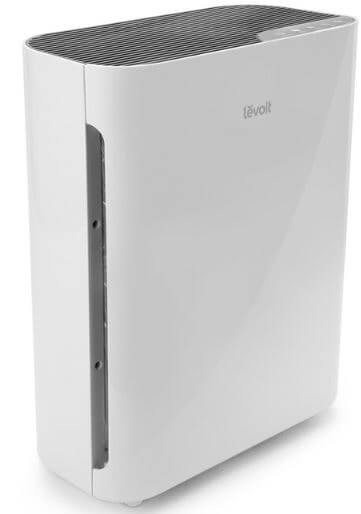 Levoit LV-PUR131 has air intake slits towards the back. Also, the air purifier's front face is completely hidden behind a panel. While the panel still remains as it is in Vital 100, the slits have been moved to the front. The centrifugal fan and semi-spiral ducts pull in air from the sides and throw out the fresh air. Levoit Vital 100 has a saintly appearance with an all white body. Even the console has been kept so simple. The buttons on the console do have back-light imparting some colorful relief. Whether you like it this way or not, Levoit Vital 100 does not offer any other color options.




Power consumption is also an aspect of price. Levoit Vital 100 has a rated power of 55 W. A great newest model with lower price and cylindrical design is the Levoit Core 200S. It comes with a mobile App support and is the cheapest smart air purifier I've seen.
DESIGN & DIMENSIONS
Levoit Vital 100 is visibly slim and compact. The body is made of tough ABS plastic which is a norm. The exterior is white and has a glossy finish to it so that you can sometimes see your silhouette in it. Air purifiers which are compact and do not occupy much space are preferred by users. Who wants bulky devices when a lighter footprint one can do the job well. Its weight is 4.6 Kilograms which is also manageable. Its good that there are short legs to it which lifts it up over the ground.
Levoit Vital 100 also has the traditional bottom to top airflow. The air intake vents at the sides are rather wide. This has nothing much to do with any performance impact. It looks to me that such wide vents have Pros and Cons both. They are beneficial in a way that air's free movement is promoted. However, when the air purifier is Off, lot of dust and dirt can make way into the air purifier as well as the filters. Even the top grill from where the pure air is ejected has widely spaced grills. I would suggest to keep the air purifier in a dust-proof storage when not in use.

COVERAGE AREA &

ACH
I would say Levoit Vital 100 can clean the air of 185 sq.ft. rooms with an ACH of 4. This means that in nearly 15 minutes, all of the air of a room sized 185 sq.ft. is cleaned once. As stated by the company, 30 minutes is all it takes to clean 500 sq.ft. area. But, I would say not to overburden this air purifier for 500 sq.ft. usage. Bear in mid that irrespective of whatever the product description wants you to think, Vital 100 is a small room air purifier. When they quote a bigger coverage area, you should read between the lines. They mean that for a reduced ACH value, the air purifier can cater to larger areas. Simple math! You should look for bigger and more capable air purifiers for larger rooms. The Coway Airmega 300S is one of my favorites
The Levoit Vital 100 has side slits for air intake. Unlike other 360° airflow air purifiers, this one has no scope for such air movement. The traditional shape of filters and the air purifier dictates some gap to be left around it. For unrestricted airflow around the air purifier its right placement is crucial. Leaving nearly 15 inches clearance from walls or house clutter is recommended. Also, do not place the air purifier under a shelf or somewhere its outflow is restricted.
CADR value of 130 CFM is Okayish and not very impressive. I've tried to impart easy access to relevant information in this Levoit Vital 100 review?
---
---
LEVOIT VITAL 100 FILTERS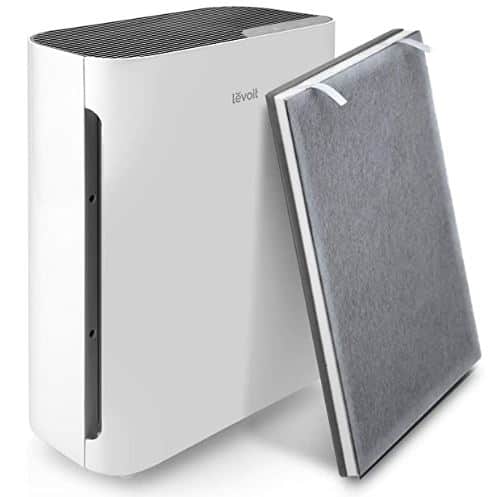 Any Levoit air purifier with cylindrical shape has similar round shaped filters. Levoit Vital 100 has a combination filter which comprises of a TRUE HEPA and Activated carbon filters. True with Levoit's tradition, a pre-filter makes this model follow their gives 3 filtration norm as well.
1. PRELIMINARY-Filter

– The preliminary filter is nothing but a pre-filter. It collects larger dirt and particles including hair, lint and prevents undue clogging. This filter layer is removable and washable. You need not buy is separately. For maintenance, you should vacuum clean this filter frequently. Doing this religiously would prolong the life of the costlier inner filters.
This pre-filter is the dirty grey filter you see. Its made of nylon material so its safe to wash.
2. TRUE HEPA Filter

– Levoit Vital 100 also uses a Korea made

H13 Grade

TRUE HEPA filter. A HEPA filter is 99.97% efficient in removal of particles sized 0.3 microns or above. It can filter small particles such as smoke, tiny dust particles, mold spores, bacteria, viruses, and allergens such as pollen, dander, and mites.
The HEPA filter layer is the innermost layer in this air purifier just ahead of the fan.
3. ACTIVATED CARBON Filter

– This filter layer forms the middle layer between the pre-filter and the HEPA filter. It  absorbs odors from pets, cooking, and smoke. Fumes of formaldehyde and other obnoxious gases can wreck havoc to your health if they somehow reside in your home.
The HEPA/carbon filter combine would need a change in approximately 6 – 8 months. This is purely dependent on your usage and pollution/dust levels where you live.


NOISE LEVEL
You won't get any Sleep mode in Vital 100. Naturally, cheaper air purifiers miss out on some features. My Levoit LV-H134 Review covers the flagship Levoit air purifier. At its lowest fan speed, it makes 23 dB noise which is a good thing. The noise level can go up to 50 dB as you raise the fan speed to the third level. In a nutshell, 23 – 50 dB is the range of noise is makes. Overall, nothing extraordinary as we have seen mostly all Levoit air purifiers maintain this range.
CONTROL PANEL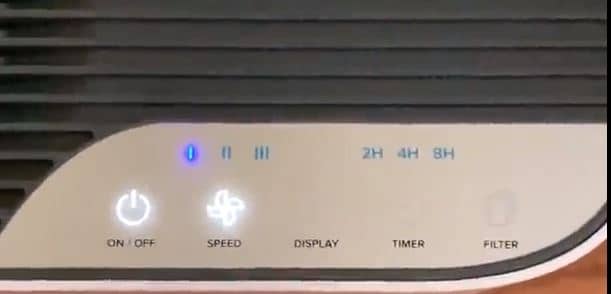 Levoit Vital 100's top face holds its buttons. These are soft touch buttons and only need a gentle tap to respond. The buttons are self-illuminating and very soothing even to look at. So, as you can see there is not much to describe here. But still-
ON/OFF BUTTON –  No description needed for this, it is the power button.
FAN SPEED – There are 3 fan speed settings and the current setting is shown by way of LEDs. To move through each fan speed level yo need to tap the button successively.
DISPLAY OFF – Turns the lights on the control panel Off.
TIMER – You can set a timer to either of 2/4/8 hours. This is a useful feature to save power. At night time when you already know there would not be any door openings, and the air would anyways be cleanest in the rooms.
FILTER REPLACEMENT/RESET –  This button is the least used compared to others. You would only need to touch it to reset the filter replacement warning. The corresponding LED glows out when its time to do a filter check/change.
CONCLUSION – Levoit Vital 100 Review
Levoit Vital 100 is a decent air purifier for small rooms. I would not rate is to be Great. Probably a 3.5 out of 5. I would suggest buying the Levoit Core 300 for better features. Most importantly, Core 300 has a 360° air intake and the missing Sleep mode all at a lower price. Vital 100 has a CADR of 130 CFM. For best clarity on the correlation between CADR and coverage area, follow the next line. If you see the CADR to be 2/3rd of the rated coverage area, then the air purifier is quick to clean the air. By this calculation, Levoit Vital 1oo is ideal for 185 sq.ft rooms.

You May Like These Similar Posts From AirSwacch!