Levoit Core 300 air purifier is hugely popular and its reviews testify this. The company introduced this model in 2019.  Meant for small rooms, the Levoit Core 300 caters to room sizes around 215 sq.ft. This model is one of those under $100 air purifiers, everyone wants to own and experience. Come, know more about this air purifier in our Levoit Core 300 Review. The previous LV-H132 model could only cover 129 sq.ft which is a joke. Now the Core 300 has displaced it to be the Bestseller in HEPA air purifiers. With a negligible price gap between the two, now everyone should go for the Core 300 model without a second thought. The newer Smart Levoit Core 300S is now available too. Its good for those who seek smart features like WiFi connectivity and being able to control the air purifier's working through mobile app.
LEVOIT CORE 300 AIR PURIFIER REVIEW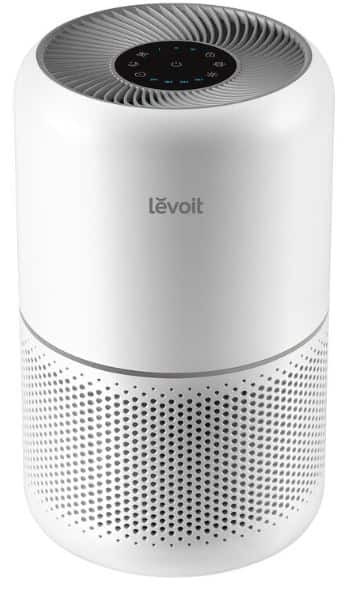 My previous Levoit LV-H132 Review highlights how it caters to a very small area and many more facts. This makes it one of the smallest air purifiers around, even the Levoit Core 300 is a good 2 Kilos heavier. The best thing that I like about Core 300 is the option of choosing from 4 set of specialized filters. Each filter has its own expertise in tackling a particular pollutant. Its really a welcome feature at this low cost price segment. Alen BreatheSmart is the pioneer in this aspect.
The company stresses greatly on the fact that none of its air purifiers emits ozone. Ozone is produced in the atmosphere during lightning discharge and protects us from the Sun's ultraviolet radiations. But, ozone should not be produced as a byproduct from any air purifier. It is harmful for health.
LEVOIT CORE AIR PURIFIER PRICE
Price should not be an issue and nothing can get cheaper than this. Even if you are a scrooge, it would not pinch to shell out close to $90 for an air purifier. In under $100 you are getting a beautiful and legit device to own. Levoit Core 300 was the Best Budget Air Purifier 2020. Its competitive price coupled with a feature packed personality makes it a preferred option.


If you ask me "What is missing in this air purifier at this cost?". I would say nothing! You get a Timer, Sleep mode, Fan speed selection, Display Lock, Filter replacement indicator and Panel Lights-off feature. All this and also a H13 grade HEPA filter with an activated carbon layer. Expecting still more? Come on! You get pretty much all the features available with other costlier Levoit models. If you expected to get air quality indicator, then you must survey more to correct your expectations.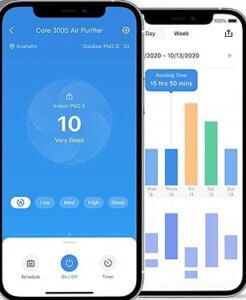 If you are interested to own Levoit Core 300's smart version, go for the Levoit Core 300 air purifier. It can automate the schedule, set timers and control the power On/off operations of the air purifier from your mobile App. Besides you get to view the air quality index reading as well among other useful information. The price difference between Core 300 vs Core 300S is significant. Hence, weigh in whether the extra smart features hold any value to you or not before buying.


DESIGN AND LOOKS
I like how the Levoit Core 300 has been given a cute look. A cylindrical white body with a 360° perforated grille looks attractive. A console on the top face of the air purifier is dotted with back-lit touch buttons. If you have seen other Levoit air purifier models like the Levoit LV-H135, you would find this console devoid of more colors. Well, actually there is no air quality indicator and hence no colorful LEDs too. If you want real-time pollution levels visible to you, the Levoit LV-H134 is the one for you.
The body is either All-White or All-Black with a Matte finish which is somewhat glossy too. For the white model, the black console imparts some contrast.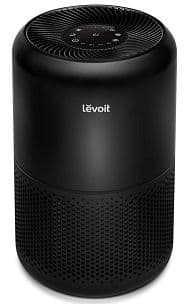 Levoit seems to have made up its mind to maintain the cylindrical tower design in all its present and future models to come. Not just Levoit, all major air purifier players are at the same pedestal in this regard. Even within Levoit, the LV-H134 is an imposing tower and the company's flagship model. So, you should be even more happy to see, this sub-$100 Core 300, to also be of a similar shape and design as the flagship!
Levoit Core 300 is also an exponent of 360° air-intake principle. More and more air purifier companies are adopting this shape of the filters. Hope you are following well this Levoit Core 300 Review?
DIMENSIONS
Light-weight, compact and elegant, these adjectives are only a few good ones to describe the Core 300. You can easily place this air purifier wherever you want, as its neither too high nor too wide. It stands at 14 inches high and has the familiar cylindrical shape.
DIMENSIONS: 22 x 22 x 36 cm
POWER CONSUMPTION
Levoit Core 300 air purifier is an efficient air purifier. Why wouldn't it be? Small air purifiers have a small fan and low air mass to move.

CONTROL PANEL

The control panel is quite good in looks. There are touch buttons to control the air purifier's working.
POWER Button

NIGHT-LIGHT ON/OFF

 – This is to switch-off the lights on the LED console panel.

FILTER RESET

 – This button will light up when the air filters need to be checked or replaced. Tap and hold it for 3 seconds after checking or changing the air filters.
FAN SPEED – There are 3 fan speed settings to alter the air cleaning prowess of the air purifier at your will

TIMER

– 4 timer time options are at your disposal here. You can set the timer to anyone of 2/4/6/8 hours. Once the timer is finished, the air purifier would power off.

SLEEP MODE

–  Sleep Mode operates quietly by using the lowest possible fan speed. All indicators will be at half brightness while Sleep Mode is on.

DISPLAY LOCK

– Prevents current settings from being changed. In a way you can think of this as the quintessential Child Lock.
The presence of a Timer is an additional feature in Core 300 as compared to the LV-H132. However, both do not have any Auto mode.
COVERAGE AREA &

ACH
For a small air purifier that the Core 300 is, its fan power is impressive. This is the reason why it has a far more coverage area than the LV-H132 despite having an equal size. You'll know more of such useful info in this Levoit Core 300S review.
The air change rate denotes the number of times all of the air in a room can be purified (or "changed") by the air purifier in 1 hour. Air changes per hour are calculated on the recommended room size assuming 8 feet / 2.4 m ceilings. For smaller rooms, the air change per hour will increase. The Levoit Core 300 has an ACH value of 5, which means it can change air in every 12 minutes or 5 times/hour at the max speed. This purifier is suggested for use in a single, closed room up to 215 ft² / 20 m².
LEVOIT CORE 300 FILTERS
Levoit Core 300 is a trendsetter for it gives you the choice of choosing the best filter you deem fit for your needs.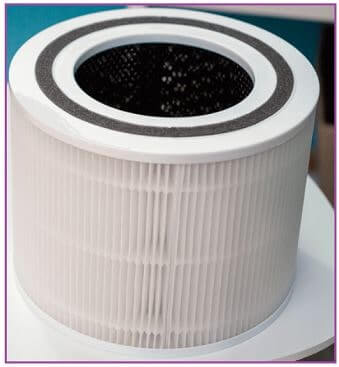 This is the default filter which would come packaged with your air purifier. This filter will give you a balanced protection against allergens, pathogens, odors and particulate pollution.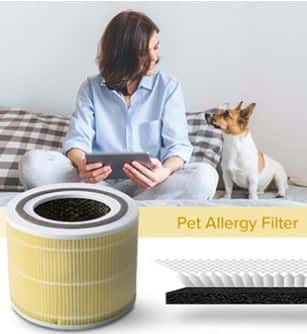 Choose this filter for the specific use case of having pets in your home. This filter type efficiently handles the removal of pet odors. Pet dander and pollen problems are also kept under control.
---
---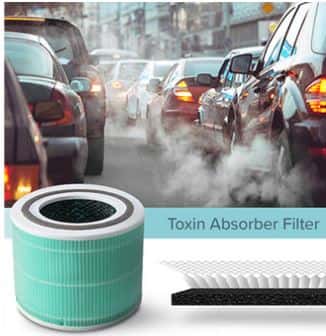 You must choose this filter if your home is full of varnished or freshly painted walls etc. Such places abound in VOCs which this filter tackles well. Smoke and exhaust from vehicles as in areas nearby busy roads are also absorbed.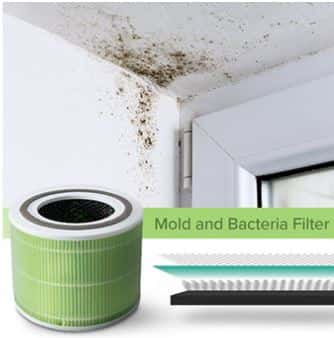 Personally, I am not a big fan of using air purifiers as a fighting mechanism for mold problems. I would rather attack the problem at its root cause. Dampness or leakages are the primary reason for mold. If repairs don't work, then I would preferably think if buying a Dehumidifier for Rooms. Once my room's humidity is under control, THEN I would consider an air purifier.
Levoit gives 3 filtration stages in all their air purifiers.
PRE-FILTER

 – This necessary layer imparts an added protection from clogging of the inner HEPA and activated carbon layers.

TRUE HEPA Filter

– A H13 grade True HEPA filter which has an 99.97% efficiency in removal of particles sized 0.3 microns or above. H13 grade denotes good quality even among true HEPA filters.

ACTIVATED CARBON FILTER

 – Activated carbon is renowned for its innate ability of adsorbing gases and odors. This filtration stage forms the innermost surface of the composite filter.
Its wise to expect that the replacement filters would cost less to, yes they do. Just as the air purifier itself, the filters are small as well. It is recommended to replace the filter every 6 months. Are you following this Levoit Core review well till now?
NOISE LEVEL
Levoit Core 300 is ideal for bedrooms and poses no distraction at bed-time. Its noise level stands at 24 dB which is too good. A technology mitigates the vibrations in the fan which otherwise would have produced noise. At the highest fan setting, the noise level stands at 50 dB which is a normal too. So, no hesitations should hold you back from trying out this air purifier.
CONCLUSION – Levoit Core 300 Review
Levoit Core 300 is a complete value for money. In a market replete with air purifiers of all sorts, Core 300 shines bright among them. This is the benefit of identifying and patronizing a good brand like Levoit. The filter customization option is a very empowering option at your behest. No longer do you have to compromise and be content with whatever filter comes bundled with your air purifier. A powerful fan doesn't mean losing out on your peace of mind with its noise. Levoit Core 300 is very quiet, and I mean it. 24 Decibels is next to nothingness in the noise level index.
SMART LEVOIT CORE 300S AIR PURIFIER
Good air purification is achieved by this air purifier courtesy its high grade TRUE HEPA filter. What I like the most is the 5 x ACH value for a coverage area of 225 sq.ft. This is excellent in plain words. An ACH of 4 for a given air purifier coverage is ideal and here you have 5 x ACH. Overall, a must-buy air purifier for small rooms. If you are testing the waters as never before used an air purifier, you would surely become a patron! Thanks for reading my Levoit Core review.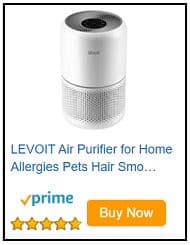 You May Like These Similar Posts From AirSwacch!