Air purifiers have become a sought after home appliances. Even if you don't find their use throughout the year, there are some times when they can come quite good for you. Take for instance, those days when wildfires flare and the smoke fills the atmosphere. Or, those windy days, when your house if filled with very fine dust. Air purifiers come in all shapes and sizes. The Levoit LV-H132 air purifier is meant for very small spaces. An average room is larger than 129 sq.ft. for which it is rated. Still, you can usefully buy it for 150 sq.ft. spaces, No problemo! Most people find it convenient to keep it on their bedside tables, as it is super quiet. This Levoit LV-H132 Review will bring out the finer details, so stay tuned.
Behold! you are looking at the #1 Bestselling HEPA Air Purifier. Levoit is a relatively new brand, having setup its business in just 2017. They are headquartered in Anaheim, California. As far as i see, their air purifiers have become a rage. Looking at how many customers have reviewed their products, and their large portfolio, you can trust this brand.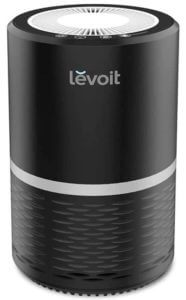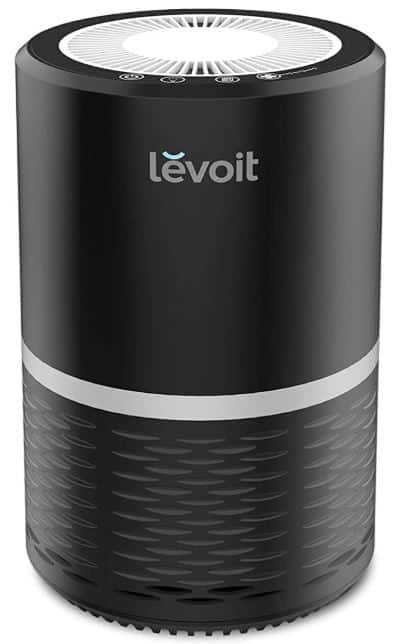 As I mentioned above, the Levoit LV-H132 caters to a very small area of approx 129 sq.ft. This makes it one of the smallest air purifiers around. As expected, its price is low and anyone willing to take a test of what air purifiers do, can bring it home. I am in no way suggesting as if its a test dummy. Any product doesn't become the #1 Bestseller by fluke. The Levoit LV-H132 has been keeping its No. 1 position for months now. Out of over 10,000 reviews, its ratings are top notch. It is easy to see users have reported a consensus that they liked the product.
Levoit stresses greatly on the fact that none of its air purifiers emits ozone.
What to talk about price, its cost is already down $20 since its arrival. The company is encouraging other newer models, so a price reduction is expected. If you see a further price cut, don't be too surprised. In a nutshell, Levoit LV-H132 is an entry-level air purifier. The features that it has and its coverage area are all proportional to its low cost. Even the Blue Pure 411 air purifier can be considered with a few extra bucks.




The users who proceed to but this air purifier can prep their minds on how an air purifier works. There are many people who despise on air purifiers as they think it would make their immunity weak. Its like having a test-drive; like it then buy some bigger air purifier. Maybe Levoit LV-H133 air purifier with a coverage area of 881 sq.ft and real-time air quality monitoring itself.
DESIGN AND LOOKS
Let me tell you, the Levoit air purifier is such a tiny air purifier. Its so small that its placement won't ever be a problem. This air purifier would not stir up a storm in your room with its fan. It has a small fan which is just enough to cater to the small room sizes it is meant for. In the looks department, its kinda cute how a small device silently does its job. You can place it anywhere and atop anything, it weighs just 3 Kilograms.

As you can see, its body is cylindrical in shape and so are its filters. The air purifier sucks the air into its filters from near its base. The purified air is forced out through the top grille. You'd see some slits through which it pulls the polluted air. To my surprise, the effective air inlets are quite small. I think even you would agree, that we are used to seeing more holes in the meshes or wider slits as air inlets? The reason for this is simple, it has as much wider slits as its filter. The inlet is of the same size as the filters onto which the air has to be forced to pass.
A disadvantage to this design is that dirt and larger particles often clog it. A pre-filter is present to be helpful just for this scenario. But, it become mandatory to clean it quite frequently.
---
DIMENSIONS
As you can see the air purifier has a small form factor. You can easily lift and place it anywhere with ease. Even your kids can toy with it, so another consideration for you for the safety of both of them.
COLOR OPTIONS
There are two color schemes – White and Black. You can think of the black version as the complete contrast of the white one. No price difference is there between the two variants.
LEVOIT LV-H132 CONTROL PANEL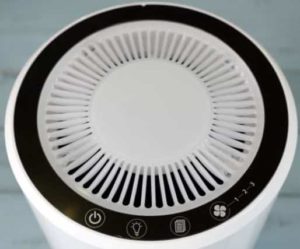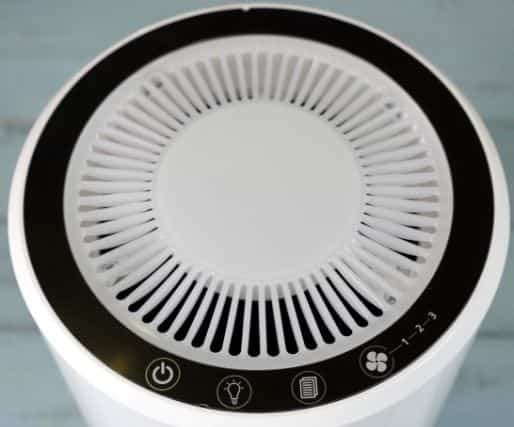 The control panel is basic with the various buttons dotting the periphery. Below is the function of each button in sequence from left to right.
Power button

Night-Light ON/OFF button

– Notice a blue light at the top. You can use it as an evening light or turn it off.

Filter reset button

– This button will light up when the air filters need to be checked or replaced. Tap and hold it for 3 seconds after checking or changing the air filters.

Fan speed button
As you can see there is no Timer here. No Auto mode is present. It would have operated the air purifier intelligently and automatically. Its foolish to expect air quality sensors or indicators in this cost, so they are absent.
COVERAGE AREA
Frankly speaking, one should not expect wonders from a small air purifier. If you are intending to use it for small rooms then its fine. People can use it in their bedrooms. Place on a bedside table and it will dual like a night lamp as well as clean the air. So, you are getting two useful utilities in the same device. The Levoit Vista 200 is the nearest improvement to LV-H132.
As has already been mentioned somewhere above, Levoit LV-H132 has a modest coverage area of 129 sq.ft only. This means that it will clean the air of any room with similar dimensions twice in an hour. Hence, the ACH value is 2. CADR is 40 cfm. This Levoit LV-H132 Review has listed out all the things one may be interested to know.
LEVOIT LV-H132 FILTERS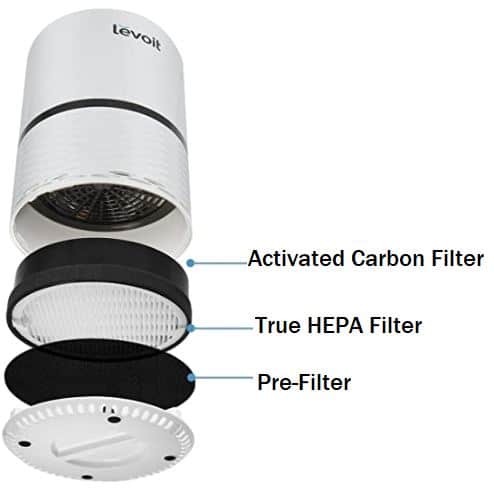 Levoit LV-H132 has its filters in the shape of disks. With the dimensions of 8 x 6 x 1.5 inches, the filter is small. The manufacturers have given 3 filtration stages which is good. The most comforting thing for me to share is about the HEPA filter its has. It has a TRUE HEPA filter which is the gold standard in filters. This HEPA has an 99.97% efficiency in removal of particles sized 0.3 microns or above.
Pre-Filter

– A pre-filter was a must and all air purifiers these days give this stage. I must point out here, since the air intake is close to the ground, the purifier sucks much of the filth from the nearby surface of floor. So, to prevent unnecessary choking of the inner filters, a pre-filter takes the onus on itself to stop such dirt.

TRUE HEPA Filter

– A good quality HEPA filter has been provided, and the reason why this air purifier clean the air well.

Activated Carbon Filter

– This filtration stage is essential for the air purifier if it has to remove air-borne odors.
Its wise to expect that the replacement filters would cost less to, yes they do. Just as the air purifier itself, the filters are small as well. The company recommends to replace the filter every 6 months.

WARRANTY
Levoit LV-H132 is a small air purifier and not costly to own at all. I would be happy if mine works fine for over a year. I mean it would not hurt much after using it fully throughout the year. Still, Levoit's 2 year warranty is a great thing to avail in the event your device develops some faults. Extended warranty for 1 more year is possible after registration on Levoit's website.
CONCLUSION – LEVOIT LV-H132 REVIEW
Hope you found this Levoit LV-H132 review helpful. Its a nice air purifier to own especially due to its low cost and portability. Users have experienced all the benefits one can expect from an air purifier. I can say that it is a scaled down replica of some very good hypothetical air purifier.
PROS
Compact air purifier
Very affordable
A true HEPA filter in this cost is commendable
Quiet operation
CONS
Not meant for medium size rooms and definitely not for larger rooms, but its meant to be so.
Very limited functions on Control panel, even Timer is absent.
I would suggest to shell out just a little extra and prefer Blue Pure 411. It has a greater coverage area of 161 sq.ft. Not much difference, but greater enough to make your choice more practical. It has the exact same shape and minimalist feature set.
You May Like These Similar Posts From AirSwacch!