Levoit has some 11 air purifier models, and most of them cylindrical shapes. Also you would find many of them catering to small rooms. Perhaps the most relevant air purifier at this juncture in the sub-$100 price range is the Levoit Core 300. It is powerful and has all the features one can think of in such a price. One of the highlights of the Core 300 Air purifier was the choice of filter selection. Like you could ask for a Toxin Absorber filter or a Mold and Bacteria filter. If you have pets and are allergic to them then there's this Pet Allergy Filter too. Before I dive deeper into this Levoit Core P350 Review, you must know one thing upfront. What is that? Its that Core P350 is nothing but a Core 300 which comes with a Pet Allergy Filter already.
The Core P350 is the only specialized Levoit air purifier for pets. So, if your home is abuzz with woof-woof or purring sounds of pets, this one is just for you.
LEVOIT CORE P350 PET AIR PURIFIER REVIEW
My previous Levoit Core 300 Review details how it is better than the LV-H132 by a mile. There I highlighted how the Core 300 is an ultimate air purifier for small rooms. Nothing comes cheaper than it to completely outclass it. So, from the quality point of view, you should rest assured. Even Core P350 on which this review is based, is a cloned and silvery Core 300 itself. Hence, don't sweat much in investigating the differences between the two models. I'll bring out the minute differences between them later on.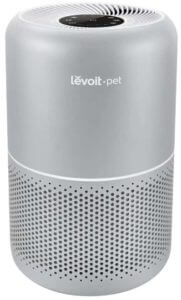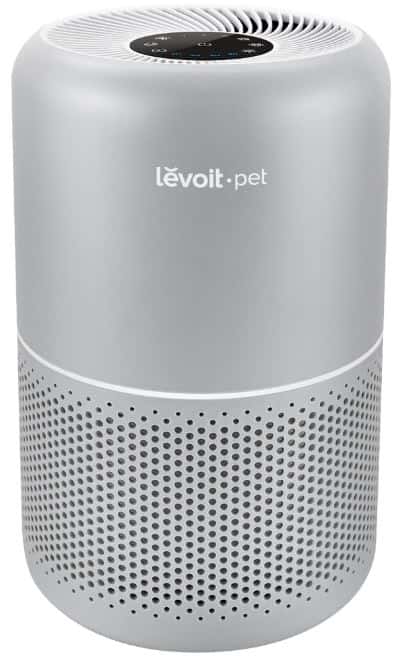 I actually do not see any gains in buying the Core P350 instead of the Core 300. Yeah, if you like the silver color more then its a different story! You look at the price and there's a difference of around $20, with the P350 costing more. If the difference in filter-type is all that separates the two models, still the price gap is not very justified. The cost of the Pet Allergy filter is around $26 over the Original filter which costs $19.




What all features are you getting at this price? If you look at the control panel, its easy to guess the features from the icons. You'd get a Timer where you can set 2/4/8/12 hours. Then there's a Sleep mode, 3 Fan speed choices, Display Lock and a Filter replacement indicator. An extra feature is given in the form a Pet-Lock. Pet Lock is nothing but the quintessential Child Lock. Pets a no lesser than Kids for their parents, right! This button prevents any inadvertent changes in air purifier settings as all buttons are deactivated once this is pressed.
DESIGN AND LOOKS
Body color of an air purifier and how one perceives it is a matter of personal choice. So, while most of Levoit air purifiers have an off-white body, Core P350 has been given a light silver hue. When I first saw this air purifier, its color reminded me of body paint models, or human statues. The words lēvoit.pet are inscribed on the air purifier. This means this air purifier is solely dedicated for use of pet owners. I would have preferred if Levoit gave a couple of choices in the color selection.
If you have invested more time in researching the Levoit Core 30, I'll not be surprised. Afterall, Core 300 is what Levoit is promoting these days for the budget segment. So, to reiterate yet again, the Levoit Core P350 is an exact replica of the Core 300 in terms of dimensions. Even the weight of the two models is the exact same at 3.4 Kilos.
Levoit Core P350 also bears the 360° airflow design. The air purifier draws air from all sides of the room. This is made possible due to the design of the fan and the filter placement. The filter is cylindrical as well. The Fan used in this and all other tower models is inspired from jet-engines. The air vortex which is created has been given the proprietary term Vortexair Technology here. Are you finding the Levoit Core P350 review worthy? Hope so!
DIMENSIONS
Levoit Core P350 is very light-weight, easy to move around and compact.

CONTROL PANEL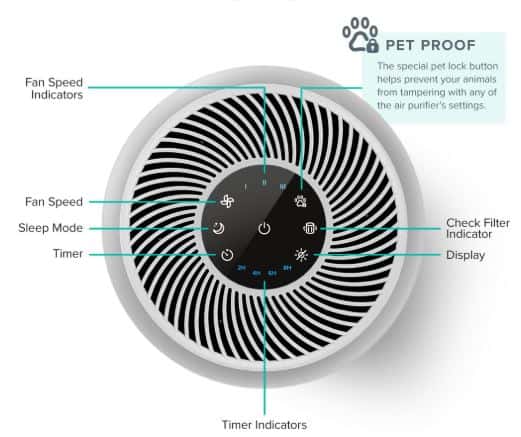 Almost all Levoit models which we have review till now, have sported similar looking control panels. Be it the Levoit Vista 200, or even the Core 300; all feature the same consoles. Below is a brief summary of what each button on the console does.
POWER – This button is just in the heart of the console to turn ON/OFF the air purifier.

DISPLAY-LIGHT ON/OFF

– Choose to touch this button and the lights on the LED console panel will turn off.

CHECK FILTER

– All filters need replacement at some point in time. The Check Filter button turns a RED background light when its time to inspect the health of the filter. Its not necessary that it definitely is time to replace your filter. Take out the filter and see if cleaning the pre-filter is what would suffice. Anyways, you have an approximate idea when you last changed the filter. Anytime between 6 – 8 months is what a change would be needed tentatively.
FAN SPEED – There are 3 fan speed settings of Low, Medium and High. Choose the fan speed appropriately to alter the air circulation intensity.

TIMER

– 4 timer time options are at your disposal here. You can set the timer to anyone of 2/4/8/12 hours. Once the timer is finished, the air purifier would power off.

SLEEP MODE

–  Sleep Mode operates quietly by using the lowest possible fan speed. All indicators will be at half brightness while Sleep Mode is on.

PET PROOF

– This is the quintessential Child Lock button rechristened as Pet Proof button. Touch this to prevent any tampering by your pets from changing the current air purifier settings.
---
---
COVERAGE AREA &

ACH
Levoit Core P350 has the same coverage area as the Core 300 model. Both air purifiers can manage cleaning a closed room up to 219 ft² / 20 m². For this space, Core P350 has an ACH of 5. This means that it can purify the air of such a room in just 12 minutes. Whole of the volume of air in a room is made to pass through the filters every 12 minutes. This way the air is repeatedly cleaned and made cleaner and cleaner with each cycle.
Levoit Core 300 has a rated coverage area of 215 sq.ft. in comparison to 219 sq.ft of Core P350. I don't know how much it is accurate or just to make Core P350 stand out a little bit in comparison to the Core 300. I've tried to condense only meaningful information in this Levoit Core P350 Review. I've seen reviews with unnecessary bickering and missed key points.
The CADR of Levoit Core P350 in Cubic Feet per Minute (CFM) is as follows-
DUST

140

 
SMOKE

141

 
POLLEN

145
FILTERS – LEVOIT CORE P350
Nothing changes when it comes to the number of filtration stages in Levoit air purifiers. Each of their air purifier models has 3-stage filtration. It looks like the Activated carbon filter has been improved in this one. The filter description mentions some ARC Formula, God knows what its full form is. Anyways, the non-woven pre-filter captures more fur and pet dander. The activated carbon filter absorbs pet odors. It allegedly not just absorbs the gaseous pollutants but also decomposes them to avoid second-hand pollution. The decomposed substance is firmly locked inside the activated carbon filter.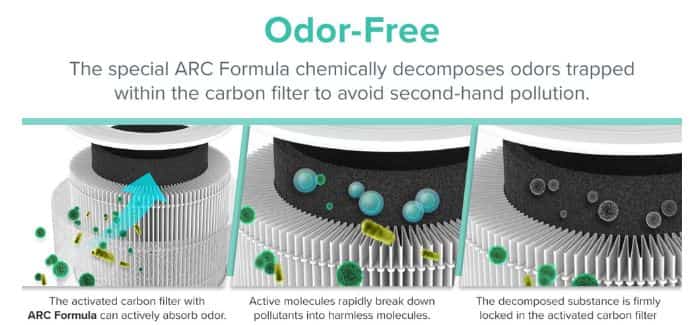 As with any other Levoit air purifier, this model too doesn't have any ionizer stage. No ozone or any risks associated with it!
PRE-FILTER

 – This nylon layer shields the inner HEPA and carbon layers. It gives an added protection from clogging of these layers. The pre-filter should be cleaned every 2–4 weeks to increase the efficiency and extend the life of your filter.

TRUE HEPA FILTER

 – A H13 grade True HEPA filter which has an 99.97% efficiency in removal of particles sized 0.3 microns or above.

ACTIVATED CARBON FILTER

 – Activated carbon is renowned for its innate ability of adsorbing gases and odors. This filtration stage forms the innermost surface of the composite filter.
The replacement filter has a name – Core P350-RF with Japan imported HEPA technology. Depends on your usage but try and change your filters every 6 – 8 months.


NOISE LEVEL
Small air purifiers hardly make any noise, that's a fact. A smaller fan moves lesser air mass and causes less vibrations and noise. Even the Levoit Core P350 is no different. A patented QuietKEAP technology is what the company credits as the reason behind its quietness. 24 dB which is close to pin-drop silence is all the noise it makes at its lowest fan speed. The noise is tolerable at 50 dB at the highest fan.
24 dB – 50 dB
POWER CONSUMPTION
If you have pets and have allergy then an air purifier definitely helps. The Levoit Core P350 has specialized filter to tackle the dander and allergen problems you may be facing. The price should not be a problem for anyone. Levoit Core P350 has a rated power of 40 Watts, with the standby power less than 0.4 Watts. As you can guess, it does not eat much electricity. Your average monthly cost of running it won't exceed $1.5 (at $0.18 per kWh energy rate). This is when you run it non-stop for 24 hours daily. And the yearly cost is less than $15.
CONCLUDING WORDS – Levoit Core P350 Review
Levoit Core P350 is a good and affordable air purifier for small rooms. Its quiet operation makes it useful for bedrooms too. The typical air quality problems in a home with smokers, pets and other airborne pollutants. Since this air purifier is meant specially for homes with pets, it works well to remove odors. Even kitchen smells  count as odors which it removes quickly enough. This model has been rated 5 stars on it ease of use. A nice air purifier with decent looks and color make it a worthwhile deal.

You May Like These Similar Posts From AirSwacch!