Would you want to refer to the multiple benefits of using a Humidifier? In our post on the BEST HUMIDIFIER FOR HOME you can get detailed insight. A simple device as a humidifier is a non-costly gateway to healthier air. Your air conditioner is set to automatically start while you turn on the car's ignition. With changing seasons and weather, the moisture content in the air also varies. Are you doing anything to condition the car interiors to have suitable humidity levels? Same way as a room humidifier helps in increasing moisture inside the home, a car humidifier does it in your car too. Know the Best Humidifier For Car in India.
NEED FOR A CAR HUMIDIFIER
A Humidifier becomes necessary with changing weather conditions. When the air is too dry, it can cause a multitude of health problems. A Car humidifier in similar way helps maintain an optimum moisture level of the air.
Cars parked directly under the Sun become extremely hot. The air inside the vehicle becomes devoid of all moisture.
Constant use of AC wrings the moisture off the air. It may cause uneasiness in breathing and dry eyes or respiratory tract.
Use of AC heater during winters bring down car humidity levels.
Good humidity level reduces burning of eyes and increases passenger safety.
So, its in the best interest of car users to deploy a humidifier in their cars. You need to be safe against pollutants inside your car too. A Car Air Purifier can come in handy for this. All this will make your driving experience more comfortable and healthy.
BEST CAR HUMIDIFIER INDIA
Unfortunately, there any not many good car humidifier available in the market. Most of the products are of cheap Chinese make which don't last long. You will find the exact same product being sold under different brand names. Still, we have tried to compile a list of the better ones.
1. ZAQ LITEMIST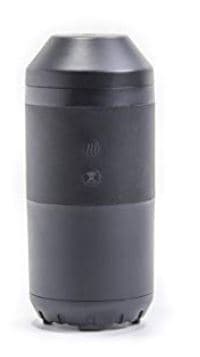 ZAQ LITEMIST has many other colors which mysteriously cost less than the black one. This car humidifier is basically for aromatherapy. It 60 ml water tank gives out a fine mist of essential oils for 2-4 modes. The time for which the water lasts varies with the temperature conditions. If run in intermittent mode it can run for 5 hours before refilling is required. It fits well into the car's cupholder. Also, a USB cable is provided alongside the home adapter. Use good quality essential oils for the perfect experience. It's ultrasonic diffuser produces a fine mist.


The XUBA Car Humidifier is currently the No. 1 Bestseller on Amazon. A water tank of 200 ml and a spray rate of 30 ml/h. It is very compact and easy to handle car humidifier.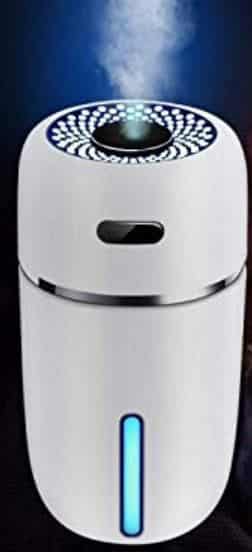 FEATURES
7 LED colors which glow in the night and render beautiful vision.
The LED lights can be turned off, made fixed or set to keep changing.
Setting for continuous spray for 4 hours.
8 hours intermittent spraying in 3 second intervals.
Water Level is visible through a transparent slit on the side.
It can draw power from the car's power socket.
A USB port for phone charging.

The Besque Cool mist portable is the Best Humidifier for Cars. It sprays fine mist through an ultrasonic evaporator. Hence no heating element or chance of burns. Its smaller in height than your mobile. This small device packs a punch really! Use it in your car or in your baby's room. It can easily fir your car's cup holder. Available in 4 body colors.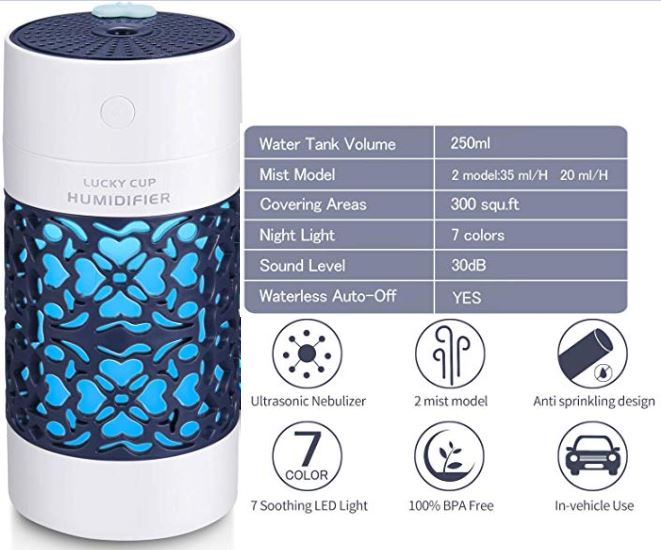 FEATURES
It can hold upto 250 ml of water. Sufficient for around 7 hours of operation. It sprays mist every 3 seconds.
Auto shutdown once water is over.
Gradually transitions into different color LED lights and looks attractive at night.
USB power ready for use in cars, offices, rooms etc.
Filter sponge sticks last around 25 days at a stretch and need replacement.
For those who use essential oils filter sticks need to be changed almost weekly.
2 settings for continuous or periodic mist.

This mini humidifier works well for spaces like a small room or car. You can put a few drops of essential oil for a soothing aroma. It comes with a USB power cable. So you can use it in your car's USB charging port easily. Expect it to last more than a year with high use. Its very affordable so go for it!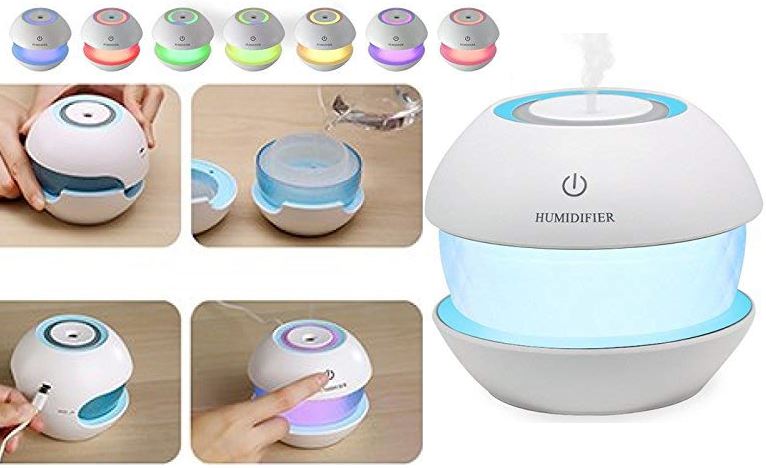 FEATURES
The humidifier can hold 150 ml of water.
7 LEDs in beautiful colors and can twin up as a night lamp.
Safe around children since no part becomes hot.
Perfectly quiet operation
Filter comes along to provide white dust free moisture.
You can choose from the below two sellers.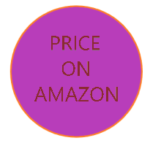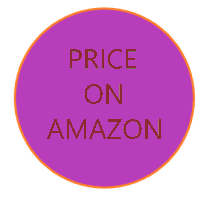 After the Besque car humidifier above, be ready to see other models in all sorts of catchy shapes. The Romino humidifier is shaped like a rocket. Use it and you'll feel cleaner air almost instantly.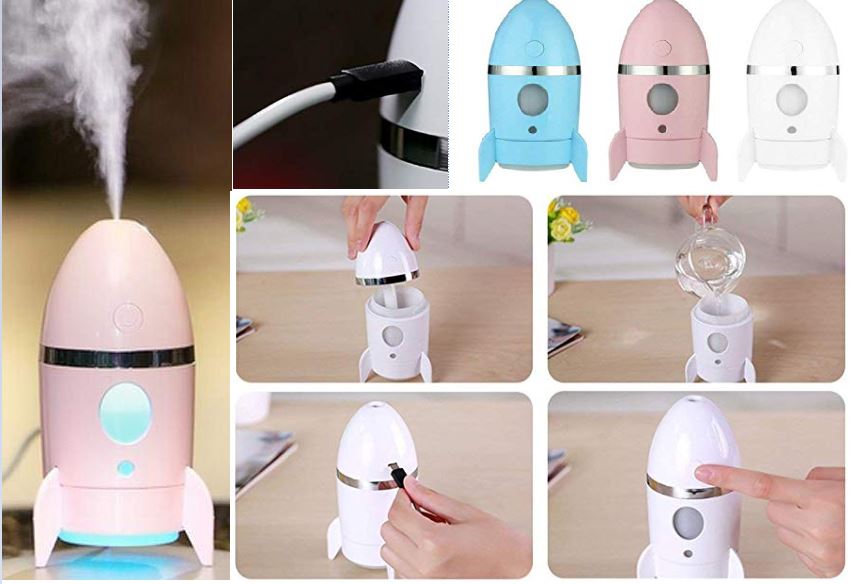 FEATURES
Super light weight at just 120 gm.
Comes with a micro USB cable for use in car.
Can be used as a foot light or night lamp.
135 ml water capacity.
1-2 drops of perfume can be added to water but not essential oils.
Available in multiple colors.
No power adapter is included along with it.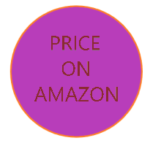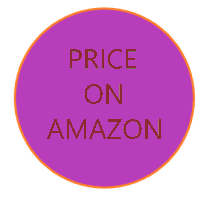 Here's another car humidifier you can consider buying. The Ardith Car humidifier has all the features of Romino and Besque models.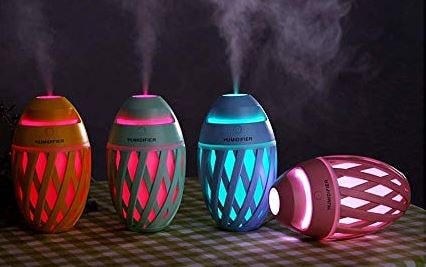 FEATURES
Water capacity of 320 ml. Cotton wicks need to be soaked before powering it ON. This is a standard procedure for all mini humidifiers.
It has two modes of continuous and intermittent sprays.
Has an Auto Cut-off function after 6 hours of use.
Three modes of using the LED lights. First for continuous slow change; second for constant white and third for lights off.
Can be used via laptop's USB, power bank or normal power socket via adapter.
The Ardith Humidifier can be used as an Aroma Diffuser also.
Extra cotton filter is provided.

This one here is the best Car Humidifier if we take the power port into account. It has a built in car charger head specifically to be powered by a car's charging point. A 180° rotatable water tank to adjust with all car designs.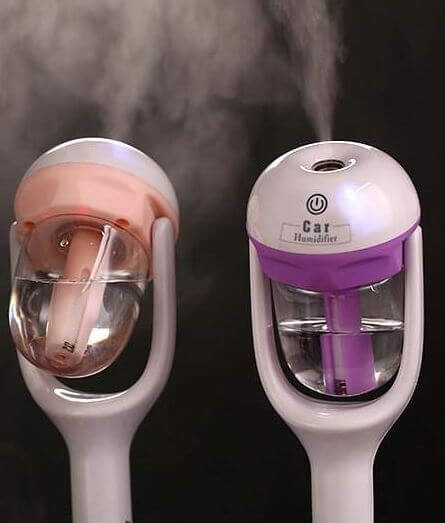 FEATURES
Has the smallest water tank of them all. It can hold just 50 ml water.
Owing to the small water tank, this humidifier is for small duration use.
Auto shutdown after 2 hours of continuous use to prevent burn down.
Buyerzone car humidifier does not have any colored LED lights.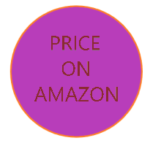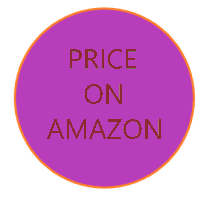 CONCLUSION
A Car Humidifier can prove to be a non-costly but still a valued possession. What can be more important to you than the health of your family? Add to it the increased eye comfort while driving. Moreover, the improvement in air quality inside the car is clearly felt. You can avail all these benefits and that too at an affordable cost. Even a medium sized pizza could cost more! You may also like buying Best Humidifier With Aroma and Essential Oil Diffuser.
You May Like These Similar Posts From AirSwacch!