In one of our earlier posts, Philips AC3821 we highlighted how an air purifier coupled with humidifier can do wonders to the quality of air. In this post, let's discuss on the standalone humidifiers. Humidifiers nowadays come with a variety of add-on features. The focus has shifted towards providing additional specs and not just to provide humidification. Color LEDs which impart a fascinating hue to the room especially in dimmed or no light are the latest fad. Fine mist generator function helps spread the moisture far and wide. The health benefits of optimum humidification are supplemented when essential oils and safe to use mild aromas are also used. You can expect the list of Best Humidifier in India below.
TOP BEST HUMIDIFIER IN INDIA
The Best Air Humidifier model we came across is the TESCO Cloud Mist. This is a beautiful product. The cloud in the name is there for a reason. The humidifier renders dense mist which looks like a miniature cloud atop it. The Cloud Mist also has multi-color LED which gives a colorful hue to the mist. The price may feel a little high, but the overall quality of the product is great. You may buy cheaper air humidifiers sans the color, ultrasonic mist diffuser or essential oil/aroma if you want. But, it should not hurt to spend a little more to own a top-class product.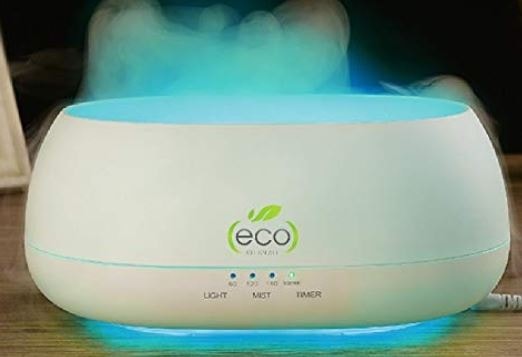 Features
Full function Remote Control with 5 m range.
Multi color LED control using remote.
Colors- Red, Orange, Yellow, Green, Blue, Indigo, Purple.). Can be set to a fixed color or constantly changing.
Ultrasonic Cloud Mist humidifier.
Essential oils Diffusion Available. Great for reducing inflammation and congestion in clogged airways to help you breathe more easily, such as peppermint, rosemary, lemon, eucalyptus.
2 Mist spray mode: Normal and ocean.
Tank capacity- 500ml
Auto cut-off when tank runs dry.
Timer: 60 to 120 minutes
Dimensions : 20 cm x 15 cm x 10 cm
The real effect of a humidifier can be realized only when the doors and windows are closed. The Honeywell HUL520W is capable to increase the humidity levels. Its advisable to keep the humidity level at around 50%. So, move the round dial clockwise to increase the mist level. Before sleeping set it to the highest setting then move it back to lower the mist dispensing. It is the Best Humidifier if you want only humidification.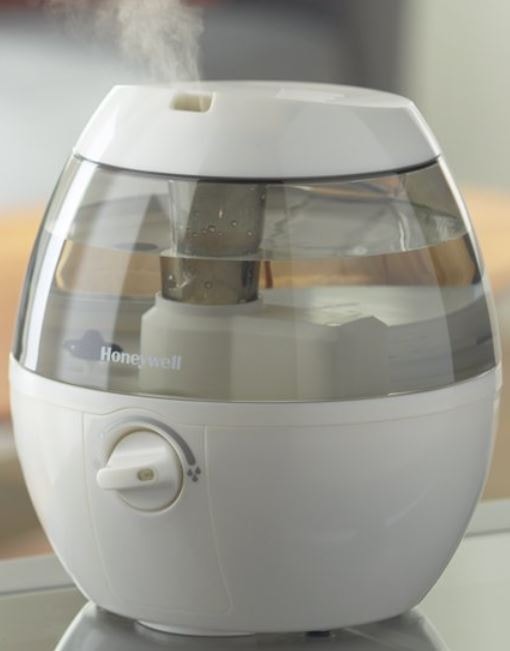 Features
Cool mist ultrasonic humidifier
Auto shutoff when no/low water.
Tank is about 1.5 L
Tank is large enough to last 10-12 hours of continuous operation
Humidifier is very easy to clean
Only Distilled water is recommended
Mist dispensing levels- 10
Quiet operation with slight humming sound but can get noisy at highest level
Sufficient for 150 sq.ft area
Dimensions- 

9.50 x 8.50 x 8.50 inches
For low cost, this is the Best Humidifier and Diffuser.
Features
Body made of ABS/PP
Colors- 7 color LED, can be set to auto change color or be static
Ultrasonic Humidifier and Aroma or Essential oil Diffuser
Essential Oils or Aroma Diffusion NOT Available.
Adjustable Mist intensity- Red mode for continuous 3 hours mist and Green mode for 30 sec ON/OFF running for 6 hours
Tank capacity- 100 ML (sufficient to last 4 hours)
Low Energy consumption and very quiet
Auto cut-off when tank runs dry.
NO Remote Control.
Dimensions : 10 x 14 cm
Another model from Allin with 300 ML Water Tank For 6-8 Hours Continuous Operations. 4 timer options of 60, 180, 360 minutes and continuously ON. Coverage Area is 550 sq.ft.

Yet another model with a Set of 7 Colour Changing 3D LEDs  with a 1000 ML tank is below.

Allin Exporters offers a large catalog of humidifiers with varied features and cost. The Allin Cool Mist Humidifier is the 2nd bestselling humidifier available on Amazon. This model should not be used for aroma or natural oil diffusion. Ultrasonic Humidifiers help remove/settle down suspended particulates. Allin also maintains the humidification level. All in all it is one of the Best Air Humidifier.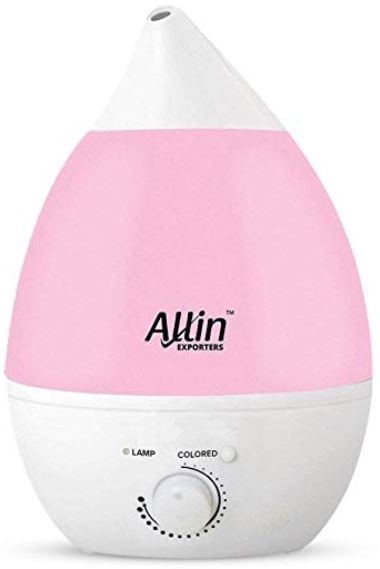 Features
Body made of ABS plastic (not BPAA free plastic, hence cannot be used as a diffuser)
Colors- 7 color LED Can be set to a fixed color or constantly changing. Light can be turned off.
Ultrasonic Humidifier
360° rotatable Mist outlet.
Essential Oils or Aroma Diffusion NOT Available.
Adjustable Mist intensity
Germ-proof Tank capacity- 2.4 L (sufficient to last 8 hours in low mist mode)
Auto cut-off when tank runs dry.
NO Remote Control.
NO Timer
Dimensions : 29 x 20 x 20 cm
Dr. Trust Home Spa is the #1 BESTSELLER humidifier and Essential Oil Diffuser.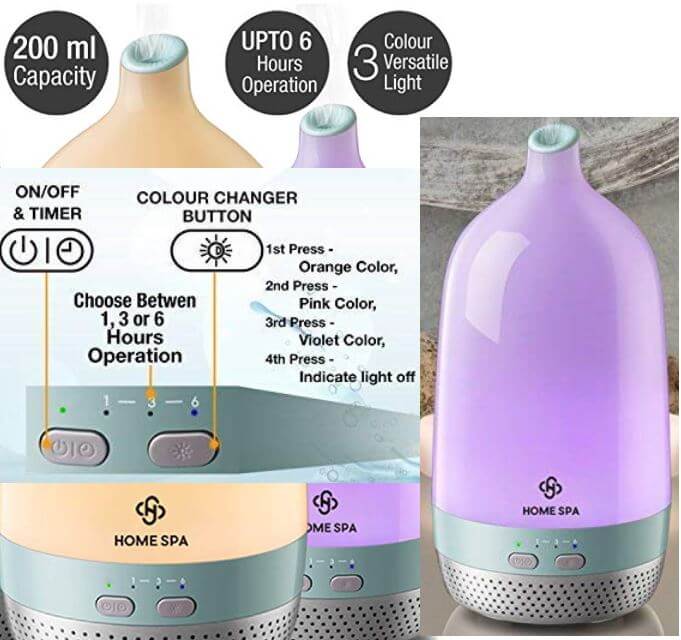 Features
Colors- 3 color LED with orange, violet and pink light. Light can be turned off.
Ultrasonic Humidifier and Diffuser.
Essential Oils or Aroma Diffusion Available.
Tank capacity- 200 ml (sufficient to last 6 hours)
Auto cut-off when tank runs dry and Red light is indicated.
NO Remote Control.
NO Adjustable Mist intensity
Timer- Default 1 hour, 3 and 6 hours
Given the low cost; is value for money.
CONS
The absence of mist control and tank capacity of only 200 ml. The humidifier body material is unknown. Whether or not it is BPAA free is a burning question. Ideally it should be if it's to be used as a aroma/oil diffuser.
Home Spa Luxury Cool Mist Dolphin Humidifier does not have the aroma diffuser function. It gives out ultra fine and smooth mist. Dry and chapped skin obtains moisture and remains soft and healthy. In winters or in air conditioned rooms, it helps maintain humidity. Optimum humidity helps you breathe better and relaxes your nasal and tracheal paths. The Home Spa Dolphin is also one of the best humidifier in India.
Features
ABS Plastic Body
Extremely quiet operation.
Great Ultrasonic Humidifier
Tank capacity- 2L (sufficient to last 8 hours)
Auto cut-off when tank runs dry and Red light is indicated.
NO LED Colors
NO Remote Control.
DON'T use Essential Oils or Aroma.
NO Adjustable Mist intensity
NO Timer
The Philips HU4706 desktop humidifier is over-priced. If it had a water level indicator or atleast a transparent tank, it would have been better. The operation is overall satisfactory.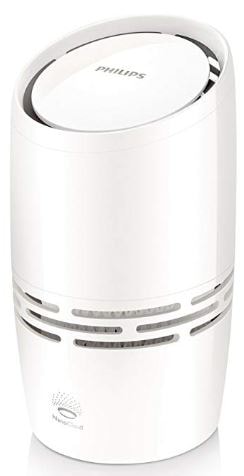 Features
The Philips humidifier holds about 1 L water.
An inbuilt absorbent filters dust and traps hair and solid impurities from the input air.
It has Auto shut down when water level becomes low. A Red light Indicator lights up to indicate this.
No White Dust and outputs a uniform humidification.
Silent mode for low and standard mode for normal moisture level.
The Allin DT-1618 is a 5 in 1 humidifier device. In a nominal price, its a good humidifier to own. The water tank is 1.5 L. Body is BPA-free ABS Grade Plastic. 7 LED light colors.
CONCLUSION
This list of Best Humidifier in India is not exhaustive. We'll add or remove products based on their performance. Also, the Humidifiers are small and for small areas.