Levoit air purifiers are quickly taking over as one of the most loved and trusted devices. The company is introducing new models within short time frames. It is commendable how Levoit manages to bring forth a new model with some uniqueness. The Levoit catalog of air purifiers caters to the widest needs and room sizes. Earlier, I reviewed the Levoit LV-H133 air purifier. This Levoit LV-H135 Air Purifier Review covers the aforementioned device. For your information, this model is one of the latest offerings from Levoit.
Levoit LV-H135 is an air purifier for mid-size rooms. I would not count it to a large room air purifier.Taking care of a room sized 463 sq.ft. is what Levoit LV-H135 is made for. Also, it is extraordinarily quiet at <=26 dB.
Levoit LV-H135 Air Purifier Review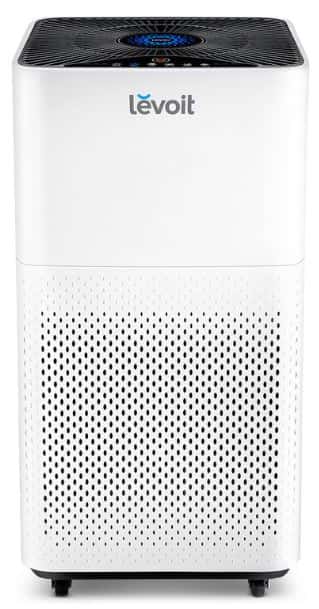 Levoit LV-H135 has enough capacity to be used for medium room sizes. It has a smaller coverage area than LV-H133 though. You can refer to our Levoit LV-H133 Review to know more. Why I specifically mentioned LV-H133 is for the reason that LV-H135 is very similar in its features. The body shape is different as LV-H135 is cuboid against a cylindrical LV-H133. Infact, Levoit is bringing in new models with their capabilities very close in heels to one another. I am a bit lost for words here. I seriously don't know which model to consider as a 'flagship' now.
The Levoit LV-H135 has a higher price compared to LV-H133 but just slightly. There's no noticeable updates inside LV-H135 if compared with LV-H133. But, there's a marked change in the looks and feel of the two air purifiers. I personally like the shape and console of LV-H135 more.
The Levoit LV-H135  air purifier is approx. $150 down than the Levoit LV-H134. LV-H134 is the true flagship model for large rooms. There is nothing missing or additional in terms of features on the console between these two.
DESIGN AND LOOKS
Levoit LV-H135 looks attractive from any angle its looked at from. Its console looks cool with a shiny black material illuminated with LEDs. The touch buttons are also situated on the top face of the air purifier. A novel design of the air quality indicator ring on the console is likeable too. You can adjust the brightness of this Air quality feedback LED ring as well.
Designs of popular air purifiers become inspirations for other companies to bring out similar models of their own. Its actually an injustice to call an air purifier to be inspired by some other. After all, in air purifiers there are hardly more shapes than say 5 to go about. LV-H135 has a 3D rectangular shape (cuboid) with a nearly cubical face. But, even I couldn't help notice LV-H135's similarity to the Medify MA-40W. Ofcourse this is what I was referring to previously. Medify MA-40W is a trendsetter and hugely successful air purifier.
Levoit LV-H135 carries forward the 360° air-intake approach. No change here. Although the body is cuboid, the filter is still cylindrical.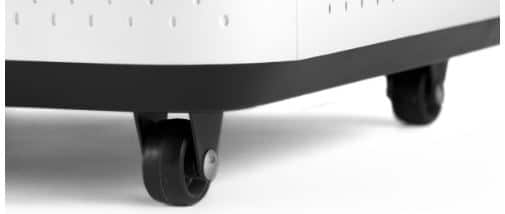 I like how the Levoit LV-H135 has caster wheels. Its not a very heavy air purifier per se to compulsorily have required wheels though. Still, the company has provided them so that should not pinch. Its always convenient to pull things sitting on wheels.
DIMENSIONS
It being an air purifier for average size rooms, Levoit LV-H135 is of average dimensions. It is conveniently sized and its uniform shape is helpful in placement and storage. Weighing in at 17 pounds, it is not difficult to move or lift it. Still, caster wheels have been provided to further enhance its portability.
The LV-H134 measures 24.61 x 13.58 x 13.39 inches.
COLOR OPTIONS
LV-H135 is only available in one color which is an all White body with a black top face.
LEVOIT LV-H135 CONTROL PANEL
Levoit LV-H135 has a distinctive looking control panel. I really like the design of the air quality indicator LED. It changes color in sync with how the particle sensor deems the air quality to be. The color changes denote the ambient air quality. For example Blue (very good), Green (good), Yellow (moderate), and Red (bad). This LED light's brightness can even be dimmed or adjusted. A set of buttons line up waiting for your touch and next orders.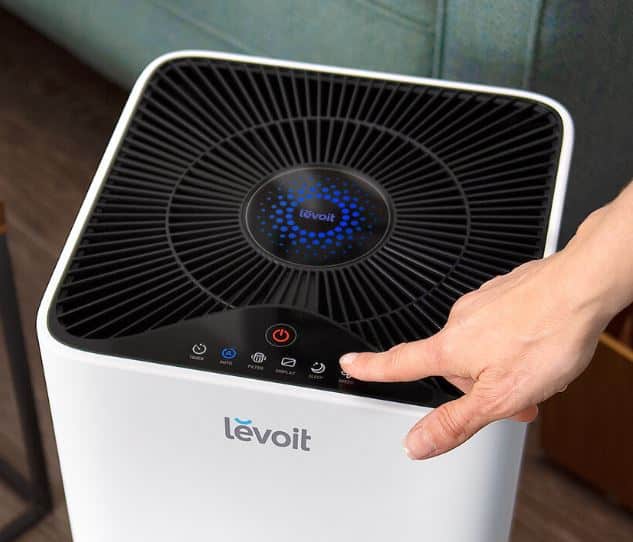 Each Touch Button is responsive and needs just a light touch. These are not hand gesture or hover controlled though.
Power Button

– This is from where you turn your air purifier ON or OFF. Useless explanation huh!

Fan Speed

– Levoit LV-H135 has a fan designed similar to how jet engines are. These fans have a smaller expanse but produce air suction with tremendous output. The fan speed control lets you choose from among the 3 fan speed settings.

Auto Mode

– Turn on the Auto mode activates the artificial intelligence (of sorts) of the air purifier. The smart sensors make a decision of the fan speed and intermittently puts the fans to rest as well. This mode literally means a hassle-free air purifier operation.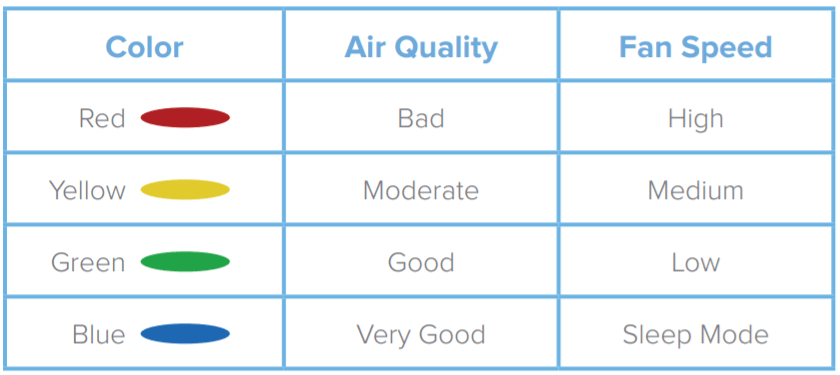 Sleep Mode

– Choose this mode to make the fan to run in its lowest speed. This also results in the air purifier running in its most silent and a lesser distracting operation. The thing to note here is selecting sleep mode does not dim the lights on the control panel. The air purifier makes just 26 dB noise in Sleep mode.

Display Off

– You can make all the LED lights to turn off if you choose this button. Sleep mode coupled with this Display Off button makes it ideal environment for sleeping.

Filter Change Indicator

– The Filter Change Indicator lights up to indicate the need to replace your device filters. The circular LED ring which normally is blue turns red when the filters need change.

Timer

– You can make a selection from among 2/4/8 hours of the timer interval.
---
---
COVERAGE AREA &

ACH
Levoit LV-H135's rated coverage area is 463 square feet. This coverage is for an ACH x 4. So, the air purifier would be cleaning the air of a 463 sq.ft room atleast 4 times in an hour. This is when the ceiling is not higher than 8 feet. So, you can even think of using this air purifier for a 795 ft² room. But, you'll have to be content with it cleaning the room's air just twice in an hour then.
As there is air intake from all sides, you must put the air purifier clear by 1 foot from the walls. An air purifier's coverage area cannot be regarded as good or bad. Its all relative and depends on the model. Cost is directly proportional to the air purifier's coverage area. Its the CADR rating which can be pronounced good or bad. For it, the CADR is 212 cubic feet per minute (CFM). This CADR rating is neither too good nor too bad.
All this makes this air purifier suited for a roughly 21.5 foot by 21.5 foot room. Such a room's air would be free from particulate matter, odors, harmful gases, and pathogens. Hope you are following this Levoit LV-H135 Review well?
AIR QUALITY INDICATOR
Levoit LV-H135 has an air quality indicator mechanism. A circular LED with a beautiful pattern of light spots is the most eye-catching thing on the console. If you want an even advanced air quality indicator, you can consider buying the LV-H134 model. It has a numerical air quality LED that gives real-time readings.
BLUE

– Indicates that the room's air quality is Very Good.

GREEN

– color light means the room's air quality is Good.

YELLOW

– light LED means that the indoor air is not very pure.

RED

– light LED is as expected, the color of danger.
NOISE LEVEL
From the perspective of noise generation, Levoit LV-H135 is wonderfully quiet. I have seen air purifier fans fashioned like jet-engines to be mostly quiet. Unlike many other air purifiers which generate white or pink noise, no such thing here.
Highest setting – 54 dB
Medium setting – 40 dB
Lowest setting – 32 dB
20 dB is what a whisper or rustling of leaves would make. So, 26 dB is just marginally louder. 40 dB is the noise levels in a library. While 50 dB is the noise of a light conversation at home.
LEVOIT LV-H135 FILTERS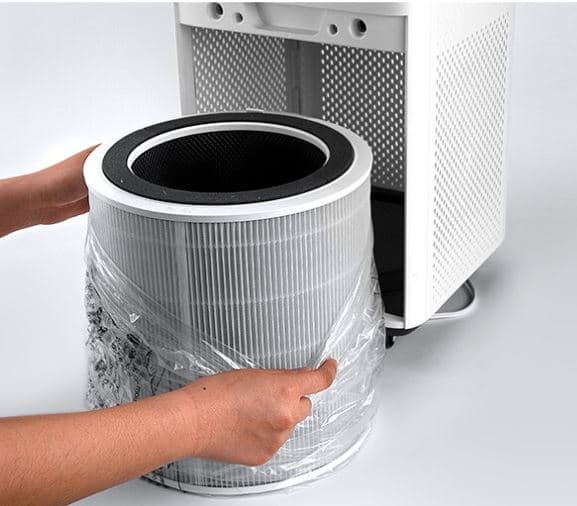 Levoit LV-H135 filters are the same type as there in Levoit LV-H133 air purifier. The composite cylindrical filter has a TRUE HEPA layer on the outside. An advanced Activated Carbon layer forms the inside of the filter. Atop the HEPA filter, is a built-in pre-filter. As with other models, the filters here too supposedly last for around 6 – 8 months depending on use and pollution. There is no Ionizer stage in this air purifier. Thus, there is no risk of ozone contamination.
The Filter for LV-H135 being cylindrical filters the air from all directions. It is built up of three layers, with the material in each layer targeting specific air pollutants.
PRELIMINARY FILTER

 – This is essentially the pre-filter material which is fused over the HEPA filter. The pre-filter captures large particles of lint, fibers, hair and fur. You should try and clean this layer atleast once a week with a vacuum cleaner.

TRUE HEPA FILTER

– The primary filter upon which the air cleaning efficiency of an air purifier rests. I've already alluded to the fact that Levoit air purifiers use H13 grade filter. Capable of trapping most of the pollutants that come its way, this filter quality is sort of a norm these days.

ACTIVATED CARBON FILTER

– This layer behind the HEPA filter removes unwanted odors. Whatever be the type or source of the odors, kitchen, smoke, VOCs. VOCs are Volatile Organic Compounds in gaseous form which may have an immediate or long-term effect on health.
SIGNS OF NEED FOR FILTER REPLACEMENT
You may notice an increase in the noise the air purifier is making.
A Decreased airflow is an obvious effect of dirty filters.
Detection of Unusual odors suggests the activated carbon filter has lost its steam.
A Visibly clogged filter.

When you use the air purifier for the first time, do not forget to remove the plastic cover from the filters.
POWER CONSUMPTION
Investigating the power consumption of an air purifier is important. From a power consumption standpoint, Levoit LV-H135 does not draw much energy. The Rated power of this air purifier is 40 W while the standby power is just 0.8 W.
An efficient fan design is what makes Levoit air purifiers economical in their power draw. Compare this with the 68 W Rated power of the Medify MA-40W air purifier. The two air purifiers are so comparable in cost and coverage area. So, you see how efficient the fan design for the Levoit ones are.
WARRANTY
Check with the seller at the time of purchase. Mostly the company offers 1 year warranty.
Automatic Shutoff
As a safety mechanism, the air purifier would shut down when the filter cover is removed.
CONCLUSION – Levoit LV-H135 Review
A beautiful air purifier with a good quality filter and an attractive console. That's the Levoit LV-H135 for you. If your room size is close to 463 square feet, then this is a great option. The price is appropriate with respect to the feature set of the air purifier. I don't see any feature missing which you can find in any other air purifier at its cost. People experiencing allergies, pet smells, or dust problems found this model very useful. Overall, its a great air purifier with no fuss about anything.
I hope you found this Levoit LV-H135 review informative!

You May Like These Similar Posts From AirSwacch!