In a newer post, we have detailed about the Xiaomi MI Air Purifier 3. MI Air Purifier 3 is selling like hot cakes because of its feature packed specs and affordable price. We had also received rave reviews about it. In this post, we cover the generation 2 smart MI Air Purifier 2S Review. It is slightly inferior to its newer model. That's what the lesser cost is for. Once you couple it with Echo Dot, its very convenient to use. Lets see what are its other features.
MI AIR PURIFIER 2S REVIEW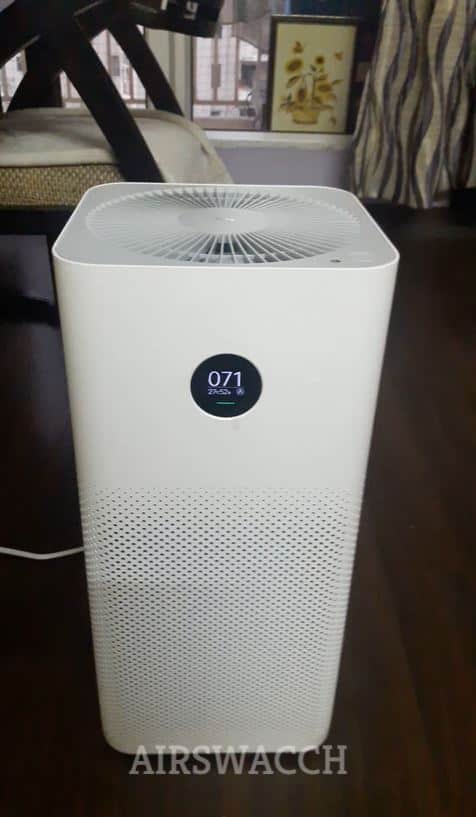 MI Air purifiers truly pioneered how users perception towards air purifiers changed. Earlier people used to think of air purifiers as a thing rich people can afford. Others would dismiss them as devices used to show-off or unnecessary. But, recent turn of events in India resulted in pollution levels reaching new highs. This led people to try out using air purifiers. Mi Air purifiers being affordable and feature rich quickly caught up with the fancy of Indian consumer.
PRICE CHECK



CHEAPER MODEL ALERT!
Check MI Air Purifier 2C Price
COST - Mi 2S vs Mi 2C
The MI Air Purifier 2S has quite a handful of features which 2C lacks. Obviously, missing features is what makes the 2C cheaper. There is approximately 2.5 Thousand Rupees difference in cost. But, with this little difference you lose on some cool convenience features in MI 2C.
MI 2C LOSES     MI 2S WINS
OLED DISPLAY- MI 2C vs MI 2S
The MI Air Purifier 2S has a digital OLED display. The particulate concentration in the air is shown in real-time. This is a really important feature which helps to develop users' trust in the air purifier. A user can observe the gradual decrease in pollution levels which boosts the satisfaction. One gets confident that the air that is being breathed in is pure and safe.
Contrast this with the Air Quality Indicator in MI 2C. This model displays air quality but just in the form of a small LED. The LED changes color from Red to Orange to green. This is not a very catchy indicator as the lights change in much larger time frames than numbers change in MI air Purifier 2S. Also, the LEDs are quite small which makes it difficult to notice the changes in air quality easily.
MI 2C LOSES     MI 2S WINS
HEPA Filter Quality - MI 2S Vertical Air Purifier vs MI 2C
It may look strange but MI 2C has a better quality HEPA filter than the MI 2S. Yes, you heard it right! MI 2C uses a TRUE HEPA filter which is H13 grade. While the HEPA filter in MI 2S is probably H11 grade. The higher the grade the better quality filter it is. A True HEPA filter has a higher efficiency of removing particles from the air. A TRUE HEPA filter can remove up to 99.97% of the air-borne particles as small as 0.3 microns.
MI 2C WINS   MI 2S LOSES
LASER - MI Air Purifier 2S vs MI Air Purifier 2C
The sensor in MI 2S is a high precision Laser based one. You can personally see how sensitive and accurate the sensor in MI 2S is. Even if a person gushes towards the air purifier, the reading increases. This is because when someone abruptly moves towards the air purifier, invisible dust particles are drawn towards it. This causes a spike in the OLED display reading.
Now, coming onto MI 2C. It employs an infrared light based sensor which is considered less sensitive.
MI 2C Loses    MI 2S WINS
Filtration Stages
Although the HEPA filter quality of MI 2C is better than MI 2S; there is a tradeoff. Since the costs were to be kept lower in MI 2C, they have reduced one filtration layer from it. Hence, MI 2C has only 2 stages of filters compared to 3 with MI 2S. The quintessential carbon filter is missing from MI 2C. This means that adsorption of harmful gases and odors from the room air is no longer possible. In simpler words, with an increase of 4.97% particle removal capacity in 2C, you are losing out on protection from harmful fumes and odors. I would say this would be an unnecessary sacrifice.
MI 2C LOSES      MI 2S WINS
CADR - MI 2C vs MI 2S
Due to a better quality filter in MI 2C it has a higher CADR. CADR is the Clean Air Delivery Rate of an air purifier. It measures how much air volume the device can clean in an hour's time. The higher the CADR, the better it is.
CADR MI 2C= 350 m³/h
CADR MI 2S=310 m³/h
MI 2C WINS            MI 2S LOSES
Convenience - MI Air Purifier 2S vs MI 2C
The OLED display in MI 2S displays the PM2.5 level, the temperature and humidity. It also displays the filter life remaining. All these are missing from MI 2C as there is no such screen in it. Plus, MI 2S allowed you to control it via your phone over WiFi using an Application. The air purifier could be conveniently controlled through the APP. Turning it on/off, setting the fan speed or the mode is so much easier. You do not get this comfort in MI 2C just because you chose to save some money! 🙂
MI 2C LOSES           MI 2S WINS
MI Air Purifier 3 Vs MI Air Purifier 2S
The newest model from MI is the MI Air Purifier 3. It is better than the Air Purifier 2S is some regards while similar in other aspects. For instance MI Air Purifier 3 has a touch OLED screen. It also has a larger coverage area of 484 sq.ft. compared to 400 sq.ft. of MI air Purifier 2S. There is an improvement in the CADR rating as well by 22%. MI Air Purifier 3 has a CADR of 380 m³/h compared to 310 m³/h of 2S.
The most important thing to point out is the filter quality. While MI Air Purifier 2S had a E12 grade filter, MI air Purifier 3 has a TRUE HEPA filter (H13 grade). This is a big improvement which improves the filtration efficiency. All other features are more or less the same.
MI Air Purifier 2S Vs

MI Air Purifier 2
The MI Air Purifier 2S is more or less similar to MI Air Purifier 2. There is only one most discernible add-on in 2S which comes with OLED display shows what a real-time Air Quality Monitor shows like AQI, Temperature and Humidity levels. These parameters were already visible in the MI Air Purifier 2 Home App and still there in the mobile App. So, practically the 2S displays these stats on its OLED for ready viewing.
How Effective Is It For Stubble (Parali) Smoke?
I would never forget those horrible days around November 3rd 2019!! Personally, I found the air purifier pretty effective when used on those ultra polluted days. I would let the air purifier run day and night, such was the pollution. But, now when I run the air purifier, it seems as if the burning smell of that smog/smoke has settled in the filters permanently. The air coming out of the air purifier emits the same smell as how the air was on those days. After around a week of running, I felt that the smell was reduced.
FEATURES
DESIGN & LOOKS
The design and looks are exactly the same as the MI Air Purifier 3. Just that the MI Air Purifier 3 has an all-square opening at the top now. The MI Air Purifier 2 has a circular opening for fan as the edges are blocked or covered. The power button is situated on this blocked portion on the top itself. For more details refer to our MI Air Purifier 3 Review.
REAL-TIME PM2.5 DISPLAY
MI air purifier has a sensitive real-time PM2.5 digital display. The sensitive Laser particle sensor sends feedback of the pollutant levels and the same is shown on the screen. Watch the below video to see how MI air purifier tracks pollution in real-time.
MI AIR PURIFIER 2S REVIEWS
CADR
CADR is an important spec which helps you to decide the purifying power of an air purifier. Mi Air Purifier 2S has a Clean Air Delivery Rate (CADR) of 310 m³/hr. Without occupying much floor space it cleans a room as big as 400 sq.ft or 37 m².


The OLED Display
The OLED Display allows you to check PM2.5 levels in the room and keeps track of how clean your air is. It also shows the temperature and humidity levels.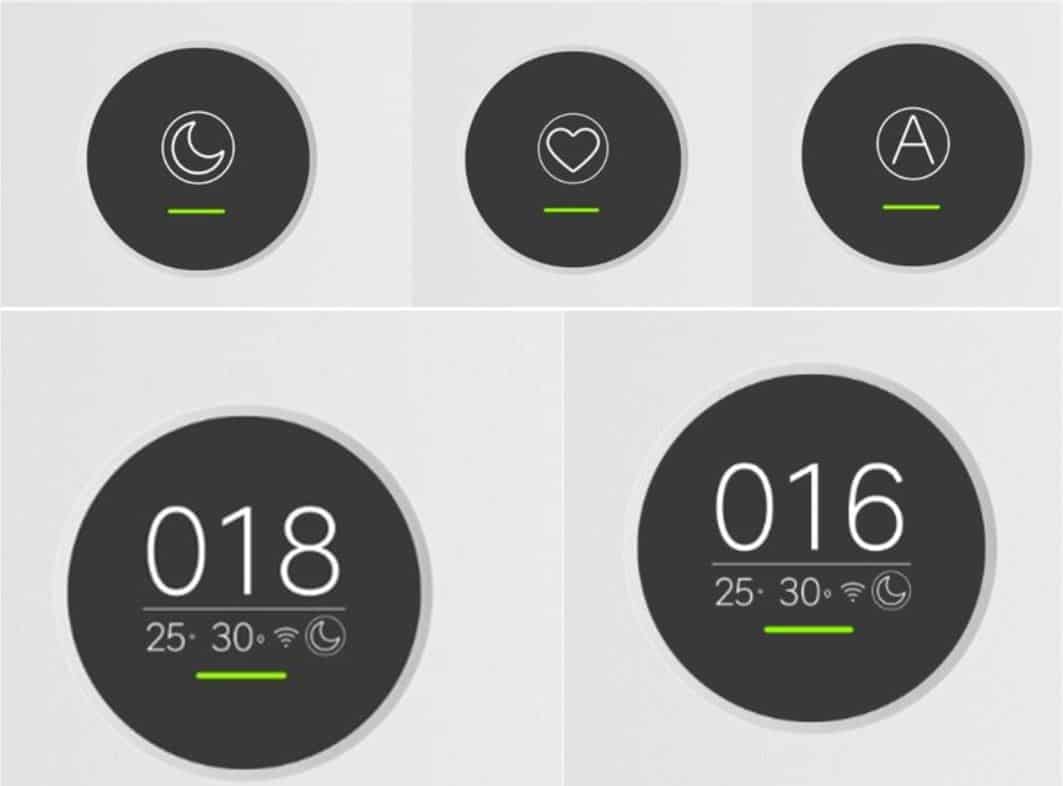 Sleep mode, Favorite mode, Auto mode are shown in the image above clockwise from top.
Automatic Brightness Adjustment
The Mi Air Purifier 2S display automatically adjusts its brightness according to ambient light, so that your sleep is not disturbed.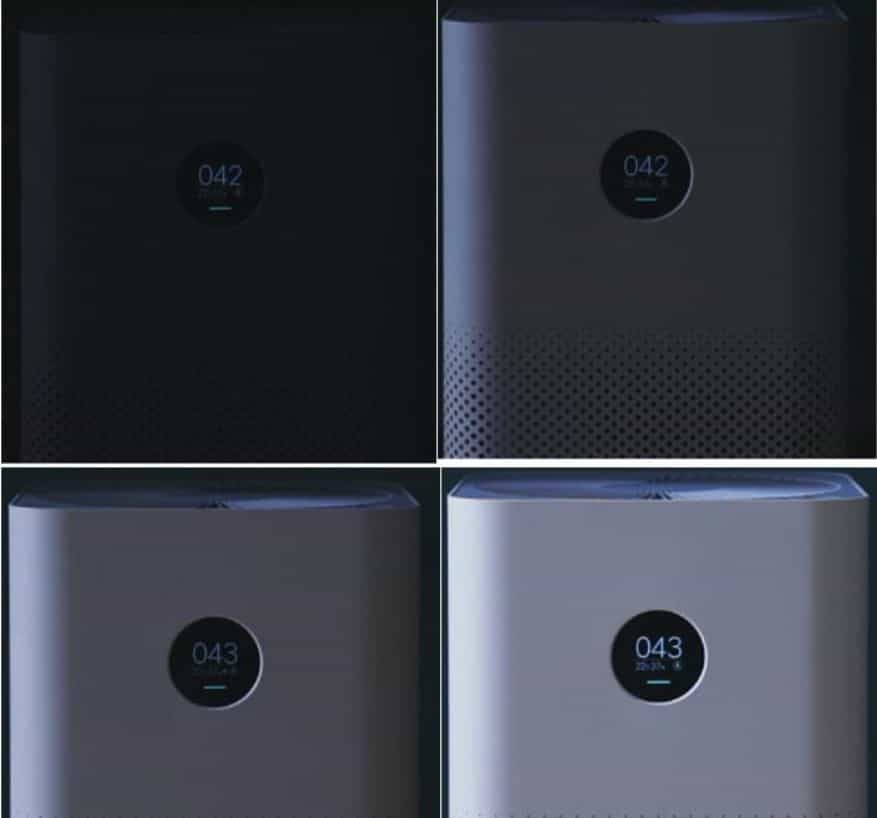 Three-Layer Filtration For Maximum Air Purification
The MI Air Purifier 2S has a 360° cylindrical 3-layer filter. There are no separate filters but a single cylinder which houses the filtration media in layers.
The outermost filter layer traps large airborne particles such as dust and fibers.
The middle layer uses E-12 grade filtration technology from TORAY, Japan. This layer removes 99.5% micron-sized particles and catches harmful bacteria.
The last layer is the one which removes VOCs and harmful gases from the air. The activated carbon filter is the most important filter in areas like Delhi where traffic exhausts and landfill site fires are a grave hazard. It effectively removes formaldehyde, other harmful substances and odor.
---
Smart Control With Mi Home App And Alexa
This App enables you to set the fan speed and timer functions from anywhere. The App displays the air quality, temperature and humidity. The App also automatically notifies you when it's time to replace the filter.
Powerful Suction Fan And Effective Circulation
The Jet Engine like powerful fans create strong suction which sucks in the rooms air. The numerous holes in the air purifier body near the Filter drum allows easy passage of the air through the filter.
Suggestion
To prolong the life of the filters, we advice you to wrap a thin cotton cloth like a dhoti around the 943 intake holes. This would prevent the pre-filter to be overloaded with dust. The cloth can be washed frequently.
With time and continuous running without frequent cleaning, the air purifier may emanate burning smell. We have even washed the outer Blue mesh under running water against instructions. It cleaned the filter better. Be careful not to let much water to run through the carbon filter (inside black one). A little wetting is OK.
We hope this MI Air Purifier Review helped you make a buying decision.
Conclusion- MI Air Purifier 2S Review
We conclude our MI Air Purifier 2S Review in the next few lines. From our experience with the quality of Mi Air Purifier 2, we can confidently state that 2S would be at par with it if not better. Another air purifier Coway Sleek AP-1009 has much better filter quality but lesser features. The OLED display has been introduced owing to the growing demand of real time pollution measuring functionality. This feature is quickly becoming a norm now. We hope to see this feature adopted in more and more air purifier from other brands too. The silent operation, the mobile App, its efficient design and effective air purification makes it a best buy. It has an affordable price tag which is further reduced through cashback offers. The cut throat competition is proving to be a boon for the customers.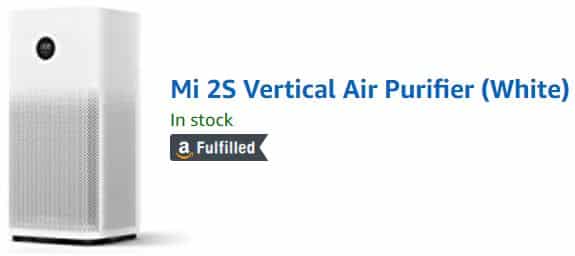 You May Like These Similar Posts From AirSwacch!