In this article, we're going to review the Best Air Quality Monitor in India. Air quality testers are pollution monitors  keeping a track on air health whose deterioration is a daily challenge faced by Indians. Our governments and other health agencies have a major role to play to ensure we have access to good quality air. But, they are doing only a tiny bit by fining vehicles and industries who violate the set pollution limits. As citizens, there is hardly any tangible change on the ground reality. Taking matters into our own hands seems to be the only solution. Portable air monitors show the pollution levels in real-time. With this, one comes to know of the ambient air quality index.
You can then take steps to safeguard your family's health by using the Best Air Purifier in India. Be it home or office, you can switch on the air purifier or even use humidifiers to bring down the pollutants.
WHAT TO LOOK FOR IN AN AQI MONITOR?
There are a few things you can watch out for while shopping an air quality monitor. I know very few of us would go about looking for such an uncommon gadget. Still, if at all, you can check if it measures the pollutant levels accurately by using your best judgement and some testing.
Some sensors separately measure CO2, SO2, NO2 and VOCs. Some can specifically monitor the concentrations of PM 2.5 and PM 10. Now, this is completely up to your choice.
Use of Air quality monitors is not commonplace in India. Consequently, not many products are available. Still, we have tried our best to curate the best AQI monitors here.
Another important feature to look out for is the forecast feature. The forecast made here differs from the weather forecast in the sense that here, they are predicting the air quality. Unless certain unforeseen events happen, using weather data and algorithms, future AQI can be measured. Those who are very conscious about air quality can use this to find the best time to go out or let their children and pets out.
Portability is very important as you have to carry the air quality monitor to places. A pocket friendly equipment without the hassle of connecting to WiFi or an additional app – PRANA is a good choice. It is small, touch sensitive and can be carried anywhere. It is smaller than an average person's palm.
All of them have different features and abilities. So have a look and choose the one that suits your home the best.
WHAT DOES AN AIR QUALITY MONITOR DO?
An Indoor Air Quality (IAQ) monitor will report the levels of common pollutants and other air conditions inside your home in real-time. The reason for bad indoor air could be anything from excessive dust to high humidity to emissions from household cleaners or building materials. In some cases, the source of bad air quality is our self-generated. Take for example dusting or kitchen fumes. By checking these monitors, we can keep at least our home air quality high. Some people even use it to plan the exact times for their outdoor walks or when children will play outside.
BEST AIR QUALITY MONITOR IN INDIA
We've looked at all kinds of air quality monitors within a wide price range from ₹2000 to ₹20,000. There's a limited choice of products and the high-end ones come costly due to lack in competition.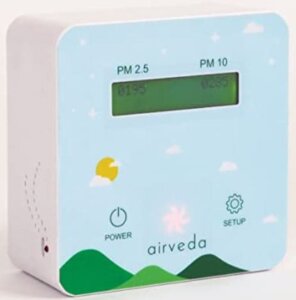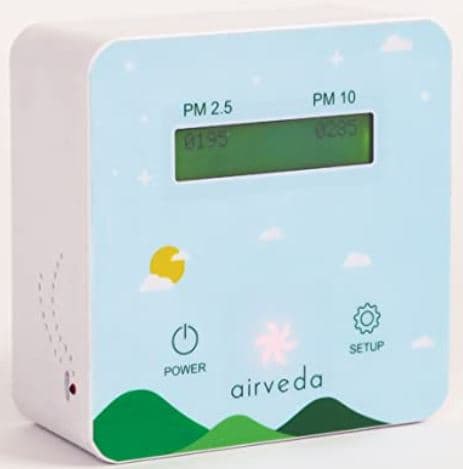 This is a very small device but comes with a price tag on the higher side. Now, don't let that deter you. This air quality monitor is good at what it does and it also has a horde of other features! It can specifically monitor the concentration of PM 2.5 and PM 10 particles and also give detailed report via an app. You can connect to this model via the WiFi network and check the graphs and concentrations in details. This is a fully made in India product. It is locally manufactured and serviced here as well.
The seller gives a one year warranty on it. It uses the energy of 5 volts while running. The package contains the monitor and also a small charger for recharging. So you won't be spending extra on buying AA batteries for it. It can also run without electrical connection after it is fully charged. When on self-power, it surveys the air every minute. When on power, it surveys the air every second. The product has 90% accuracy! It measures the air quality by light scattering technique where a beam of light is sent into the air and the scattered light is converted to electrical signals and processed accordingly. This is a top-notch product and certainly one of the best air quality monitor in India.
GOOD FEATURES
High-quality laser sensor that is calibrated to Indian situations.
Chart present on the backside to easily understand the meaning of various indices.
Extremely tiny and portable. Can be placed anywhere on a table or a shelf. Very inconspicuous. It is a cube of side 11.6 cm.
The screen displays concentration of PM2.5 and PM10 particles.
The monitor can connect to an App via WiFi that shows more details like CO2 concentration.
Visual indicator present for when the air quality drops too low.
When fully charged, it can run for 5 to 6 hours.
You can also charge it via a USB from a laptop or car.
AIRVEDA PRICE CHECK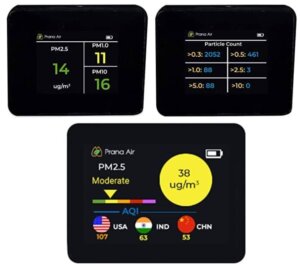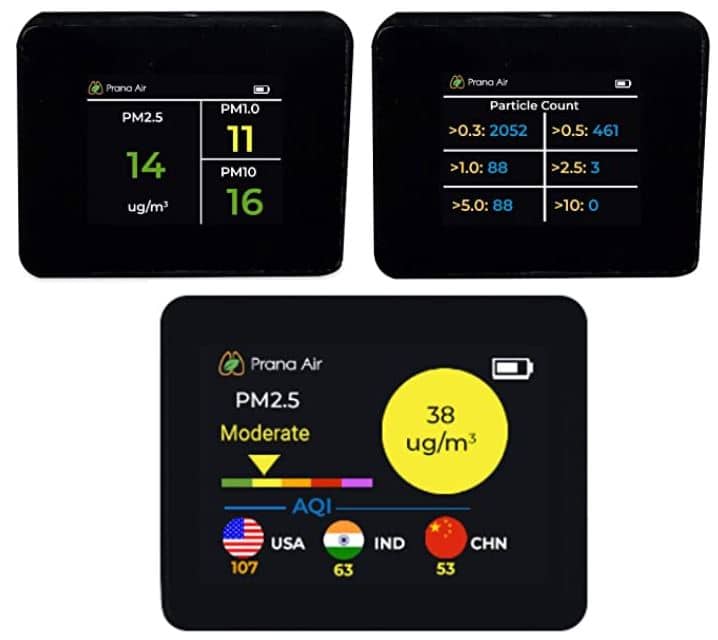 This is a great product due to its small size and pocket friendly shape. It is also quite cheap and costs the lowest on this list of Best air quality monitor in India. It has a proper screen with color display that can show the current state of PM2.5, PM10 and PM1 concentration. At only 1.77 inches high and 2.36 inches wide, it is similar to size to that of a wrist watch. The screen also displays the average current AQI over 3 different nations.
But being small, it does have certain limitations. It can only measure PM2.5 particles within the range of 0 to 2000 µg/m3. However, this is more than enough for regular use. The screen is touch sensitive and so, you can change it to see other analytics like a graph showing the particulate content over time, exact particle counts etc. A battery icon on the top right corner will notify you of the current battery remaining. It is fitted with lithium ion batteries and can be recharged using an adapter. When fully charged, it can work for 4 hours.
GOOD FEATURES
Display screen with colors and touch sensitivity.
Can show details like exact PM content over the period of the day or week on the screen itself instead of opening a separate App.
The device uses laser sensing combined with light scattering which is quite an effective method. The margin of error is only 10%.
Uses Type C USB cable for charging.
Economical price and very small and handy.
The Prana Air AQI monitor weighs only 200 grams.
PRANA AIR AIR QUALITY MONITOR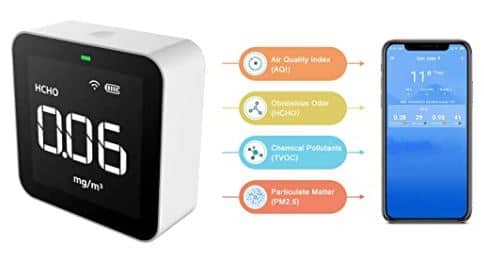 Temptop M10i air quality monitor unlike the previous one is more portable, handy and has more features! This monitor can display the content of PM2.5 in the air along with TVOC concentration. It can also show the AQI and formaldehyde content in the air. Formaldehyde content is usually indicated by the odor. It can also be connected to the WiFi and hence is marketed as a 5 in 1 product. You can choose to save specific data permanently into the system. It does not measure things like temperature and humidity. But you can log in to the app to see these functions anyway.
With the Temptop App, you can connect the system and control many functions. You can share your location which the App can use to gauge local air conditions. It can also make forecasts and display the weather. The product works using a laser particle sensor along with a unique particle swarm optimization algorithm. This sensor has a total lifetime of 20,000 hours. Weighing only 200 grams, it is 8.2 cm high and is shaped like a cube. The black body has an LED display on the front face where the display keeps alternating between PM2.5 content and TVOC content.
GOOD FEATURES
3 separate indicators for battery levels and alarm.
Can run for 6 hours when fully charged, but can be charged using a USB cable as well.
Uses an accurate Electrochemical Sensor along with a QSI laser diode.
Improved algorithm for data.
App available for both Apple and Android mobiles.
Small, sleek and portable to be easily carried.
TEMPTOP M10i AIR QUALITY MONITOR METER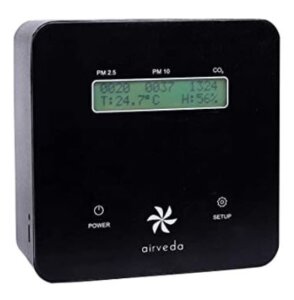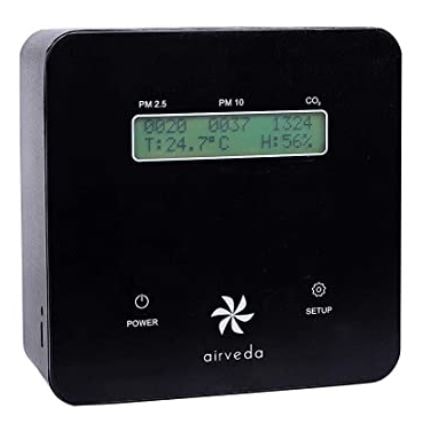 Now most of the above products measured PM2.5 and PM10 particles. Some like an earlier product from Airveda also had options to measure CO2 content. But this Air Quality Monitor is more than just that. If you want something that can accurately measure AQI, PM2.5 and PM10 along with things like humidity and temperature – then this is the product for you. AIRVEDA has come out with a Smart sensor that can measure all these and display it on screen at the same time. It can show a temperature range from 0 to 50 degrees and a humidity range up to 90%.
For example, in the case of the earlier Airveda product, it only showed the OM content on screen. For more details like about CO2 content, users had to open the app. In the case of this one, it is not so. The small digital screen displays all necessary things like temperature and humidity. However, it can still be connected to 5 different WiFi with saved passwords. With that, you can connect to it with an app and see the stats in more details. The seller has provided a 1 year warranty on the product. It comes with an additional charger. In size, it is similar to all Airveda products, however, the price tag is vastly different. The best part of using an app is that you can even access it from remote locations as long as the monitor is placed in the correct place.
GOOD FEATURES
You can connect it to an app via WiFi that shows even greater information.
Displays PM content, temperature and humidity.
Visual indicator present for when the air quality drops too low.
When fully charged, it can run for 5 to 6 hours.
It can be recharged via a USB from a laptop or car.
Measures the AQI every single second for accurate real-time data.
Compact and small ABS body in black color
AIRVEDA PRICE CHECK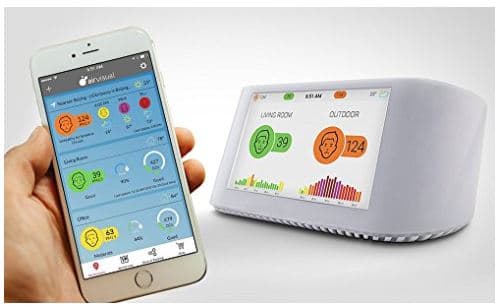 This is an extremely high performance and trendy device. If you're looking for Advanced Analytics of your home air quality, go for it. The IQAIR VISUAL can display real-time PM2.5 concentrations and CO2 levels. Its capacity ranges from 400 ppm to 10,000 ppm. It uses laser technology along with artificial intelligence to read data and constantly update its system. You can access all the data it has generated by logging into the App. It studies the 6 key pollutants. Using its network, it can study the AQI of 8,000+ locations in 35+ countries. The Autosave mode ensures there is no power loss. As soon as it connects to WiFi, it automatically syncs time and data.
The best part about the IQAIR VISUAL is that it studies the indoor air condition in your home. It also very well assesses the outdoor air condition in your locality. By checking the differences, it makes suggestions for the best time to go out. Using this you can plan when your kids go out to play or whether it is conducive to go out for morning or evening walks on a particular day and time. The product is designed keeping medical-grade standards in mind. It is especially useful to patients of asthma, COPD and lung cancer for whom even minimal exposure to pollutants can be a detrimental thing.
GOOD FEATURES
IQAIR Visual air quality monitor can study AQI of 8,000+ locations in 35+ countries.
It can make suggestions for best time to go out. It does it after studying indoor and outdoor AQI differences.
The device can save up to 5 years of data and make forecasts for the next 3 days. A very helpful feature for planning the outings accordingly
5 inch LED wide screen with true color.
Comes with a microSD and SD card so you can save the data and analytics.
When fully charged, it can run for 5 to 6 hours.
Can also be charged via a USB from a laptop or car.
Dust protection mechanism to prevent dust from settling into the product.
IQAIR AIRVISUAL AIR QUALITY MONITOR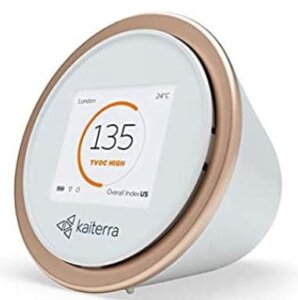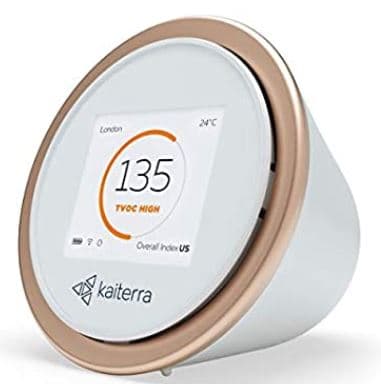 This is a Smart Air Quality Monitor that can measure air's PM2.5 and TVOCs. It can also measure and display temperature and humidity. Along with the Kaiterra App it can also provide a forecast of the weather conditions. This small and circular product uses laser-based light scattering technology to measure the current AQI. You can download the integrated app from the app store, irrespective of being an Apple or Android user. But overall, this is quite expensive than other similar products and the same functions are also provided by Airveda for a lower price. There is a range of products in the Laser Egg series, some which also measure CO2 content.
This is mainly a US product, however, recently is being sold in India as well. Apart from this, it is sold in only 12 other countries. The accuracy shown by the Laser egg in Indian conditions has a margin of error of 10%. This is quite normal as seen in the above reviews as well and isn't something that users should worry about. You will know that even products with medical grade technology are known to show an error of 10% like in case of the IQAIR Visual. The product says that by measuring the air conditions, it can also alert you about the current condition of your HEPA filter if you happen to have one in your home fits into the air purifier.
GOOD FEATURES
Can measure numerous things like PM 2.5, TVOC, temperature, and humidity.
It can also forecast the weather and air conditions so families can plan going out times.
Can measure the condition of HEPA filter if the user has one.
Uses laser-based light scattering technology and has a margin of error of only 10%.
The entire front portion is a digital screen with color display.
The integrated Kaitera app is available for both Apple and Android phones.
LASER EGG AQI MONITOR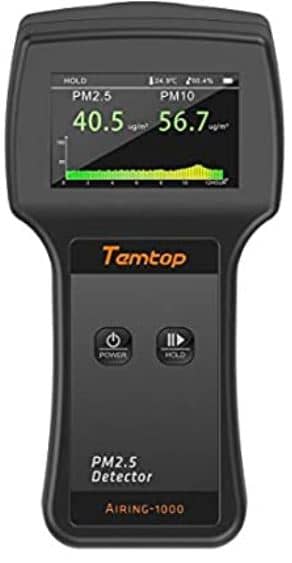 All the monitors on the list so far were quite handy and portable. They weighed less than 300 grams. This next product weighs 1.19 Kgs. The TEMPTOP AIRING-1000 is a Laser Air Quality Monitor that can check things like the concentration of PM2.5, PM10 particles and the dust content. It has a built in high-capacity battery that can be charged with an adapter. It can also be charged via a USB cable connected to a car or laptop. The LCD screen displays the current quality of the air. It can detect temperature from 0 to 50 degrees and humidity within a range of 10% to 90%.
Along with the above, it can also measure the current temperature and humidity and store this data. You can visit the past data in the form of histograms and graphs. It is certified in the US and is mostly used by offices to keep the indoor AQI under check. There are channels located at the back through which the air flows in and is then detected. On being switched on, it can quickly detect the air quality with very little boot time.  It can also be worn. The seller offers a warranty period of 1 year. Since this instrument provides a high level of accuracy, the seller has warned users against dropping or striking it.
GOOD FEATURES
Can be charged via a USB cable and is also rechargeable via an adapter.
Can show temperature, humidity and PM 2.5, PM 10 content along with past data as well.
The monitor can be worn on the body.
The battery lasts for 10-12 hours when fully charged which is the maximum time seen on this list.
TEMPTOP AIR QUALITY TESTER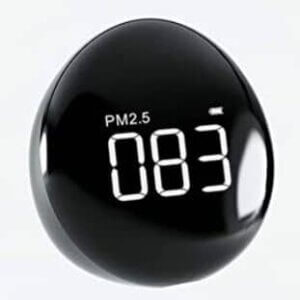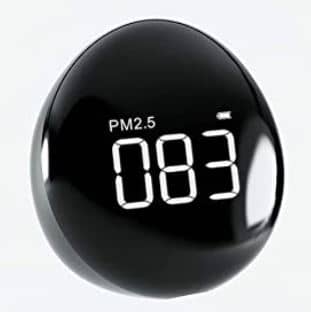 This is an extremely sleek and stylish product. It conducts nano scale detection of the air quality by the use of laser ion sensors. It weighs only 200 grams and is 8.4 cm wide. You can easily hold the product within the palm of your hand. The small size means you can carry it anywhere easily! It's ABS black body has a sturdy PC coating on it. The circular body has an LED screen with 180 degrees of viewing angle. It uses a lithium ion battery that can be charged as needed.
The drawback of this product is that it is specifically used for measuring PM 2.5 quality. The color of the display also indicates whether the current air quality is safe or not. Within a single glance, you will be able to see a green or red light that will tell you about the air quality. The design is truly unique and is internationally patented.
GOOD FEATURES
Accurate and real-time showing of PM 2.5 particles.
Can last for up to 5 hours when fully charged.
Shape makes it easy to be carried in hand.
Nano scale detection of the air quality by the use of laser ion sensors.
Unique build with PC Cover.
Immediate visual indicator for when the air quality drops too low.
OXYAIR PRICE CHECK


CONCLUSION – BEST AIR QUALITY MONITOR IN INDIA
Finally we've arrived to the end for our list of the best air quality monitor in India. The choice of the best AQI monitor depends on what you need. If you simply need a detector for PM2.5 and PM10, then you can go for the simpler models. Those that can be connected via an app usually do not show temperature and humidity separately. Either way, once you connect to the app and the app connects to the internet, this local information can be updated by itself. Some like the IQAIR VISUAL ,which is America's leading air purifier company and the TEMPTOP M10i stand out due to their exemplary features with an economic price range.
Overall, we hope that this post on the Best AQI Monitor in India would have helped you know about them better!
You May Like These Similar Posts From AirSwacch!