The human nose can smell and uniquely identify over 1 trillion odours (btw who counted it?). Feeling amazed at it? Just imagine what the count would be for some animals having way too sensitive sensory organs? Useless statistic, I'd say but eye-catching! Anyways, we all want just pleasant and fresh smells around us, don't we! But, sometimes obnoxious smells are unavoidable. A Room Air Freshener can help remove foul odours from your home. Read this post to know the Best Room Freshener in India and more!
KNOW THE BEST CAR AIR FRESHENERS IN INDIA
Lets consider some smelly situations now. You just finished your weekly food binge and then some guests drop in. Oh No! Who hasn't bore the near putrid smell from someone's shoes, socks or feet! Isn't it unbearable? Yuck! Poorly ventilated rooms with attached kitchens or washrooms find use of Air fresheners. Gyms, washrooms, restaurants, hotel rooms or public places; pleasant aroma is just a spray away! Get a Dehumidifier For Home for Damp Rooms to get rid of soggy smells.
On a different note, it is unhealthy to have smelly conditions around you. It is best to identify the sources of bad smell and remove them. Air Fresheners just mask the foul odor. Some products may not even suit people well. So, keep your home clean, there's nothing like it. Prefer room fresheners with natural ingredients as your health comes first.
BEST ROOM AIR FRESHENER IN INDIA
BEST NATURAL ROOM FRESHENERS
There's a reason why we have listed out the organic products first. They are unconventional yet their natural composition means your health is not at risk. Air fresheners contain many aerosol based chemicals which may cause allergy and breathing issues. Environment is also preserved when we use natural products. Plus, buying such products help the weaker sections of the society involved.  
Camphor has natural anti-bacterial properties. Its for this reason why camphor is widely used in various religious rituals in Hinduism. Mangalam offers various combinations of fragrances like Rose, Sandalwood, Lavender and Jasmine. Just hang the cone in a corner and get mosquito free room. Mangalam cones can be used in cars, bedrooms, cupboards and toilets. Its arguably the Best Natural Room Freshener in India.
Don't burn this camphor cone, but burning a few camphor tablets eliminates negative energy. I've seen the majority of the users feeling satisfied which this product.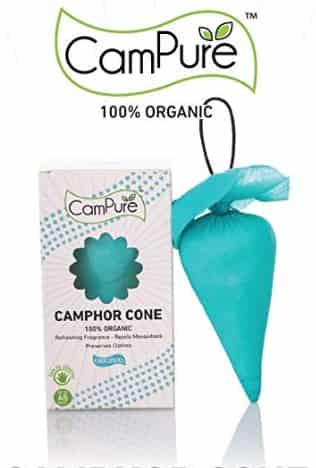 Camphor is made from oil extracted from camphor trees.
Camphor is known to keep dengue and malaria causing mosquitoes away.
People with chest congestion and inflammation can benefit from it.
No artificial chemicals or fillers are added.
Good Longevity, scent and freshness.
Long lasting and the cone continues to give out aroma even after its empty.
 Caution!  Always keep Camphor cone away from reach of small children. Camphor can be dangerous if ingested or eaten. Do not make holes thinking that it may increase the scent output. Instead, all the camphor will get evaporated quickly.

Potpourris are nothing but a casing of naturally aromatic flower petals or leaves. Dried petals, fruits, leaves or plants are used. Without any propellants, potpourris have limited reach and mild scent. Still, these are a great natural way of achieving freshness. A large number of potpourri products are available on Amazon. The problem with these is that the fragrance is not consistent and tends to weaken with time.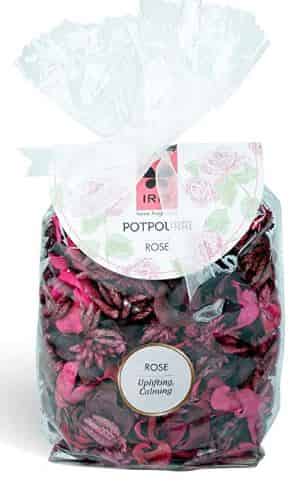 FEATURES
100% organic and healthy ingredients.
No danger of allergy, or diseases even after prolonged use.
Promotes MSME and helps small farmers and businessmen.
Not as effective as other non-natural sprays or products.
BETTER BRANDS

BEST AUTOMATIC ROOM FRESHENER
Sprays let you instantly get rid of foul smells. Manual spraying results in uneven aroma and wastage. Automatic aroma dispensers help you do away with wastage. The machines are battery powered and you can set the intensity of sprays. Three intensity levels provide flexibility depending on use-case. AirWick also makes Gels, Essential oils and is the pioneer in this field. Overall, AirWick makes the BEST ROOM FRESHENERS IN INDIA.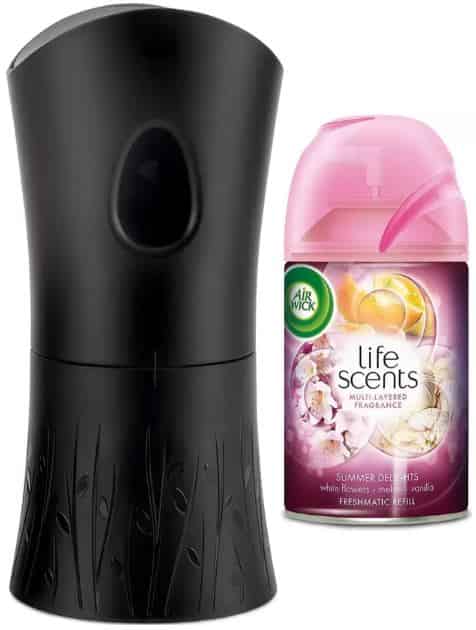 FEATURES
Automatic sprays keep the room always fresh.
AirWick Fragrances neutralize foul odours.
The machine is wall mountable.
Each refill can last up to 60 days at lowest intensity level.
Three intensity levels of High (next spray in 9 minutes), Medium (25 minutes) and Low (32 minutes).
FRAGRANCES
The following fragrances can be tried and adopted.
Godrej is a 100% Indian brand and has excellent air freshener products. Even i am using a Godrej Aer Twist in my car. Godrej Aer matic is a battery operated automatic aroma dispenser. Its available in 4 fragrances. 2 AA cells are needed to operate it.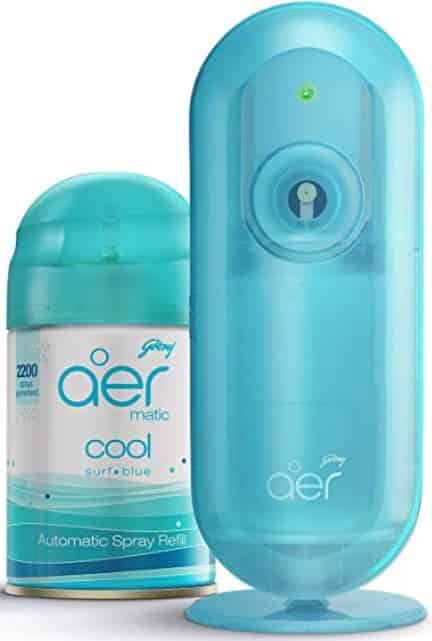 When it comes to Automatic machines Air Wick is simply the Best. Godrej could not deliver a sturdy mechanism with Aer Matic. Users complain of early breakdowns and poor build quality. Prefer going for Godrej Aer Sprays. They are the Best Air Freshener Sprays in India. The aroma is mild and not too strong.
NEW MODEL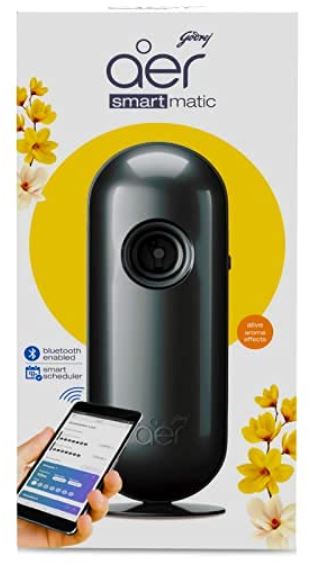 A New Bluetooth Air Freshener kit with smart functions has been introduced. You get to switch On/Off the air freshener through the App, use an Instant spray button, and get Low battery/Refill alerts.
FEATURES
You can set it deliver sprays at 10, 20 or 40 minutes interval.
Fragrance stays for long.
Each refill of 225 ml delivers upto 2200 sprays.
All Air Fresheners come with a NO return policy.
FRAGRANCES
There are 4 designer fragrances available to choose from-
BEST ROOM AIR FRESHENER SPRAY
Godrej Aer Scents are mild and not too strong. As we said before, individual experience may differ from person to person. They rank high in scent, longevity and freshness. Godrej car air fragrances are a rage from many years. Recently a new range of premium fragrances – Passion, Alive and Relax have been introduced which are being liked very much. Its flowery smell lasts long enough and gives a heavy burst of fragrance.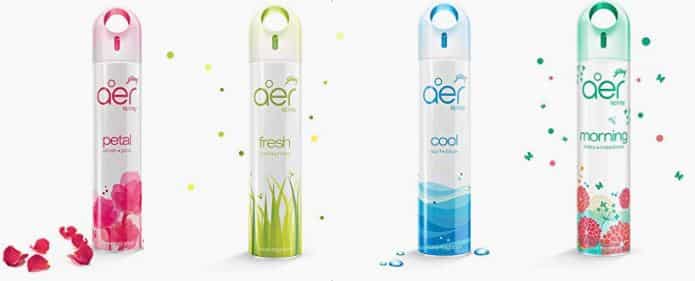 FEATURES
Godrej Aer is available in 6 fragrances. Petal, Fresh, Morning, Cool, Violet and Musk.
You can use it in your cars as well.
Fragrances are mild and can be considered the most refreshing.

Ambi Pur is another big brand in the air freshener industry. There are a wide range of fragrances to choose from. Do take note that air fresheners are non-returnable products. Some users have expressed unhappiness over the spray's lever thing. But, these are one-off experiences and most users have reported favorably. The benefit of sprays over automatic dispensers is that sprays are for adhoc purpose. You feel the need of air freshness, just spray it then and there. No need to inhale chemicals day long.

Fragrances and how people perceive them is a highly subjective matter. One person may find a vanilla scent 'heavenly' while someone else can call the very same smell 'too sweet'. So, just find the 'one scent' for you from among so many options. The technology, the lingering effect of scent or cost factors may also influence your liking.
Some fragrances may seem to have little lingering effect. One of the reasons is that your nose gets used to the fragrance. Someone entering the room from outside may still find the room full of fragrance. Some users have reported this for Ambi Pur also. Its for you to decide.
Odonil from Dabur is a household name for bathroom air fresheners since many years. Times have changed and Odonil too has introduced a range of air fresheners for rooms. Like always people complain of poor longevity and point design flaws. Again, try out different stuff to validate yourself.
FRAGRANCES
Jasmine, Lavender, Rose, Citrus and Sandal

BEST ROOM AIR FRESHENER SACHETS
Sachets are mostly used in washrooms or bathrooms. Read our Best Bathroom Fresheners in India post. Try to keep your washrooms well ventilated. Its best to have a provision for ventilator through which fresh air or sunlight can drop in. Sunlight is a naturally anti-bacterial. An exhaust fan can do the trick. Use air fresheners wherever this setup is not possible due to space or layout constraints. Some sachets or pouches can also be used in cupboards.
ODONIL ZIPPER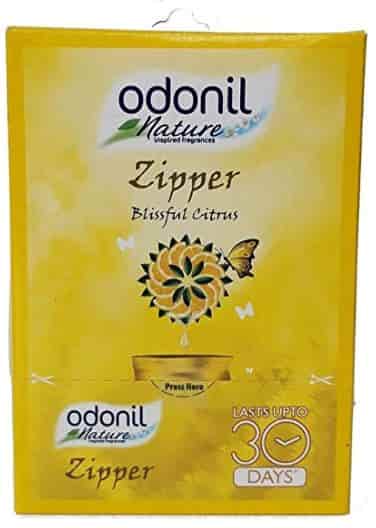 Odonil Zipper is a very affordable product. It can be placed anywhere in a living room, bathroom, cupboard or wardrobes. Each sachet can last around 20 – 30 days or so. Whatever the duration is you hardly care as it costs less. It is definitely better than Godrej Aer Pocket.
BEST ROOM FRESHENER IN INDIA – BUYING GUIDE
What Is An Air Freshener?
An Room Air Freshener is an odour masking agent. People casually call it just Room Freshener. It is an artificial pleasant smell which can overpower the foul one around. An air freshener employs a carrier or medium which helps spread the odour quickly in the air. Canned sprays with aerosols are the most commonly used. Indian homes are quickly adopting air fresheners in some form or place. Bathrooms, cars, rooms or any smelly places can get an all new feel in seconds!
So Many Fragrances For You!
There is just no limit on the number of fragrances you can choose from. Every person can have different taste or liking of aromas. Air fresheners give you easy choices and options of fragrances. Some most loved aromas are easily available in affordable refills. Smells of Citrus fruits is particularly helpful. It has been shown to increase alertness and mental relaxation.
Your living room is where you welcome your guests. This part of your home should have an inviting smell. Something that is pleasing and conveys warmth. Rose or Lavender scents work the best here.
Washroom is where you spend some moments of solitude. Scents which invoke creativity and freshness are best. Lemon Grass, Citrus, Thyme or Jasmine work best.
Kitchens are already high on food smells. Use something which is strong and invokes scents of fruits, chocolates etc. Citrus, mint can be used in your kitchen
A slight aroma should be used in your bedrooms. Avoid using strong smells lest you should get headaches etc. Jasmine and Lavender work best in the bedroom
BENEFITS OF AIR FRESHENERS
You get pleasant whiffs of aromatic air automatically or with just a spray.
Hotels, restaurants, shops and workplaces can gain business and productivity.
You can choose from an array of aroma delivery options.
Air Fresheners come in a variety of sizes, delivery modes.
Sweet smelling scents help in lifting one's mood and reduces stress.
A plethora of distinct scents to choose from. You will never get bored, there's so much choice out there!
TYPES OF ROOM FRESHENERS
PLUG & USE
A popular category first introduced by Glade. These function like mosquito repellent mechanisms of All-out or GoodKnight. Plug & Use type Air fresheners are a tad costlier but ensure even spreading of scent. They allow refills to be replaced and screwed back. The nice thing about them is that they are so compact and hardly occupy any space.
SPRAYS
Air Freshener sprays are the most common type. Sprays help diffuse the aroma much faster.The greatest benefit of sprays is that they activate only when we want them to. They spread only as much aroma for which we press the nozzle. Nothing more or less. Some battery driven dispensers give periodic bursts of fragrance and are quite popular. Alliance Dispenser is one such product. Targeted sprays at most smelly areas is possible. As we pointed out earlier, we should avoid prolonged exposure to articulated air. Side-effects of products are found and made public after many years of their launch. By that time its often too late.
GELS
Air Fresheners in the form of gels are a common sight. Pouches or containers with a small vent act as source of aroma. Mostly there's a provision to close the opening at will. Look for a product which gives you this liberty. The flip-side is that sometimes they seem less effective or slow. There is no mechanism for faster diffusion or spread of aroma. Pleasant smell will spread throughout the area in its own sweet time with air movement.
CANDLES OR CERAMIC LIQUID BURNERS
You must have seen ceramic vessels in office corners with a light coming through them. These vessels have an electric power source or a candle to warm the aroma oil. A downside of these is the danger of children getting burns from the hot surface. Scented candles are also a cheaper way of achieving scented air.
REED STICKS
Reed sticks use aroma oils and natural evaporation process for spreading scent. These reed sticks come coupled with ceramic vase and a bottle of aroma oil. Just fill the vase with oil and put some reed sticks into it. By capillary action, the oil is pulled up the sticks where it gradually evaporates constantly. These are cheap and require no power source. Aroma oil refills are easily available.
POTPOURRI
Potpourri or 'Potli' use 100% organic ingredients for aroma. In absence of any carrier or propellants, their effect is slow to be noticeable. Still, Potpourri contents are completely natural and do not harm our environment. You can even use them for years in continuation without any health hazard. Spray based air fresheners and deodorants do their tiny bit to damage the ozone layer. Non-CFC gases are nowadays being used in these products to prevent ozone damage.
How Room Air Fresheners Work?
Reed sticks are immersed partially in vase with aroma oil. Put as many sticks as much scent output you want. Candles or incense sticks burn fragrant wax or similar material. Candles or incense sticks cause indoor pollution. Remember wax is a hydrocarbon and a petroleum by-product. So, burning it releases carbon dioxide and other gases. Unless the wax is good quality and refined, its no good for the room's air. Use them sparingly or use other products.
AIR FRESHENER SPRAYS
Spray type air fresheners utilize bottles or cans with a nozzle. The contents are a compressed aerosol. Aerosol in the context of air sprays is a mixture of fine liquid (perfume) suspended in a gas. A fine mist is released with force, when the nozzle is pressed. This forceful ejection of the scented mist is what air fresheners cans are all about. Earlier sprays used CFC gases which impacted the ozone layer. Common propellants are Propane, n-butane, DME or methyl-ethyl-ether. These are less harmful to the environment.
Beware never to use aerosol sprays near naked fire. Keep cigarettes, birthday candles etc. away while spraying. The spray will most likely be combustible and accidents can happen. Never take any risk with sprays! Even avoid spraying directly on skin, as it can cause burns.
PLUG n USE
This type of air fresheners hold a liquid or gel. A membrane or something similar keeps that separate from the outside air. A slider is often provided to control the rate of aroma output. Gel has a layered consistency so that it does not lose all its fragrance at once. With slight heating or even without it, the aromatic liquid or gel gets vaporized slowly.
Plug n Use type fresheners last weeks or even months. One has to remove the plastic covering atop the gel or liquid before use.
What We Learnt Today
IN this post we tried to convince you to prefer air fresheners with Natural ingredients. If not 100% organic, go for mild scents which do not give you or others headaches. Understand that preferences and liking for aromas differ from person to person. Hence, try out different brands and products instead of believing other people's reviews. Of course, you can pay heed to reviews on delivery mechanism flaws etc. Always prefer non-flammable sprays. Keep air freshener pouches etc out of reach of children. Most importantly, use air fresheners sparingly. Hope you found our post on the Best Room Freshener in India informative. Thank You For Reading! Share this post if you found it worthy 🙂
You May Like These Similar Posts From AirSwacch!