Time now to compare Coway Airmega 150 vs MI Air Purifier, two of the most popular air purifiers in India. Coway Airmega 150 air purifier has taken the Indian air purifier market by storm since it showed up on online portals. Coway, a Korean brand boasts of being one of the world's biggest air purifier sellers of all times. Its air purifiers are a rage, especially in the USA where the Coway Airmega 300S and Airmega 400S set the benchmark very high with their performance and unique designs. MI, a Chinese brand, has also had a very successful stint in India with its affordable yet feature packed MI Air Purifiers. MI first introduced the MI Air Purifier, followed by MI Air Purifier 2, and then its smarter version the MI Air Purifier 2S. Now the latest in the series, the MI Air Purifier 3 has wowed the users.
In this Coway vs MI air purifier post, you'll know some subtle differences between these path breaking air purifiers.
---
---
COMPARE COWAY vs MI AIR PURIFIER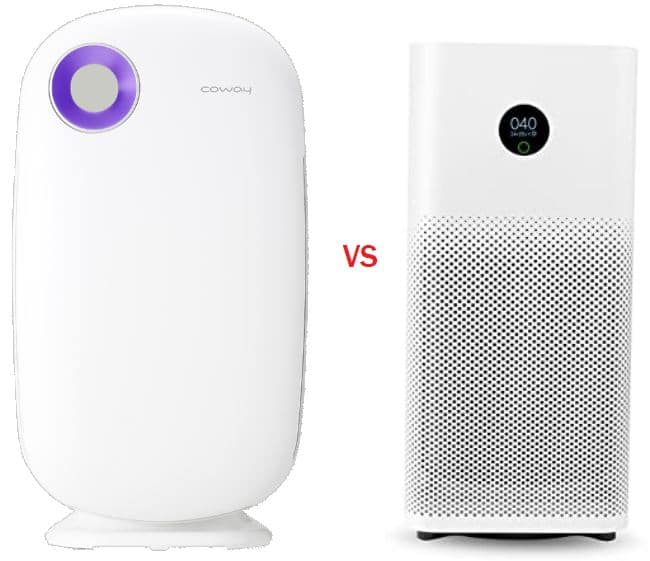 To compare these two air purifiers, I would be taking up one specification at a time. For your convenience I'd also be listing out a summary table for a quick glance.
---
PRICE ON AMAZON
Price-wise there cannot be any comparison. Coway Airmega 150 has its price fluctuating all year round, between 12,500 to even over 14,500 INR.  Coway's most popular model is the Airmega 150 with the same coverage area as the earlier successful Sleek Pro model. The MI air purifier 3 on the contrary has a fixed price of just a little below or sometimes above 10,000. It is truly a very cost effective air purifier with optimum price. If we see its features then you'd find the Coway Airmega 150 lacking. Here I am talking about the digital PM2.5 display, mobile App support, among other things.
Touchscreen controls always look and feel more advanced than consoles with buttons. Similarly, a mobile App which gives statistics of air quality and pollutant levels along with temperature, humidity etc. is a plus. MI air purifier comes with WiFi connectivity.
---
COUNTRY OF ORIGIN
Coway is a well-known Korean company. While MI is a Chinese brand. Although China is India's enemy No.1, governments cannot put a blanket ban on Chinese goods as economics, local businesses and international obligations don't permit it. In this post, I'd be unbiased and would present only the true facts.
CONTROL TYPE
Coway Airmega 150 has buttons which are rather obscure and produce a short jingle when pressed. Airmega 150 has touch type embossed buttons. MI air purifier 3 has a touch screen as well as WiFi and APP connectivity. From security point of view, I would not download or install MI App if I were you. Of late that government has become conscious of the data security of us Indians. Many Chinese Apps were banned because of unscrupulous and shady software or intents.
On the Coway Airmega 150, there's a single touch power button. To turn on the air purifier, a gentle touch is sufficient. On the other hand, you need to touch the same button for 3 seconds, to turn off the air purifier.
REAL-TIME PM2.5 DIGITAL INDICATOR
This is one feature I always rue its absence in the Coway Airmega 150 air purifier.  Even the Coway Sleek Pro didn't have it. Not sure why this feature is not added here. I am sure this complaint would vanish as and when the Coway company rolls out models like Airmega 300S in India.
Coming to how the real-time pollution display works in the MI Air Purifier. I am mighty impressed with the accuracy and specifically the sensitivity of the particle sensor. I've tried a few times by lighting match sticks, and the particle count does go up quickly. Even by the closing and opening of doors, the sudden change in air pressure changes the PM2.5 in the otherwise sealed (nearly) room.
DIMENSIONS
| | | |
| --- | --- | --- |
| Coway vs MI Dimensions (H*W*D) | 430 x 330 x 160 mm | 520 x 240 x 240 mm |
As you can see Coway Airmega 150 is smaller than the MI Air purifier 3. Mi air purifier is taller and occupies more area on the floor. In terms of weight too, Coway weighs 5.5 Kilos as against MI's 4.8 Kgs. The weight is inclusive of filter weight. The older MI air purifier 2 weighed exactly 5 Kgs. Overall, MI air purifier 3 is more portable and lighter. In terms of stability, both air purifiers are sufficiently stable. On a soft surface like a sofa or bed MI ar purifier is more stable. Coway Airmega 150 is wider in breadth/frame and thinner otherwise. The MI air purifier is more uniform in dimensions but takes up lesser floor space.
You do not find any handle or groove to lift MI air purifier up. Its so light and compact that you can wrap your arms around it to lift it up. Coway Airmega 150 too does not have any niche or handle to lift it up.
COVERAGE AREA
Even though the MI air purifier 3 occupies more floor area, its not a bad thing. Since MI air purifier 3 scores better in coverage area. The MI Air purifier has a specially well-designed fan inspired from jet-engines. This creates a powerful air current in the room. Also, MI air purifier has a round filter which takes in impure air from three sides. Contrast this with Coway's rectangular filters which pull the air from two openings/crevices on the sides of the air purifier body.
MI Air Purifier – 484 sq.ft.
You can feel the stronger air flow of the MI air purifier from even a good height. Place your hand over the air vents of both the air purifiers and MI air purifier is way more powerful. This makes it capable of cleaning a greater area and faster. I have a MI air purifier placed in my drawing room which is very big . We also have an attached open kitchen to it and a foyer. Trust me, no comparison of how quickly MI air purifier makes a difference in air quality. Its palpable and observable qualitatively and quantitatively (owing to the live PM2.5 display readings)
CADR (Clean Air Delivery Rate)
On this parameter too, MI Air purifier steals the show. As I already mentioned above that the MI air purifier has an excellent air circulation thanks to its powerful fan. This makes it capable of cleaning more air per hour. For your reference, MI has a CADR of 380 m³/h while Coway Airmega 150 has a CADR of 303 m³/h (as stated on Amazon, however we believe its lesser).
AIR FILTRATION
Whatever air the Coway Airmega 150 cleans, it does so excellently. Users of Coway notice a marked improvement in not just air quality but also the foul smells are gone. The air smells different, which people living in cities seldom experience. Its the smell of freshness and purity. In terms of filter quality, Coway wins hands down. It is not to suggest that the filter used in MI air purifier is any inferior. It is a H13 grade filter and is of international standards. But, it is the overall performance and the impact of air quality that Coway air purifier produces.
I was not impressed with MI air purifier's ability to remove odors. Be it kitchen odors while the food is being prepared or the smell of crop stubble burning in nearby states. I have never been satisfied with MI air purifier in this aspect. This was with their H12 grade HEPA filter which came inside the MI air purifier 2S model. Now the new MI air purifier 3 has a much improved HEPA filter of H13 grade. Not just this it has an activated carbon filter layer as well. This makes it perform very well against particulate as well as gaseous pollutants. Overall, from the point of view of air cleansing, it is good. Bringing down pollution levels quickly is one of its good things worth mentioning.
FILTERS COMPARISON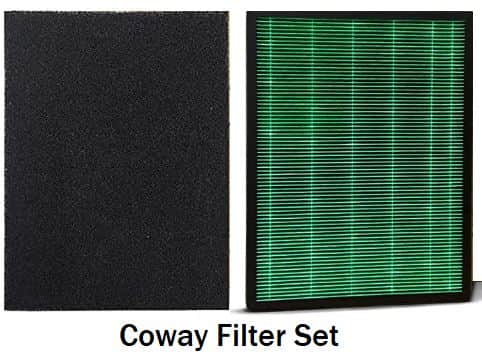 Coway Sleek Pro and now Airmega 150 has a pair of filters that are clubbed together when put in the air purifier assembly. These are the anti-flu HEPA filter and the carbon filters. Coway's HEPA filter is coated with a special compound extracted from some native plants. This green coating renders viruses ineffective by breaking their cell walls. In times of this virus pandemic, it is a very good feature. Coway's replacement filters cost much more than MI. This Coway vs MI air purifier war is getting heated up right?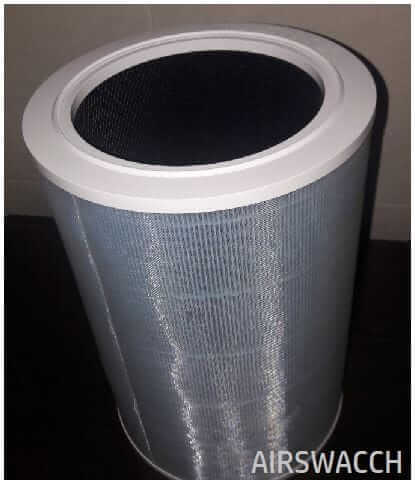 MI air purifier 3 on the other hand has a single compound filter in the shape of a cylinder. The outermost layer is the pre-filter made of nylon. The middle layer is that of a True HEPA filter which is of H13 grade. A H13 grade True HEPA filter can remove 99.97% particles of size 0.3 microns or larger from the air. MI air purifier 3 has an improved activated carbon filter. The previous generation of MI air purifier i.e the MI 2S air purifier used an H12 grade HEPA filter without any activated carbon layer. This made it useless against combating poisonous gases and odors in the air.
The compound filter of MI air purifier 3 is compatible with MI air purifier 2S as well.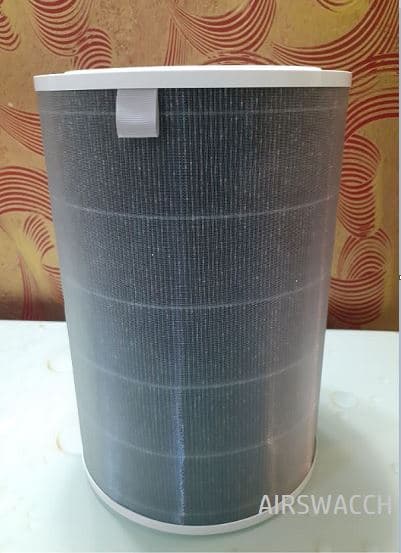 NOISE – COWAY vs MI
Coway Airmega 150 is definitely the quietest air purifier around. At lowest fan speed, Coway registers just 22 dB on the decibel meter. Coway is super quiet when running at full throttle. At max fan speed, it makes 45 dB noise, very silent operation is Coway Airmega 150's USP.
MI air purifier 3 gets noisy at highest fan speed. My mother can't even sleep with the air purifier ON, now you'd slowly understand why Coway is so popular. What good is an air purifier's coverage if some light sleepers can't sleep? A more powerful fan speed would make greater noise. It would result in better air circulation and faster cleaning. So both low noise and cleaning power cannot be achieved together. To solve this, you can put the Turbo mode to use for sometime before going to bed. This would quickly clean the air out. When its time to go to bed, the Sleep Mode is the best deal.
FAN SPEEDS
Both Coway Airmega 150 and MI air purifier offer control over the fan speed. They allow you to choose from 4 speed levels. Silent level, Level 1, Level 2, and the AUTO mode. On the other hand, speed setting 3 is the maximum fan speed setting for the MI Air Purifier. But, MI air purifier's fan speed and power is much more.
SLEEP MODE
What is the purpose of the Sleep mode in air purifiers? It is there so that the air purifier lights and fan noise does not interrupt your night's sleep. The air purifier operates at its lowest fan speed so as to make the least noise. Also, its LED lights are dimmed or completely shut-off in this mode. An air purifier running in Sleep Mode is akin to a compromised efficiency as the fan at a very low speed cannot remove the pollutants well.
---
---
Coming to the applicability of Sleep mode in the Coway Airmega 150. This air purifier is already so silent that its operation does not hinder the family's sleep. For the air quality indicator lights there is a MOOD lamp to turn them off. Problem solved! You need to note that you can run your Coway Airmega 150 at max speed in Level 2 mode while sleeping comfortably. Yet another reason to go for this masterpiece!
TIMER
Coway Airmega 150 air purifier does not have a Timer. You can at most put it to run in Auto Mode for energy saving.
MI air purifier 3 does not have a timer on the air purifier body. Instead, you can make the air purifier to start or stop at a set schedule via its APP.
WiFi And APP Connectivity
MI air purifier is a smart air purifier replete with WiFi and mobile application functionality. It can be very well controlled through the APP once it is paired with the air purifier. The APP shows statistics of real-time pollution, and can do all that the touch buttons on the air purifier can do. You can voice control it with ALEXA as well.
Coway air purifier lacks all these features. But, what is the use of all these features when the MI application leaves you vulnerable at the hands of China's sinister motives of stealing your data ? It is for a reason that Chinese APPs are being flagged for data theft and privacy concerns worldwide.
POWER CONSUMPTION
The Coway Air purifier consumes more power than your MI air purifier. Its all in the excellent fan design of the latter. The difference however is not very tangible. One would not even notice any difference in their monthly bills. Just for the sake of brevity, Coway consumes only 35 W and MI air purifier too just needs 38 W. These ratings are while the fan is running in top speed.
WARRANTY
Coway offers a 5 years warranty on the fan motor and 1 year warranty on electrical parts. Any physical damage to the air purifier body is not covered in warranty. MI offers only a 1 year peace of mind. There is no comparison in the level of peace of mind you can enjoy if you choose Coway over MI air purifier. The reason for this is simple. Coway has one of the best after sales support. Their customer care representatives are very professional and helpful.
MI is nowhere to be seen should you face any issues with your air purifier. Just like any other Chinese product, if it works well its your good luck, if it doesn't still its your own luck.
VERDICT – Compare Coway Airmega 150 And MI Air Purifier
Coway Airmega 150 Air Purifier is a simple air purifier devoted to excellent air cleaning. Coway has this knack of keeping things as simple as possible. At the end of the day, an air purifier must produce perfectly clean air. It hardly matters if it allows you to control it with an APP or voice assistant or not. MI air purifier, although very feature studded for its price, lags behind in the noise and customer service part. But, it cleans the air perfectly and quickly. You have the convenience of mobile APP, real-time pollution display etc. So, if you have a lower budget go for the MI air purifier 3 without a second thought.
CHECK TODAY's PRICE
For the rare case of Coway users who've faced some issues with their air purifiers, they have a common thing to say. They all agree that Coway's response to their issues was very well received and helping. What more can a customer ask for? A product par excellence and that too from the World leader in air purifiers, that's Coway for you.
Hope you found this Coway vs MI air purifier comparison informative!
You May Like These Similar Posts From AirSwacch!